If your goal is to start selling WordPress solutions, there are zero prerequisites. You can simply put up a website up and start selling services, regardless of your business or WordPress know-how.
Your success or experience isn't something that customers can simply see online, which isn't the same if you own a small shop selling products in your town. Therefore, it requires a lot of hard work. You must keep trying different strategies until you learn the basics and start enhancing your skills until you become a reputable consultant or WordPress agency.

If you've been struggling to find new business, grow your team and deliver incredible results, optimizing your business process is just as important as improving your technical or design skills. Here are eight steps that would enhance your online presence and improve your business process, boost up your profitability and establish you as a professional WordPress consultancy.
1. Use a PM system
Even if you're working solo or occasionally teaming up with someone else, sending emails back and forth and taking notes in a notepad after calls and meetings won't cut it. There's a lot of information lost in translation, and it brings chaos to the entire process, which results in the lack of accountability for your work, milestones, and progress.
Using a project management system will let you break your projects into essential components, assign specific tasks to other team members and communicate with your client as well. This is paramount for your business success in the long run. Using an online system allows for keeping track of progress both during a project, and afterwards; analyzing things that could have been done later, flaws in your process that should be patched up, and components that you can reuse in future projects.
2. Build up a great website
There's a popular saying: "The shoemaker's children go barefoot". We are often way too busy to deliver results to our customers, and we don't spend enough time or attention on our online presence.
And that's understandable – if you have already put 40-50 hours on website services for your clients this week, what would motivate you to spend another day on improving your website?
In reality, WordPress now powers close to 25% of the Internet. This means that every fourth website online is built on top of WordPress, and all of those clients need someone who can take their business to the next level – be it a redesign, extra features, maintenance services or something else. It's our duty as WordPress professionals to establish the online presence that reflects our skills and experience and targets our perfect clients.
At DevriX, we've redesigned our website a few times over the years, and it's constantly undergoing change. We build, monitor, analyze stats and client feedback, and improve every single week. This increases our conversion rates and brings more leads looking for a team of engineers for their WordPress-driven technical platform.
Unless you have an infinite steady source of income, your website is the easiest way to get more prospects, convert more clients and spend more time on actual work from Monday to Friday and chilling over the weekend, instead of hustling infinitely, trying to bring another client on board and salvage your company.
3. Prep your contracts
The community is dealing with security often says that
Designers had been fighting against that for dozens of years, way before WordPress existed. Mike Monteiro gave an outstanding presentation called F*ck you, pay me that explains the challenges of running a service-based business and the problems that could be solved with a contract.
Having a contract (or a few) with each of your clients will solve several general problems:
Scope will be defined clearly, and additional requests won't be covered since they are not a part of the initial contract
Payment terms will be listed explicitly – therefore you can demand a payment when payment is due, and don't put extra hours due to delayed transfers
Communication and deliverables could be specified in details as well – you can outline your communication process and mediums and add some constraints that would prevent you from clients traveling for months without returning your calls and emails, or the ones that don't send you the last bits of content required for a site to finally go live
Contracts are usually a necessity with larger clients that are used in more formal business relationships, so if you want to step up your game, consult a lawyer and set up a contract for all of your customers.
4. Networking Opportunities
Working from home is beneficial since you won't have to commute for a couple of hours every day. But networking is essential to your business. Finding clients, partners or employees is way easier when you meet in person, and use the magic of the social networks online.
Attend local meetups, WordCamps, and business events and meet the people you would like to work with. If you've seen Mad Men on TV, you've probably noticed that shaking hands often happens during dinners, parties, and informal events. A business relationship is based on human contact. People are interacting with other people. If you work with someone you know working for a company, and your contact decides to join another team, you will likely lose the company as a client for that very same reason.
Growing your network and hanging out with the right people can bring a large volume of leads for anything you need. Even if you are an introvert, don't underestimate the power of direct contact. Spending time interacting with prospects and partners online is also a great way to stay in touch, both via email, social networks or their blogs.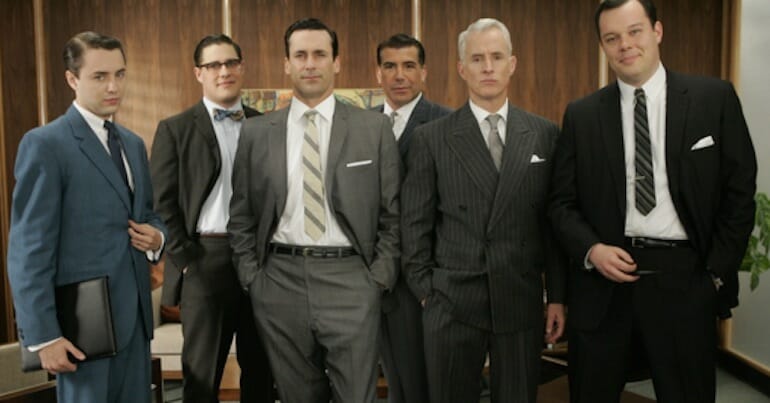 5. Use the right tools
Utilizing your time is essential, and using the best tools available will certainly improve your workflow.
On the management and financial end, you can sign up for a project management system such as Asana, use a proposal creator service, and some invoice and time tracking tool. This would free up some of your time, allow you to focus on your business and review your reports on a monthly basis. Analyzing this data is essential for establishing goals for your company growth instead of constantly navigating in the dark.
Your technical toolkit may include a WordPress theme framework like Hybrid or Genesis or a starter theme such as Underscores, which would free up some theme development time and bug tracking for each separate project. Pick up a number of proven plugins and learn to use them effectively instead of rebuilding that same functionality or not bringing this value to your clients in the first place. Sign up for BitBucket or GitHub and use version control for all of your projects.
Definitely pick a great managed WordPress hosting. WordPress hosts take care of your technical infrastructure, optimize your website with internal caching engines, speed up your site and take care of security as well. This would position yourself better and make your clients happier while saving you a lot of time doing fine tuning for speed or fixing vulnerable websites.
Register a Buffer account and manage all of your social media presence, scheduling your posts and valuable articles for your social media accounts. Use Hootsuite to control your accounts in one dashboard and be more proactive monitoring certain hashtags.
There are lots of services out there that will make you more productive and save you tons of hours,  while taking care of a huge chunk of your repetitive work.
6. Automation
The first rule of any technology used in a business is that automation applied to an efficient operation will magnify the efficiency. The second is that automation applied to an inefficient operation will magnify the inefficiency.

Bill Gates
You are the engine of your business thanks to your expertise and skills – and you are able to deliver outstanding results to your customers.
But what percentage of your work is unique, innovative, groundbreaking and hasn't been performed before?
Your business process is likely comprised of several different phases, for example:
lead generation
sales
preparing proposals
sending invoices
setting up a development environment
building a WordPress theme
building WordPress plugins
deploying the solution
This isn't a one-time process, and it's consistent for most of your clients. On top of that, some of those steps are being repeated multiple times for a single customer – for example, sending several invoices for a project, deploying dozens of updates to a staging site or production, and so on.
How much time could you save if you start automating those manual actions that follow the same pattern over and over again?
We have discussed some tools that you could start using for your lead generation, proposal management, and invoicing. Ask yourself:
Am I efficient when building a WordPress website for a client?
Maybe building a simple site takes you much longer than anticipated, or you feel like that amount of work should cost more. But if you start automating some parts of the flow, this would speed up the entire process, save you time and protect you from various bugs in the process.
For example, you can set up Capistrano or sign up for DeployBot which would automatically take care of your deployment to remote servers. Commit your latest version of the code, click a button and get your code live.
If you manage multiple environments or client website, sign up for a global website management platform like ManageWP or WP Remote that monitors all of your sites and lets you update all of them at once.
If you build your themes from scratch every single time, consider using a theme framework instead and reuse components across your sites. Build a suite of plugins that could be bundled in many sites instead of building all of them every single time. Reuse code snippets that could be reused across your different themes, and integrated with your framework.
Using services like Zapier and IFTTT will connect your apps and build trigger-based flows between them. For example, we have automated a closed WordPress multisite subsite creation process for a large corporation with billions of dollars in annual revenue where each Gravity Forms contact request from our website is connected to our client's CRM and our project management system.
We fill in the data accordingly based on automated templates for each subsite, and all of our project management tickets and commits are pushed to our HipChat room which notifies our team members. There are other layers of automatization that save us a lot of time in repetitive work and make us more effective and focused on solving real problems.
Use Boomerang for Gmail for scheduling emails and reminders for conversations awaiting for reply. Sign up for a CRM (customer relationship management) platform for more effective management of your leads and better analysis of your target audience.
Gartner Research announced that by 2020, customers will manage 85% of their relationship without talking to a human.
Automation is everywhere around us, and as entrepreneurs, we need to spend our time wisely and use our resources effectively for the challenges that cannot be automated; instead of dealing with day-to-day standardized operations.
7. Build your pricing process
Guesstimating or doing initial research every single time can easily get you out of business, especially if you are often contacted by low-cost clients looking for cheap solutions. Based on the variety of our community (and the fact that becoming a WordPress "expert" requires nothing more than changing your title on LinkedIn), this may be way too common.
Several years ago I was receiving over 40 meeting requests a month from local prospects. Most of those emails or calls were either RFPs, or meeting requests – and the vast majority of them were trying to receive free consulting or a detailed proposal that could be sent to low-cost freelancers or agencies later.
There are different pricing strategies depending on the type of clients that you work with, but you need a certain pricing process in place that is proven and allows you to filter the type of customers that are not a good fit for your services.
For example, write down your consulting rate and send your fee to everyone looking for a free quote. Create a "Discovery Session" or "Research Phase" proposal including your initial review process, what you charge for it, and what's the outcome of it.
Based on your previous projects and experience, group projects into categories. If you use a CRM, it would be easier to track down how long each project took you to build, what was the cost of the project and what was the profit. Then you can discuss some ballpark with serious leads in order to find out whether you're on the same page or you don't need to do a full estimate at all later on.
For example, our minimum project fee is $7,500. Occasionally we build simple plugins or really trivial sites in the $4,000 – $6,000 range but that's considered to be an exception.
We know that standard marketing sites take us 80-120 hours on average – including communication, management and delivery. Standard business sites are in the 150 – 300 hours range depending on the complexity and SLA requirements. Migrating websites from proprietary platforms and building higher end WordPress solutions that scale often takes somewhere between 400 and 700 hours depending on the volume of data and complexity of the original platform. Based on our previously built large projects we have identified several categories of multisite projects or internal data tracking and analysis systems, as well as SaaS solutions that have generally taken up more than 700 hours of development, management and ongoing support and continue with retainer models (reinvesting in the core platforms on a monthly basis).
Those are sample numbers based on our own experience with clients and our team, but they serve as a great ballpark when we ask for budget. Since we have a streamlined process and we track down team performance and success rates, this has helped us to get better with every successful project and work on challenging assignments with the right clients.
8. Establish some amazing proof
If you search for "WordPress development agency", "WordPress company" or "WordPress design team" in Google, you'll find hundreds of thousands of websites offering design and development services.
Additionally, networks like Upwork and Freelance.com have listed over a million freelancers claiming their WordPress skills.
If you are a customer looking for an expert designer, developer or a team, how would you navigate in the vast sea of people offering WordPress services?
Proof. That's how.
The best agencies out there are the ones able to provide proof. Some examples of how you can establish yourself as a reputable expert:
Great portfolio with amazing websites
Lots of testimonials and reviews from your customers
Open Source experience or design portfolio – complete bits that people could see online
Community involvement – participation in a community is a plus, just like volunteering at organizations in other fields or when applying for a college
Education experience – speaking at events, writing books, tutorials, other training materials
PR activities – guest blogging, podcasts, different sorts of media coverage
None of those is definitive – but the more proof you have, the more reliable you appear to be in the eyes of a prospect. And serious companies want to work with reliable consultants and agencies – because great clients are successful, and their online presence depends on their platform; if their service provider doesn't seem trustworthy and suddenly disappears, this may drastically harm their business.
9. Hire a Virtual Assistant
That's a long list of things that you could do in order to improve your online presence, establish your processes and automate your internal workflows. Unfortunately, it requires a lot of research and ongoing improvements, which is a time-consuming process.
Therefore, my bonus tip would be hiring a virtual assistant. Gin has a definitive guide for hiring a VA, and as someone with several Filipino employees I couldn't agree more.
Hiring a VA would free up a lot of your time. We have two VAs who do full-time research for pretty much everything; they also arrange appointments, deal with generic administration for some of our media websites, help with email communication, send reminders and so on.
You can significantly improve your process by learning, and learning is time consuming. Simply allocate a few hours or days for your VA teaching him or her on your business process, what are your goals, where do you stand on the business map and what you need to improve. They can take it from there and start browsing online, read relevant blogs and books that would help you, research competition, follow job postings based on criteria, reach out for guest blogging or podcasting opportunities, arrange meetings, summarize and build reports and infographics, review or write blog posts, help with the social media marketing campaigns. Those are merely a few details that would position yourself better and improve your online presence, and you can offload most (if not all) of that to smart and enthusiastic VAs.
————
What are your process optimization hacks for running a great business? Share them in the comments below or ask a question and we will follow up!