Last updated 8th March 2019
If you're even remotely interested in selling WordPress maintenance plans, read this entire post and watch the accompanying webinar below. It's epic. Truly.
There is no tl;dr here. This post rewards those prepared to invest some time.
Why WordPress maintenance matters.
How to build recurring revenue through WordPress maintenance plans.
What to include in basic care plans.
What to include in premium care plans.
How to sell yourself as the WordPress maintenance provider (you'll find that eye-opening webinar here).
Frequently asked questions and answers about WordPress maintenance.
Why WordPress Maintenance Matter Right Now
With WordPress currently powering over 40% of all websites, there is no doubt about its dominance as the software of choice for designing and developing sites. As that market share continues to increase today, the long-term dominance of WordPress is all but assured.
However, this fact alone is not enough to ensure that your WordPress consulting business flourishes, or that clients will come pounding at your door with their urgent WordPress website needs.
In the early days of your business, you'll probably be obliged to take on every new client that comes through your door just because you need the cash flow to meet your own expenses and to keep things afloat.
But that will eventually get to be a somewhat chaotic way of conducting business, because you'll have a very difficult time balancing all the requirements on your time and resources.
Clients for whom you've built websites don't simply fade away after you've done great work for them. Those sites will need support on an ongoing basis, because, as everyone knows, things don't remain static online or in business for very long. In the meantime, though, you'll also be getting completely new projects that demand your full attention and probably even some work that calls for an advisory role.
It's easy to see how you can become stretched pretty thin in your consulting and design business when you have to schedule and satisfy all these demands, just to keep your head above water. The reason this business model is so difficult to sustain, and is frequently doomed to failure, is that, in essence, it trades time for money, and too often leaves you with no time and not enough money.
So, what's the secret to managing your workload effectively while still generating the income you need to be profitable?
Build Recurring Revenue WordPress Maintenance Plans
The reason that building recurring revenue is so critical for you as a WordPress consultant or designer/developer is that it provides you with a source of revenue other than the new projects which become available to you. When your business relies solely on new projects, you are trapped in the time-for-money paradigm and will be forced to keep your nose to the grindstone indefinitely, just to pay your bills.
By building recurring revenue through selling WordPress maintenance plans, you'll have a safety net that will ensure a stable and predictable cash flow even when new projects are not plentiful. It's also helpful when you want to walk away from the business for a week or two to relax and re-energise yourself.
The graph below is from one of our member's recurring income from WordPress maintenance plans whilst she was on maternity leave: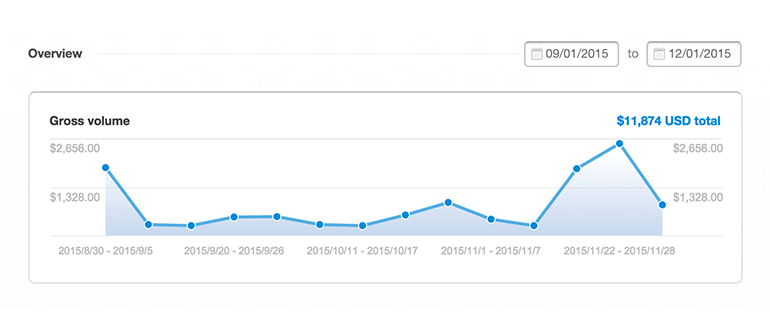 More than that, a steady source of income from maintenance plans will allow you to pick and choose the clients you really want to work with. In addition, it will afford you the luxury of passing on projects which are less profitable, less enjoyable, or both.
Here's why recurring revenue is literally the Holy Grail of WordPress consulting:
You receive money in your bank account on a monthly basis, without incurring any additional administrative costs, like invoicing, calling, collecting, etc.
You are paid by credit card or bank transfer promptly, so no collecting action is ever needed.
WordPress maintenance plans and associated actions can be systemised, delegated, or even outsourced, so you personally don't have to be involved. You can even employ people to run that side of the business as a distinct standalone entity.
With a WordPress maintenance plan in place, clients will feel supported and they will have confidence that, should anything go wrong, you will be there to handle it.
WordPress Maintenance plans are usually extended to existing customers, which means the cost of customer acquisition is significantly lower. The cost of acquiring customers is one of today's biggest business expenses and this strategy bypasses that cost.
Clients on maintenance plans often extend new business project opportunities to you, as well as referrals to other clients, since you're already providing value to their business as a WordPress expert.
A Word on Terminology Around WordPress Maintenance Plans
It is far better to refer to this segment of your business as "WordPress Care Plans" rather than "WordPress Maintenance Plans" simply because of the connotations associated with maintenance itself. The word "maintenance" evokes mostly negative images (e.g. auto maintenance, home maintenance, etc.); most of which are costly, labor-intensive actions that people are turned off by and don't want to pay for.
In business, maintenance has that same negative connotation and has become a grudge buy – something businessmen hate to pay for, but feel compelled to do so for safety's sake.
By referring to them as "Care Plans", a much more positive image is evoked and the notion of added value is much more strongly emphasised. For websites that rely on 24-hour availability, the term "Business Continuity Plans" might be even better, because it is suggestive of ongoing support and care-taking.
Instead of a grudge buy, the WordPress Care Plan thus becomes a package of benefits to a client.
Instead of paying for maintenance, your client is investing in website support, and the value your client receives makes the investment pay for itself.
What to Include in Basic Care Plans
You want to make your clients feel good about signing up for a Care Plan subscription. Because the benefits and value-add of a Care Plan far outweigh any fear they might have about signing up for the subscription, this is a sure-fire way to enable a successful and recurring revenue flow for your business.
Here are some of the services you should include when selling basic WordPress maintenance plans:
WordPress Updates
To start, take a look at how you can improve upon the way they currently handle WordPress updates (if they're even doing this at all). According to the WP Scan Vulnerability Database, no one can afford to be lax about issuing updates as every part of the CMS is vulnerable to attack: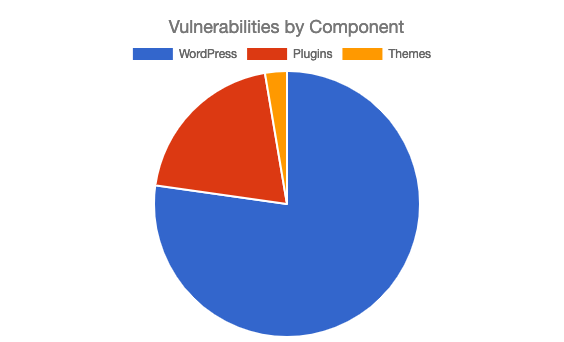 As part of this service, you should include the following:
Automated backups prior to every update (see below).
Management of all core, plugin, and theme updates on a weekly or daily basis.
Review of the WordPress site directly after update implementation to verify no issues occurred as a result.
Backups
Backups are another essential piece of WordPress Care Plans. While these can easily be automated by the web host or by a WordPress plugin like BackupBuddy, there's a good chance your client hasn't take steps to implement that sort of automation.
So, if they're wondering why this service is even valuable, explain to them that regular backups are like a protection of their investment. If a plugin update should take the site down, if an employee went rogue and introduced some unwanted updates to the content, or if a hacker targets the site, having a freshly saved copy of their database is critical to reversing the damage and getting their site back up and running well in no time.
Security Monitoring
The extraordinary popularity of WordPress has made it a very inviting target for hackers, so more of them are being drawn to WordPress sites. This makes WordPress security an even more critical aspect of any Care Plan.
Your security services should include:
Implementation of a firewall (if there isn't one yet).
Implementation of an SSL certification (again, if it doesn't exist).
Installation of a WordPress security plugin.
Automated email notifications regarding the site's security status and warnings.
Cleanup assistance after a security breach.
Uptime Monitoring
Software like Pingdom can be used to monitor for daily, weekly, and monthly uptime issues. If there is a problem identified with uptime or with speed, this tool will help you quickly address it.
Migration
Website migrations are typically a service offered by your client's web hosting companies. However, as a WordPress developer, this should be a reasonably easier task for you to handle–and one you can do much more quickly than a web hosting company. Also, this isn't likely to be a service that's needed by most clients, so this is a good way to bolster your basic package without committing to a lot of additional work.
Technical Support
This needs to be incorporated into all of your Care Plan packages in order to handle the many seemingly small troubleshooting tasks or support requests which pop up over the course of the month. If you don't include this caveat, you might end up devoting time to them anyway (since, as the client will argue, you're already in there) and you'll have missed the opportunity to be reimbursed for the time and effort.
When selling basic WordPress maintenance plans, start small and set a longer time frame in which you can deliver basic support assistance.
What to Include in Premium Care Plans
The above maintenance tasks seem pretty standard, right? Well, here's how to add premium value to your WordPress Maintenance Plans so you can get paid premium fees:
Technical Support
Although technical support will be included in your basic plan offerings, there shouldn't be much to it. Maybe an hour or two of work over the month with a promised turnaround time of 48 hours. With the premium upgrade, however, you can offer email and live chat support so clients can be assured their sites are well taken care of at all times.
I would suggest that, if you offer a premium technical support service, that you create a customer portal on your WordPress site to handle these requests. It will streamline the intake of support tickets and ensure that you never miss a beat.
Website Updates
Website updates are similar to technical support in that they will generally come in the form of random requests from the client–e.g. add this product image, change this font, upload this testimonial, remove that person's bio. And you should plan on handling them the same way as well, though this is more about quantity of tasks (typically, three to five is good) than about setting an hourly limit.
Power Tip: You can also outsource this completely to my friend Brad and his awesome team at GoWP who offer a white label WordPress support service for agencies.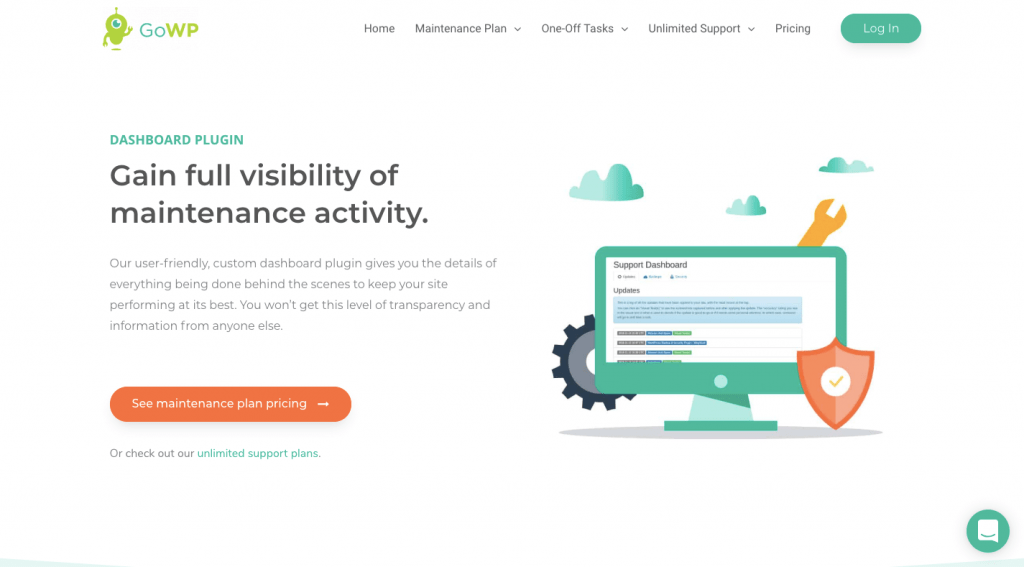 Database Maintenance
WordPress databases can get messy when they're left to their own devices. Post and page revisions stack up. Spam comments are unnecessarily logged. Old images, plugins, and themes weigh it down. Your clients are most definitely not going to think about keeping their system clean nor would they even know where to handle this.
You can tack this on to your premium Care Plans and show them that you're willing to go the extra mile to keep their WordPress site running lean and mean. Of course, you can use a database cleanup plugin to automate some of this, but you should still take time to sweep through their files on a monthly basis to ensure old and outdated stuff is getting cleaned out.
Audits
You should also offer a monthly performance assessment or audit service. This will look at various areas of the website that could potentially pose problems and give them a bird's eye view of where you've spotted trouble and what your suggested fixes are.
For analytics, you would of course use Google Analytics. Rather than just simply export what they can get on their own, you will review the last month's traffic and trends and provide them with useful insights you can use to make future recommendations.
Lumped in with that, you should also audit how their paid search efforts are moving along (if they have something like Google AdWords or Facebook sponsored posts set up).
For performance, you can use Google's PageSpeed Insights to scan your client's site and determine if any speed optimisations need to be implemented.
For security, use Sucuri's SiteCheck to do a sweep for malware and other security infections.
For SEO, you can rely on whatever SEO plugin they have installed. Yoast SEO and All in One SEO will be the most helpful for auditing the overall state of their search optimisation efforts.
A few other things you could audit are:
Broken links
Contact forms and pop-ups
Ecommerce checkouts
Strategy Consulting
This is a fairly broad area that includes all the conversational exchanges you might have with a client about how to improve a site, how to achieve greater efficiencies, how to increase site ranking, etc. By including an auditing service within your premium care packages, you'll be better equipped with real data on the state of their site that you can use to guide these discussions.
Search Engine Optimisation
There is often a false sense of security and complacency that comes along with using an SEO plugin in WordPress. It's definitely essential, but a good SEO strategy requires a lot more work than to just get a "green" score that tells you the meta description is "good" or that you've successfully optimised content around a keyword.
If you decide to add an SEO service to your premium care packages, this will require much more than what a plugin has to offer, including:
Keyword research
Competitive landscape research
Internal link building
Broken link repair
Page speed optimisations
Security optimisations
Responsive design updates
And more
SEO is always changing, thanks to Google's algorithms, and so your service will need to evolve with that.
A/B Testing
This isn't typically the kind of service you'll find offered by a WordPress maintenance company, so your clients will love to see this addition to your premium care plans. In essence, you're giving them the opportunity to constantly test more effective ways to design their site or write their content–without them having to lift a finger!
Content Marketing
If you're comfortable adding content marketing to the mix, you could use this add-on. One of your plans may perhaps just be an advisory service whereby you provide them with helpful suggestions on how to to make optimal use of website content to achieve their business aims.
Another plan may include the actual development of blog content for the website, which means strategising topics, writing the content, and publishing it to the site. Even if you're not comfortable writing content, you could still offer this but outsource the work to a freelance writer.
Luckily enough, there are tools like CoSchedule to help you manage your client's content marketing calendar.
Social Media Marketing
The same goes for social media marketing. Your plans could involve various tiers of social media assistance, including advising on a strategy to indirectly improve the website's rank as well as handling the social media marketing yourself.
The nice thing about that is there are services like Buffer that enable you to automate the monitoring of social media and posting of new content to various channels at once.
Email Marketing
Email marketing is another essential type of marketing your clients should be involved in. With this service, you can:
Provide clients with a newsletter template you've designed just for their use.
Set them up with a new email marketing platform like MailChimp and integrate it with their CRM of choice.
Strategise, compose, and publish their website's newsletter content.
If these last few Care Plan services have you wondering why you'd even consider branching out into the marketing side of WordPress, think about it like this:
In order for your client's website to thrive (and even need WordPress maintenance), it can't stagnate after launch. So, while security and performance maintenance tasks are critical for keeping a site running in peak condition, ongoing updates and a flow of new content through it are important as well. If your clients are going to invest in the livelihood of their WordPress website, then why not go all the way with it?
In essence, this becomes a mutually beneficial arrangement: your client pays you for the care you're taking with their website and you receive a fair wage to provide that top-notch support. As such, both of your businesses will thrive together. As a business person, you are entitled to be adequately paid for all the value you are adding to a client's website.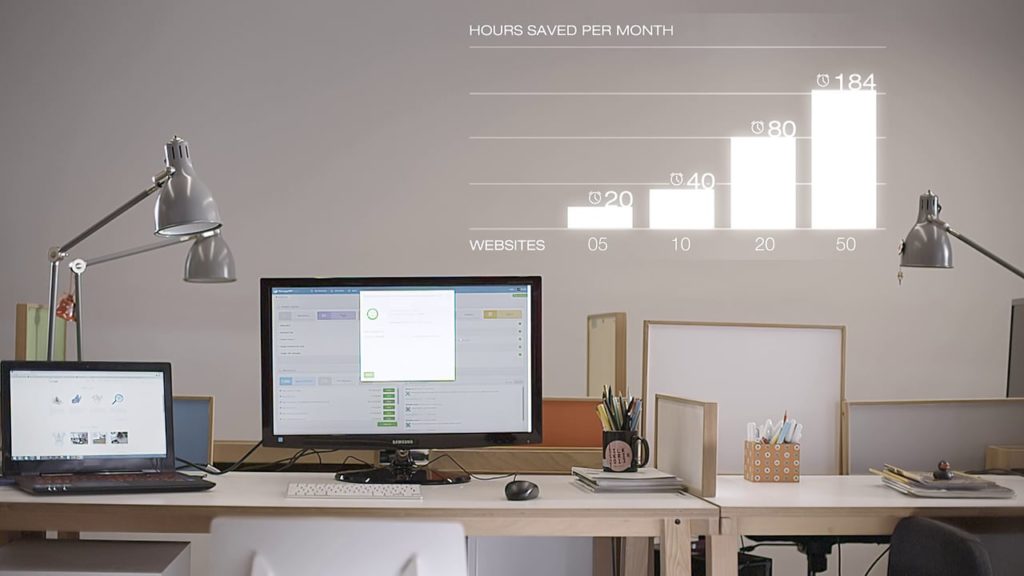 Making The Case for WordPress Maintenance Plans
Before anything else, you should have a conversation with the prospective maintenance client about the economic, social, and technological factors which make having an optimised WordPress website so advantageous.
Economically, the best way to attract clients is through the Internet because of the low cost.
Socially, more people are online than in any other setting, and that represents a huge potential customer base.
Technological advances are made in software and in device capability almost every month which make it easier and more effective to reach prospective clients and attract them to your business.
Why YOU Are The Right Choice
Secondly, you need to make it clear to your prospect why they should subscribe to you for their Care Plan, rather than with a competitor. Highlight the benefits you offer in your WordPress care plan to show why they should choose you. This is, of course, much easier to do if you constructed the site for them since you will be intimately aware of all its functionality and content, as well as the business goals of the client.
The Financial Upside
Emphasise the financial upside of investing in a great Care Plan. For instance, it will enable them to keep their business website up and running 24/7, 365 days a year. The flip side of that coin is how much it would cost your client to be offline for any length of time.
Feel free to reference this story from Pat Flynn to highlight the pain it could cause.
Social Proof
Providing social proof of the value you add to a website can be very convincing. Referrals and references from satisfied customers and testimonials are solid gold currency in convincing someone why your company should be selected over a competitor.
Prizing
Next is a shift in your mindset. I learned this from Oren Klaff. (Love that man! We even use the same theme music – pure coincidence.)
Set yourself and your business up as the prize in this negotiation (which is, of course, contrary to the accepted perspective, which makes the client the prize because they have the money and you are seeking that money). By explaining truthfully how busy WordPress consultants are and how you have only a limited number of Care Plans which you can support, you can reverse the traditional paradigm, and have yourself considered to be the prize.
Scarcity
In tandem with the concept of prizing, you should make it clear to prospective clients that you are only interested in working with those who understand the value of what a well-supported website brings to their business, and how added value can help that business grow. You want a client's site to be the best it can be and you can make that happen.
To further emphasise the exclusivity of your service, you can use a simple application form that asks for some basic information and reinforces the notion that your service is one worth pursuing.
Putting it all Together
The only way you as a WordPress consultant are ever going to rise above the crisis management mode of generating income is to establish a solid flow of recurring revenue. By doing this, you'll be able to pick and choose your projects more selectively, you won't have to scramble to meet monthly bills, and you'll even have time to get away from it all. Consequently, you'll be enabling yourself to avoid unnecessary business burnout.
The way to build that recurring revenue is through selling WordPress maintenance plans to clients, which will create a steady flow of cash for your business. What you include in those Care Plans is up to you, but several tiers of service should be offered to make sure that all the little calls you might get for support and strategising are covered and paid for.
Not all clients will be interested in this type of plan, but the ones who are interested, are the kind of clients you should be working with anyway. In other words, you want to work with clients who truly care about how integral their websites are to their businesses, and understand and appreciate the value you add to those websites through the services you provide.
Bonus Email Template
Here is an email I sent to a client to ask them to transition to care plans (take it, tweak it, and make it your own).
I usually then follow up with a reminder when they have 14 days and 7 days left to decide.
If I don't hear from them, I call and ask them what they want to do and reiterate the benefits over the phone.
Most clients do NOT want to handle this stuff themselves but are not aware that websites need constant care.
In my experience, you will lose some clients (which is a good thing for them and you), but most clients will appreciate the fact that you care about their business enough to offer this to them.
Frequently Asked Questions About Selling WordPress Maintenance Plans
Q: What do I do about clients who try to take advantage of my business knowledge and call every day with half-hour questions?
A: In actual practice, it averages out pretty consistently. Some clients don't call at all, some do call frequently. This has to be managed under the components of your Care Plan which relate to Support Tasks and Strategy Consulting. Build these costs into the plan, so they are paid-for sessions. It's also important that these be scheduled sessions (e.g. every Wednesday), so things don't get out of hand.
Q: What is the best way to go about transitioning existing clients on an ultra-low maintenance plan to a much more value-added Care Plan, with costs that are commensurate with the service?
A: While a really good Care Plan may not work for all clients, it is absolutely the way to go for a client whose website is critical to his business and which adds tremendous value to that business. It should not be hard to convince those kinds of clients why a bigger support investment is fully justifiable.
For long-term clients that you have a great relationship with, the best approach is to simply have the necessary conversation about how your business has grown and you are now providing top-level support, and that, in order to sustain that high quality service, you simply need to offer Care Plan packages whose cost is a more accurate reflection of the services included.
Q: How many clients can I really take on, if I offer unlimited 30-minute support tasks in my Care Plan?
A: This depends in large part on what your skill set is, and how long you have been working with custom WordPress theme development and management. If you have a great deal of experience, you can tend toward a larger number of clients. If the experience is somewhat less than that, fewer clients should be taken on until you become more comfortable with it. It's something you should grow into as your skill set grows.
I'd love to hear your thoughts on this topic and how you approach it.
You might also enjoy this post from Kristina Romero on how to transition existing clients to recurring revenue.
PS.  Don't do this business thing alone! Join our free Facebook group, Digital Mavericks, which has over 10k digital creatives who support each other to grow their business and help each other get unstuck.