One of the biggest mistakes you can make as a website consultant is recreating a proposal from scratch every single time. Having a proposal template in place is a necessity. 
Think about where you spend your money and ask yourself why. It's because you trust that you're going to get value for that money. And that trust comes from a feeling that the person you're giving your money to knows what they're doing.
That feeling of trust comes from processes, procedures and systems that are in place to deliver that value to you. And probably the most important process that you can incorporate into your business is a tried, tested and highly converting proposal template.
I'm just going to say it – the reason you're losing projects to your competitors probably isn't because their work is better than yours. They just know how to articulate what they do better than you. 
But don't worry, you're in the right place. I'm going to share a proposal template with you that will take your business to the next level. No matter what digital service you offer, you can take this proposal template and tweak it to save yourself a lot of time and money!
I just secured my largest contract to date - $40K website project plus $17.5K/mo recurring revenue with your proposal! Yes, you read that correctly.
Before I started Agency Mavericks, I spent 8 years as a WordPress consultant working with clients such as Quickbooks and F1 Grand Prix.
When I started out, I was sending proposals as a Word Doc and I thought perhaps it was the design that was letting me down. So I tried getting them professionally designed. But really, I had absolutely no idea what was working and what wasn't. I didn't even know if the proposal was being opened.
Then I discovered some software called SlideRocket which allowed me to send the proposal as a slide deck. From there I could track when it was being opened and how much time was being spent on each slide. I used this valuable data and asked for feedback from clients and eventually discovered the winning formula.
Oh, and it turns out that just a standard Word Doc saved as a pdf converts way better than a professionally designed proposal.
So now I share this proposal template openly and it is currently being used by thousands of WordPress consultants all over the world to generate in excess of $50M a year in consulting revenue.
Right now you probably just want to download it and get started. But it's a good idea to read on so that you can understand the purpose behind each section and why it coverts so well.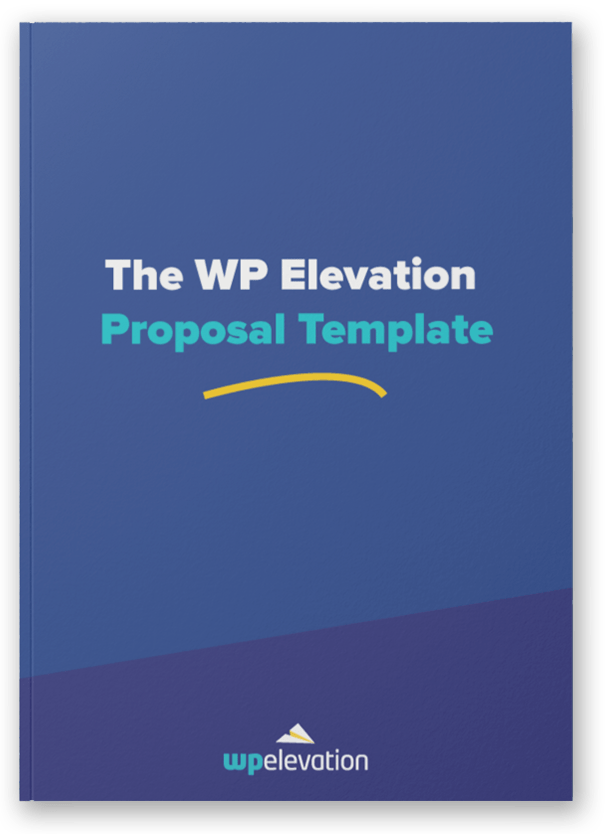 Download Your Free Proposal Template
Start winning better projects with bigger budgets now.
The Proposal Template Breakdown
This is a simple and short paragraph that states who you are, who the client is and the fact that they've approached you to make a website.
In this section, you reiterate to the client what they've told you in the discovery session. Outline why they need the website and what their goals are. Try to use the exact same wording that the client used so that they know you completely understand them and their needs.
Here you say who the target audience is and what they need from the website.
In this section, you propose how it is that their new website will help them achieve their goals and the audience achieve their needs.
This is where you outline the benefits rather than features. Don't talk about anything technical here such as "plugins" or "opt-in forms". Only talk about the benefits that those features will provide.
This is really a key part of the proposal. The client doesn't understand why they're being asked to spend all this money. The technical jargon doesn't mean anything to them. But if you can show them the benefits that they will receive, then you are speaking their language. This is where you will be articulating what you do much better than your competitors.
Here are some examples:
Feature: Optin box or sign up form
Benefit: Increase leads
Feature: Blog with categories and tags
Benefit: Drive more traffic to your site from search engines

This is where you start setting the expectations by explaining how long the project should take and what the major milestones are within the project. For example:
This is what you're asking your client to invest so that they can reach their goals. It is important not to call it "cost" as the website will be making them money, not costing them money.
This section was a game-changer for me. Straight after the client reads the investment, you can then answer all of their objections. If you've dealt with some clients you will probably know what the most common objections are. I've added what I believe to be the most common objections in the proposal template.
Once I added this section I found it amazing how by telling a client what to do, they're much more inclined to just do it. Here you can tell them how to sign the agreement and return it to you. I like to use Bidsketch but there
are some other great tools
that you can use for this. Otherwise, you can simply tell them to sign it and return it to you.
I don't like to call this section "terms and conditions",  I prefer to call it a mutual agreement and outline what we will do for the client and what the responsibilities of the client are as well.
OK, now it's time to download the proposal template it and start winning more clients!