Have you been experimenting with your voice search results in Google yet? Are you wondering what the increased usage of voice searches means to your website ranking? This article will provide you with some clarity in moving forward with your website and the ever-increasing importance of voice search results.
How Is the Way We Do Searches Changing?
Smartphone-based web searches are increasing significantly and the AI that we use for voice recognition is getting better. This means that voice searches are increasing as well.  So much so that ComScore says that by 2020 50% of searches will be voice-based. Location-based searches are also increasing whereby someone asks their voice recognition "find a hairdresser near me".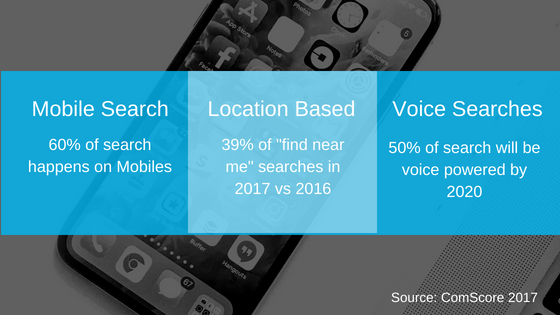 Google Answer Box
The Google answer box is the featured snippet which displays after asking Google a question. When you do a voice search, Google Assistant or Google Home will read the answer box out to you.
The aim is to get your website as the feature in the answer box and your details to be read to the potential customer which is an extremely powerful position to be in. 
Below is an example of what appears when you do a voice search. As you can see, it appears in a box which is then read out to you: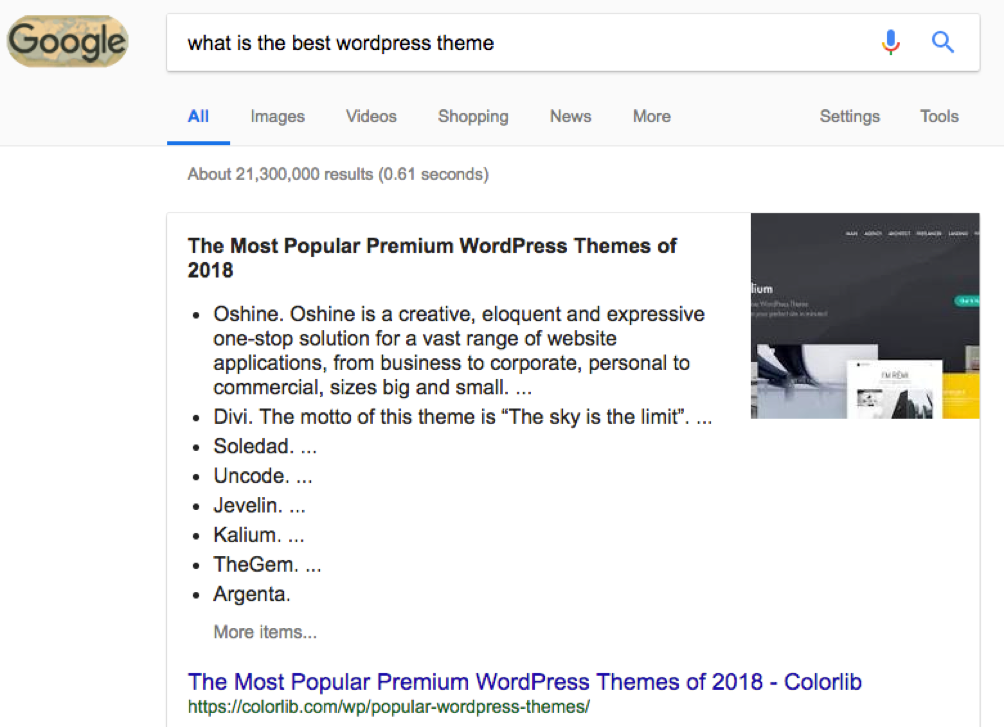 The answer box sits above the organic search results and is displayed differently. It presents the information to make it look more credible even more so than the first page results. This means that a user's search query can be carried out much faster and they don't even have to click through to the website to get the information if they don't want to.
How Do You Get Your Information into the Answer Box?
There are many articles out there at the moment that will tell you that you need to rewrite the content of your website so that it answers anything that someone may search through Google with informational content. Let me explain…
We unconsciously change our behaviour when searching using our voice. So when people use voice search, they use full language whereas a search through a keyboard is abbreviated and based on keywords.
For example, when typing a search query, the user would write "best WordPress theme 2018" yet voice search users will more instinctively say "What is the most popular WordPress theme in 2018?". Therefore, if you provide content that answers people's questions, then you are well on your way to setting up your site to be the solution in Google's answer box!
Ok so how to do this…
Provide an FAQ Page
You need to answer questions by providing the who, what, when, where and how solutions. The easiest way to do this is to include an FAQ page on your website. This will include the exact wording that someone would use in a search as well as provide the answer that Google would display in an answer box. Your link to your products or service could also be included in the answer.
Titles and Meta Tags
You can change your titles and meta tags to provide more information about your service or products. For example, if your client is selling hairdryers you could include a full description in your meta tag such as "XX Brand is the best hair dryer of 2018 providing the highest power at the best cost".
This leads us to using structured data in the front end of your website to assist Google to read your site clearly and provide additional information for the potential customer. This is a huge topic so I will talk more about this next week, but you can check out schema.org if you want a headstart.
Make sure that you know what your customers are asking for and put content around that in your blog posts. For your hair dryer client, if you know that people are searching "What is the best hair dryer in 2018". Then you would title your Blog "The Best Hair Dryer in 2018 – XX Brand".
So basically, provide answers within your products and services pages and if you can and include it at the top of the page as a title then this ranks even higher because it is easier for Google to grab that info.
Investigate Your Competitors
Take some time to look at competitors who appear in answer boxes that aline with your products and see what content you need to be focussing on. Reviewing a competitor's website that captures the answer box is a fantastic way to understand how they are doing it, and it will assist you to improve your product page and ranking.
Visit the pages of your competitors who have made it to the Google box and see how they have structured their content. 
Explain the How
Provide content that explains to visitors how your product or service meets the needs of your potential customers. A simple answer at the top of the page for a potential customer query is great, but dive in deeper and provide the detail on how to complete the task or service which clearly explains your product. "How to" and "what is" sentences provide substantial value over other trigger words.
Wrap Up
Now it's time to redraft your pages so that they provide content strategies (such as those explored here) which deliver the customer's search intent rather than maintaining pages that just focus on keywords.
Solving challenges or answering questions that your audience requires during their search intent (or buying cycle) dramatically improves the ability of your website to engage the customer and capture leads.
Ok, that's it until next week when I will talk about how to tie in structured content using Schema.org to tell Google what you are providing as a solution to the search query.