Last week, Simon and I held a Facebook Livestream about how to navigate through the Covid-19 crisis. The engagement was through the roof, and showed us just how much people are needing guidance and support right now.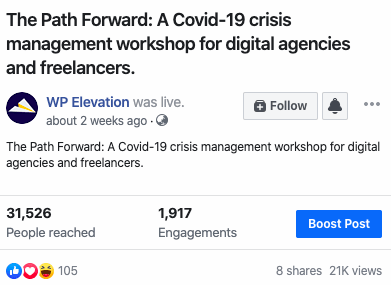 The world is changing and this moment in time is like a pause. 
How do you want things to be different when this is all done?
It's now more important than ever that we show up for our community and help you guys as much as possible. So we've put together this Covid-19 crisis management workshop for digital agencies and freelancers. 
Here's what we cover:
How to lead your clients through this difficult time
How to make sure your business survives the crisis
How to set yourself up so you can thrive once we come out the other side
Check out the replay below or have a read of the show notes.
Businesses and schools are closing their doors
Constant bombarding with Coronavirus stories
People are self-isolating
Consumers are behaving with a scarcity mentality
Projects being put on hold
Some clients are cancelling care plans and retainers
The Five Types of Reactions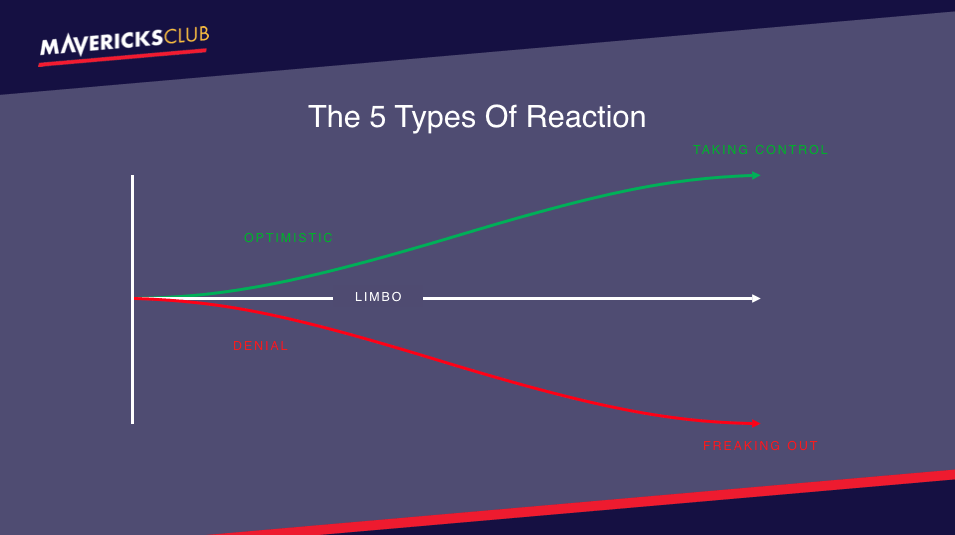 Denial: At first a lot of us didn't realise how much this would escalate and some people are still in denial that Covid-19 is in fact a crisis
Freaking Out:  The people who are in panic mode and bulk buying toilet paper
Limbo: The people who are not sure what to do right now, are not taking any action and are looking for guidance 
Optimistic: Looking at the silver lining 
Taking Control: Which is where we want you to get to
At a time where things are so out of our control and so uncertain, we need to focus on the things that we can actually control. And we're are going to help you get this to this point. 
You've got to lead your people: Your team, customers and suppliers.
You've got to survive: getting hold of your workflow, cashflow (short term) and getting a hold of your finances (long term).
You've got to thrive when we come out the other side of this by looking at your business model and make a game plan. 
Lead Your Team: 
If you don't have a team, think about partnering up with people who have complementary skills.
Acknowledge what is happening and reassure your tribe that we will get through this together.
Support your team to work from home both physically and mentally. Make sure they have a proper workspace and that you're checking in with them on a regular basis.
Set up a communication rhythm. Right now it's important to be jumping on video calls more often. 
Lead Your Clients: 
Proactively broadcast 'business as usual'. No one wants businesses to fail at the moment. It's in everyone's best interest that businesses thrive so don't give up and run for the hills.
Talk about opportunities. How can your clients pivot their business model? They might be in panic mode and need someone to help them with a plan.
Add value and they will never forget you. But please don't offer your services for free. If you run out of profit and go out of business – then you can't help anyone. Instead, talk about payment plans and give them options.
Talk to Suppliers and Partners: 
Discuss payment options.
Ask your suppliers and partners about how you can help them.
Partner up with others who have different skills to yours.
Control Cashflow: 
Collect all outstanding money.
Follow up all your leads and outstanding proposals.
Lower your costs (such as unnecessary subscriptions and tools) but be prepared to increase investment (things that are going to be making you money). Right now letting all your staff go won't help you in the long term.
Streamline Workflow:
Do a daily huddle with your team and sort actions by impact. Make sure that everyone is accountable. If you're a solopreneur then find someone to partner up with and keep each other accountable. Join the Digital Mavericks Facebook Group, network and partner up! 
Double down on output (eg. get on the phones and chat to your customers).
Reallocate working hours and get your team to pivot their role for what is needed right now.
Optimise Finance Flow:
Up-to-date bookkeeping is very important right now. 
Breakeven forecasting. How much do you need to make every week, month and year to break even? 
Use business stimulus package. Find out what funding you are eligible for.
Maintain Your Health:
Consume wisely. Yes, we are talking about bad foods, alcohol and drugs. But we are also talking about content that you're consuming. Don't spend too much time with the news and social media. 
Make sure you have good sleeping patterns and get into a routine because that's one thing you can control. 
Continue to exercise. Even if you haven't exercised before, it's even more important to do this at the moment to help with your physical and mental health. Download the app Seven Minute Workout and incorporate it into your morning routine. You'll feel so much better for it! 
Stop and breathe. Slow down and take some time to BREATHE. 
Business Model: 
Now is a good time to revisit your business model so that the changes you make now will pay off in 3-12 months. 

We teach a business model in our Mavericks Club called "Simplify to Amplify". Here is the high-level overview: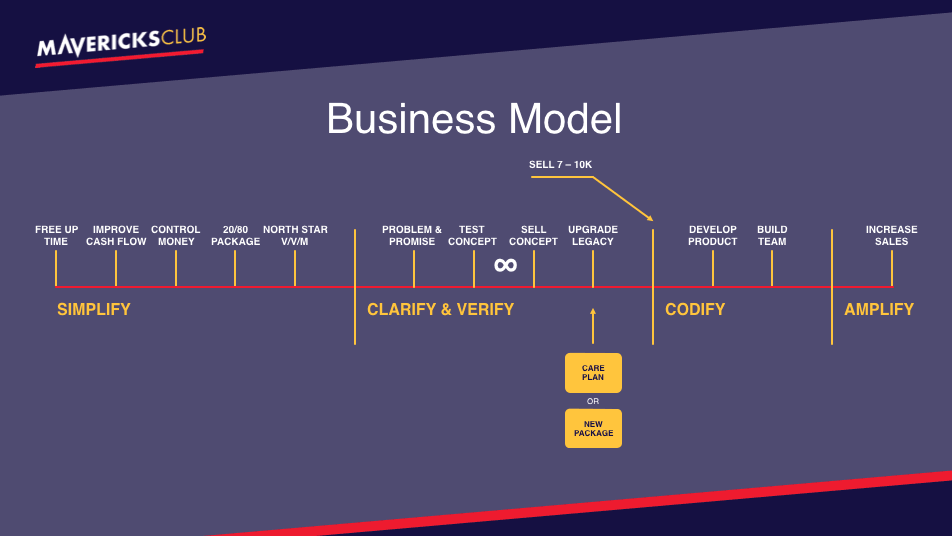 Simplify What You're Doing
Advantages of this are that it frees up your time, improves your cash flow and you get control over your money. So what you want to do is put together a 20/80 package based on
Pareto's principle
that 20% of what we do adds 80% of the value to the customers.
Focus on your sweet spot.
Do the stuff that you are best at doing and actually enjoy doing it. This will free up your time and improve your cash flow because you've created a simplified package and a clear focus.
Clarify and Verify
Once you've simplified your offering. You want to clarify your message so it makes sense to people. The key to clarifying the message to your customers is to add "so that…" to the end of sentences that explain what you do. For example: "I optimise checkout pages by making them more narrow" The client may say here "huh?" So instead of this say: "
I optimise checkout pages by making them more narrow 
so that
you can make more sales and get a better return on your ad spend" 
Add "so that" and then the benefit that the customer will receive. Once you get that customer to buy, you have your product verified. Then you can make these customers your legacy customers. Upgrade them to come kind of care plan so that you can help them get through this period. (But as I said earlier, you can't afford to do this for free.)
Codify
Next, you develop your product and documentation and then build your team to help you:
You need documentation that explains how you do things and what your product package consists of.
Your team could be hiring new staff or it could be other agencies that you partner with.
Amplify this message by getting on other people's podcasts, guest blogging, creating YouTube videos, going live on Facebook and starting conversations within Facebook groups.
You now have the option to stay in denial, panic or limbo. But what will happen in 12 months time? You will be in a much worse position than before. 
Or, you can maintain the status quo of where you are now. It's going to be rocky, but when we come out on the other side, your business will be in better shape than pre-coronavirus. You can use this time to strengthen your business and it's foundations. 
It's just a decision that you need to make now to take control of your destiny, business and lead your customers. 
Take action now and the reward will come later.