You've probably heard the saying:
"Be where your clients are and be what they need."
If you want to grow your agency then it's time to learn some new strategies! And the best way to learn is from those who have already put the hard yards in and are now running successful businesses. 
In this post, I'm going to recap some of the hot tips that Samantha Johnston gave us on the Agency Hour. You'll find out how to grow your agency by setting the right foundations and how to use Facebook groups to find clients. 
The Growth of Neapolitan Creative
Samantha runs an agency with 10 employees called Neapolitan Creative. They work primarily on WordPress membership websites. She started it as a hobby in 2009, before going full time in 2013 and began to grow her team in 2018. 
Samantha joined the Mavericks Club in 2018 and in her second year as a member, she quadrupled her revenue.
One of the main things that transformed her business was figuring out what her "sweet spot" was. As soon as she took a step back and figured out what it was – everything exploded.
How Do You Know You're in Your Sweet Spot?
Samantha discovered that she is in her sweet spot when she is building relationships, finding clients and coming up with ideas. The thing she isn't good at is follow-through and implementation. 
She knew that she wasn't going to be successful unless she stayed in her sweet spot. So she needed to hire implementers who could take her ideas and figure out how to get them done.
Not sure what your sweet spot is? Then check out this post. 
How Do You Know Who to Hire Next?
Long story short – if you want to grow your business, you need to hire people to help you.
So how do you know who to hire next?
Well, this comes from knowing what your sweet spot is.
Once you figure that out, you can then hire people to fill the gaps.
For Samantha, her first hire was someone who did exactly what she did so that she could step out of the "doing" and focus on the "growing" side of the business.
Initially, Samantha hired her as a contractor until she had the means to take her on as an employee.
Profit Is Not a Dirty Word!
A lot of people feel weird about hiring a contractor to do a job and then marking it up for the client.
So how do you justify adding the margin onto what someone's charging you as a contractor?
There are a couple of things to consider: 
Look at how much overhead it's going to cost you because the contractor doesn't have the same overhead. They might be using your tools and there are taxes to pay on each project.
They didn't have to go out and find that client. So you have to think about the marketing time and money that it took you to get that client.
In Mavericks Club we have a financial proforma that we built and we recommend that whatever it costs you, you charge at least three times that. This is because a third is what it costs you to run the business, pay taxes, insurance. Otherwise, you have zero profit.
Although many people claim they feel dirty about making a profit, it's necessary, so there really is no need to feel guilty about marking up the cost.
Using Facebook Groups to Grow Your Business
For Samantha, Facebook groups were how she actually started her business. In 2009, she was playing around with WordPress and making websites for family and friends.
As a new mum, she was involved in a lot of Facebook groups for mothers and she found herself helping people out when they had questions about WordPress. Back then, it wasn't to promote her business, but when she started building relationships she realised just how powerful it could be. 
These days she doesn't focus too much on marketing – she relies mostly on referrals and Facebook Group networking.
Here are her top tips for growing your business using other people's Facebook groups.
1. Find the Right Groups
It all comes back to knowing who you serve. Once you know who your ideal client is, then you need to think about where they might hang out on Facebook. There's a group for everything out there! 
There might be coaching groups for your niche. For example, if your ideal clients are dentists, then check if there is a mastermind or coaching group to grow your dental practice.
Coaching groups are great to join because what those coaches essentially are going to do is teach strategy, but they don't do the implementation.
Coaches actually look to partner with people around implementation, so once you've established that it is the right group for you to join, then make sure you introduce yourself to the admin.
Message them privately to let them know who you are and what you do and that you're not there to step on anyone's toes – you're there to just be helpful because it's your sweet spot. Ask if they have clients that they'd like to refer and explain that you would love to figure out a way to partner up. 
Join as many groups as you can but before you dive in, take some time to observe and check that it is the right space. What conversations are they having? Is there bickering and fighting? Because they aren't the people you want to work with. 
2. Optimise Your Facebook Group Profile
If you are out there being helpful within groups, you need to have your business details on your Facebook profile and make sure that they are visible to the public. (Check your Facebook privacy settings).
There is also a new feature within Facebook that allows you to have personalised profiles that you can modify for each group that you are a member of. So if you have caught someone's attention by being super helpful, they will be able to go to your Facebook Group Profile and check out your website. Here's how:
Step 1:
Go to a group that you are a member of and click "Members", then search for yourself and click on your name:

Step 2:
Click "Edit profile"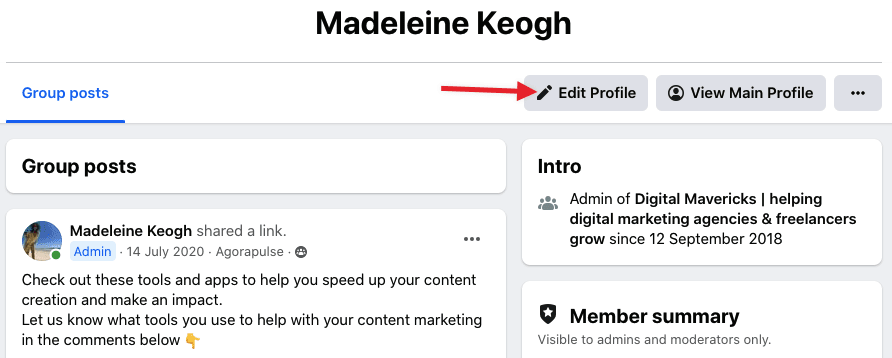 Step 3:
Here you can change your cover photo to be something more professional or about your business. You can add your bio and also select or unselect things from your main profile that you want to be shown here.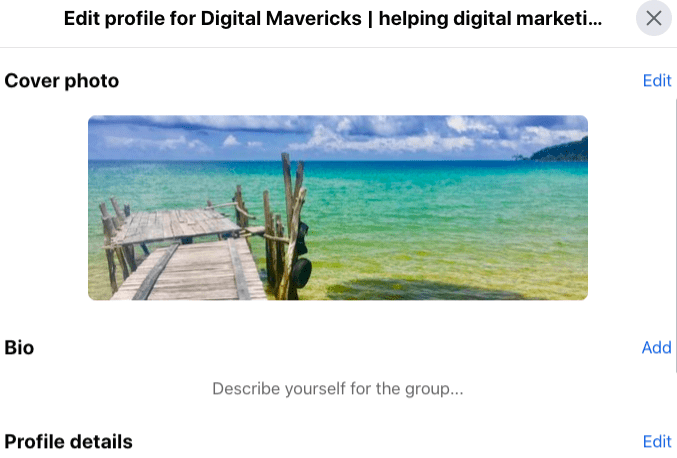 Think about where you want them to go from your Facebook profile. Do you want them to go to like your portfolio or do you want them to opt-in to something? 
Samantha typically adds in her homepage because they have optimised their homepage to be that initial conversation you want with a new lead. But she is also working on opt-ins that will be specific for each group.
3. Start Commenting
Once you have the feel of the group, start commenting on people's posts rather than creating your own post. If people see you being helpful on other people's posts, then over time, you build up a little bit of authority and recognition. That's when you can start creating your own posts if you'd like to.
A couple of things to keep in mind:
Try to comment on the posts that have the highest engagement as that means the algorithm will show that post in more people's feeds which is more exposure for you.
If it's a large group with a lot of content search for things that you know you can help with to minimize the time you spend in the group.
It does take time to build relationships and turn them into leads, but keep persisting.
4. Be Authentic and Helpful
You need to be ok with just giving value and not expecting anything in return. Samantha has never pitched or shared her website links (unless asked to) within the groups. She only gives value.
By doing this you become a known authority and because of that trust you've built – that's when people will approach you for your services.
She also gives encouragement, motivation and inspiration because this is something that comes naturally to her and shows her personality.
6. Be Careful Not to Step on Any Toes
If somebody started a group to promote their business, then be careful because they'll likely want to be top dog.
Be super helpful but then also make sure that you elevate the host and thank them for facilitating the community.
I know that sounds manipulative and strategic, but it's more about showing respect because that is someone's community that they've worked hard to build and maintain. And if you step on their toes, they might kick you out of the group. 
It's really about knowing who the audience is, who the host is and making sure that you're giving the right type of value in the right spaces.
7. Let Go of the Imposter Syndrome 
In the early days, it can be quite daunting to post a comment when there are a lot of people with opinions and advice. When Samantha first started out she was worried that people would call her out if something she said was wrong.
But just be ok with possibly getting it wrong!
It's better to comment and be wrong than to not comment at all. Just respond to it with grace and look at it as a way to learn.
Wrap Up
If you'd like to watch the episode of the Agency Hour with Samantha and Troy, then click here. You will need to be a member of the Digital Mavericks Facebook group to view the post, so make sure you join – it's free! 
If you're interested in becoming a Mavericks Club member like Samantha, click here to request a call and one of our team will reach out to you to have a chat.