Every year we host three mastermind events for our Mavericks Club members and we've just wrapped up our mid-year MavCon event.
There is something so powerful about getting a group of digital agency owners together to support each other. We move through our roadblocks, we take our businesses to the next level and we all leave on a complete high.
This year we had some incredible guest speakers including Rand Fishkin from SparkToro and Vinay Patankar from Process Street. 
But today I wanted to share some amazing insights that we got from Nik Thikorlal, CEO of LeadsHook. We discussed how to increase your lead generation using personalised marketing and what to do now that the Facebook pixel is basically… well… dead. 
First up, is a quick snippet from the live:
Introducing Nik
Thikorlal
Nik has a background in banking and in fact, he was one of the youngest brokers on Wall Street when he was only 19 years old.  He has also bought and sold many successful businesses over the years (and is extremely humble about his successes!)
These days Nik is the CEO and founder of LeadsHook – a company that helps people scale their business through customer acquisition and retention using paid traffic and personalised marketing.
His customers range from smaller businesses to companies that are spending a million dollars a day on ads to get up to 200,000 leads a day! (Yes, you read that correctly.)
As Nik explained to us:
The only problem, if fixed, solves all others – profitable customer acquisition.
All roads lead through this one choke point. So if you are making a good profit from your customer acquisition, then you have the financing to fix anything else in your business whether it be a new hire, purchasing tech or outsourcing the help you need.
How to Create Un-Hackable Campaigns Using Personalised Marketing
Nik created a software system that personalises the customer's buyer journey using decision trees. This software can be displayed anywhere you can add a simple embed code and it is fully responsive.
This all came about when Nik bought a business that sells hair products. He tested quite a few ways to increase sales including quizzes but he found quizzes to be too linear and wanted to personalise them even more. And so, he created front end questions for the user to fill out like this: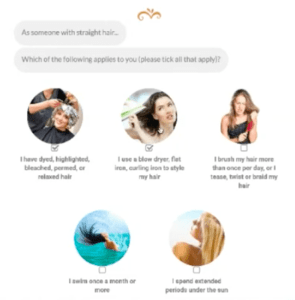 Which triggers a decision tree in the backend to take the user on a journey that looks like this: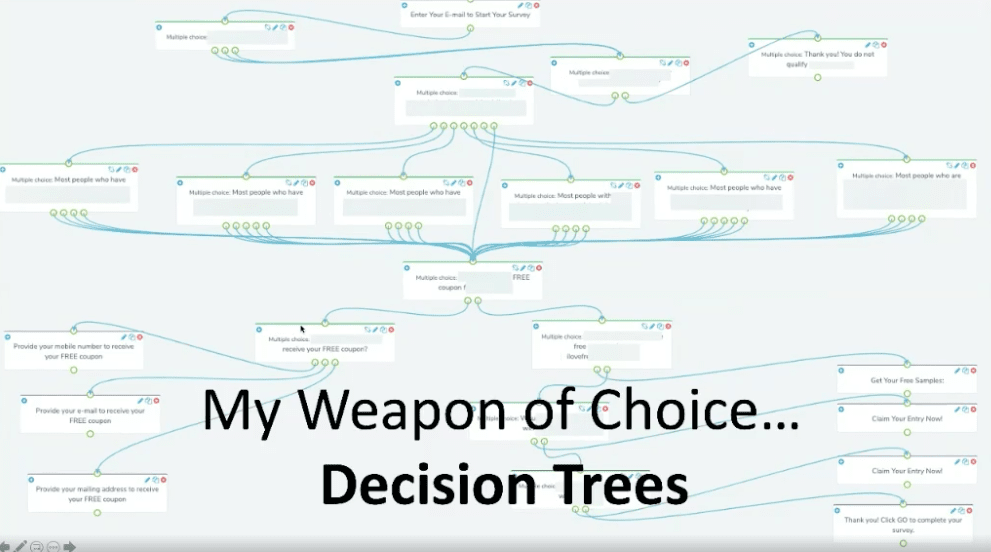 As you can see, this is a pretty hard funnel to hack, right?
The Benefits of Personalised Marketing
The opt-in rate is much higher. (LeadsHook has clients with up to 75% opt-in rates!)
You can use the data to find out what the market wants.
It sets up the sale for you because you've made them aware of a problem that you're able to solve.
They become invested in your product or service because of the process they've been through.
You're able to position yourself as an authority throughout the whole process.
You can use the data for customer retention optimisation. This is often where businesses leave money on the table by not nurturing their existing customers.
You can push their personal data back out and start building Facebook audiences (more on that to come!)
Examples of Personalised Marketing
Ecomm
Let's go back to the earlier example of the online store that sells hair products. Before Nik set up their personalised marketing, potential customers would see how many products there were and get overwhelmed which usually leads to inaction.
But by creating an interactive experience for the customer, you have your very own virtual salesperson that can take the confusion out of the equation.
He started out by asking the in-store salespeople what questions they get asked most, and what their answers to those questions are. He then set up a series of questions online based on this information.
Step 1 – the frontend questions: 
When creating your online questionnaire, you want to try and get as much data on the potential customer as you can with it still being relevant to the product.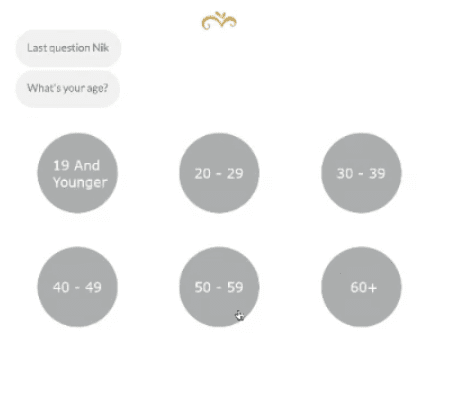 Step 2 – the backend decision tree: 
Depending on their answers, they will be sent down a funnel using decision trees. Here's an example of a very simple decision tree:

Step 3 – the results: 
The potential customer then needs to give their email address to receive their results. This sets up the sale for you.
Now the user is able to choose from a small selection of tailored products to suit their needs, rather than 500.
You can also use the data that you have on the customer to nurture them according to their needs. For example, you could send them user instructions and tips for their hair type which reduces refund rates and encourages repeat business.
B2B
Some examples of personalised marketing for B2B could be:
Benchmarking – so they can compare themselves against best practices or competitors.
Calculators.
An implementation guide.
Saas
Use the data you receive for personalised training and onboarding.
Agencies
Produce personalised audits and reports.
Doubt casting: when you ask a series of questions about the agency that they're using (your competitor) to show that your services are superior. If you know you do something better than other agencies, this is a way to show them your unique value.
How LeadsHook is helping Agency Mavericks
Nik has become an integral part of Agency Mavericks's growth. At the moment he is working with us to digitise our Agency GPS Scorecard.
The scorecard is a tool we use for our members to identify the areas of their business that need attention.
By digitising this, the user will be able to click through a series of questions in regard to their business: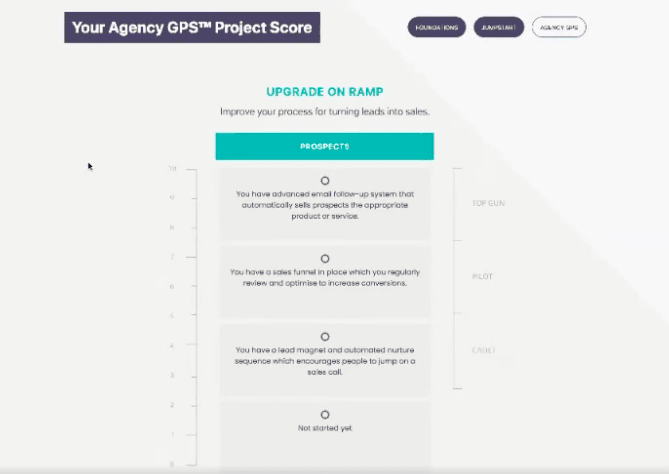 And at the end, they will receive their score which will give them clarity on where their weaknesses are what they need to improve: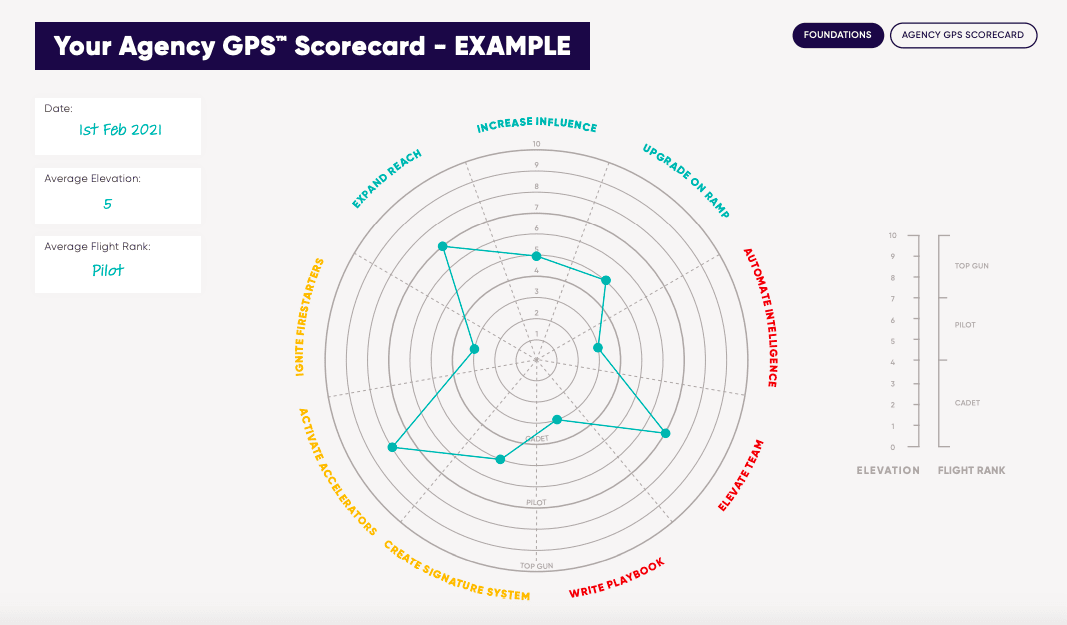 We will be using this as a tool to increase our leads by showing the potential client what their problems are and how we can help them. (Customer acquisition)
Then once they're a customer, we will use this as a coaching tool that they can keep using to improve and see where their next area of weakness is. (Customer retention)
This is what it's all about – trying to get people to understand who they are and where they are in their journey. So once they have identified their weaknesses, we can personalise our advertising accordingly. For example, if they need to work on the area of their business that is "increasing their influence" we would put them into a funnel that would help them in this area of their business.
How Personalised Marketing Helps With Facebook Advertising
The day the iOS14 rolled out in the US, 96% of people opted out of being tracked. If you rely on Facebook ads to get leads, then this is a pretty big problem. But by using the LeadsHook software you can push that data to your CRM and into a custom field, then you can build audiences in your CRM based on that data to push it back to Facebook as a custom audience.
So you can still retarget your audience using your own data.
You also slash your ad costs down because by using your own data you will know more about them and who your target audience is.
Wrap Up
As Nik explained to us today, the secret to high-quality leads is giving our audiences a much better outcome, result, insight or understanding which get increasingly personalised the more information we get. This is basically consultative selling at scale.
A huge thanks to everyone that was a part of this event to make it happen – our amazing speakers, the Agency Mavericks team and our Mavericks Club members! Thank you for showing up, taking massive action and supporting others in the group to do the same.
If you'd like more information on the Mavericks Club, click here.
Or if you would like to chat with our team to find out how we can help you get unstuck, click here.