Tips and practices to implement in your agency to make sure you get paid if a project is abandoned.
"I love it when clients don't pay us for the work we do," said no agency owner ever.
We recently had a member of Agency Mavericks ask us for advice on what to do when clients drag their feet after work has already started: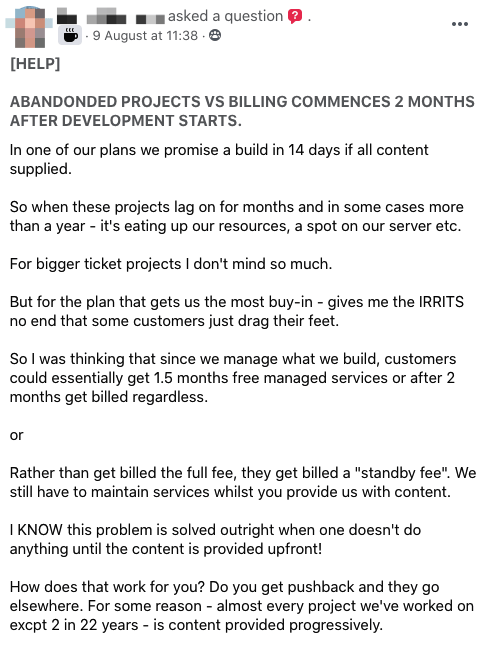 This can be a challenging situation. "Do you invoice now?" "How long do you wait?" "Do you keep working hoping to get paid?
It's awkward and time-consuming following up with a client who doesn't actually understand how much inconvenience they're causing you. And getting ghosted – well that's just…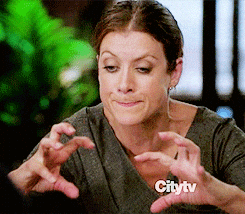 But don't just get angry. Instead, channel your frustration into implementing a solution so you are paid for future projects, even if they are eventually abandoned.
In my 20+ years of running a marketing and advertising agency, I've developed a system to make sure I'm rarely left holding the bag.
Option #1: Bill Monthly
Start with a deposit and create a monthly payment schedule.
Monthly billing with large projects, like website builds, creates an ongoing commitment between two parties. Set up clear terms of payments and expectations of what you will deliver each month. Stick to the plan and follow up to make sure your invoices are paid. This is best done if you use automatic or recurring credit card charges. This can save not only time but following-up with any accounts receivables.
As an agency that develops and designs websites, I've set up this payment type to manage the initial design fees as a deposit with monthly payments and then separated care and maintenance plans. This allows me to reduce the perceived costs at the end of 12 months to just care plans. This has been very successful in keeping clients on board after the 12 months.
Option # 2: Require a Deposit and Final Payment At Staging Delivery
Another option is to break up the invoices between the significant milestones. And it's always a good idea to start with a deposit.
If you're a web developer, this process could mean sending an invoice after you provide a staging website, complete or not. If your agency offers care and management plans for maintaining a website, start the clock on day one.
You can apply a similar system as one of our members, Peter Butler, to your invoice system:
"Our hosting and managed support fees start day one. Since we are hosting it from the start, essential fees apply."
Minimize The Risk
Neither of the above options is foolproof. Providing a service comes with the risk of nonpayment and we've all been there. So, in addition to these two options, I implement a few practices to minimize the risk.
In addition to an iron-clad contract, during onboarding, we discuss the terms of our work, including:
What happens when they don't communicate with us.
Our refund policy
Reinstatement fees if we have to pull down a staging website due to no communication or payment.
Without content, we'll complete a website with Lorum Ipsum (including crucial pages). We invoice regardless.
I explain our care plan since websites are never complete.
It's also worth knowing that after years of working with the same industries, I'm very familiar with the amount and type of content required to get a website up and running. So I'm able to give more precise estimates on time and work required. This, however, comes with experience for every agency owner.
Above all of these practices, we do our best to make the payment process as convenient as possible while building stronger relationships with our clients.
Be OK With Moving On (Sometimes)
There's one crucial piece of advice I want to share—know when to let go of an unpaid invoice.
I know you've put in a lot of hard work, and you deserve to be paid. But the stress of trying to chase down a $250 invoice may not be worth stopping everything else in your agency.
So put the systems in place. And if an unpaid invoice still slips through after you've done all the necessary steps, just archive the project and move on. Take it as a lessons-learned and update your process for the next project.
Eliminate The Obstacles
Getting paid is an integral part of growing your business. However, the truth is an unpaid invoice is an inconvenient risk that can put you in a bind when you have vendors, servers, and staff to pay. So work on your system. As Troy has repeated time and time again…
"You're running a business, not a community service!"
If you need help in creating a system that ensures payment of your services. Or help in overcoming any other obstacle that keeps your business stagnant, set up a clarity call with our team, and let's create a plan that enables you to scale your agency to new heights.