There are a number of reasons why you should sell WordPress care plans.
For starters, you know your clients aren't going to manage their WordPress sites after launch. This not only compromises the visitor experience, but it puts them as well as your clients' businesses at risk. Slow loading speeds, vulnerable plugins, and a lack of recent backups are a huge gamble for website owners to make.
By owning the management and maintenance of their websites, though, you can minimise those risks. And while you're working to preserve profits for clients through their websites, you'll increase your own profits as well.
Why You Should Manage Multiple WordPress Sites with ManageWP
It's costly trying to manage multiple WordPress sites one-by-one. You log in and out of multiple WordPress installations, monitor various failure points and track performance data using a variety of tools. It's just not an efficient use of your time.
ManageWP not only makes easy work of managing multiple websites, but it is one of the best tools to help you maximise profit.
Let me show you some time-saving features of ManageWP:
1. "Action Needed" Dashboards
With your clients' websites added to ManageWP, your dashboards provide a bird's eye view of everything that requires your immediate attention.
The main "Overview" dashboard presents a high-level overview of all the areas that need tending to — across all websites.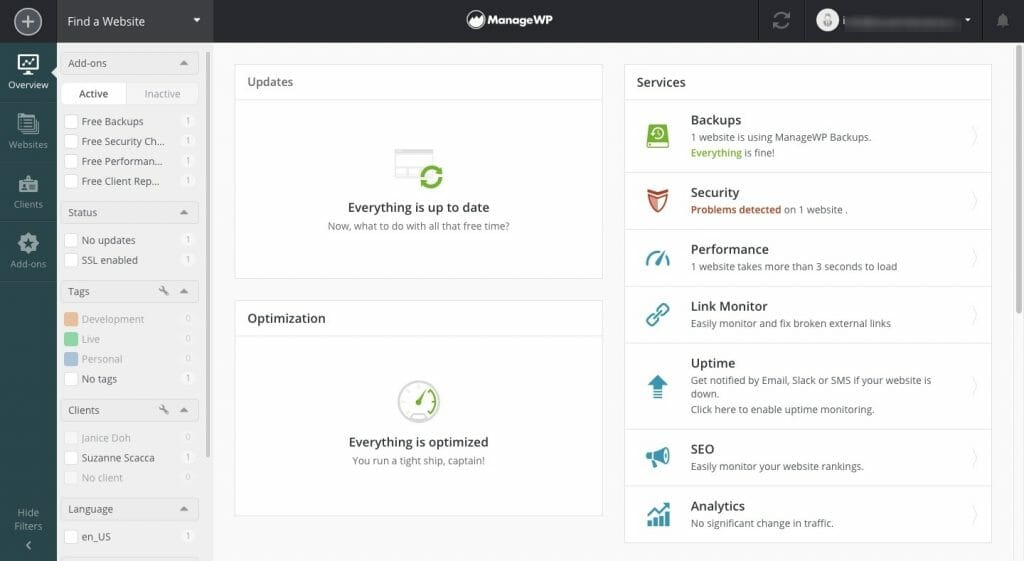 You'll know within seconds when ManageWP has found:
Vulnerabilities
Broken links
Offline sites
A drop in search ranking
Spam comments
And more
Individual website dashboards work similarly. When action is needed, it usually only takes a few clicks to address the matter and get it resolved.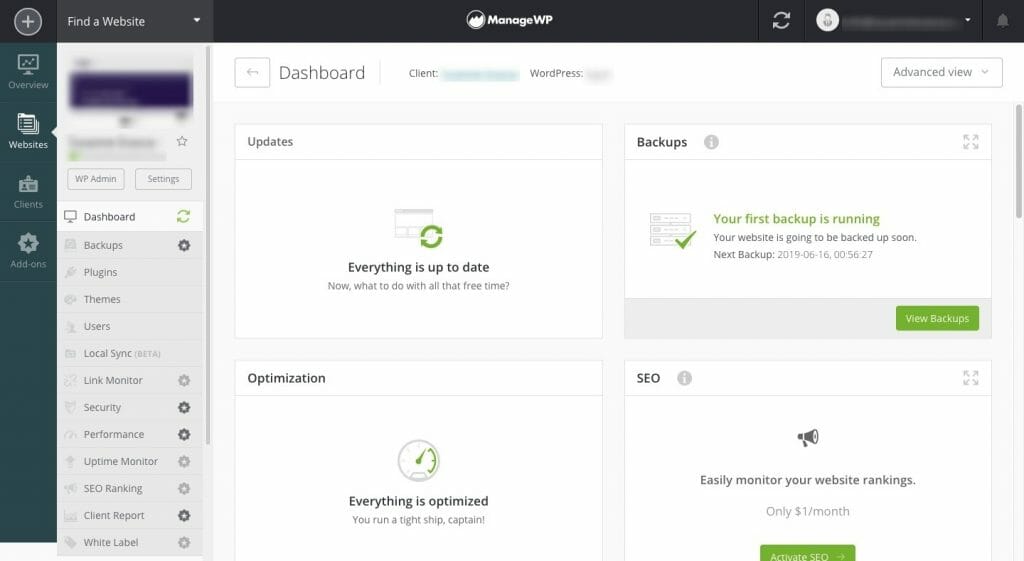 This way, there's no longer a need to log in and out of each website, checking for updates, managing backups or cleaning up the database. It's a smarter way to tackle the simpler yet time-consuming activities of WordPress maintenance.
2. Built-in Monitoring
When you manage multiple WordPress sites, you're not just handling updates and backups. You're also proactively monitoring websites for vulnerabilities and performance drops, among other things.
You could use WordPress plugins to help with some of these scans, but live monitoring plugins can take a serious toll on server performance. You could always use external scanning tools like Pingdom or Sucuri, but that option forces you to add more tools and more costs to your workflow.
If you can do it all from ManageWP, why bother complicating your workflow with other tools?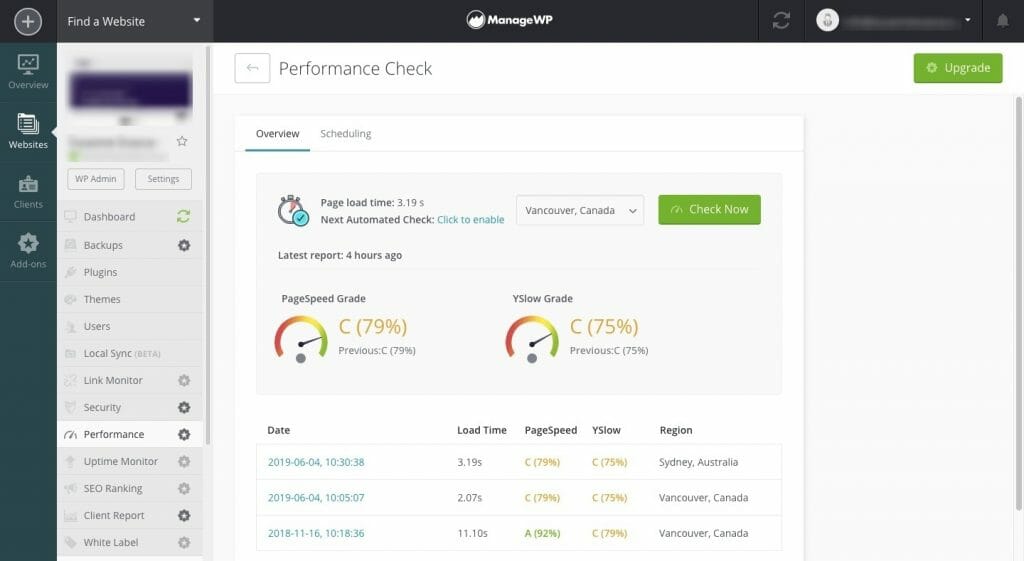 With ManageWP, you can monitor:
Performance
Security
Uptime
Keyword ranking
Broken links
The first two are included for all ManageWP users. The other types of monitoring require an upgrade. If you consider the cost of licensing and then having to use various software to monitor the different parts of your clients' websites, ManageWP will likely seem the most logical choice.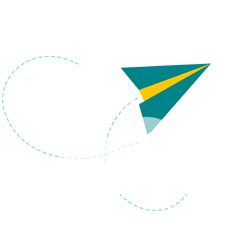 3. Automation Without Fear
Automation is an amazing thing for business owners trying to scale while running a lean operation. However, there's a big difference between business automations and WordPress automations.
Here are some ways ManageWP makes automations a safe and fearless process:
Backups & Updates
If you've stepped off of the hourly treadmill and are billing flat, predictable rates, there's little risk in automating a process like invoice delivery. But automating plugin updates that could potentially lead to the white screen of death? That has huge ramifications.
So, you have two choices:
You can avoid automating delicate tasks like updates and continue doing them one-by-one for each of your clients' websites. Or you can let ManageWP smartly automate your processes.
By default, you can save backups on a monthly schedule and save them to ManageWP's remote S3 server or to your own preferred storage provider.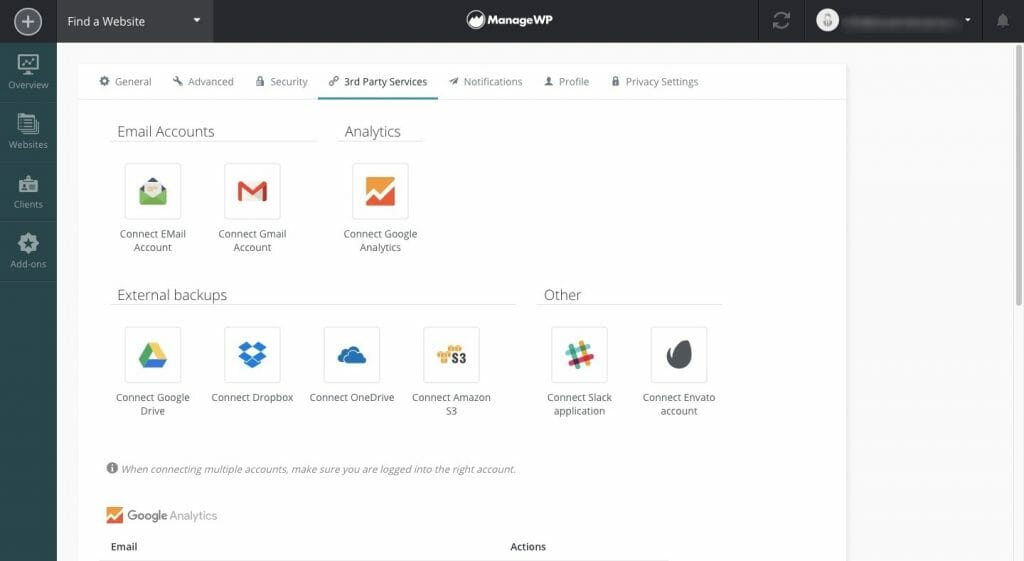 With an upgrade, you can save backups more frequently. And unless your clients' websites are tiny and barely change from month to month, you're definitely going to need that upgrade. That's because the "safe" automation features don't really work without it.
One way to take advantage of the upgrade is to schedule your plugin and theme updates to occur right after backups are captured. And if you have the uptime monitoring feature enabled, that'll be your failsafe in case the website goes down due to a plugin or theme conflict.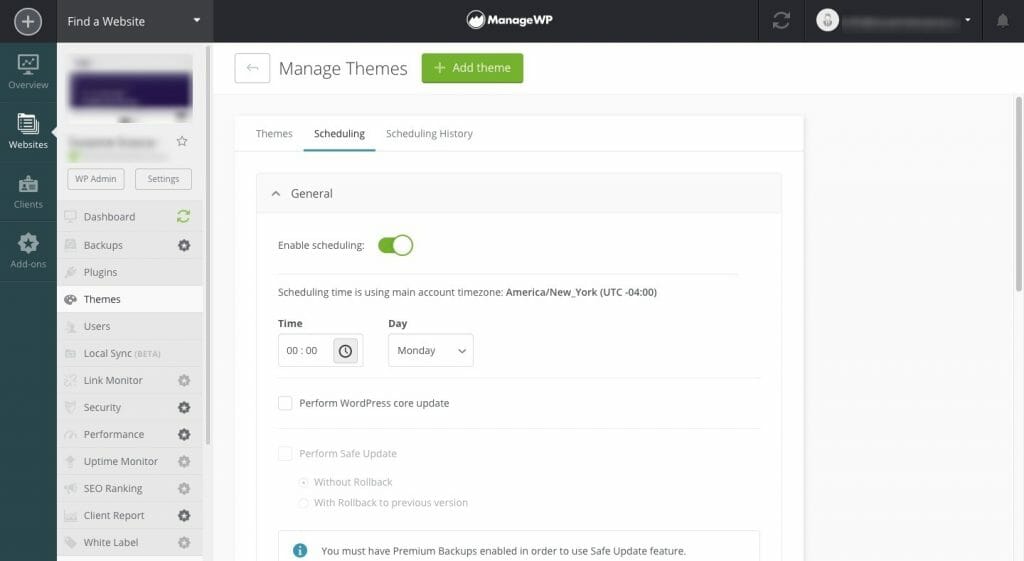 Another way to take advantage of this is to use ManageWP's "Safe Updates" feature. This feature takes care of locating the perfect "restore" point if an error occurs. Even better, if the update does fail, the tool will automatically roll the site back for you.
Notifications
If any of your automations — updates or otherwise — do fail for any reason, you can configure ManageWP Notifications to be sent to you the second they happen. That way, you're not on the hook to log into ManageWP or WordPress to check on these things. You only have to step in if or when something goes wrong.
Client Reports
Another nice feature is that you can suspend automated client reporting. That might seem like an odd thing to want to stop, but it makes sense if you think about what they could see if something happens to the site just before the report goes out.
Imagine a vulnerability was detected in a plugin and you haven't had a chance to resolve it. Rather than let the scheduled report go out, letting the client know their website is vulnerable, ManageWP holds the report until you've cleared the issue.
4. Tailor-made Templates
There are two time-saving templates you should take advantage of in ManageWP.
The Report Template
If you're providing a service where you're responsible for monitoring and maintaining the performance of a website, clients are going to expect regular reports. But rather than pull data from different sources or manually enter it on your own, ManageWP handles it for you.
All you need to do is create a report template that can be used over and over again.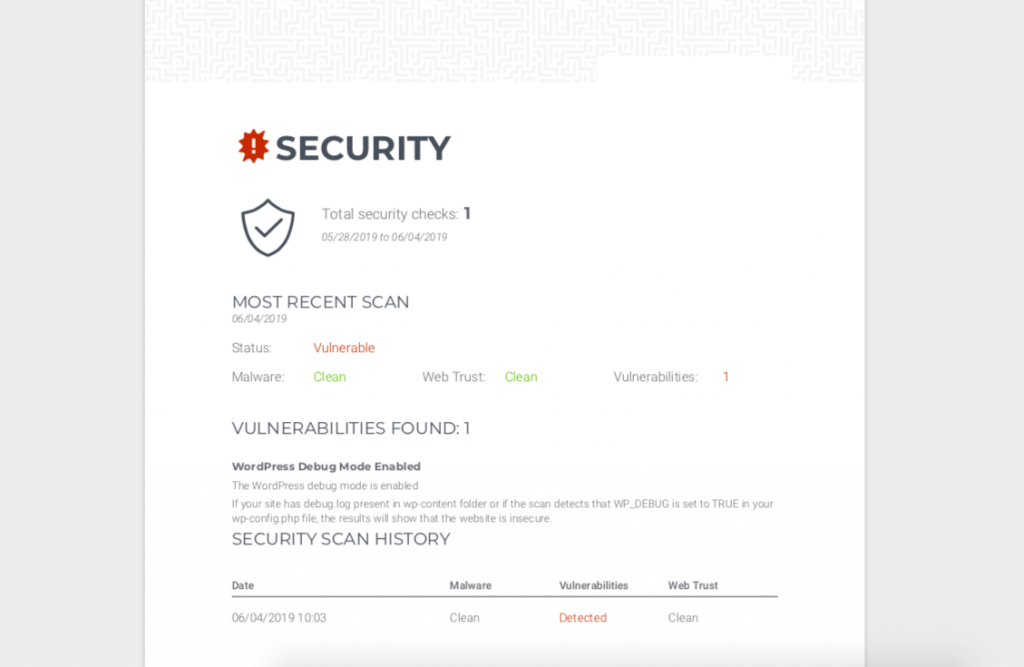 You can even create multiple templates for each of your Care plans. That way, setting up clients on different plans is a breeze.
The WordPress Template
If you want a quicker way of getting a brand-new WordPress website set up, the ManageWP Template Builder takes care of that piece.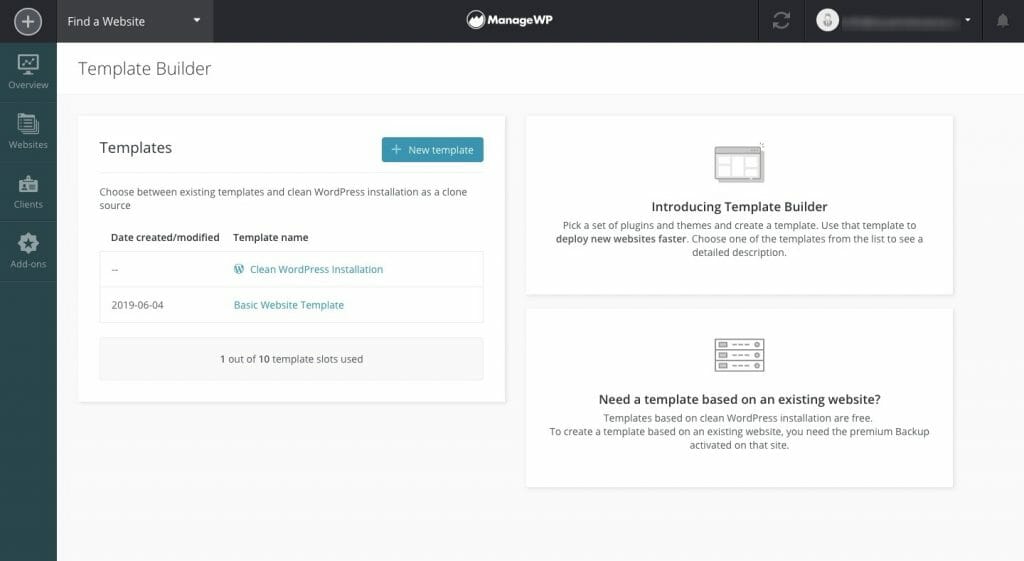 Most websites are going to have the same plugins (and maybe even theme) to begin with, so this is a good way to save yourself time at the start of a project. Fill your template with the essentials, save it, and use it to quickly set up a new WordPress install.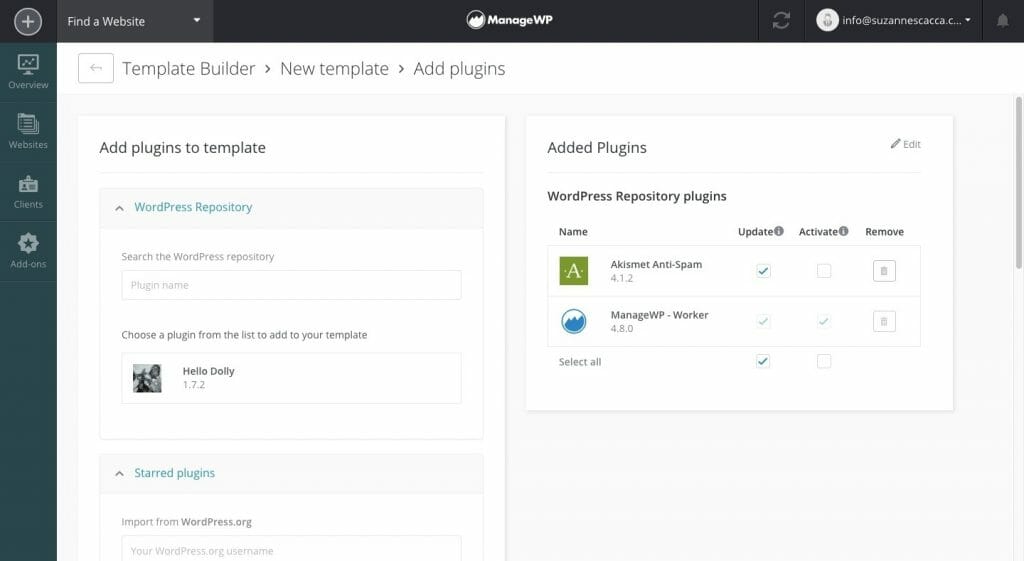 Again, if you have specific plans (or niches) for website clients, you could create different templates so you don't have to spend so much time customising or trimming the fat after the new site is installed.
5. Productised Pricing
If you really want to maximise profitability, you can turn your WordPress maintenance service into a product using ManageWP.
As we've seen above, all the automation built into ManageWP is going to make light work of maintaining your client's sites. Then, there's the fact that there are no surprises when it comes to how much you have to pay to use it.
If you have less than 25 websites, you'll pay a dollar or two every month for each of the premium add-ons. At most, you'd have to pay $9 a month for each client's website to include all features.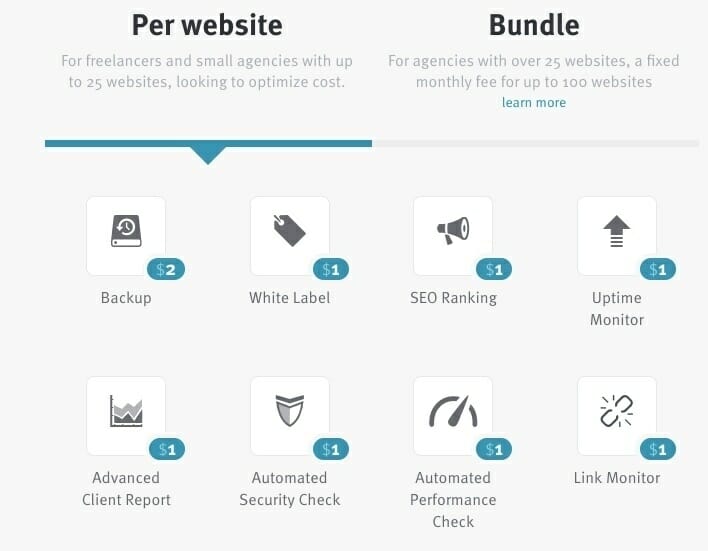 If you have more than 25 websites, you can purchase bundles from ManageWP that cover an unlimited amount of websites.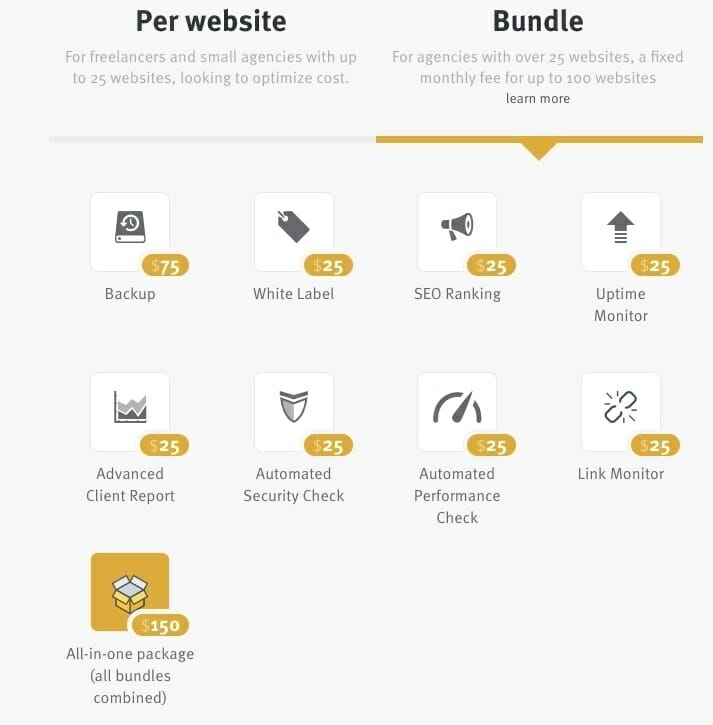 As you can imagine, this type of flat rate would do wonders for keeping your costs reasonable and predictable as you scale and bring in more revenue.
Wrap Up
Although there are other tools you could use to manage multiple WordPress sites at once, many of them don't stand up well against ManageWP. Some of them have hidden fees while others just don't have an intuitive interface that simplifies workflows.
What's more, you can start with ManageWP for free — for all of your websites. This is a great option if you're new to selling WordPress maintenance services and want to see how well it goes offering the basics to start. Then, once the service proves popular, you can scale up using ManageWP's predictable pricing model.