The how-to framework to cross more items off your list and work towards your goals.
Make a list of all the items you want to accomplish today, and you can easily find yourself overwhelmed by the sheer number. Then, multiply that list by 30, and you've got a whole month of chaos. So how do you even start tackling your never-ending checklist of action items?
Over the years, I've seen how difficult it is to try to tackle multiple significant goals all at once. I like to refer to these as "big rocks." Because in one day, every day can quickly become the recipe for disappointment and burnout if you take on too much.
And ultimately, you accomplish little to nothing as all the "big rocks" sink your plans, and you get churned up in a sea of overwhelm.
Instead, you need a structure to help you prioritise your goals and a system that enables you to get them done. As James Clear says in his book Atomic Habits, "You do not rise to the level of your goals. You fall to the level of your systems."
Simply put, you need a proven system in order to accomplish your goals.
So how do you build a framework that allows you to achieve more while still focusing on your vision for your business?
The secret is in your framework!
Use a framework to organise your to-do list so you can clearly see which goals to tackle first. This is also an opportunity to identify easy wins to cross off your list.
Start by managing your to-do list into something manageable.
1. Prioritise your to-do list by importance
Not all goals on your to-do list are created equal. For example, launching a client's website will have a higher priority than publishing a blog post. So start by organising the list in order of importance. If you have target dates on when you want (or need) to get it done, make sure to note that on your list.
2. Categorise the list by size, making sure your big goals are aligned with your business plan
The next step is taking your list and categorising your priorities by size and complexity. Are there items on the list that are dependent on other actions? Are some mini action items within a bigger goal? Start grouping those.
By now, you'll probably have several mini-lists organised under big goals with target dates you want to get it done. Your to-do list is starting to look clearer, right?
In Mavericks Club, our coaches work with each Maverick to develop their 90-day flight plans. The flight plans help them to set motivating but achievable goals, identify key projects and tasks they should focus on next, in order to keep moving towards their business vision. So before you move forward, review your big goals to make sure they're aligned with your business plan (or as we call it – your GPS Flight plan.)
3. Set one big goal a month
Your next step is deciding which big goal you want to accomplish this month. That's one big goal, one big rock that moves you forward in your flight plan.
A word of caution. I know you're a go-getter! And you might be tempted to say that everything on your list needs to be done now. Don't. You'll find yourself on the road to burnout with the feeling of defeat slowing you down.
Break down goals with the Agency GPS Monthly and Daily Planner
Using the Agency GPS Monthly and Daily Planners, you can take each goal and break it down into manageable steps.
Starting with the Monthly Planner:
1. Focus on one big goal from your flight plan
2. Break down the big goal into three priorities that will help you move towards attaining that objective
3. Break down each priority into five actionable steps.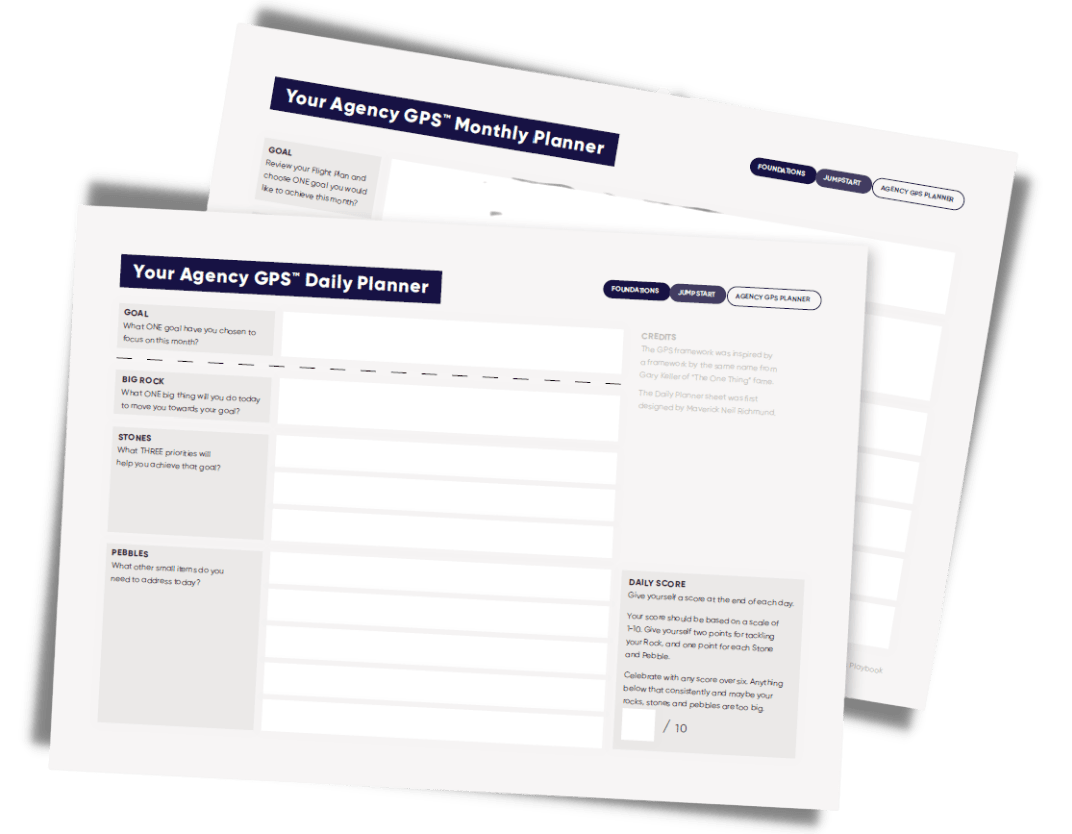 Then you can break out the goal even further by using the Daily Planner. With the goal for the month on top, each day, you'll focus on one big rock or action item that will move you towards your objective of the month.
As an entrepreneur, we know there are more items on your to-do list like client calls, payroll, etc., that may not be steps towards your monthly goals. However, you can still use the Daily Planner to allocate time to accomplish these essential tasks by breaking down the rest of the day.
List two to three medium action items (or stones) you want to work on during the day
Add up to five short tasks (or pebbles) you want to tackle
Having a framework organises your days more realistically and effectively, allowing you to constantly chip away at your big goals while still tackling your day to day action items. The result? A sense of accomplishment, not dread at the end of each day.
Put the Agency GPS Planners to Work
Download the Agency GPS Monthly and Daily Planner below and see how many goals you can smash when you've got a framework to help you get work done.
Download the Agency GPS
Monthly and Daily Planner