Confused about what the best social media scheduling tool is for your business?
There's always a lot of talk about which scheduling tool to use and I tend to get FOMO. I have tried quite a few different tools and have included a comparison below which might help you find the right fit for your business.
(Please note: these tools are constantly being updated to add new features and prices may change throughout 2018)
Grum
Posts to: Instagram only
Cost: $9.95 USD for 2 accounts (in total); $3.95 USD for 3-5 accounts (each); $2.95 USD for 6+ accounts (each) per month.
Grum, by AppSumo, is an Instagram posting tool that allows you to publish photos on multiple accounts at the same time and schedule all your posts.
Grum is so simple to use that you don't even need a tutorial, but I will post a link here just so you can get an idea of how it works.
So basically, you just schedule your post and upload it the same way you would on Instagram and they publish it!
Pros
It is the only tool that posts directly to Instagram, with the other tools, when an Instagram post is ready to be published, you will be sent a push notification to your device. There is a lot of talk about how Grum get's around Instagram's TOS.
You can easily switch between multiple accounts
It's affordable
You can crop and edit images
It has a hashtag counter and will tell you when you are up to your limit (30 hashtags)
No training necessary to use it – it's so simple
Cons
You can only post to Instagram so if you want to add content to other platforms, you would need a separate scheduling tool for that. So you need to consider the extra cost for that
Unfortunately, you can't edit or write comments once the post has gone live. You would need to log into the account directly on Instagram to edit it
There aren't any analytics features, but according to Grum, that is something that they will be adding
Buffer
Posts to: Twitter, Facebook, LinkedIn, Google+, Pinterest and Instagram (with notifications)
Cost: There is a free plan for up to 3 social accounts which restricts you to 10 posts at a time. There are other plans which range from $10 USD per month for 10 accounts to $399 USD per month for 150 accounts. Click here for more information.
Buffer is an easy to use, one-stop shop for scheduling. Here is a quick video to show you how it works:
Pros
You can create ready-to-go timeslots as a template and you simply enter the content into the timeslot (change the set time when you enter the content if you need to)
Editing is easy. With some of the other tools, if you need to edit a queued post, you have to reopen the post to be able to see the content and then edit. Whereas, with Buffer it is all in front of you as per the screenshot below: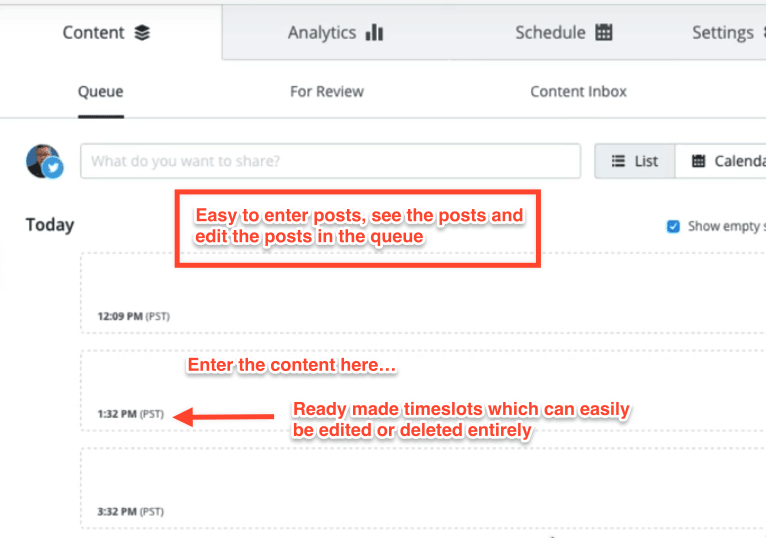 Analytics and reports are available, allowing you to track engagement and interactions on the posts you've shared. You can then go into the posts that get high engagement and click "rebuffer" to add it back to the queue.
There is an extension that you can add to your browser. So if you see a great article or a picture, you can easily add it to the queue or post it straight away by clicking the extension. And you don't even have to download the picture to your computer.
Thre is an RSS feed which holds interesting articles from the sites that you choose and you can easily just click "add" and it will create a new post for you.
Cons
Instagram still won't let third-party apps post for you, so (as with any social media scheduler except Grum), Buffer only sends a reminder about Instagram posts, and you have to post them yourself.
Meet Edgar
Posts to: Facebook, Linkedin, Twitter
Cost: Plans start from $49 per month for up to 25 accounts and an unlimited library for our content. Click here for more information.
Meet Edgar is a little different to the other social scheduling tools – you add the content to a library under different categories (Eg podcasts, blogs, news) and then Edgar rotates the content according to the time slots that you choose and the categories.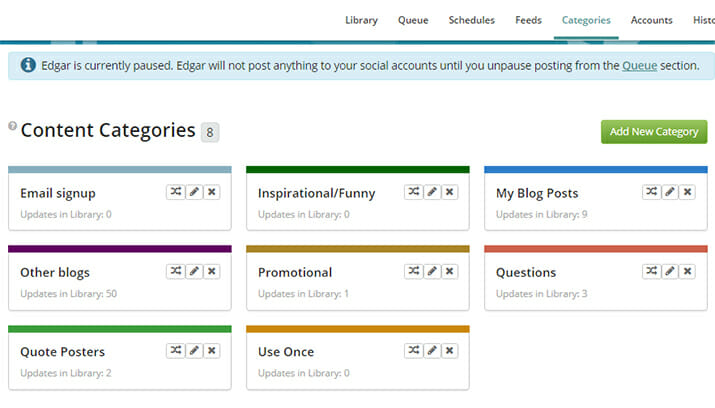 Pros
Edgar allows you to have a constant stream of content for social media with little effort by automatically shuffling the content from your library and posting for you. Whereas, with other tools, if you were scheduling a post across a few months, it is very time consuming choosing the dates and times manually.
You can still expire or choose specific times to post should you wish
It is quite easy to edit or change content and you can easily just press a skip button if you see something that is in the queue that you don't want to be scheduled.
It has a browser extension to easily add content that you are browsing
It has an RSS feed option
Cons
It is a bit clunkier if you want to schedule new content straight away or content that you only want to go up once. However, to get around this problem, you can create a category called "use once" which will expire it straight away for you
If you have fewer posts in a category than the others, it will post the same content more frequently from that category. So in that way, the algorithm can sometimes get it wrong and you need to keep an eye on it
Sprout Social
Posts to: Facebook, Twitter, Instagram (with notifications), Google+, Linkedin
Cost: Plans start from $99 per month for up to 10profiles to $249 per month for up to 20 profiles. Click here for more information
Pros
Allows you to schedule the same post as many times as you like at the same time
It includes analytics and reporting
It has an RSS feed
It has a "smart inbox" feature where you can see what comments, mentions, follows or shares you have had and you can easily respond or follow people back from there if you like
I like that when you schedule the post, it displays the calendar to show you where things are already scheduled. This allows you to find the best times to post and as many times as you like in the one step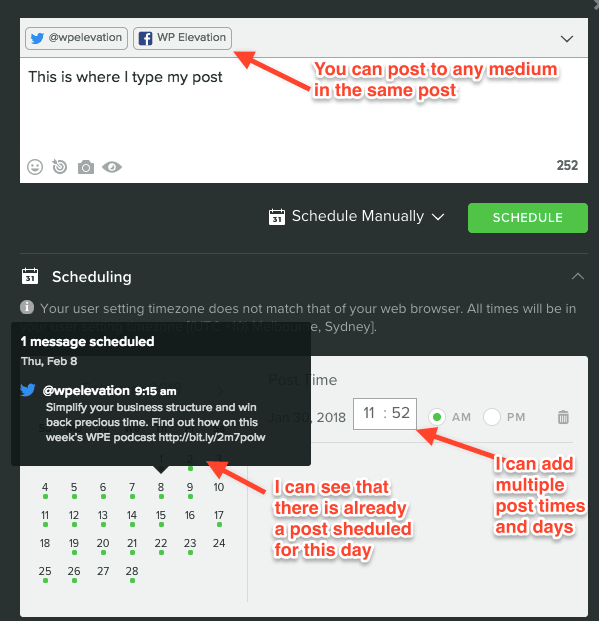 Cons
It's more expensive than the other social tools
It's still easy to use, but just slightly more clunky than some of the others in terms of the extra clicks per step. For example, in the above pic you can see that you write one post and select which social platforms it goes out to. However, if you need to add different tracking links or require different wording for Twitter (to include Twitter handles and fewer characters) then you would have to post to each social platform individually. Then save it, open a new window and do it all over again with the next social media platform. Whereas, with some of the other tools such as Buffer, you can add the text easily as per the below screenshot: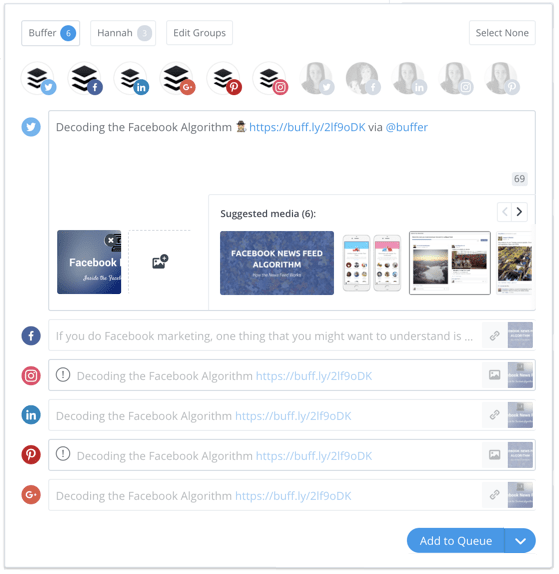 Content Studio
Post to: Twitter, Pinterest, LinkedIn and Facebook
Cost: There are well reasonably priced and flexible plans starting from $0 – $197. Click here for more information
Pros
You can connect your WordPress blog to it and it has an SEO optimization toolbox
It is easy to use and when you first sign in, they walk you through what to do step by step and a cool little cat that tells you about the features
Offers hashtag suggestions
The photo editor is the best out of these social tools. I like this because usually, I need to use an app to fix photos first and then upload them. Here are just a few of the options for editing photos: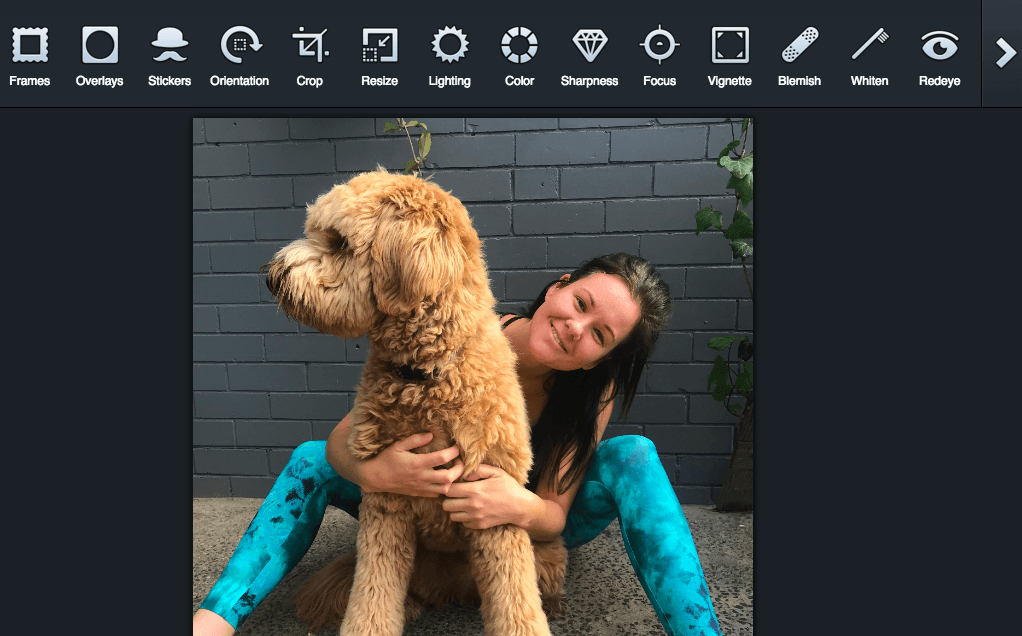 Side note: How cute is my sister's dog?!
Cons
Doesn't have Insta at the moment but they have said that it is in the pipeline
The discovery tool is actually quite useless if you are trying to find content about niche topics, it is mainly only news and trending topics
It looks like they still have a fair way to go with a few improvements, but you can see their roadmap here
Ok, so there you have it. Meet Edgar is great for companies that have a large library of content to push out regularly and don't have time to schedule them manually. Grum is the best if you only use Instagram. However, in my opinion, and for my needs, Buffer is the one stop shop. It is well priced, user-friendly and has all the platforms you need including Google + which is actually one of the most important because it helps with your SEO.
Still confused? Most of these have free trials, so make sure you give it a go before you commit!
These are just the tools that I have tried, but we would love to hear if you have any other suggestions or even further feedback on any of the above social scheduling tools. Let us know in the comments below.
Happy scheduling everyone!