I have a tendency to say that "WordPress is awesome, but…" It's not that I have any doubts about WordPress's prowess. It's just that, as an open source platform, it has its limitations. It's not inherently built to handle e-commerce, for example. It's not always the most user-friendly for complete newbies. And in terms of WordPress support being provided by the people behind WordPress… Well, it's not that great.
The fact that there's a lack of WordPress support within the platform can be problematic for both you and your clients. Think about it like this: it's already pretty scary imagining what sort of things your clients might do to their websites that result in calls like:
"But you built the website! It's your job to help me when it breaks!"
"I can't log into that page anymore. You know the one. It had that picture thing on there."
"My sister-in-law called and said she can't see the site on her phone."
Sigh. (For the record, these are real calls I've received.)
Whether your gut reaction is to step in and help clients with their problems (even if WordPress support services weren't offered in the contract) or to run far, far away from them, this is a critical piece for your WordPress business.
So, let's talk a bit about WordPress support, shall we? Because, even if it's not your responsibility to provide it to clients, being knowledgeable in the types of WordPress support resources available and being able to direct clients to them could prove beneficial to your business. You might also find these resources valuable for your own run-ins with the occasional WordPress glitch.
10 Best Resources for WordPress Support
It's easy to get burnt out while trying to handle everything on your own. That's why you outsource and automate different pieces of your WordPress business's workflow and responsibilities.
As I already mentioned, however, there may come a time when a client (former or present) comes to you with an urgent request for WordPress support–and you just can't help them.
Perhaps you have absolutely no idea what to do about it.
Maybe you're familiar with the solution, but have no way of fixing it because the controls belong to another entity (like a web hosting company).
Or maybe you don't want to take the request because it exceeds the scope of the contract between you and the client, the contract has long since expired, or the client is incredibly demanding and you know this won't be the end of it.
But, the fact of the matter is, your clients will eventually reach out to you for WordPress support. There are any number of reasons why they may do so (or why you're searching for it for your own purposes). For instance:
A user loses access to WordPress and it appears the site has gone down in the process.
The website slows down to a glacial crawl. Anything more than two seconds, really, could cost the website over half its visitors during the slowdown.
Something breaks (like links, images, a widget, etc.)
A security breach is detected. With ransomware impacting businesses every 40 seconds, this one is likely to cross your path at some point.
Updates, backups, and security monitoring aren't happening as frequently as they should be.
And so on.
Just by understanding where potential issues come from in WordPress–namely, hackers, natural disasters, plugin or theme incompatibilities, and human error–and where to get support to quickly remedy them is important in your line of work.
So, which WordPress support resources do you turn to? Unfortunately, there isn't one simple solution you can rely on since different problems require different solutions. That said, here are the 10 best resources for WordPress support that should help you cover all your bases.
1. Google
I know this seems like a rudimentary option, but I think Google is a great one if you know the issue is simple enough to resolve and want to empower clients to handle it on their own.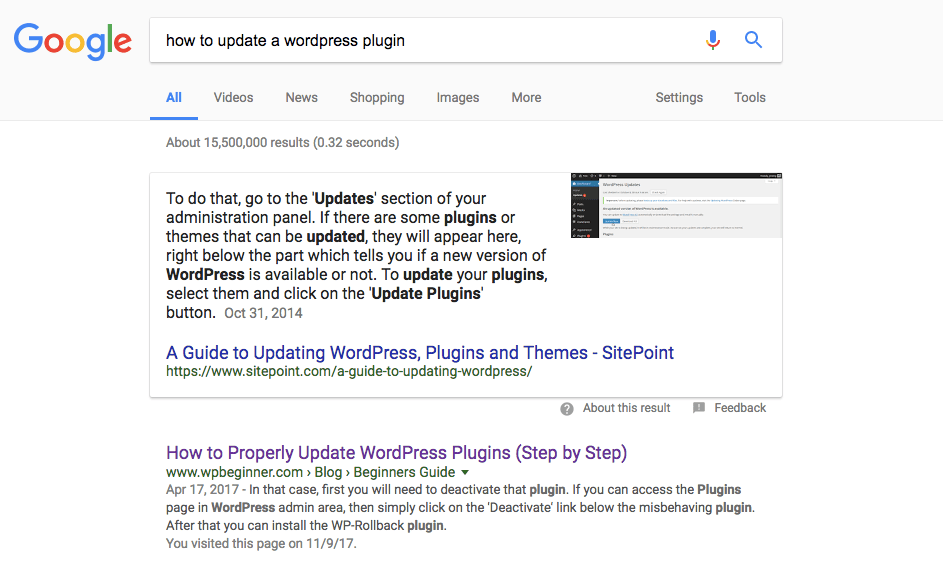 I've often used Google when clients come to me with questions that I know have been covered in video tutorials or in support forums before. If I know exactly where to go, I'll send them the direct link to the resource. Otherwise, I suggest they use Google to look up their question.
2. WordPress Support Forum
The only direct support WordPress offers is for certain hosted WordPress users. Since you're not likely to build websites using hosted WordPress, you'll have to rely on the WordPress support forum to get answers to your questions.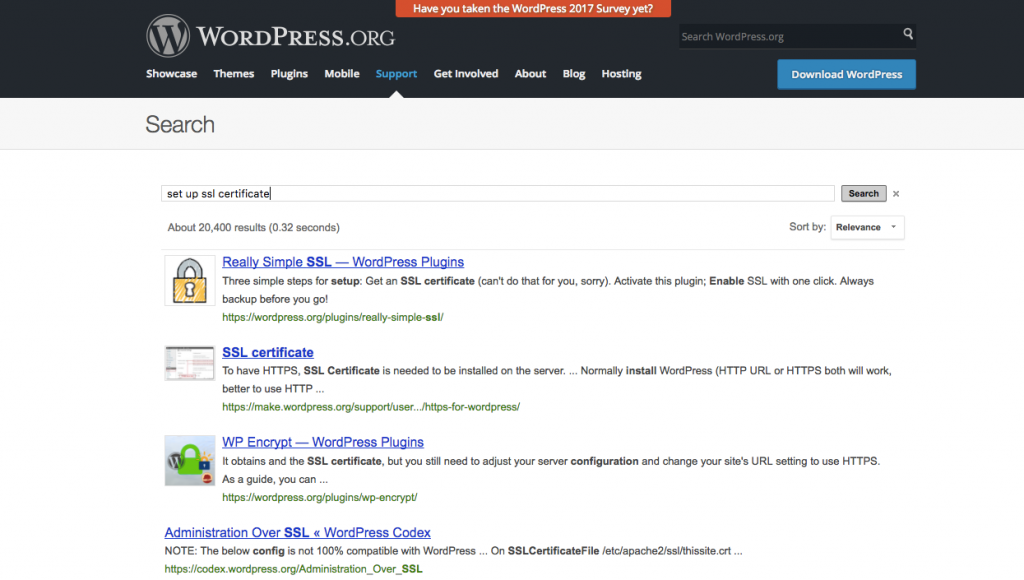 This option is best if you know that the solution can be implemented directly within WordPress and won't require intervention from an outside party. I think what I like most about this type of support is that it works just as well for your clients as it does for you. You'll find that answers provided here come in the form of links to plugins that solve a problem (great for clients who aren't technically savvy) as well as links to the Codex (which you'll find helpful).
3. Social Media
If the issue in question is something serious in nature (like your site was just blacklisted on Google, but you haven't done anything wrong), don't make those problems public on social media. However, if you or clients have questions that are lighter in nature and could easily be remedied by an answer from your WordPress peers, why not use social media as a support resource?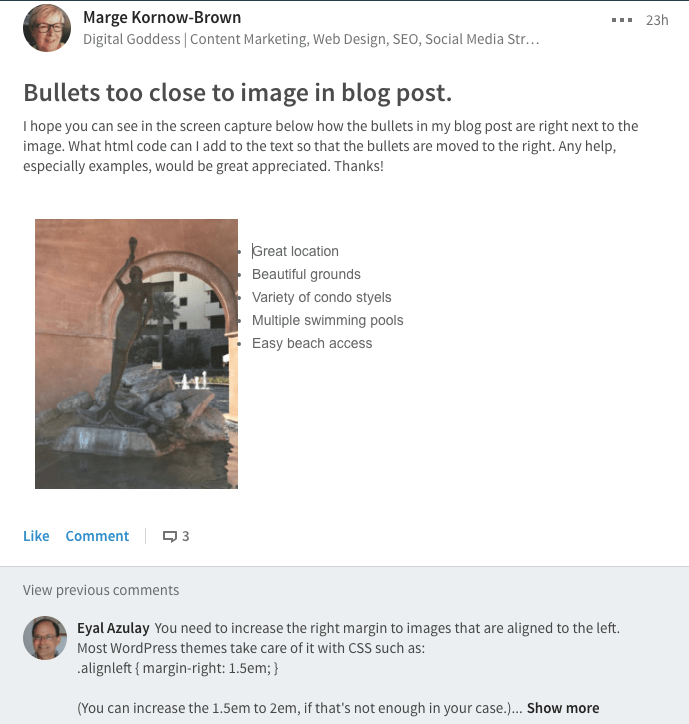 If you recently spotted this post on social media customer service, you'll see some neat examples of WordPress experts coming to the rescue on Twitter. This isn't the only place you can turn to for support though. There are WordPress groups on LinkedIn you may find particularly useful as well.
4. Theme or Plugin Developer
Let's say you've narrowed the underlying issue down to a plugin or theme on the website. If this is something the website absolutely needs and support is provided by the original developer, support should be offloaded to them.
For help with plugins or themes downloaded from the WordPress repository, the individual "Support Forum" page is where you can search for related issues or reach out for assistance.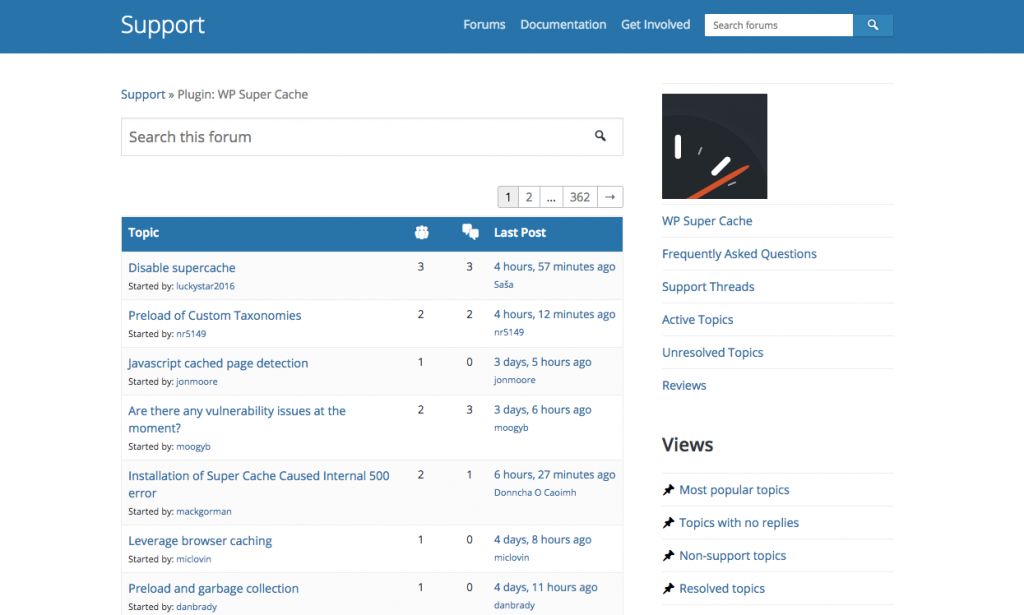 For help with plugins or themes purchased from another source (like the Envato marketplace), be sure to review the terms of developer support before reaching out.
5. Web Host
Once you become aware that the issue resides outside WordPress and, perhaps, even outside your control, it's time to look to other expert resources. For issues with downtime, server performance and speed, or anything else that cannot be traced back to WordPress, the web hosting company may need to be your next stop.
The one thing I'd advise with this option, however, is to not leave it in your client's hands. The simple reason for this is because web hosting support isn't always that willing to help and might not even be that capable of helping. Here's why I say this:
Over the course of 48 hours, I lost access to a WordPress site I was working on three times. The site then went down for 24 of those 48 hours and all of the images broke in the meantime. I worked with five different representatives at the company, each of whom contradicted what the person before them said, one of them going so far as to insist that I was impatient and needed to wait for the site to "reload" in a few days.
After two days of trying to find someone who could help, I was finally able to speak to a senior representative who offered his sincerest apologies. The hosting company had been offering customers a CDN and SSL certificate that conflicted with one another and were known for causing this exact problem on customers' websites. The CDN was removed from the account, the website was moved back over to HTTPS, and everything righted itself.
This obviously is not an issue your clients would be able to work through on their own. So, unless your clients have paid for managed WordPress hosting like Kinsta or WPEngine that's run by WordPress and hosting experts, I wouldn't recommend leaving them to deal with web hosts by themselves.
6. Security Services Provider
This is an option worth pursuing if your clients experience a security issue on their website and they've paid for a premium security service like Sucuri. If they are subscribed to a service like this, then those security experts will provide proactive monitoring and security management anyway, which might detect those problems before they become serious. However, if something should go undetected, this should be your first stop.
7. Maintenance and Support Service Pros
There are many people who probably start a business with the mindset of "that'll never happen to me" when it comes to disaster striking. But it does, and it happens more often than we'd like to admit.
This is why any business that intends on scaling its website should hire a WordPress support services provider as soon as possible. This type of service is great since these WordPress experts handle all the ongoing updates, backups, uptime monitoring, and even security tasks you're supposed to be doing anyway. This in and of itself will reduce the number of problems your clients might otherwise encounter with their websites.
Some WordPress maintenance and support companies also offer on-the-spot development tweaks, troubleshooting, and maintenance.
Of course, this option costs money, but it's worth it if it keeps your clients' sites in tip-top shape and someone around for those urgent development issues. Maintainn is probably the best option for clients that have high traffic volumes and a greater likelihood of performance issues. WP Site Care is a good option if they want someone to talk to when issues arise. And Agency Mavericks rate GoWP very highly too.
8. Freelance Developer
For some people, hiring a freelance developer might be the ideal solution. It gives you one-on-one support you likely won't get from the other options–at least not for this affordable of a price. However, it's important to remember that freelancers are not employees, which means that, unless you have them on retainer, there's no guarantee that they can help with issues immediately.
9. Personal FAQs
I love how popular self-support options have become as of late. Part of this is because it puts some of the onus to find support and implement fixes onto the client. Another part is because this gives you an opportunity to prove your real value as a WordPress professional.
For this type of support, you'll have to create your own WordPress support for clients.
I would suggest aggregating all the support questions and answers you most commonly receive regarding WordPress websites. This will probably include questions about logins not working, comment forms overrun with spam, how to fix broken links, what to do if a site goes down, etc. You can then compile the questions and answers into a single landing page on your website.
When clients come to you asking for support, rather than bounce them over to another person, push them to your site. This will demonstrate to them that you're a dependable resource and will help keep you top-of-mind if or when they need help again. It'll also be great for SEO if you optimize it the right way.
10. A Trusted WordPress Blog
This is a WordPress support option I'm going to suggest just for you as I know every WordPress professional has their favorite WordPress blog they follow. And, as you know, these WordPress experts usually have a blog post, tutorial, podcast, or support forum where you can find answers to your questions quickly and totally on the cheap (i.e. free!).
So, the next time you run into trouble, check with them first!
Wrap-Up
Whatever your reason for not offering WordPress support to clients, you likely have good reason for it. But you better believe that clients won't care. They will forever associate you with this website that you had a hand in creating, and they'll expect you to be liable for fixing it. (Offering tiered Website Maintenance Plans is a great way to head this off at the pass.)
When I was brand new to working with WordPress clients, a client called me urgently one morning, devastated that his website had been down since the middle of the night. I passed the message along to my manager who told me, "It's not our problem." He explained that since the contract had ended and we weren't a WordPress support agency, the client needed to call his web host for assistance.
While I get not wanting to work for free, I don't believe that wiping your hands of a client as soon as the final check clears is ever a good policy. Even if you're not the one to provide the speedy resolution to the issue, being able to guide clients to the appropriate resource for support will give them even more reason to look to you when they want more work done on their WordPress site.
Of course, I'm not advocating you give away your time or services for free. But I do believe it's important to educate yourself about the types of WordPress support options available for different problems. This way, you can provide clients with quick and clear guidance on who to turn to if they're not interested in support from you or you're unable to provide it. This is also handy information to keep around for your own WordPress support needs.