You already know how to use social media for marketing on platforms like Instagram, but have you ever considered that social media customer service has a place in your business strategy as well?
When you're in a service-based business like WordPress development or design, customer support and care is part of your job description. Once you've learned how to use social media the right way, and customers realize they can find you there, you can expect to receive questions, comments, and (unfortunately) complaints through those channels.
I think it's easy to hate on the idea of providing customer service anywhere outside of your website's contact channels or the personal contact information you've provided to clients. Part of that is because of the seeming inefficiency in having to monitor other channels (which I get).
The problem is, this is the world we live in. Customers now go to social media, online forums, and comment boards to seek out answers to their questions or simply to voice their discontent with a brand. If you're serious about providing a top-notch WordPress service to clients, this will require you to take care of them on social media, too.
In the following guide to social media customer service, I'm going to briefly discuss the reasons why you need to take this seriously for your WordPress business. I'm also going to share 16 tips you can use when shaping your customer service strategy, with some great examples of how other WordPress and web services professionals handle this now.
Why You Can't Afford to Skip Social Media Customer Service
I could give you some trite statement about how "social media is the way of the future and the future is here", but I don't need to. The statistics regarding social media and customer service speak for themselves…
Sprout Social Says:

In the Q2 2016 Sprout Social Index, they discussed how consumers on social media can be just as vicious as they are loyal to brands.
Let's start with the positives:
75% of consumers are willing to talk about positive experiences they had with brands on social.
65% of people tend to exhibit more brand loyalty after a positive customer service experience.
A satisfying customer service experience makes customers feel less inclined to take their business elsewhere.
Now, the bad:
30% of those dissatisfied with a customer experience (or a lack of one) will immediately go to a competitor.
36% of unhappy customers will go out of their way to shame a brand on social media if their needs were not met.

Convince&Convert Says:

In Jay Baer's Hug Your Haters, he discusses why customer service is so important and how to keep your head up and get through the negative sludge you may encounter when faced with it online. Here are a few facts he collected about customer service in the digital age that may give you pause:
40% of social media users want a response from a brand within 60 minutes. According to Sprout Social, however, the average response time is 10 hours!
When brands do take time to respond to complaints on social media, customer advocacy increases by up to 25%.
Unfortunately, when brands forget or fail to respond, customers don't respond in kind. In this case, customer advocacy could drop by up to 50%.

Twitter Says:

Unsurprisingly, Twitter conducted their own study on this subject back in 2015. Their main focus was on what happened when airlines handled customer service on social media.
They contrasted the following scenarios:
When customer service was delivered through social media, 82% of customers told others about the experience. When customer service was handled through other channels, however, only 44% shared details of the experience.
Airlines that managed customer support requests in under six minutes gained more than just loyalty; on average, those satisfied customers were willing to spend more money (an additional $20) with that airline. When the response came over an hour later, the customers were still happy, but less willing to spend money (only an average of $2.33 more).
Customers indicated that they were simply happy just to receive a response from an airline and that it was enough to make them spend an average of $9 more with them.
Of course, you might be thinking that these statistics only apply to large enterprises and companies that can afford dedicated customer support teams. I'd argue that's not the case and I'll show you why.
16 Tips for Handling Social Media Customer Service Like a Boss
If you're nervous about not knowing what the "rules" for social media customer service are, don't fret. The only major difference between customer service on social as opposed to everywhere else is that most of it has to be done in the public eye. So long as you use the following tips, you should come out of these customer service experiences unscathed and, probably, in better shape than you were before.
Tip #1
For starters, you need to decide which social media platforms make the most sense. Research where your audience is and where they're most likely to actively seek out support.
Twitter is a good place to start. Facebook might be another option worth considering as they now have Facebook Messenger for Business that enables you to quickly take the conversation to a more private setting.
Tip #2
Ensure that your social media pages are a welcome environment for customers.
Include a high-resolution header image that includes your business's branding.
Use an actual photo of yourself in the profile so they know who they're speaking to.
Write a bio that accurately sums up who you are, links out to your site, and also encourages feedback, comments, etc.
And, of course, keep your feed updated!
Tip #3
Ideally, you should be logging into social media at least once a day to manage the marketing side of your business. When you first begin to offer customer service over social media or your business is brand new, these requests are going to come in slowly, so it shouldn't add much time to consolidate these tasks. Once your WordPress business scales, however, and you have a social media team managing this for you, that'll be a different story.
Tip #4
Remember that social media is not a standalone platform. It needs to integrate with your other customer service platforms for a seamless multichannel experience. Here's a good example of this: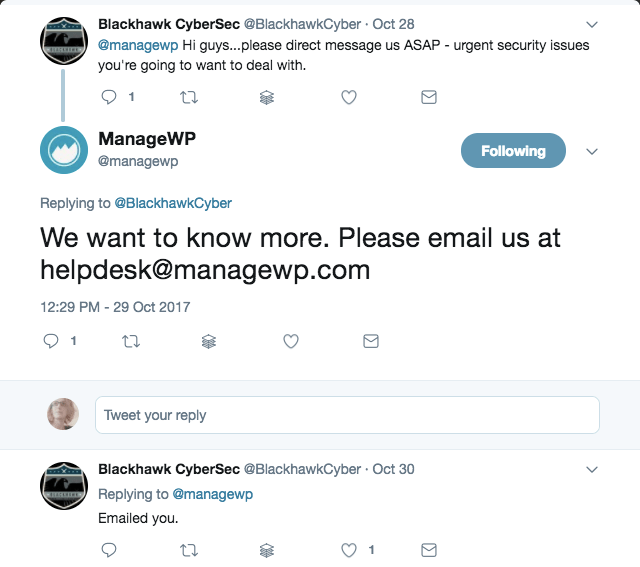 ManageWP received a vague request (or possibly an issue?) from @BlackhawkCyber. Rather than probe for what might've been sensitive customer details or even potentially harmful information to their brand via tweet, they effectively transferred them over to email.
Tip #5
Not sure how to spot all these customer service requests? Well, if you're using a social listening software like Buffer or Hootsuite, you can automate this. Set up searches and notifications for:
Your name
Your business's name
Your Twitter handle(s)
Hashtags for the type of service you offer (e.g. #webdevelopment, #webdesign) as well as #WordPress
Your competitor's name and hashtag
Tip #6
In addition to automating the listening aspect of social media care, be sure to follow your customers so their questions, concerns, and commentary show up right within your feed. Same goes for your competitors' customers. As social media marketing expert Joshua Dirks explains it:
The whole world is moving online and into social settings. To not go here is … bad business. If you're a smaller brand who's competing with a larger brand that has a history of customer service issues, how powerful would it be to reach out to your competitors' upset consumers and invite them to be your customers?
Tip #7
When you have time, don't forget to listen to other conversations people are having online. Depending on your specialty, you might want to hunt around for people asking questions about WordPress themes, plugins, SSL certificates, performance issues, or something else entirely. This is good for a couple reasons: it increases your brand visibility and also opens up the possibility of gaining this person's trust as a potential client in the future.
Sarah Gooding did this recently. She wasn't mentioned in the initial question and yet she took it upon herself to handle the service matter anyway, presenting viable solutions to this guy's question: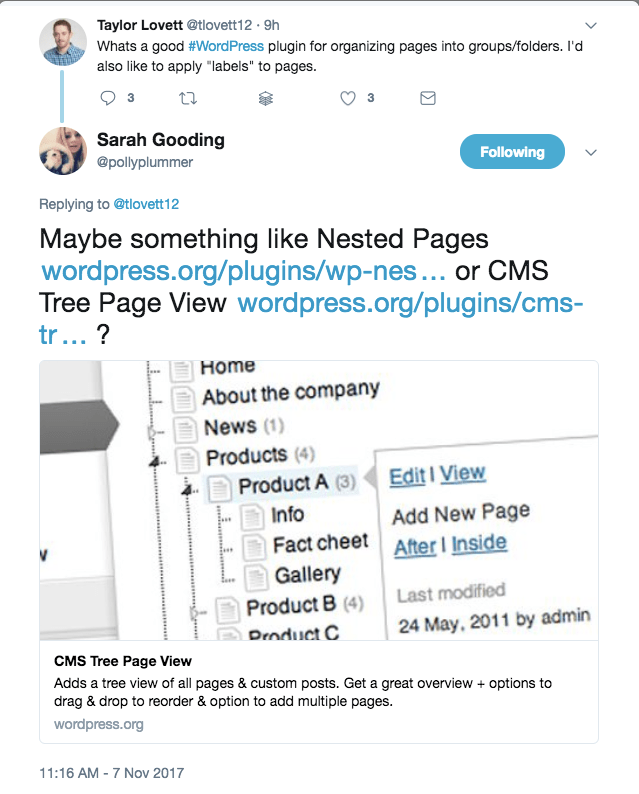 Tip #8
Answer as promptly as you can. See how WPBeginner noted @KatieGregory's pleas for help and responded within minutes?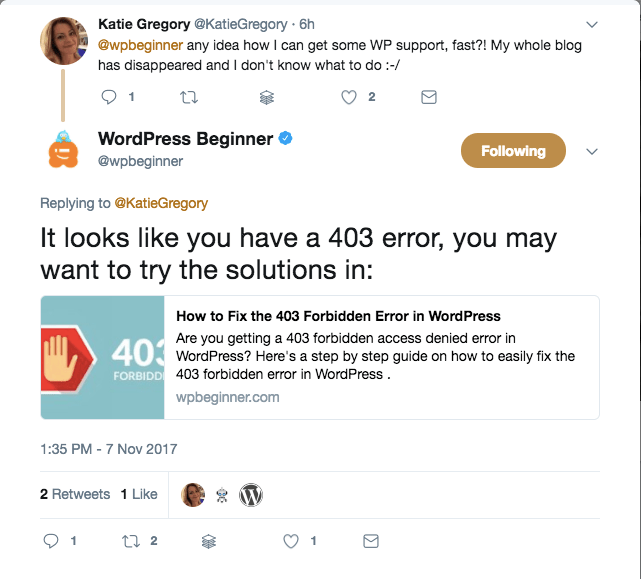 They gave a possible explanation for what was happening (even without having access to her hosting account or WordPress) and then provided her with a relevant and helpful link to their site.
Tip #9
Respond to everyone, whether it's a positive or negative comment.
WP Engine shows why it's important to listen to everyone. This was just a simple question about reaching out to a team in Australia, but they were on top of it all the same: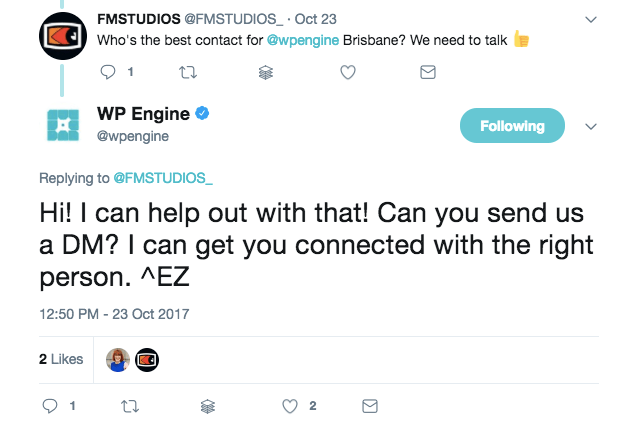 Tip #10
Don't use a bot to manage your customer service. You need to listen to their concerns and respond like a human.
Matt Mullenweg does a really great job of this. Even though he wasn't the first person to respond, he eventually hopped into the discussion and personally offered to help: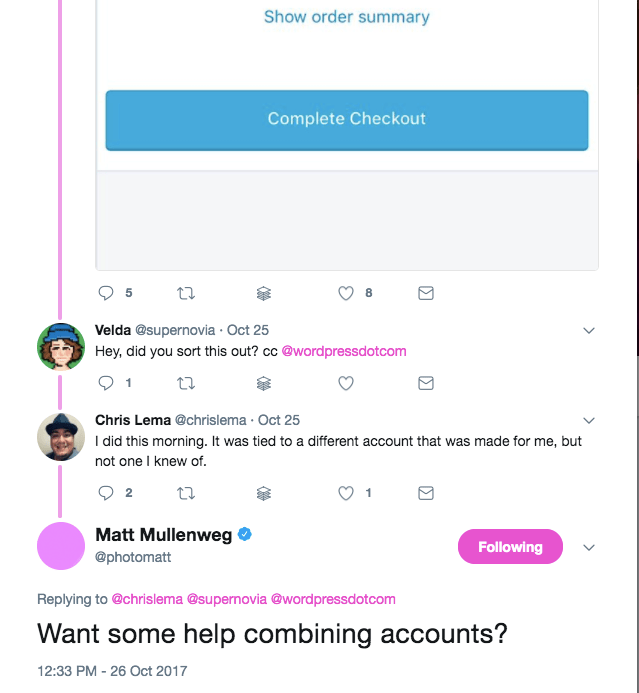 Tip #11
Another software you should be using–whether you take your customer service to social or not–is a CRM. Your clients should never have to explain who they are to you or reintroduce their problems simply because they're connecting with you on social. A CRM will help you quickly track down who they are, log a record of the complaint, and figure out how best to deal with it.
Tip #12
Once these types of requests start to ramp up, answer them based on priority. Those experiencing technical issues deserve your attention first. Then you can tackle those that have general questions about pricing, services offered, or who are in need of tips.
Tip #13
Be consistent in how you respond to social media requests. While customers might be happy that you responded to them, you can bet they'll be upset if they believe that you gave preferential treatment to someone else.
Tip #14
With limited characters to get your response across, visuals and links are always a big help when trying to quickly and effectively resolve issues on social media. Flywheel, for example, provides extra assurance to clients by providing a link to the status page: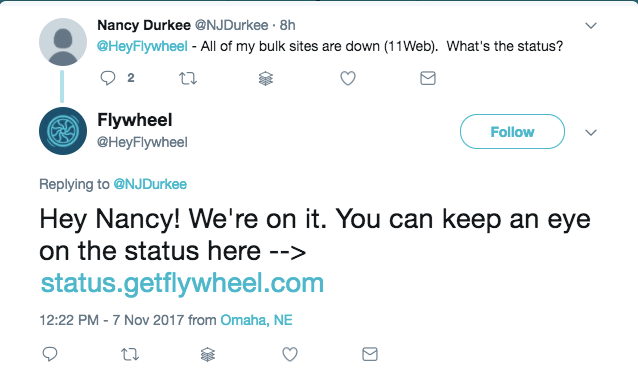 Tip #15
Don't get defensive or take negative commentary directed at you personally. You know that customer service brings out the worst in people–on both sides of the fence.
No matter how frustrating it may be to handle the continual back-and-forth sometimes, the team behind the Yoast plugin, however, handled this question about pricing and a possible issue with their shopping cart quite nicely: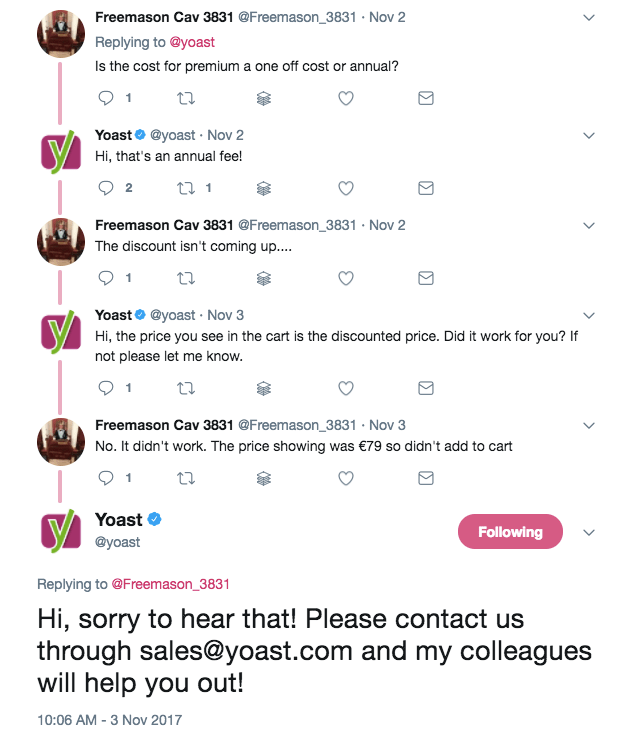 Tip #16
Don't ever try to hide negative feedback or insinuations. If you thought customer backlash would be severe when there's no response to their request, imagine what happens if they discover that you deleted the record of it.
GoDaddy, unsurprisingly, has created a special Twitter account specifically for customer service. The reason I say "unsurprisingly" is because they get a lot of feedback from their customers. What is surprising about this, however, is the fact that they do this even though about 99% of the comments that come through are inflammatory. But GoDaddy has nothing to hide and you have to applaud them for being willing to keep these out in the public eye and resolving each one with aplomb: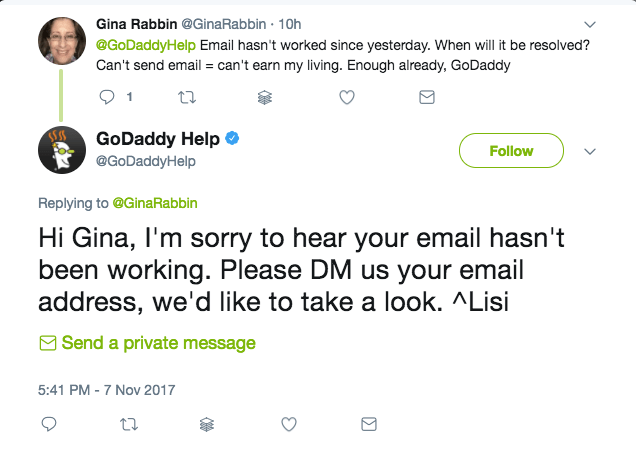 Wrap-Up
As a WordPress professional, you know what sort of customer support-type requests you're likely to receive and how to provide exceptional support for them through the standard channels: contact forms, live chat, email, etc.
If you're already on social media to promote your business, then why not add customer service to the list of things you need to tackle there each day? The statistics don't lie and the story they tell is clear: if you're willing to give your clients the attention they want on social media, they'll reward you with greater loyalty, sales, and brand exposure.