We all know the feeling of working hard and not getting anywhere. It can feel like you're just spinning your wheels with no progress made, or even worse – that there are people ahead of you in line who got there by some divine intervention!
But listen up! If this sounds familiar, then I have great news for YOU because this post will teach you how delegating responsibilities is the key to scaling efficiently & effectively without becoming overwhelmed — allowing you to take a step back from your business.
The Importance of Delegation in Agency Growth
Delegating tasks is a vital part of running your business, and deciding who will do what can make the process easier. When you hand over control, it's crucial to think about quality, so things don't get done incorrectly or not thoroughly because someone was too busy taking care of other responsibilities first!
Understandably, there's a lot of fear around handing over control and delegating to other people, so let's talk quickly about the mindset around hiring someone that you can start to delegate your work.
You need to have your processes defined and be very clear about the kind of outcome you are looking for.
The critical thing to remember is that you need to have clarity before hiring someone.
How Recurring Revenue Helps With Growing Your Team
Recurring revenue is the absolute holy grail of all business models because it gives you the confidence to know that you can hire other team members, right? With the predictable cash flow and revenue coming in, you can afford to bring someone else on board without as much risk.
But what if you don't have that recurring revenue? How do you get the confidence to make those changes that will take yourself and your business to a place where you are more stable in your flow of revenue?
You can start simply with one of our all-time top-rated blog posts – "Selling WordPress Maintenance Plans". It's epic. Truly.
You can also change the services you offer and package those into your signature system.
But the biggest tip I can give you is the operative mindset switch – start switching from selling features to selling outcomes and solutions.
This is controversial, I know, but care plans are dead. Growth plans for the win.
Growth plans can include fractional CMO services or digital strategy, search solutions, lead generation, and CRO. I could go on…
So try switching your mindset to understand that you aren't simply 'building a website' or 'offering a care plan' – you're building a solution to their marketing problem.
This will enable you to offer a broader range of recurring revenue options at a much higher price point.
Successful Onboarding Processes for New Team Members
Next, let's talk about onboarding new team members to help you scale your agency.
How do you assess whether this person is a right fit?
How do you know they possess the skills to succeed in the role with respect to culture, competencies and commitment?
Are you establishing expectations?
Do you have onboarding processes?
Remember, you are hiring for their capability, not their availability.
A successful onboarding process for new team members will determine whether someone aligns with the company's work culture. This immensely transformative element will see a shift in your team members.
In our onboarding process for new team members, we share details about our other team members and who they can ask for help, share client testimonials, so they understand more about the work we do, how to communicate with team members, our vision and mission, how to stay positive and also the access to all of the tools they will need to perform their work.
Our coach Johnny Flash also asks his new team members to fill in a questionnaire to learn more about who they are as a person, who their family and pets are, and their favourite hobbies.
This creation of a family-like culture that promotes a sense of belonging and care yields many benefits. The people are more important than the work.
Aside from the obvious positives that stem from a supportive work environment, another of these benefits is economic. When people feel that you care about them, they care that you care – and in turn, they care about the work and strive to achieve more.
People don't quit the job; they quit the boss.
How a Job Scorecard Tracks the Success of Team Members
One way of keeping track of the level of success in a role is the implementation of a job scorecard. This will help assess performance against projects, identify your biggest opportunities for improvement, and indicate how that person is performing.
It is important to note that people need to be aware of their 'scorecard' and what criteria are or aren't being met. Conducting regular 'quality checks' with team members allows for transparency and monitoring of progress and adjustments and the development of more robust approaches to meeting mutually agreed upon goals.
You can read more about our framework for 1:1 check-ins here.
Our Process for Recruiting New Team Members
During the last 6-9 months, we have been recruiting team members for our inner circle clients. We've learned a lot about the recruitment process – finding, hiring, onboarding and managing a team of A-players so that, ultimately your team can deliver and help you run a profitable agency without you being stuck in the business for 40+ hours a week.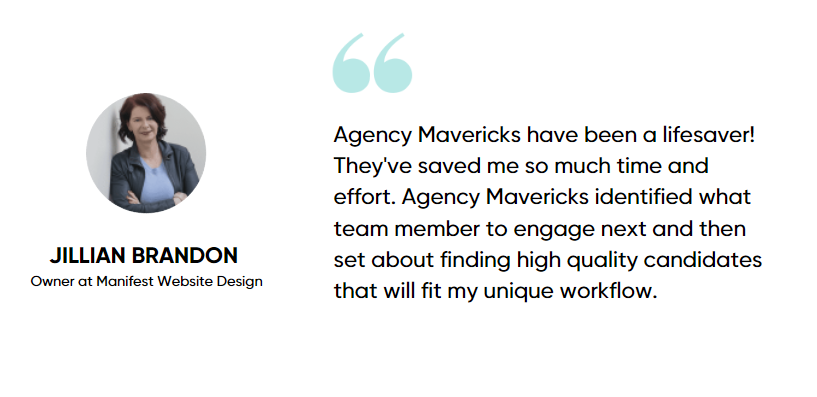 We've taken our entire process from Team Accelerator, our recruitment service, and we've packaged that up into brand new training so that you can do it successfully by following the exact same process.
We've got all of the templates, scripts, how to write a job, scorecards, everything you need to place job ads, everything you need to interview and sample job descriptions. We have included everything that we've been talking about so that you can attract, hire, onboard and ultimately manage a team of A-players. And we are going to be releasing that in the coming weeks!
So, keep your eyes on your email! Plus, pop into the Digital Maverick's Facebook Group and of course, keep your ears on the Agency Hour podcast because we will be talking more about that over the coming weeks.
---
The Agency Hour Podcast
Check out the episode of The Agency Hour related to this blog.
Episode 31:
Listen to the full podcast episode related to this blog on how to recruit as your scale with Johnny Flash, Christina Hawkins and I.
If you need to grow your team, simply request a call and let's make it happen! Request a call here.