How to Ensure a Smooth Purchase and Transition of a Web Agency
Where do you picture your business in three years?
As an agency owner, expanding Johnny Flash Productions into new US markets and increasing my recurring revenue have always been on the top of my list. So I recently acquired a small web agency to allow me to grow faster.
If you've been seriously considering buying or selling an agency, here are some of the things that I learned along the way. I'll also provide answers to the questions that will probably come to mind as you look into the nuts and bolts of buying or selling an agency.
But First, Why Choose to Buy or Sell a Web Agency?
Did you know that from 2015-2019, the number of acquisitions of $2-10 million digital marketing agencies increased by nearly 122%?
Financial incentives are often a key factor in the decision to buy or sell. An agency that's struggling may decide to sell to salvage parts of the business. On the flip side, a highly profitable agency may see it as an opportunity to sell the business at its most profitable moment and walk away.
However, the biggest motivator behind these transactions is the pursuit of new challenges.
Maybe an agency owner has decided to focus their time on coaching clients instead of creating content and sites for them. Or perhaps they want to do less client work and spend more time on developing solutions.
Similarly, a potential buyer might be looking for a new challenge. Perhaps they're looking to transition to agency owner after years of being a solopreneur.
Or, like in my case, an entrepreneur may be looking to acquire smaller agencies in hopes of expanding their recurring revenue and growing their team.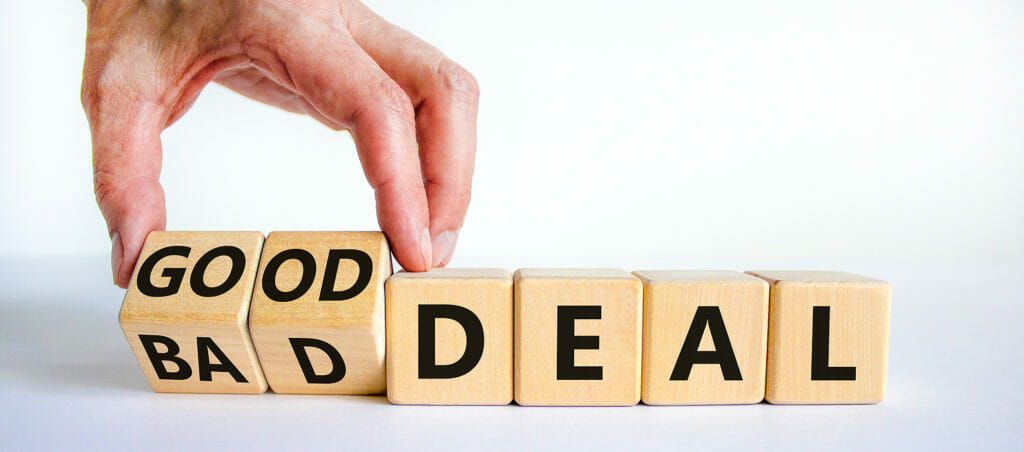 The Process of the Sale
Regardless of the reasons behind owners wishing to make a transition, here's a typical outline for navigating the sale or purchase of a web agency.
1. Preparing for a sale
If you're considering selling your business, it's essential to get everything running like a well-oiled machine so that it's attractive to potential buyers. This could mean anything from organizing your technology assets, documenting and streamlining processes, standardizing your pricing and reorganizing personnel structure.
You should also examine your current client list. Do you have a healthy mix of long-term retainer clients? Potential buyers will want to see the revenue capacity coming in from your client list. Furthermore, you'll want to ensure that your current business development process runs smoothly and continuously brings in new business. Having an established and proven strategy to bring in new clients is attractive to potential buyers.
2. Review the numbers
Buyers and sellers alike will want to take a deep dive into the financials. As the seller, you'll need to document the income and expense financials. Start by compiling three years of your Profit and Loss Statements as well as a current Balance Sheet.
Once financials are in order, the next step is to determine the value of the agency. The valuation considers various elements, including an agency's revenue and profits, operational structure, growth opportunities (and current client list), the existing buyer pool and how many years it has been in the business.
Some experts say that an agency worth investing in should be making 3-5 x profit in a year (after paying a manager). Nobody wants to buy a job. So if you're not making much after paying yourself a fair salary, your business might not be worth as much as you thought.
A good way to think about it is to pretend an absentee investor is going to buy your agency and wants to hire a manager to run the business and grow the agency. How much would they have to pay someone with your skills to do that? Then calculate what profit would be left after doing so. Since small businesses are a lot of hassle, the buyer will want to get at least 20-25% annual return on their investment.
To help you get your numbers together, you can download the Agency Maverick's proforma template here.
Another factor to consider is recurring revenue streams. The degree to which recurring revenue opportunities are already built-in helps buyers gauge the time and money needed to invest in additional development ​​– and having them already in place makes a sale more attractive. For example, does the agency offer website maintenance care plans? If this revenue model is up-and-running, buyers will be able to expand to a larger number of clients more quickly.  
Ultimately, the burden is on the owner to prove that their agency is a sound investment. No buyer wants to risk investing in an agency that isn't viable. At the end of the day, a business is worth what someone is willing to pay for it.
3. Vet potential buyer or seller
Financial documents only tell part of the story. So both parties need to ask the hard questions to determine if the purchase (or sale) is the right fit.
Questions to ask as the seller:
Having invested so much of your time (and probably your life) into a business, the decision to sell is an emotional one. So as you get inquiries from interested buyers, you must ask the right questions to ensure a buyer is qualified (and the right fit) to purchase and own your business.
I suggest questions such as:
What is your reason for buying?
How will you finance the purchase?
What skills do you have that align with my current business?
What value do you bring to my clients?
You should also be on the lookout for potential warning signs such as:
Wanting to buy you out over a long period of time.
Their vision and practices don't align with the work your existing clients trusted you to do.
Questions to ask as the buyer:
Step one is narrowing down the type of agency you want to buy. Step two is asking important questions about the business, such as:
Why is the owner selling?
What does the client list look like? Do they align with the work you currently do?
How long has the business been in existence?
Be aware of the following red flags:
They don't have a client list handy.
They can't clearly explain how much recurring revenue they make or how much profit they make.
They are hiding their numbers or are dishonest about them.
They are disorganized and don't have any easy and clear way to communicate their numbers.
High client turnover.
Their pricing is so radically different than your plans that you'll either have to undercut your pricing to keep them or you'll lose many of the clients when they bump up to your pricing.
If you wish to move forward with a sale, you'll submit a letter of intent that outlines your proposal as well as your purchase offer.
4. Define the terms and timetables
Once an agreement has been met between the parties, a legal document is drawn up to outline the terms.
This document is referred to as the "term sheet" and will outline the financial agreement and the timetable of the transition. This document may also include "clawback" statements, an agreement to pay back funds if the business' agreed net income is not reached. In any event, seek out proper legal advice during this stage of the process.
5. Manage a smooth transition
With all the moving parts of a sale of an agency, it's essential to plan for a smooth transition. This will ensure that the needs of existing clients and personnel are met, and interruptions to the day-to-day operations are minimal.
It's perfectly normal for sellers and buyers to work together for a predetermined period of time to ensure a smooth handoff for everyone involved.
Helping Clients Understand the Impact of the Sale
For clients of digital agencies, the prospect of a change in ownership can be a little scary.
When I was working with Kristina to acquire KR Media & Designs (KRMD), she and I worked together to communicate the benefits of being part of Johnny Flash Productions to her existing clients. This included the expanded services in web, digital marketing, social media and branding that they would now have access to.
Keep Your Team Informed
Being honest and open with your team about the acquisition is very important. Change can make your employees feel uneasy and may even result in them looking for other jobs that may make them feel more secure.
They need to feel informed and that you aren't hiding any information from them, otherwise it can result in rumours and hearsay.
They also need to understand why you are making your decisions and why it will be good for them and the business. Empower your team and even get them involved with decision making.
Close the Deal and Celebrate
Once both parties have agreed, it's time to finalise the details onto a legal document, including the transition of employees and clients. Both parties will sign, officially marking the completion of the sale! Congratulations!
As the final step of the process, it's time to make the deal public. Announce it on social and your website.
Big Decisions Ahead
Deciding to buy or sell an agency is a big decision requiring multiple steps. Our team at Agency Mavericks can help you navigate the different requirements. Set up a Clarity Call, and let's see if there's a sale in your future.