Welcome to another episode of Silence is Golden where we share invaluable tips for your WordPress business.
This week we're talking about the "C" word… yep, you guessed it – Content. If getting content from clients is a hassle for you, then you haven't created the right framework. Don't worry though… Simon and Troy are here to help you.
The guys also talk about the latest news, they'll show you some shiny new tools and explain how you can be more efficient by working in quality time rather than clock time.
Watch the Video
Stuff That
Happened
At the 9.30 minute mark, we take a look at the Stuff that Happened last week.
Marathon with Washing Machine
Simon was having a coffee the other when this man ran past him: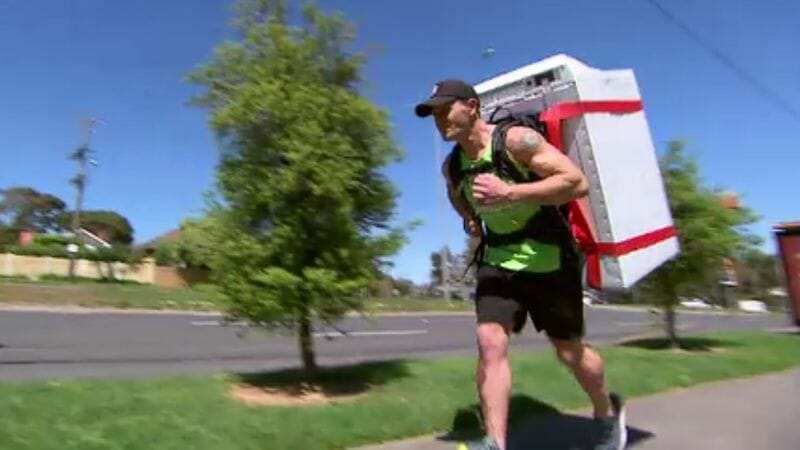 Apparently the 41-year-old is raising money and awareness for youth mental health service, Headspace, by running a marathon whilst carrying a 20kg washing machine on his back! Check out the story here. 
"Polly" in Your Pocket
Read-it-later app Pocket has announced a few new features coming to the iOS and Android versions of the app today, including an updated text-to-speech ability and a new design.
They're framing it as being similar to podcasts because, with this new "Listen" feature, articles can be saved into Pocket, opened in the app, and played in their entirety through text-to-speech.
Let us know if you've used this and if you like it! We are curious!
Quality Time vs Clock Time
It's Elevate month here at Agency Mavericks where we talk a lot about operations and elevating your business above the "turbulence" and some of the ways you do that is through processes and people.
Processes are needed for the things that you practice on a daily, weekly and monthly basis. For example, briefs, proposals,  and sales processes – the things that happen repeatedly in your business. With your people (or "crew" as we like to call them) you want to be able to build a team around you so you can get off that treadmill.
This month we also have a challenge #mostdaysoff. What can you do this month to set things up to take some time off? If you're a member, join the Facebook chat!
So this is a great article for this month's theme – it talks about working in quality time rather than clock time.
The idea is that when you're energetic and motivated, great things happen spontaneously, in unpredictable bursts of inspiration. But when you're tired, distracted, or feeling stuck on something, it's usually better to stop working. Just admit (temporary) defeat and give yourself a chance to regroup. Do something else that's less taxing, or call it quits and start again later.
Do your hardest work when you have the most energy.
(Side note here – do have no energy? You might be in burn out. Look after yourself first!)
U.S. Embassy Cat Picture
Check out this article for a good LOL (and a pic of a cute cat).
What Made the
Wee Come Out?
At the 19 minute-mark, Simon tells us that he discovered Ubersuggest from Neil Patel this week – a free keyword research tool. It's a great tool to use when you're writing your content and to see what your competitors are doing as well.
The Golden
Nugget
At the 21.06 minute mark, we dig into the Gold Nugget.
Collecting Content
When it comes to collecting content from clients, does it cause you major frustration and delayed projects?
It would be easy to blame this on the client, but as Simon says:
This isn't a Client Problem – it's a You Problem.
It simply means that you don't have the correct process in place!
One option is to do the content for the client and charge accordingly. 
If your clients are in the SME space, then you should do the content for them because they are probably not equipped to do it. And if they do it, it will probably be awful. So explain the negative effect this can have for them and why you should do it for them.
Troy's Framework
Troy explains to us that everything needs to have a purpose. For example, when creating the content for an "About" page ask yourself "what is the purpose of this About page".
So with any marketing material or services, you need to ask on behalf of the audience:
1. Am I in the right place? Is this the right message for the target audience?
2. What do you want me to do next? For example, YouTube wants you to watch the next video. Neil Patel wants you to fill out a three-minute quiz on his Ubersuggest page.
How Do I Write Content About a Business I Know Nothing About?
Ask your clients a series of questions about their business on a Zoom call and record it. Then you can then go away and write the content for their website for them.
You've got to know what questions to ask, capture the information and turn it around into something meaningful.
If you're not a copyrighter then partner with someone that loves creating content.
Set Expectations Early (and Repeat!)
It's about setting expectations early. On the intake form on Simon's website, there is a drop-down field with options about content so that from the get-go they know that this is important.

Simon then explains in the initial meeting, that the content is required before starting the project and then he reiterates this in the proposal.
Another option for getting content from clients is to use a tool such as Content Snare. This makes the process easier for you to collect and organise the content. However, without a proper process in place, your clients still may not use it.
Tool of
the Week
This brings us to the tool of the week – Content Snare which we discuss at the 29.30 minute mark.
Content Snare is fantastic for organising your clients content and it provides you frameworks for you to be able to do that. There's also a lot of training provided by James Rose, the founder of Content Snare, who also has a great podcast – Agency Highway.
Simon recently had James as a guest on a webinar which went deep into the content collection process. So if you're a member be sure to check it out in the member area. And if you're not a member? Why not!? Click here and join us at Agency Mavericks!
These are some apps from James Rose that he thinks are awesome:
FlowMapp: Helps you create sitemaps and it's awesome. It also allows you to map out user journeys
SlickPlan: Is pretty much the same thing as Flowmapp but some people prefer this tool
Followupthen: So that you never forget to follow up an email
Let's Get
Unstuck
If you want to ask a question for one of our upcoming shows, ask us on our Digital Mavericks Facebook page and use the #unstuck
In this group, you'll see exclusive live videos, frameworks and guides on how to scale your digital business. It's time to step up and become a Digital Maverick! Request to join here.
We want to hear from you – What challenges do you have as you grow your team? Do you have processes in place so that you can take some time off? What do you need help with so you can get more time off? We're here to help!
Wrap
Up
That's it from us for this week! Be sure to get on a workshop and take your business to the next level. In this free workshop, you'll learn how to start attracting better clients, avoid scope creep and add a steady stream of recurring revenue to your business. Get Instant Access here.