It doesn't matter if you're a writer, marketer, or business owner. Creating content is no simple task, especially if your goal is to build authority and trust with it.
What I've discovered, though, is that content creation is like anything else you do in business:
Build your own toolkit, develop a repeatable process and get into the habit of doing it.
Of course, finding the right tools to fill your toolkit with can be difficult in and of itself… which is why I'm going to share mine with you today! From start to finish, these are the tools I — and my team — use to create and manage our content.
Oh! And the beauty of the tools that I recommend below is that most of them are free!
Google Drive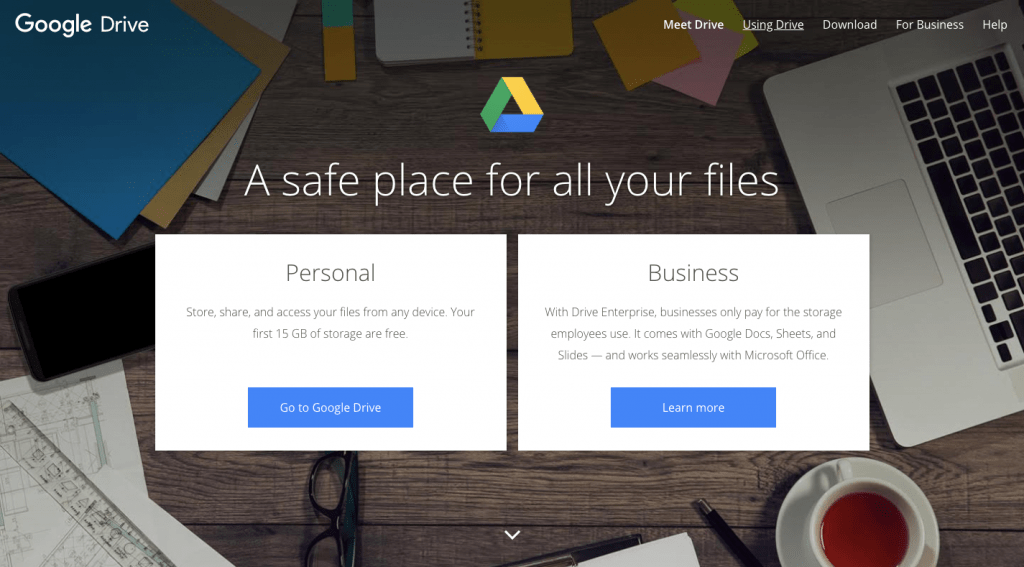 I know it might seem odd to create your content in Google Drive, only to have to copy and paste it into WordPress (or some other format) later.
If you're working on your own, writing your content directly in WordPress may work just fine.
However, if you're creating content within the context of a team, it might be a better idea to create it in Google Drive first. That way, you can more effectively collaborate with others using the built-in system of comments and suggested edits.
HubSpot Blog Ideas Generator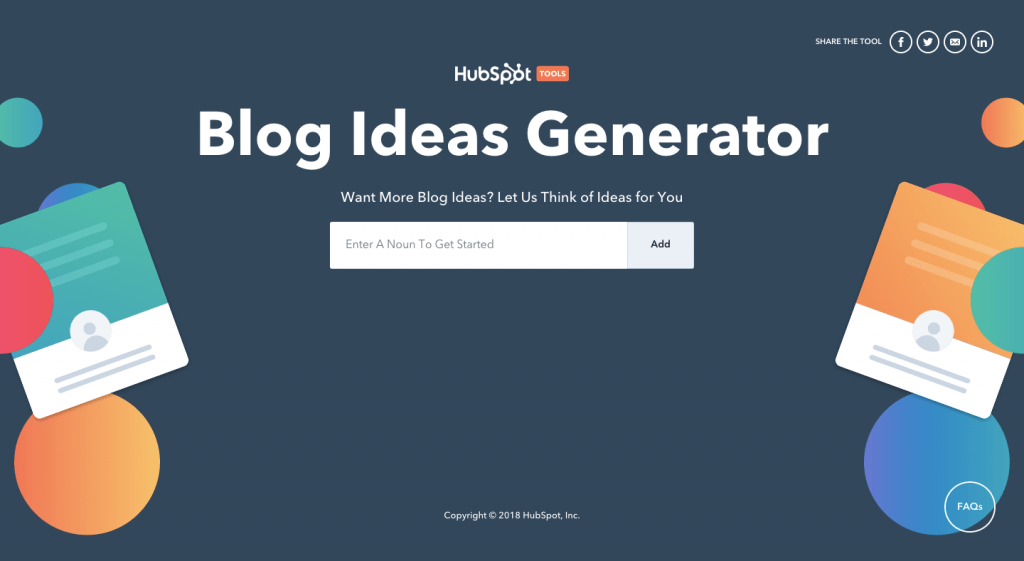 You'll eventually get to a point where you're on a roll creating content, but then realise you're not sure what to tackle next. Is it possible that you've already written everything you can for your audience?
Of course not!
There are lots of great places to turn to for inspiration — from within your organisation as well as from other people's websites. If you really get stuck, you can also turn to HubSpot's Blog Ideas Generator. Just enter up to five nouns into the tool and it will spit back five ideas. Even if they're not winners, they're sure to get you thinking in more creative ways.
Ubersuggest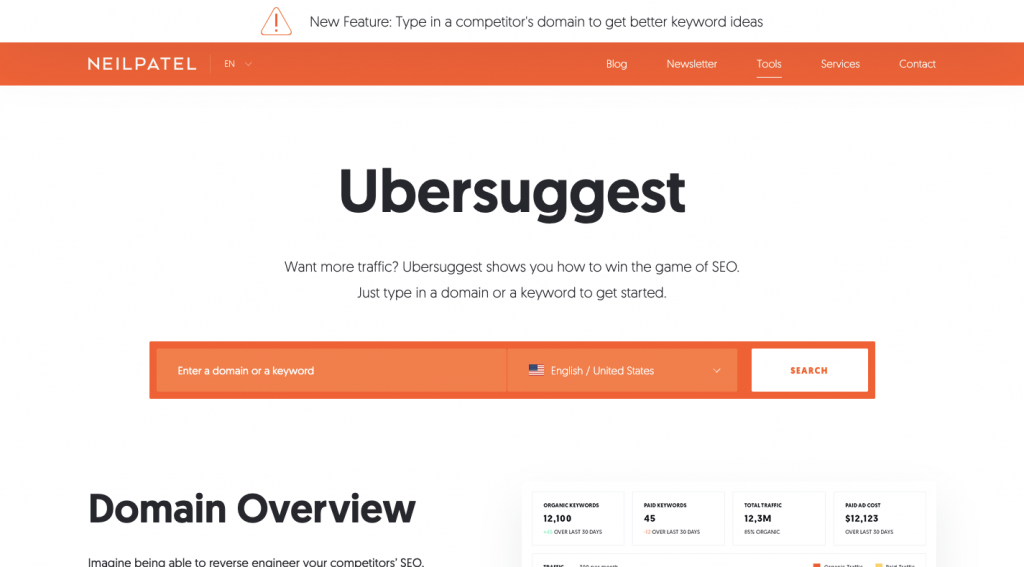 Coming up with new ideas for your content isn't the only hurdle to writing. You also need to figure out which topics and keywords are worth tackling.
For me, I don't create content without first checking Neil Patel's free tool Ubersuggest.
With Ubersuggest, you get more than just a keyword rankability score. You get:
Information on the viability of your keyword
Alternative keyword suggestions
Related topic suggestions
Links to content that already ranks for the keyword and how well they perform
You can also use this tool to analyse how the competition is doing. Find out which keywords they rank for, how high they rank as well as how their content performs with your similar audiences.
Grammarly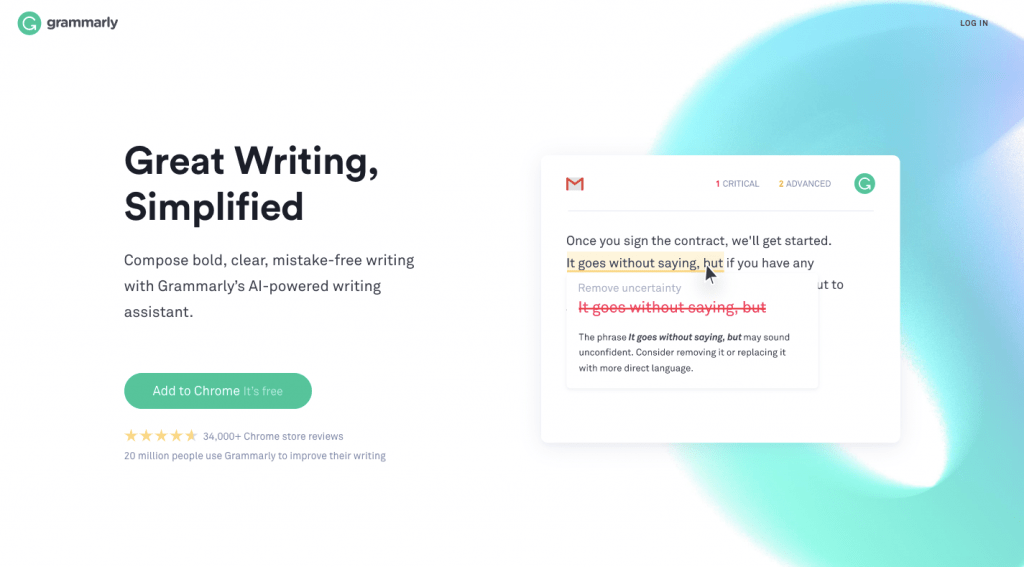 Have you ever read someone else's content, caught an error in it and winced? It's not like you don't understand how that sort of thing can happen, but those kinds of hasty errors belong in personal text messages. Not professional pieces of content meant to build trust.
To spare your readers from catching sight of your missteps, you should add Grammarly to the mix.
What's nice about Grammarly is that it's not just a proofreading assistant. It will also help you improve the overall quality of your writing. And since you can use it as an app or as a browser extension, you can edit your content wherever you choose to work on it!
CoSchedule Headline Analyzer

While a tool like Grammarly helps with cleaning up and clarifying your words, it doesn't necessarily help you convince readers to click on it in the first place. That's the headline's job.
The only problem is… how do you know what kind of headline will convince people to read your content? A good place to start is the CoSchedule Headline Analyzer.
This tool helps you write stronger headlines by, first, giving you a clickability score and, then, telling you why people will or won't be attracted to it.
Capitalize My Title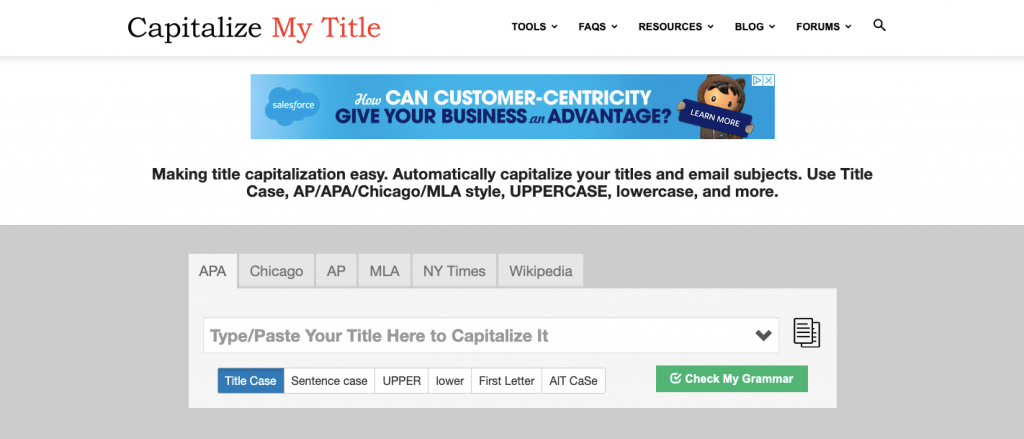 Once you have a headline sorted out with the help of CoSchedule, don't forget to make sure it's capitalised correctly! If you're like me and struggle to remember which words need to be capitalised, Capitalize My Title will save the day. 
Yoast SEO

Even the most well-trained copywriters, marketers and SEOs could use a little help when it comes to optimising their content inside of WordPress.
With the Yoast SEO plugin, you'll have a space to craft your own custom metadata for search and social media. You'll also receive a useful analysis regarding the search-friendliness of the page as well as the readability of it.
If you want the right kind of people to find your content online, let Yoast help you put the finishing touches on your words.
Pocket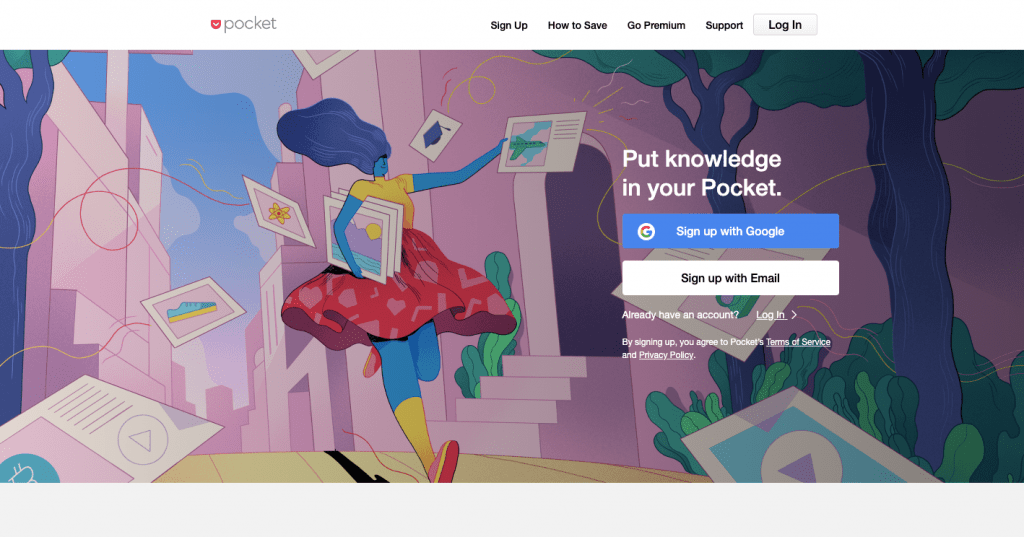 One of the most important things to keep in mind when creating content is that no man is an island. In other words, I'd encourage you to venture outside your business and outside yourself for inspiration as well as for research to help strengthen any arguments you want to make.
To keep track of articles, websites, apps and other sources of inspiration that cross your path, use Pocket to easily capture and then refer to them once you sit down to write.
Unsplash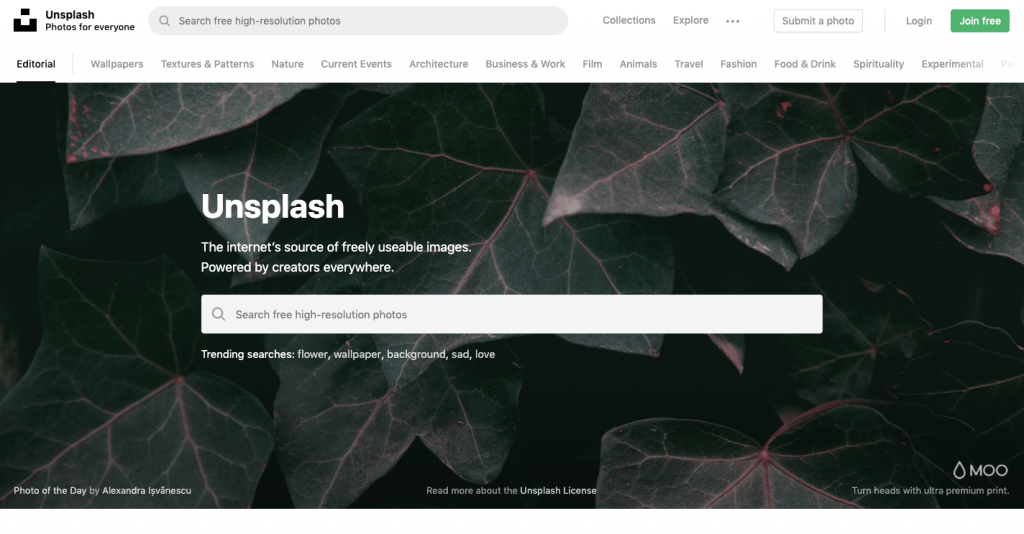 Content is more than just the sum of the words you put on a page. When you write content, you're telling a story. And one of the best ways to really drive home that story is by placing relevant imagery beside it.
One way to do this is by using a royalty-free photo from Unsplash to set the tone for your blog post with a featured image.
The featured image is what represents your content in your blog feed and will also go on to represent your content on social media and RSS aggregator services. If you want to make this first impression count, Unsplash will help.
Canva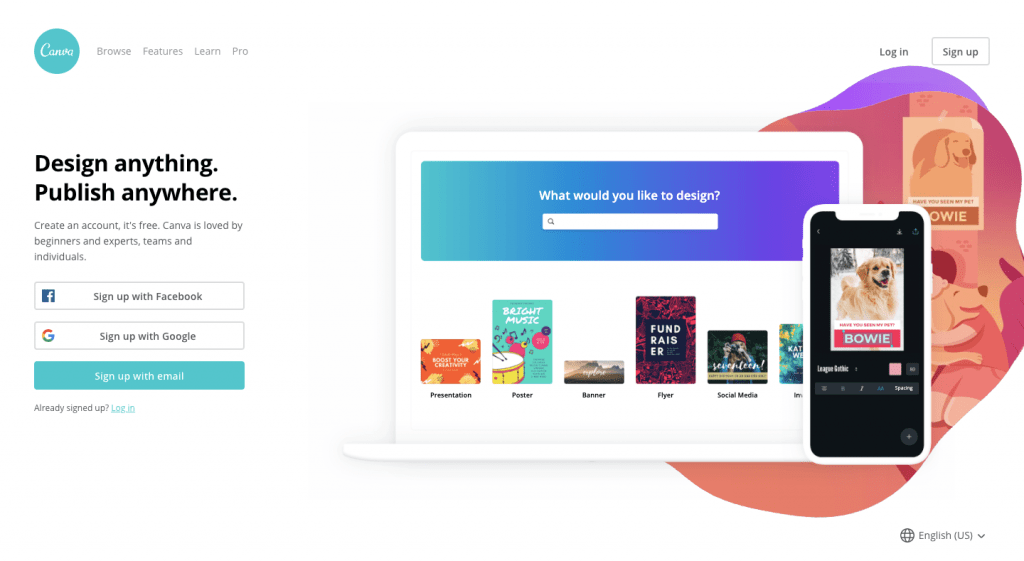 Another way to get imagery for your content is by creating your own with Canva. Not only can you use Canva to create supporting imagery for your content, but you can also use it to design images for your social media and email marketing efforts, too!
However you choose to use it, just know that Canva will make your job of designing visuals (or even just adding text to photos you found elsewhere) much easier.
For starters, it automatically gives you a correctly sized space to work in, if you tell it exactly what you need (like an image for Instagram or a blog banner). It also provides content templates and design elements, so you don't have to build anything from scratch if you don't want to.
Droplr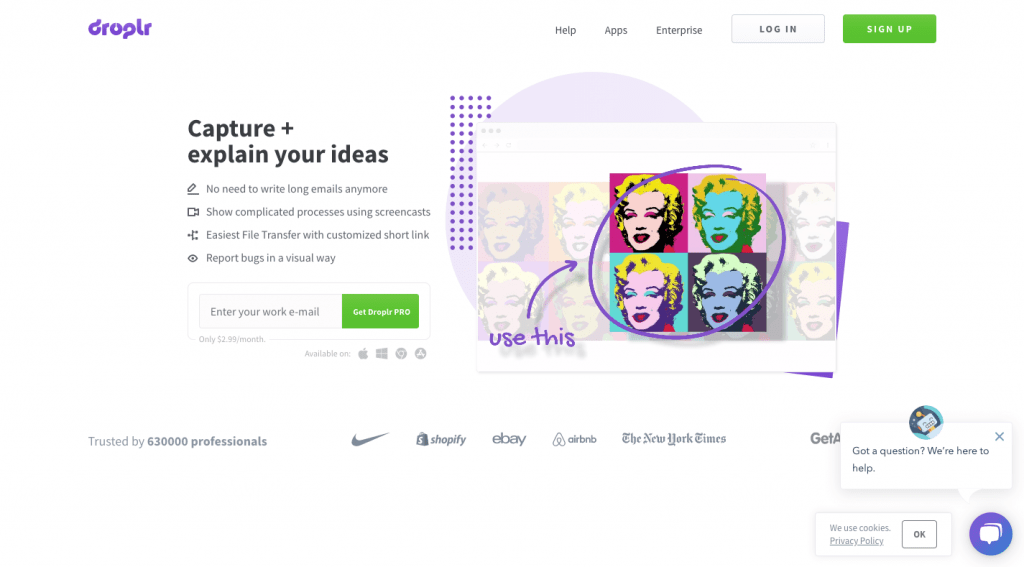 For many of you, photos and graphics just won't suffice when trying to illustrate the "story" you're trying to tell. And that's because the purpose of your content is less about telling and more about showing.
So, if you're trying to explain the steps in a process or give your readers an up-close look at a tool you use, then a screenshotting tool such as Droplr is what you need. There's a free version which is great, but if you upgrade to the paid version you can even create gifs. So for example, if I was writing a blog about how to use Infusionsoft, I could make a gif to explain this step:

You can also use Droplr to provide feedback on the content your team has created inside of WordPress. This way, the onus isn't on you to manage edits or handle rewrites. Instead, you can screenshot the problem area and effectively share feedback that way.
Loom
Another tool that would be useful for providing feedback is Loom.
Unlike Droplr which only takes screen and video recordings of your browser window, Loom allows you to record short videos (with a screen share) so you can more effectively communicate feedback.
Asana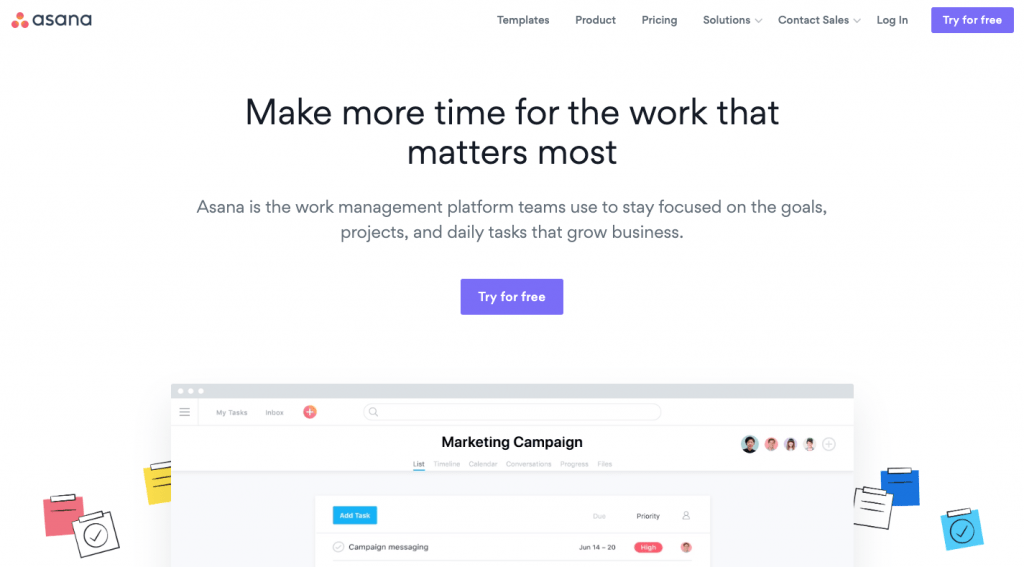 If you're a solo content creator, it's a good idea to get a tool that will hold you accountable to creating new content. I know it's hard to do when you're trying to make money, but that constant reminder nagging you to "Build authority! Build authority!" will help you make time for it.
If you're working with a team of content creators, a content scheduling and management tool becomes even more important.
The one I like to use is Asana. Part of the reason I like it so much is that I can schedule all of our content within the context of a weekly or monthly schedule. I've also created templates for the different kinds of content we create, so we never miss any essential steps.
Trello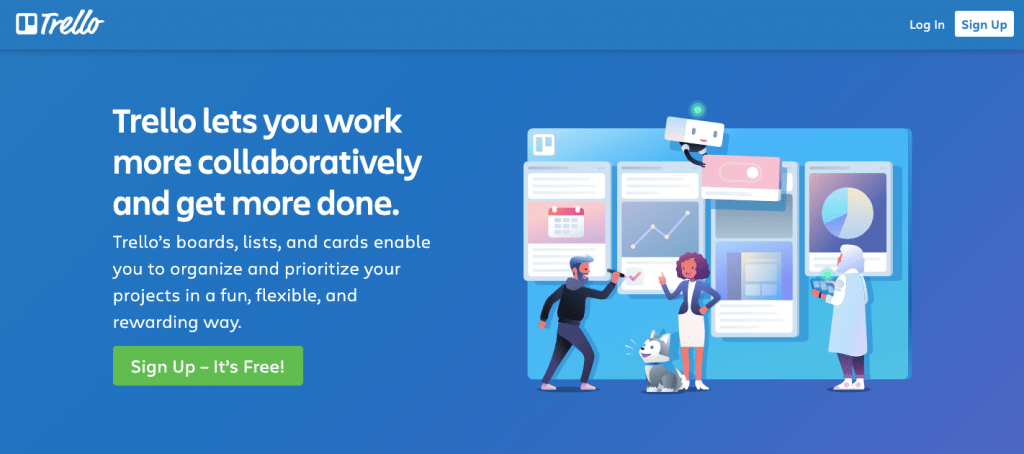 If you're more comfortable managing your content creation process and assignments with cards on a kanban board, you may find Trello to be a better-fit solution. In fact, Dana Malstaff, the queen of content, pledges her undying allegiance to Trello, so that should tell you something about the power of managing your content with it!
Agorapulse

OK, so I've done a lot of social media marketing over the years for various clients. I did a comparison a while back (which may be slightly out of date in terms of prices and features). Where I mention that Buffer is my tool of choice.
But to give you an update on this, I've now switched to Agorapulse. I didn't like the analytics with Buffer and the price was too expensive if you wanted to include the analytics in your plan.
Some of the features I'm loving with Agorapulse:
It has a "send to mobile" feature for stories which makes workflow a lot quicker

You can post top multiple Facebook groups

Analytics are detailed and clear

user-interface is super easy to use

Set up quick and easy

The inbox feature is amazing – You can reply to all your comments and mentions on all social channels in the one place – even YouTube.
I also asked Dana Malstaff what her go-to social media tool is. And she uses Tailwind which seems to be next-level in terms of helping you discover content, monitor conversations and increase your reach. 
Please comment at the end of this post and let us know what you use!
Google Analytics/Google Search Console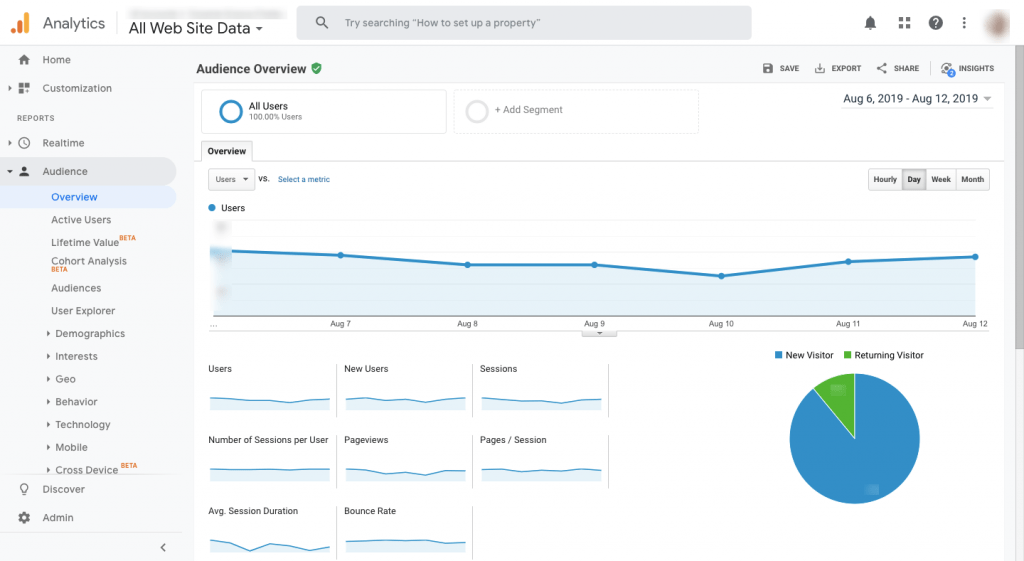 Let's not forget about what happens after your content has published.
While it's important to craft valuable content for your audience, it's not enough to hit the "Publish" button. You need to follow up with your content and see if it did what you intended it to. In other words:
Did anyone visit the page?
Did they take action on it?
What drove them there in the first place?
Who were these visitors?
Are there certain kinds of content they gravitate towards more?
With a combination of Google Analytics and Google Search Console, you'll get the answers to these questions and more. You can then use the data to better brainstorm topics and choose keywords for future content.
1Password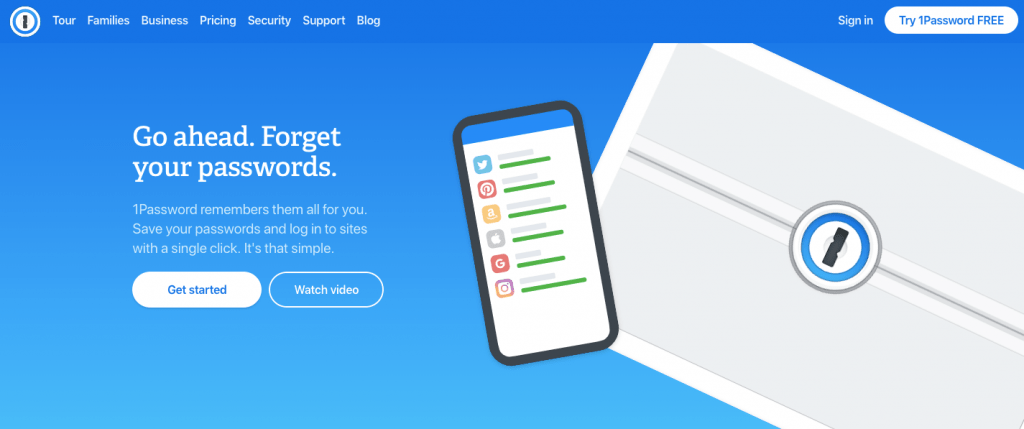 The only problem with putting together this toolkit is that you now have a bunch of login credentials to memorise. Not to mention the fact that, if you're sharing these tools with your team, you need an easier and more secure way to get the credentials into their hands.
That's why 1Password is a must-have tool for content creators.
Create and Manage Your Content Like a Pro
Now that you have a place to start with building your own content creation toolkit, it's time to talk about how to create and manage your content like a pro. And you're in luck!
Troy partnered with Dana Malstaff to create the Content Strategy Blueprint Course.
In this course, you'll learn how to create content the right way, so you can stop throwing away your time and money on bad content marketing practices!