How many times have you taken on a website project, knowing full well that:
The client was going to be difficult?
The project was going to drag on and on?
The money made would in no way compensate you for the time, energy and stress caused by the project?
Life is too short to burn out on projects. If you want to stop being the pinball getting smacked around by everyone in the game of life you need to learn to say "no" to:
Taking on difficult clients.
Taking on clients without a budget.
Current clients who are causing you a great deal of stress.
In this post, I'm going to explain why you should stop wasting your time on bad clients. (Yes, even those nice ones you really want to help but have no budget!)
What Do Bad Clients Look Like?
There's abundant data on the topic of how bad customer service harms the relationship you have with clients and consequently costs your business. Because we live in a customer-centric world, their needs matter a great deal more than our own well-being, at least that's how it's depicted when it's talked about on the public stage.
Here's the thing though: you and I both know that clients can be a pain in the a**. What's worse though, is that bad clients can cost your business a lot of money.
Who are these clients exactly? I have some thoughts on that:
The Ghost
Ghosting isn't just something that happens to the folks on Tinder. It's sadly an all-too-common occurrence when you work with clients whose eyes are bigger than their stomachs. Or who have a general lack of respect for anyone but themselves.
You pitch them your services, they act super-enthusiastic about working together and even the freelancer contract gets signed. Then, they're gone. Or maybe they don't even sign the contract. Either way, you've wasted your valuable time on pitching to them and, now, you're probably going to waste more time trying to follow up and find a way to reach them. After all, they were interested, weren't they?
The Bargain Hunter
Again, you meet someone who seems excited at the prospect of working with you. So you send over your proposal and that's when their interest starts to waver. "Well, this other agency said they could do the same thing for less." Right… And while that agency will probably take the same steps, the level of quality won't be anywhere near what you do for them.
Honestly, the client already knows this. They just want to talk you down on price because they want a good "deal", which means they won't value your services when you do actually work together. You'll spend your entire working relationship constantly having to negotiate on price or telling them "no" when they try to trick you into doing something extra.
The Procrastinator
You've signed a new client, and they're excited to get started. But you've asked them repeatedly to provide you with content, login credentials or general information pertaining to their brand.
They keep saying: "I'll have it to you soon."
Or the never-encouraging: "Just keep working. We're almost done with it."
Eventually, you get to a point where you can't do any more work without their content, input, or assistance. All progress on the job stops and you become swept up in tracking them down or building workarounds rather than on actively pursuing work that pays.
The Know-It-All
You're steadily making progress on your client's website (or doing a good job of maintaining the performance and security of their site), but they certainly haven't made it easy. It seems like every time you get close to the next milestone, they have to push back on something.
"Can't we use better colours?"
"I know someone who uses WPBakery and loves it. Why aren't we using that?"
"I don't need to waste money on a lead generation platform. Take that off of there. We're just going to send out mailers."
It's frustrating. It's not constructive. And it constantly has you on the defence because you know they're going to have something to complain about or try to correct you on. Plus, you know this client is going to call you at the most inconvenient times because everything is urgent.
The Pickiest Indecisive Person Ever
On the other hand, you may encounter the client who can't make up their mind. You get caught up in round after round of revisions because they can't give you a clear idea of what they want.
For instance, you present them with some mockups and their only feedback is, "I don't really like it. Can you show me something else?"
Your response is then, "Do you have examples of what you like?"
To which they respond, "Nope."
Rather than trust in your expertise and skills, they refuse to move on because they're sure there's a better way to do it. They just want you to figure out what that is.
The Client Scorecard Framework
So how do you know which clients are the ones you should say "no" to? 
The Client Scorecard is a template that we give to our students in the Blueprint, but here is an abridged version…
Ask yourself these 3 questions:
Does your client have a realistic budget for their expectations?
Are you passionate about this project?
Has the client respected your process so far?
If you answered "no" to any of these questions, then you should kindly decline the project.
How Do You Fire Bad Clients?
If you're looking to get cumbersome tasks off your plate and want to give the new year a strong start – fire your bad clients. You might be nervous about what that means for your total earnings in the year to come, but don't be.
When you free yourself of bad clients, you can:
Dedicate yourself to a higher quality of client.
Work on higher value (and better paying) projects.
Establish client relationships that build your confidence and help you improve your skills.
These are things you can't prioritise right now because bad clients are draining you of the time, energy and motivation to do so.
Just the other day I saw this post in our Digital Mavericks Facebook group which is the perfect example of what happens when you do say "no" to bad clients: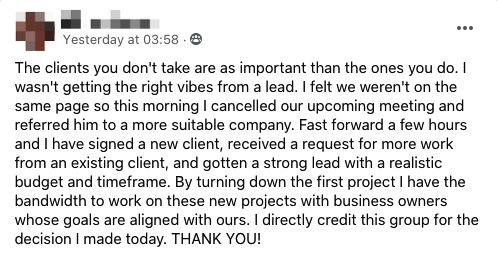 So, how do you fire bad clients?
For starters, be a professional. Provide them with advanced written notice and make sure to adhere to the terms of your contract in terms of the reason for and the process by which you cancel a working relationship.
Next, don't be accusatory. This isn't the time to point fingers. Clearly state that this isn't an ideal fit and that they'd be better served by someone who aligns with their interests. You can do this with prospects, too.
And, finally, thank them for their time and wish them luck. Take the high road and end on a positive note.
Wrap-Up
When you fire bad clients, you're really only dealing with the symptom. You have to put a process in place that keeps you from ever engaging with them.
That means:
Use your website to weed out prospects.
Audition prospects who make it through.
Create and enforce strict contract rules with clients.
Charge what you're worth.
Keep the client accountable and their behaviour in check.
And trust your gut. If you get the sense that there's something off in your interactions with them, don't pursue the relationship any further. There is plenty of other fish in the sea.