The Header
Welcome to another episode of Silence in Golden where Troy and Simon give away invaluable tips for your business.
Today our main topic is about getting design feedback from client and how to avoid a never-ending feedback loop. We also give you the latest WordPress news including the new versions of DesktopServer and WordPress, the changes to the Facebook algorithm and the new Google page speed ranking. 
Watch the Video
This week we will focus on the design process and getting feedback from clients.
Let's start with some Facebook questions.
Q.
Jamie Hill says:
Endless emails back and forth with the clients. That is the hardest aspect we deal with. Site build has daily content being changed and worked on. We have a system where they only get short-term access, with that being said, we still have issues getting corrected content back or getting feedback fully from the client.
A.
This is a common scenario, however, there are easy ways to stop the never-ending feedback loop.
You need to schedule in set times with the client and frame how it will work before the job even starts. For example, you can tell the client that you will give them access to load in their content and that then you will have a meeting for revision 1. You then outline what you will go over in revision 2 and explain that anything outside of revision 2 is not included in the project cost. This then allows them to get all of the relevant information together or sign-offs that are necessary.
Trish Cupra gave some great advice:
I do a design prototype with 1 round of changes and 1 further optional round, but any changes must be based on how the change would affect the bottom line (not personal taste).
Her process is as follows:
Get the information from the client
She creates the design and presents a prototype
The client reviews the prototype and provides one list of revisions
Trish discusses those revisions with the client and how would serve their business goals
She revises the design with the target audience in mind
The client gives a second list of revisions to discuss and implement
That's awesome Trish! Thanks for sharing.
Golden Nugget Tips
Position yourself at the beginning of the project as the expert
Do things when you say you're going to do them to show that you are sticking to the process too
Be clear about how the process works and how many revisions are included in the project cost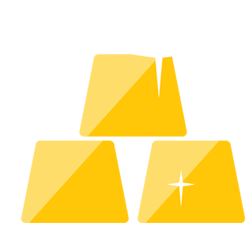 Q.
What do you do when a client completely backflips on a design?
A.
Mike Monteiro has a presentation called "F**k you, pay me"  in which he says that you need to be paid for your time and then you can start again with a better brief.
Ideally, you don't want this to happen so you need to make sure you get a good brief and give them a clear process.
Strategies to help:
The proposal must include an outline of the process
Reiterate the process in the onboarding sequence
In the kick-off meeting make sure you go through a checklist
Catch any surprises before they come up
Check out Troy's process  on his website here
Tool of the Week: ProjectHuddle
ProjectHuddle is a WordPress plugin for website and design communication.
This is a screenshot of the back end of Renegade Empire's website. You can see that Simon has created two mock-up pages for a client: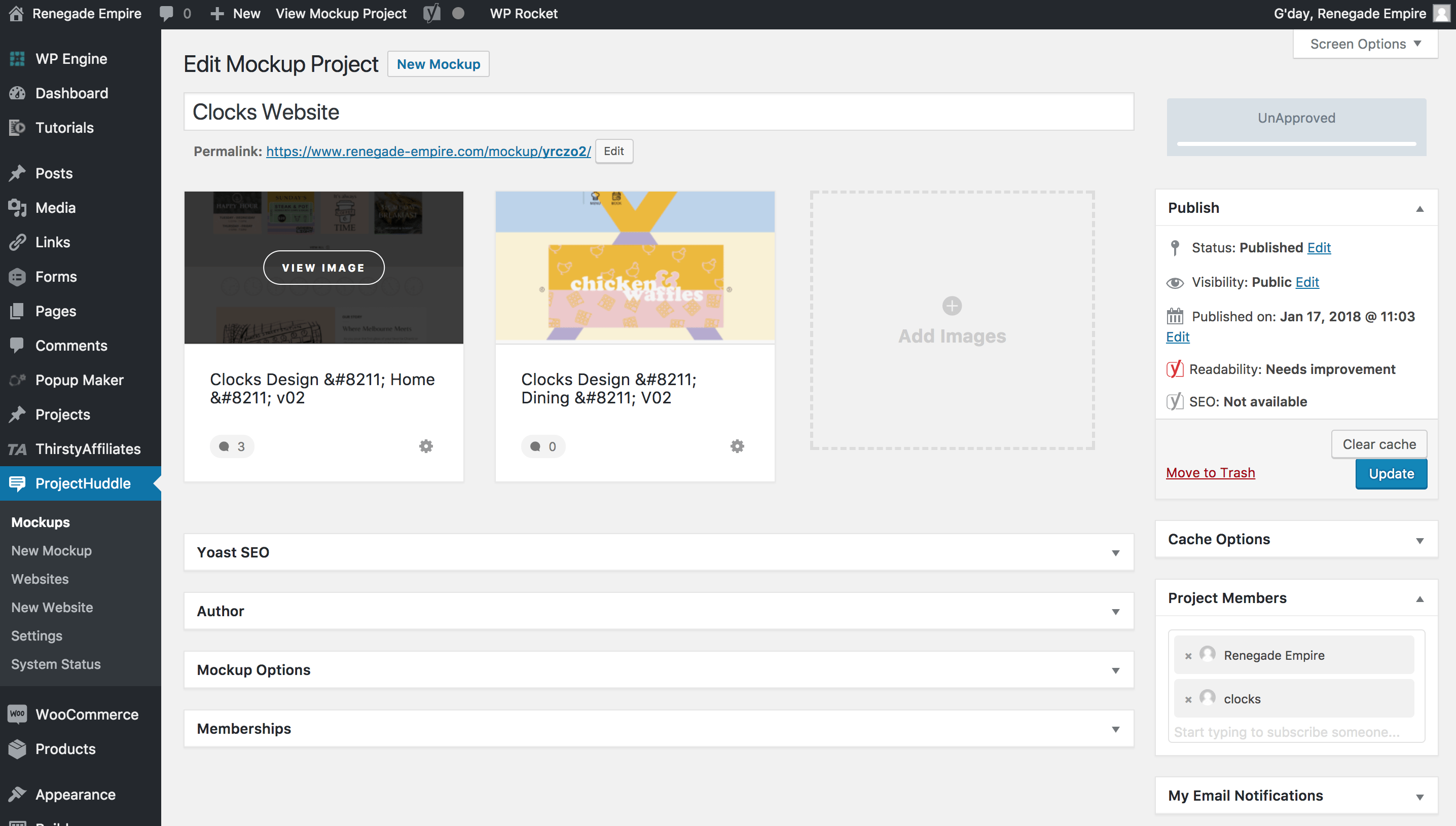 You can create mockups which are static images or you can create live websites and get live feedback from a client. They can click on anything and write a comment. This is a great way to get feedback and minimise miscommunication.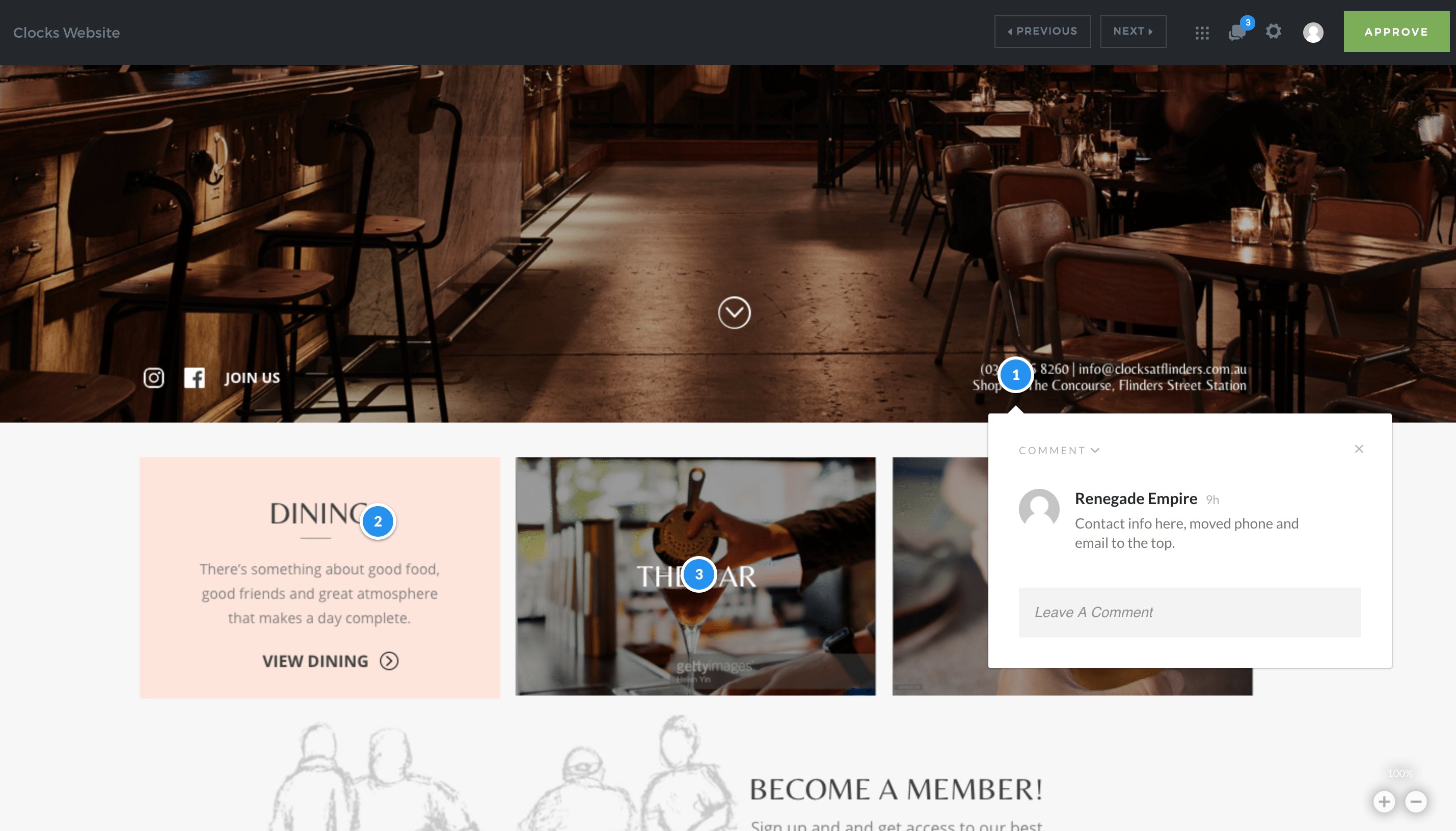 Simon created his design in Sketch and uploaded it to ProjectHuddle. The client then gets a login and add comments. (Note: the login only gives them access to the mockups, not the backend of your website)
You as the designer can also make comments to let them know different elements and if there will be any animation.
If you don't want to use a tool, you can also use Dropbox, add an image and comment in there. Another option is a pdf in which you can comment with markups.
The cost is $89 a year, but if you close that page a pop-up comes up offering you 10% off.
Simon's Hot Tip
Make a video and send it to the client walking them through the design. This is a much more efficient way of communicating than phone or email. Simon uses Screencast-O-Matic to communicate with clients. There is a free version or Premium is $18 per year which allows you to edit your videos. You then send it to YouTube, make it unlisted and send the link to the client.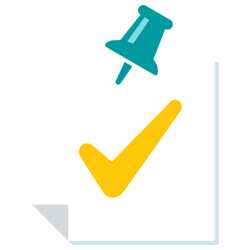 Let's loop back to Jamie's question
The main points to take away:
Communicate ahead of time
You need to keep your clients on a tight leash and inline your process
Let your client know that you will have a weekly meeting and they know it is scheduled in. They can then save questions and feedback for then
If a client gets annoyed that you can't take their calls, just explain that you will give the same attention to their project when you are working on it and that you give all clients equal respect
If you allow your client to call or email you many times a day, then none of these tools will help until the right process is in place. It's not too late to reset expectations with current clients – so get that process in place!
The Footer
Thanks for joining us for another episode of Silence is Golden. We are here to help your business, so let us know in the comments section below what you would like us to discuss in upcoming episodes.