Your Roadmap to Becoming a Sought After Web Designer, Developer, or Digital Marketer.
Facebook groups can be a robust and effective tool for you to connect and influence people and find your next ideal clients… but only if you've established your authority.
In this post, we'll discuss the importance of building authority, how to start positioning yourself as an expert, ways to expand your reach and how growing your reach on Facebook is the quickest and leanest way for you to get it done.
I'll even give you a quick preview of our Agency GPS framework and how it can help you build authority in your space.
So if you're ready . . .
Let's jump in!
Online groups, our village watering holes
Even in a digital world, the community or village continues to be our most trusted source for answers, referrals, and space to bounce off ideas.
As social beings, we look for people to connect with who are on the same journey, have the same interests, or even have something to teach us to build relationships and engage with.
And with the internet and more people online, virtual groups have quickly become our virtual villages to meet and connect.
It's exactly what my team and I have discovered in the five years running the Digital Mavericks Facebook group. As the group continues to grow to over  the 10K mark in members, the sense of community and support has not disappeared. If anything, it continues to be more rock solid!
And while we know many join because of the resources and value my team and I continue to pour into the group, we also can see the power of the support and help fellow members offer each other.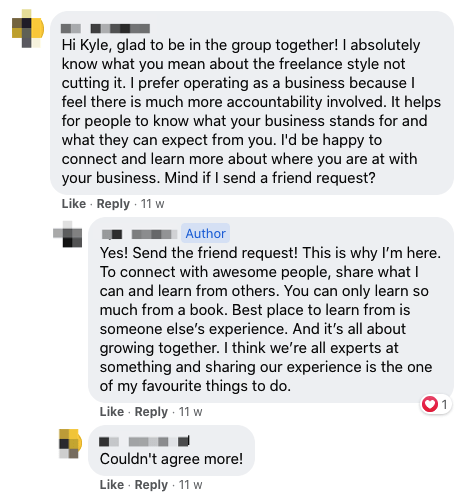 As we each reliably show up for each other — with our replies to the questions and requests others pose or the resources we offer to help freelancers and digital agencies grow their business — we can build a trust that allows us to have a growing influence over one another. Couple that swaying power with a strong message and we have a powerful tool to harness.
There are tons of other options for virtual communities available like LinkedIn, Slack, and of course, the much talked about Clubhouse. However, Facebook continues to have the most diverse and populated collection of niche groups available to choose from.
So, if you're a web designer, developer, or digital marketing agency looking to expand your reach and build your authority, this social media giant has to be the first place you start.
So, why exactly is building your authority so important?
The reason to build your authority is simple. Imagine being the most recognised name in your niche. Second, imagine being the first name potential high-value clients think about when they need help with their web design or web development. Third, suppose your name is synonymous with the field you're in.
This is a powerful position to be in.
It doesn't matter what your niche is; when you're recognised and trusted as the go-to expert in your area, it means landing more clients for you and, of course, more revenue in the bank.
But as you know, the digital world is noisy. Cutting through that noise becomes more challenging every day.
Within your niche or field, there are probably hundreds of average, run-of-the-mill web designers, developers and digital marketers competing for the same set of clients.
My question for you is, are you one of them?
Really think about this one. While you know you've worked very hard not to be mediocre, chances are no one knows who you are. Without any authority built up, you're just one name on a list of potential digital experts to choose from — unless you build up your reputation and become a trusted name in the field.
People buy from people they trust, and they trust authority
Right now, you might be thinking you've got a ton of other things to worry about in your business before you can build trust. So, before I go through the benefits of building authority and getting started, it's worth understanding just how powerful being a trusted name or leader is to people looking to pay for the type of service you offer.
Consider these numbers for a second:

We buy from people we trust. Period.
And we trust people who have a proven authority or expertise. That's why building authority is such a key component in building your business.
So if you're a freelancer struggling to get clients or a digital agency trying to position yourself in the market, building genuine trust has to be something high on your priority list, and Facebook groups are an easy way for you to start building that trust.
Establishing authority brings the clients directly to you
How would you feel if, instead of chasing after clients, they'd want to connect with you? When you position yourself as your niche's authority, you no longer have to discount your prices because you've already established your value to your clients.
Sounds good, right?!
This is all possible for you, even if it doesn't seem like it right now.
These days, our potential clients are coming to us directly, either from our website or by joining our Digital Mavericks Facebook Group. They come in looking to work with us (and we decide whether or not they're a good fit). This wasn't always the case.
When I first decided to transition to a coaching business, I knew I needed to go where my potential clients were hanging out and start building trust and authority. So I went after speaking engagements and started building my reputation in the WordPress space.
In 2013, I delivered a presentation called "101 Ways to Elevate Yourself and Demand Higher Fees" at WordCamp Melbourne. The talk went viral and I started getting invitations to speak at WordCamps and other digital events around the world. My name was finally getting out there as an expert in WordPress.
After that, I led webinars, created our flagship course The Blueprint and launched our podcast. This exposure introduced more people to my website and eventually led to creating more online courses, our 90-day accelerator coaching programs and the Mavericks Club, our mastermind program for agency owners.
I made it! I had finally cracked the code and positioned myself as an expert.
Of course, I wasn't the only person out there offering to coach web developers and web designers. But by investing time in expanding my reach and building my authority through speaking engagements, I was able to quickly establish my presence in the field and make a name for myself.
And now, with the Digital Mavericks Facebook Group has grown to over 10K members, potential clients ask to join the group every single day and be part of a community where I am the leading authority. In there, they experience first-hand how my team and I can help digital experts grow their business through the resources and value we provide to members.
If you want to go analog. Your authority serves as a giant billboard that says, "contact this one, they know what they're doing, and they're good at it." Thus, making it really easy for potential customers to find you the moment they need your service.
Building authority is a long term commitment
Whether you are completely brand new to your field or have been in the space for many years, working towards expanding your reach and building your authority has to be a part of your ongoing strategy.
I did this myself, first as a web developer building websites for businesses and now for the past decade, as the CEO of a company that coaches digital agency owners, web developers and other digital marketers. My expertise has allowed me to reach a point where I don't have to convince anyone I am worth my fees. Instead, I review projects that come in and decide if they're the right fit for me.
But even now, as one of the go-to experts on how to grow your digital agency, I continue to actively add to the authority I've established because I love helping people grow their web design or digital marketing businesses.
I still create programs that highlight my expertise while providing value to potential clients
I continue to do speaking engagements to share what I've learned
I continue to nurture and grow an engaged Facebook community called the Digital Mavericks where I provide rock-solid guidance to entrepreneurs looking to grow their business with free training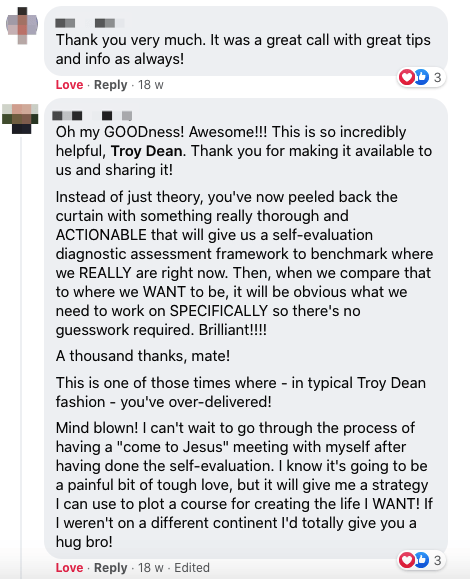 What's that saying, "been there, done that?" Well, for me, I've been there, AND I'm STILL doing that.
And now you're here reading all about it on a blog that digital agency owners trust to grow their businesses to well over $100K.
Grow your authority by increasing your influence and expanding your reach
Now it's time to bring all of the pieces together. So far, we've touched on the importance of building authority and trust. We've touched on how online communities like Facebook groups are the perfect platform to reach more people and flex your influential know-how.
These are all part of the conversations we have with our clients when we are helping them grow their authority. In these talks, we cover three major areas: 
Upgrading your on-ramp (Also known as creating a rock-solid sales process or what you may know as a sales pipeline)
We won't go into the third item right now, but you need to note that the ability to persuade or influence and expand your reach won't really matter without that part of the puzzle. Trust me. For years, I left thousands of dollars on the table, speaking at events and building my email list without having a proper sales process, and I don't want that for you.
The three prongs of building your authority are all part of our Agency GPS, a proprietary framework that helps agency owners set clear goals, plot their course and keep their team on track.
It's the same framework we use to help our clients grow their authority. Agency GPS helps our clients have a steady demand for their solutions to help more customers while scaling their automation processes and building their team of A players.
Positioning yourself as an influential voice and expanding your reach in your efforts to grow your authority isn't an easy one-two punch. While you can start extending your reach almost immediately, fortifying your ability to influence the action of potential clients requires that you have something valuable to say that your customers want or need to hear.
But once you have that, and they see you as an authority, they'll listen to what you have to say and are primed and ready to buy.
The Benefits of Facebook groups
When it comes to building authority, Facebook groups offer a list of benefits to freelancers and digital agency owners to establish their presence. In addition, as Facebook's community-building feature, Facebook groups bring together people in the digital space to support and help each other.
Whether you're creating your group or joining another person's community, a Facebook Group can offer you the following benefits.
1. A way to directly connect with customers:
When you join a group related to your niche or expertise, you'll be digitally shoulder to shoulder with individuals who already have a shared interest with you. This gives you direct access to potential customers looking for the types of solutions you can offer. If they pose a question, you'll be in there to answer. If they are looking for resources, you'll be able to share downloadable guides and templates you've created.
Facebook groups are also a great avenue to gain insights and learn from your customers without waiting for them to tell you.
What are their pain points?
What do they continue to struggle with?
And how can you help them find a solution?
Dig into the discussions happening in the groups, and you'll find out.
As Steve Jobs put it: 
"You can't ask customers what they want and then try to give that to them. By the time you get it built, they'll want something new."
An engaged Facebook Group is your one-stop shop to eavesdrop on your customers and get in front of emerging trends and needs.
2. An opportunity to build long-lasting relationships with customers:
One of my favourite things about the community we've built in the free Digital Mavericks Facebook Group is hearing from members who are moved to take action on their own, like the ones below.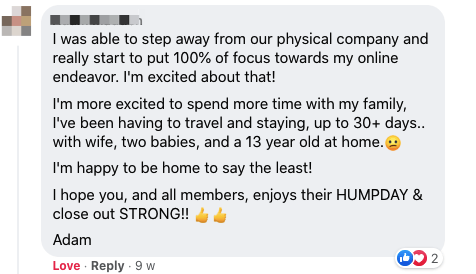 The Facebook Group puts you right there with them in their journey, allowing you to establish a relationship, cheer them on and lend a hand when the time comes.
Also, as a digital agency, you offer a service that isn't usually a one-and-done type of business. With opportunities for repeat clients, continuing to be present in the same Facebook Group allows you to stay connected to your customers and continue to build a solid and long-lasting relationship.
3. A chance to increase your organic reach:
Unlike posts on your Facebook wall, the Facebook algorithm prioritises posts in the groups you are in to show up in your feed. Meaning if your customers (or potential customers) are in the same Facebook Group as you and you're actively posting in there, then your posts will float to the top of their feed for them.
This type of organic reach isn't available on a regular Facebook Page.
4. A forum to offer additional value:
Facebook groups are a great place to add value to those in the groups. For example, suppose you're running a Facebook Group. In that case, you'll provide training guides for members of the group to follow like the ones in the Digital Mavericks Facebook Group.
In there, we welcome each member with a welcome post, welcome video and a free gift offering loads of value from the get-go. We created a multi-step guide for members to follow, complete with templates and videos to help accelerate you from a struggling freelancer to a fully-fledged business owner. And it's accessible for all members of the group.
Providing additional value within Facebook groups allows your customers to experience your expertise, test out your knowledge and products and decide if what you offer is the right fit for them.
What steps to take
So now you know why it's important, but what are the next steps?
We've created a step by step checklist for you so you can start building your authority today.
Download the Checklist For Getting Famous in Facebook Groups
Building your authority is just one piece of the puzzle to really grow your agency. If you want to move faster and get all the pieces of the puzzle, then set up a Clarity Call with one of our team members, and let's create a plan that will help you scale your agency to new heights.