Creating your own Facebook group is an effective way to get in front of your target audience at no cost.
A Facebook group is a community which is built around common interests or goals such as fitness or even your dog breed! However, these days it's becoming much more common to run Facebook groups as a way to build your business.
Here at Agency Mavericks, we have a Facebook Group called Digital Mavericks. This is a supportive and helpful group that helps freelancers, website developers, and digital marketing agencies grow their business.
We've grown our group to nearly 9,000 members and it is one of our best organic channels for course sales.
In this post, I'm going to share everything you need to know about running your own successful Facebook group, and how to use it to grow your business.
The Benefits of Creating a Facebook Group for Your Business
With over 1.4 billion Facebook users that use groups every month and over 10 million groups, it seems that Facebook users are now engaging with more content from groups as part of the social network's shift toward meaningful communities.
Just some of the benefits of creating your own group are:
It's inexpensive – the only thing you need to invest is your time.
It offers you better opportunities to connect with your audience in a more authentic way.
You can start to build trust within that group by helping to solve people's problems and showing that you're an authority in your field.
But probably the most important benefit here is that you can use the group to get new leads. (More on that to come!).
Tips For Setting Up the Group
Have a Facebook Page First
If you don't already have one – you will need to first set up your Facebook page. A page is different from a group as it is visible to the public and doesn't allow your audience to share their own posts.
Having a page allows you to run ad campaigns, get reviews and shows your public posts. A Facebook group is meant to feel like a safe space for people to share and get support – there is more of a focus on community.
Choose a Searchable Name
When choosing a name, make sure the name is easy for people to find in the search function on Facebook. It should represent what the group is about and you want it to be easy for both existing customers and leads to find you.
Select the Type of Group
You can choose from the following:
Public groups, where everyone can see all content and members.
Closed groups, where anyone can see the group and member names, but not the content from the group.
Secret groups, where you have to be invited to be added.
Add a Group Description
The description should clearly state the purpose of the group, what members can expect and this is a great place to set out the benefits of joining. You can also add links here to your website and offers.
Ask Questions to Filter New Members
I strongly recommend that you set up a questionnaire for when people request to join your group. It's important to assess whether they are a good fit for your group so asking questions like "how long have you been in the industry?" or "why do you want to join?" are very useful. Don't just approve anyone who wants to join as there may be some spammers.
The most important question to add here is a request for their email address so that you can add them to your database. It actually requires a bit of admin to do this, so when you start to get a lot of requests coming in, the easiest way to automate this process is using a software called Group Convert. (This is what we use and love!)
Once their email address is in your system, you can send a welcome email and then put them into your sales funnel.
Have Guidelines in Place
Have good rules and moderation practices in place. Here is an example of our guidelines in our Digital Mavericks Group: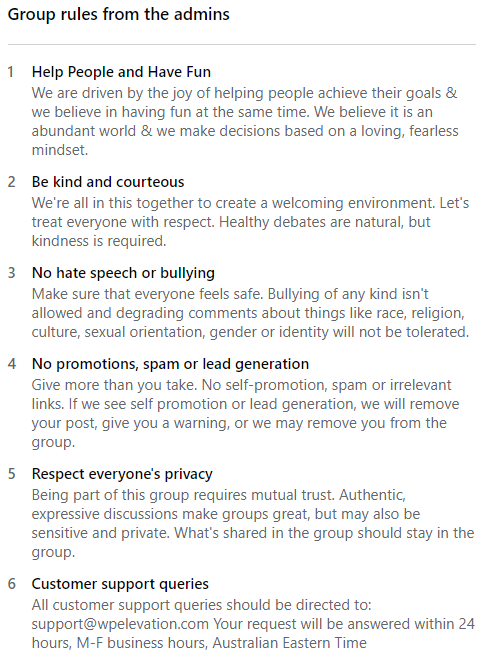 Invite People From Your Facebook Page to Join
If you already have a Facebook page that has a lot of likes, you can actually invite them to your Facebook group! Make sure the page is an admin of your group then choose to interact in the group as the page. This will then allow you to invite all of the page likes to join the group.
Step one: Go to your group and choose to interact as your page: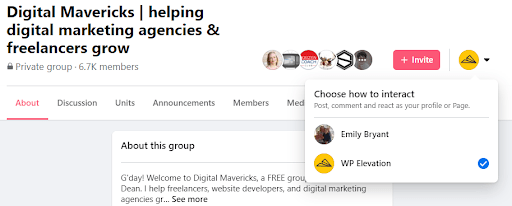 Step two: Click on Invite

Step three: In the pop up box, invite fans to your group. Facebook will sometimes suggest fans or you can just start by typing names (start with A and work your way through the alphabet!)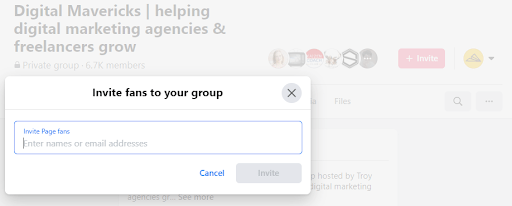 Step four: Once you have about 30 – 40 names in the invite box, click "Invite" and the invitation will be sent. Bear in mind that they will automatically be accepted to the group if they accept the invitation. Don't try and invite everyone at once as Facebook will stop you inviting people for a day or so. Just chip away at it each day and come back to it on a regular basis to ensure you also invite new fans.
Create Awareness of Your Group
You also want to continue to attract new people to your group, some of whom may not be familiar with you or your brand. Some ways you can do this are:
Blogging.
Networking.
Creating special deals for group members and strategic partnerships of other groups and businesses.
Create a Growth Strategy
Following a growth and promotion strategy is something that people with successful Facebook groups work on daily.
You can build a valuable community by effectively implementing a "Purpose, Content and Engagement Strategy"
Let me break that down for you:
1. Purpose
Determine who your group is for and why they would want to join. What is the ultimate goal that you want your audience to arrive at?
2. Content
Content is the key to scaling and growing your Facebook group. It requires planning, strategising and understanding the audience. The correct, original content will lead members to check in with the group often to see what is new and then share with other content they enjoy.
Tips for posting content: 
Go live in the group on a regular basis and post at least once a day
Consider using the Unit feature in the group to deliver your key messages such as your group welcome information and video, educational courses etc: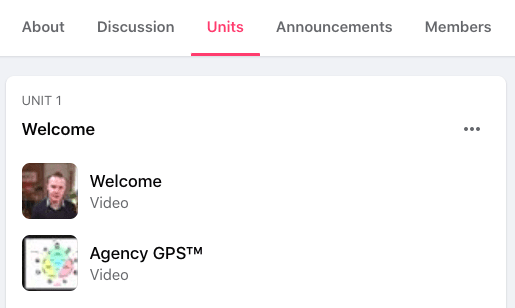 If you have an important post you want to share, you can pin it to the top of the page as an announcement.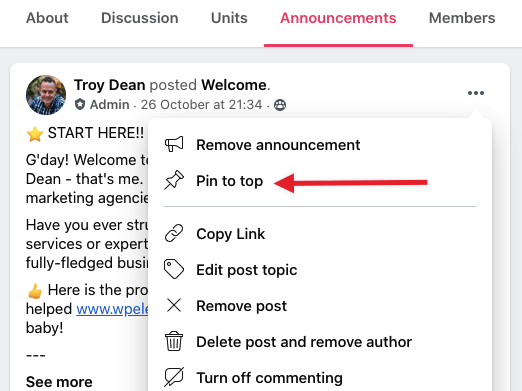 Set up keyword alerts as well as an alert for engagement, such as when a post is getting a certain number of comments. This can be done under "Moderation Alerts"
Review the insights on a regular basis so that you can post when most members are active in the group and keep an eye on what posts are getting the most engagement. This will help you understand what is working and what isn't. You can also begin to understand your audience better by looking at their demographics: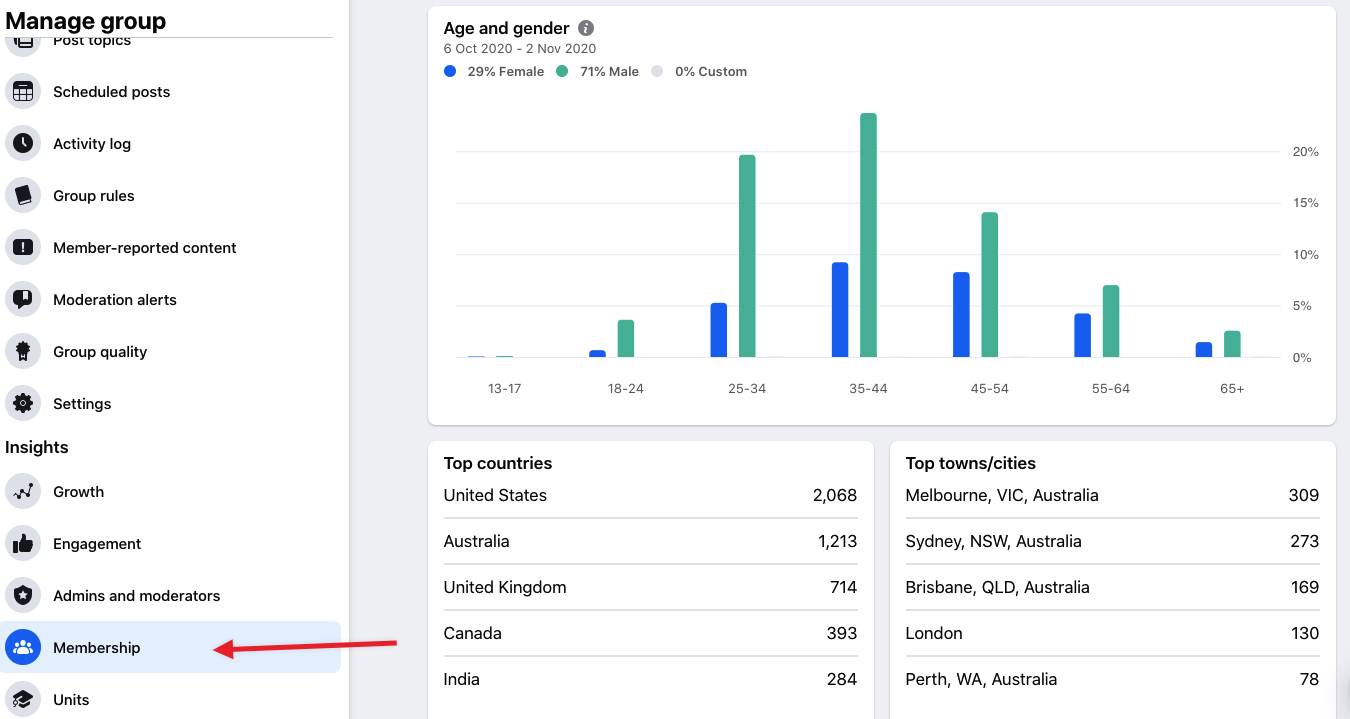 Types of posts: 
Dana Malstaff, Founder of Boss Mom, is probably the Queen of Facebook Content! Check out her tips in this post and how to take your audience on a journey through the following post categories:

Awareness posts: Where you create content that acknowledges your audience's problem and make them feel understood which builds trust.
Authority posts: Demonstrate your knowledge and authority in your space by giving helpful tips and information. In doing so, you will be seen as THE go-to person in your space.
Engagement posts: Posts that will start a conversation and prime your algorithm. For example, giveaways, quizzes, humour or asking a question about a trending topic, an emotional topic or using nostalgia ("the good old days").
Conversion posts: Now when you post about your services, it will seem less pushy and more informative because your audience knows and trust you.
Once you understand the type of content you will be posting, you can then create a content calendar so that you have a plan for each month and then schedule them each week.
Consider having a series of regular posts. For example,  in the Digital Mavericks group, we have started a thread every Monday called Maverick Monday where we ask members to share their goals for the week and then we help keep them accountable.
3. Engagement
OK, so now you know your purpose, have your audience and have your content scheduled out. The next step is to work on your engagement strategy. This is important, otherwise, your group will be like a ghost town and a waste of your time…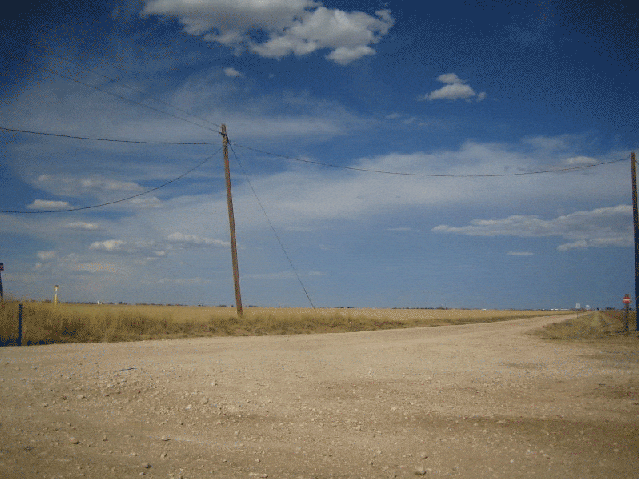 The aim is to create a focused environment where like-minded customers can properly interact with one another and work together towards a goal. People engage in a community that they're passionate about and where they feel supported and understood.
As I mentioned above, use humour, trending topics, personal questions and nostalgia to increase engagement: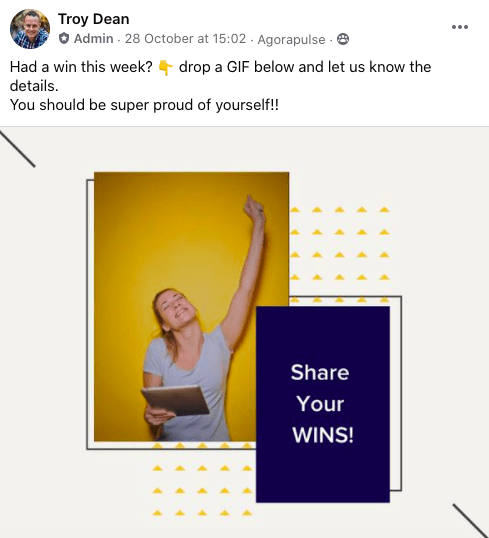 Another easy way to get engagement, for example, is to add a post that welcomes new members to the group and ask them to introduce themselves. A fun gif can get attention and then this creates a personal and open environment where members feel like you care about them.
Another simple way to engage with your members is to comment on their posts and answer their questions promptly.
The more engagement you have from your members the more chance your group will pop up in somebody else's news feed and more individuals will hear about your group and business.
Hot Tip
Once a week, post something that will get a lot of engagement. This could be something such as "Drop a gif that explains how your Monday is going". This will get the Facebook algorithm working in your favour so that your posts will appear more often in people's feed.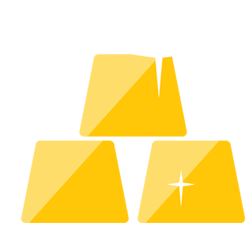 How to Promote Your Offerings Within Your Group
It's really important that you run your Facebook group in an authentic way. You want your community to feel that they are getting value and are supported. But at the same time, you can let them know about your services without being pushy. Here are some ideas:
Run free challenges or training inside your group for 5 days and on the last day, open the doors to your offer!
Use your cover photo as an opportunity to explain your services.
Include links to sales pages within your group description as well as pinned posts.
Announce any specials in a Facebook live inside your group.
Keep the content of your page and group unique and offer something special to your group members.
Ask your members what they need help with and craft an offer to suit.
Reach out to people who comment on your posts and show an interest in what you are offering.
This may be obvious, but make sure you post about your offers! The rule of seven is an old marketing adage that says people need to see or hear your marketing message at least seven times before they take action and buy from you.
Final Thoughts
Running a Facebook group can be a great way of bringing like-minded individuals together to simply connect or to generate business leads. But by keeping in mind the four points above; purpose, content, engagement and promotion; and working on it on a daily basis you can grow a successful Facebook group.
If you need more support with your digital marketing then make sure you join our Digital Mavericks group here. See you on the inside!