If you're reading this and you're already a seasoned presenter ­ stop now ­ you can leave the room (or head over to this post for some tips from one of our pros)
This one is for the first time speaker. The noob. I've written this for those of you who go weak at the knees at the thought of public speaking, but have come round to realising it's an important skill to learn on the pathway to growing your business.
So, huddle in close 'cause by the time you've finished reading this article, you'll be ready to bust out some slides.
Excited Yet? Nope. I wasn't either!
Let's face it, when it comes to our businesses, it's easy to identify those 'people ­people' from those of us who run and hide when the word 'networking event' is even uttered. And the idea of getting up to address 10, 30, 100 or even 1000 people is one of the most intimidating experiences you can encounter.
And I know it. Because I've done it a couple of times now and I'm still learning the tricks of the trade, but I can promise you a few things that make your first talk in front of an audience truly worthwhile:
You will get better, every time you do it
You will meet new people (even if it's just the dude who helps you with that awkward lapel positioning)
You'll make some new (hopefully business) fans
You'll earn the respect of your peers
You'll get your business in front of potential clients
And if you're lucky…
You'll make some friends
And you might even enjoy it [shock mock horror]
Sound good?
Let's crack on then. I'm going to break this into chunks ­ and I promise I will not be suggesting you picture your audience naked!
Pick Your Battles – Choose Your Audience
I genuinely want you to succeed with this talk. What I don't want you to do is feed yourself to the wolves! This is NOT about hitting a home run first go (although, if you do, I would love to hear from you!). It's a great idea to get your first presentation out of the way in front of an audience who already knows and respects you. An example might be your local business networking breakfast, an association meetup or similar. It's important that you are amongst people whom you're comfortable asking for feedback.
Taking on an opportunity to talk at a small function, perhaps with a shorter presentation window of time, is an easier way to get comfortable with being in front of a group without feeling over exposed.
Know Your Content
Speaking is arguably one of the best ways to get your own business out amongst a wider audience and generate new leads. One way to get past the initial nerves is to be confident and passionate about WHAT you are delivering. There's a good chance you'll be asked questions, so you want your impromptu responses to be just as strong as the content you're delivering.
Talking about something you love, are good at or enjoy is certainly easier than adding an unknown subject into the mix.
Prepare and Practice
Preparation will make or break your talk. You want to ensure that you've not only allowed the right amount of time for the information you're presenting but also that you've prepared your  tech we present them on, so read and re­read any specific instructions.
Structuring your talk well will help you remember your content, but don't feel you're not allowed to read. My memory is shocking these days and being able to remember a 45­minute talk is well out of my skill set, so personally I like to rely on a structure that I can memorise, and use my slides as cues to prompt my discussion topics. I also like to have an attention­grabbing introduction and summary. While I do confess to reading these at first, I'm getting better at relying less on my notes and more on the slides.
You can run through your talk as many times as you need to, I am not one to go overboard with this, but a few days before I like to do a timed run­through and check that I'm roughly within the given time frame. A few minutes, either way, is not a drama.
Ensure you've also read any rules regarding promoting your business; sometimes these events prefer an approach that doesn't include selling, so be respectful of such requests. In most cases it's totally fine to include your business name on your slides and your contact details on the last slide. Be sure to include your social media details and any links to further information about you or your business.
Finally, do make a second copy of your slides and have them on a different device to the presentation itself, so if all systems fail on the day, you've got a backup that you can still use to present. Saving on a cloud storage drive is perfect for this. I usually turn mine into a PDF that I email to myself 'just in case'.
The Day Before
You may be feeling last minute jitters, but unless you get some rare gastro bug, this show is going ahead. Make sure you plan your day so you get enough sleep. Tiredness increases anxiety so allow for an early night if you can. Check your slides and do a final run through, ensuring the timing is roughly within 5 minutes of your allocated time. Perhaps practice your introduction and summary and check that any links you've provided in your slides are live. Nobody likes a 404.
On the Day
Have a good breakfast. Drink water, not too much coffee (it makes anxiety worse) and have a bathroom break before your session. Seems so obvious but nothing puts a wobble in your voice on stage like an unbearable urge to pee!
If you have the opportunity, get to the location early and make friends with the tech person, or whoever is there to help setting up laptops, slides and audio. See if you can do a test plugin. If not, don't stress, you've got 2 backups of your slides remember.
At my last presentation, on stage with Troy Dean, we ended up with 4 microphones between the 2 of us and 2 of them malfunctioned. S%$@ happens.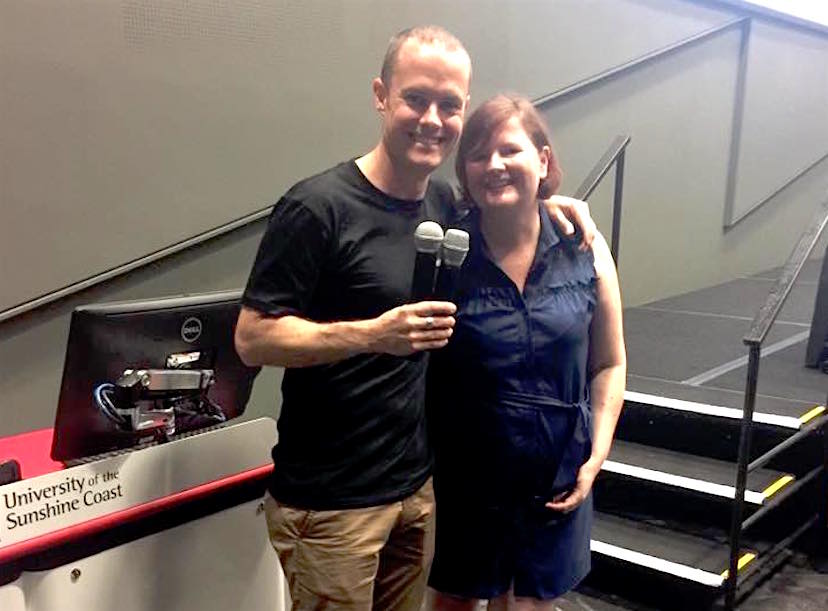 After Your Presentation
Congratulations. You've done it, NOW BREATH!
This is the exciting bit. You don't have to worry about it anymore. There's a good chance you'll experience a little rush of adrenalin as you 'come down' from your first presentation. It's worthwhile knowing that this is the perfect time to go and connect with the people you've presented to, and enjoy the moment. Make sure that you thank the organisers for allowing you to speak, and ask them openly for any feedback they have, or feedback from other speakers.
Now What?
Don't stop! The whole idea of getting comfortable in front of an audience of peers and potential clients is nerve-racking, but it's a brilliant skill to master.
It's also one that can only get better with practice.
Still not ready to get started?
The next time you attend an event or function, make sure you interact with the speakers afterwards. Compliment them on their content, and then ask how many of them have spoken before. Be prepared to be surprised with the results.
I'd love to know how you've gone with live presenting before, and how it's helped your business. Any tips or tricks you can recommend? Heck, even a few war stories to balance this out would be great. Please be sure to leave them in the comments below.
Happy presenting!