How To Set Professional And Personal Goals . . . And Prevent Them From Fizzling Out
For many of us, the new year brings out our optimism. Even if we've had a tough last quarter, the thought of starting over sparks a renewed sense of opportunity – like a firework of unbridled hope. We're suddenly braver. More determined. Ready to throw caution to the wind. And maybe even channel a little bit of Richard Branson in our lives:
"The brave may not live forever – But the cautious do not live at all."
Perhaps that's why New Year's resolutions are so popular. For this brief moment, we imagine that we can achieve all of the things we've put off the previous 11 months.
And then reality sets in.
Most Goals Fall Short. Here's Why . . .
What does the most recent data on New Year's resolutions tell us? The statistics vary a little, but none are optimistic.
According to Inc. Magazine, 80% of us will fail in our new year's resolution.
Strava even designated January 19th as "Quitters Day." In 2019, they followed 800 million activities and found this day to be the one many start faltering on their fitness resolutions.
I know what you're thinking: that's discouraging. But hear me out. When it comes to setting personal and professional resolutions, it's essential to know the common reasons why most resolutions fail so that you don't become a statistic.
. . . Reasons like:
Setting vague or general goals
Framing goals negatively
Lack of self-discipline
So how do we take this knowledge and turn it on its head?
1. Get Crystal Clear On Your Goals
Though 80% of people give up on their resolutions, there's another 20% who persevere and make it happen. That's where you'll want to position yourself. Maybe you aim to accomplish big things in your personal life – like buying a house or paying off your student loan. Or you're elevating your business with bold goals – like 5x revenue by the 3rd quarter.
Getting crystal clear about your goals is your first step.
Start by asking yourself:
What is it that I want to achieve?
Why is it important?
When do I want to achieve this by?
How am I going to do it?
Imagine what your goals look like and feel like. Then, transform your vision into words that encourage positive changes.
For example, instead of setting your goal such as this:
"Stop wasting money on dining out"
Frame it as:
"Save money by cooking three healthy meals a week."
Your ideal result doesn't change (you're still saving money!), but one feels like a life improvement . . . and the other like a punishment.
And remember to write your goals down and check them regularly! Writing them down helps you focus and to become more motivated.
2. Break Down Your Goals And Turn Them Into An Action Plan
Lack of discipline seems to rank high as a top reason goals fail. Still, our relentless optimism during this time of year can sometimes cause us to set ambitious – but equally unspecific – goals.
Now, there's nothing wrong with aiming high. We are entrepreneurs, after all.
But, if your goals feel a bit generic (or you know you lack the discipline to follow through consistently) set goals that are measurable so you can track your success.
Then, create smaller tasks to help chip away at the big goal – it's the same approach that coach Pete Perry uses to tackle multiple projects (and smash big goals!) at once.
With your big goal in mind, pick one task a day to help you move towards it. I'm not saying you should take it easy, though. Your goals for 2022 require you to push beyond your comfort zone. So your tasks must do the same. And, more importantly, you have to remain consistent.
Do something that will move the needle every day and remember that the small steps are important: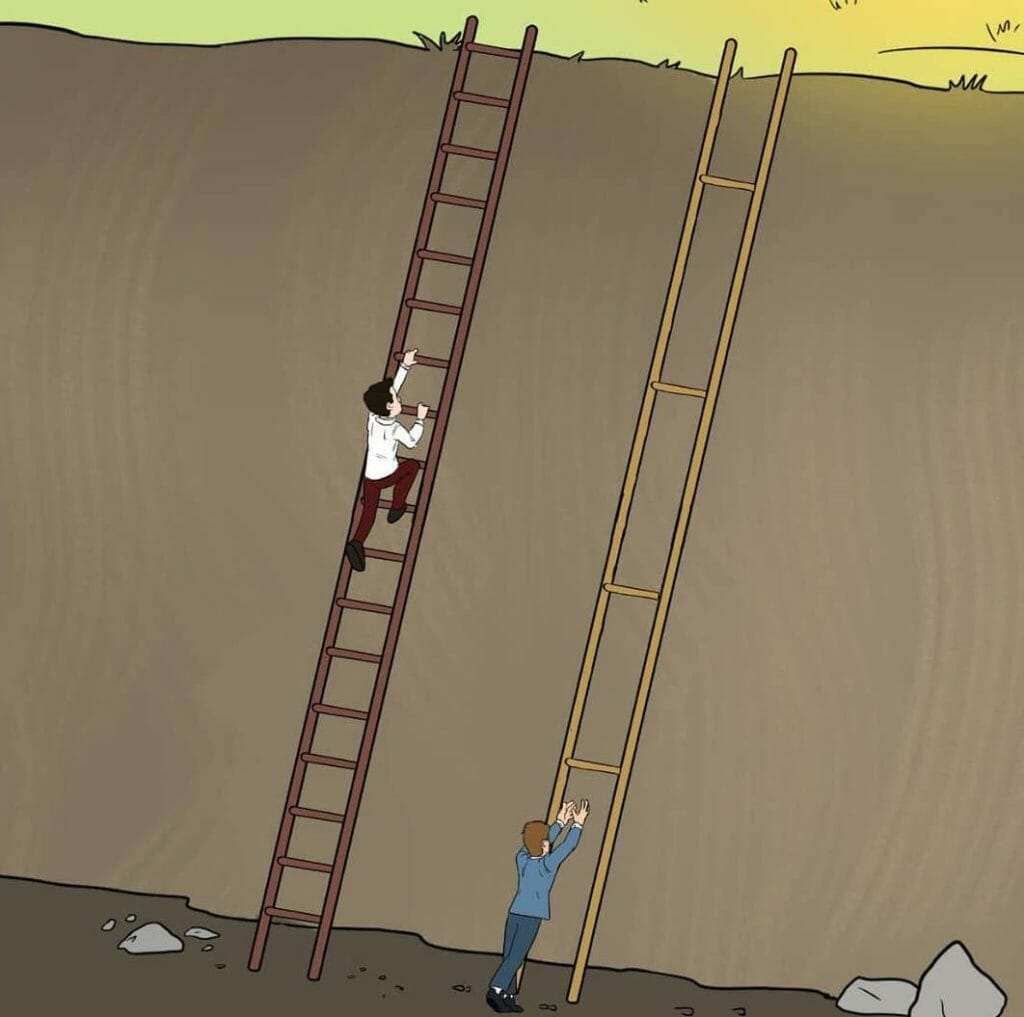 If your goal is to get fit or lose weight, starting out can sometimes be the hardest part. And if you overdo it at the beginning you can burn out pretty quickly and then put it in the "too hard basket".
If you lack the self-discipline and drive, just start with something really small! Whether it be five pushups when you wake up. One yoga class a week. Just do something small to get the momentum going and commit to that.
When I started getting back into fitness, I found an app called "7 minute workout". And I committed to just seven minutes every day until I started feeling so good that I wanted to keep increasing the workout time.
3. Apply A Proven Framework To Your Business Goals
Everything I've discussed here – like setting specific resolutions and framing them positively – works for both personal and business goals. But since plans for your business may involve numerous moving parts (and people!), you'll want to adopt an organisational strategy designed to keep you on track. My team and I use our Agency GPS Monthly and Daily Planners to manage our plan of attack.
Other strategies that can help you reach your business goals faster?
Delegating, outsourcing, and seeking training. Trusting the experts to help you with key business activities – like lead generation, marketing processes, or daily operations – can help you free up more time for what you do best.
Investing in your professional development can give you the edge it takes to accomplish even your most audacious resolutions. Reaching business goals is, after all, a team effort.
Ready To Make 2022 Your Biggest Year Yet? We're Listening…
Fill in the blank: In 2022, my business will ____________.
If your answer is so big, even you're having a hard time getting your head around it, why not call for backup?
My team can help you build clarity around your business goals for the new year and create a plan to help you smash (or surpass!) them. Together, we can ensure 2022 is the year you mark your biggest goals as done. Request a call with one of our team members here.