Welcome to another episode of Silence is Golden where we share invaluable tips for your WordPress business.
Guess who is the hot seat again this week? Yep, Ray and Gin are back and they're campaigning hard to get a regular spot. In fact, I believe Gin's instructions were to "find a photo for the header that makes us look like we're having heaps of fun to give Troy FOMO". LOL!
On a more serious note, they bring you the latest news from Elementor and about the WP Engine acquisition and they also talk about the how to create a community and communicate with clients.
Watch the Video
Stuff That
Happened
Interview with Ben Pines from Elementor
WP Hosting interviewed Ben Pines, Elementor's CMO, about the page builder's v2.1, as an eCommerce builder and its 2018 roadmap.
Ray and Gin talk about how dynamic Elementor is. They seem to have their finger on the pulse and are constantly improving based on feedback from the WordPress community. All the new changes are pretty exciting!
WCEU Panel Discusses Progressive WordPress Themes, AMP, and Gutenberg
Progressive themes was a hot topic at WordCamp Europe 2018. Find out why in this interesting interview with four experts who are working to integrate progressive web development practices more deeply in WordPress core, plugins, and themes.
Ray loves panel talks because the presenters tend to talk from the heart and not the brain. A one-way presentation can be over-rehearsed and over-crafted. In panel talks, if there is a good curator, then it can be great to see people put in the hot seat and it comes across as being more authentic. It allows for disagreements and being able to see different points of view.
A Guide to Building and Sustaining Profitability in WordPress Consulting
We are now doing monthly themes and this month our theme is profitability for your business. We kick the month off with one epic blog piece and this month we have a guide to building and sustaining profitability in WordPress consulting. And when we say epic, we mean epic… there is so much gold in here!
WP Engine Acquires StudioPress WordPress Solutions Including Genesis Framework
WP Engine has announced that it has acquired StudioPress, creators of the Genesis Framework ("Genesis").
Ray likes that in their Press Release, WP Engine refers to themselves as the "the WordPress digital experience platform". They are really becoming this place to acquire new businesses. You can see from the comments that most are positive and that this is a good step for the community.
Stay up to Date with the Latest
If you like to keep up to date with the industry news and learn cool stuff, then make sure you are signed up to our weekly newsletter, the WP Wednesday, which will send you news articles such as the ones we discuss on the show.
This Pisses
Me Off
Tune in around the 11.30-minute mark where Ray tells us what is pissing him off! He is a busy man you see, and what annoys him is when people leave a message for him asking if he has time for a chat. He wants to know WHY they want to chat! He wants the reason damn-it! If the person lets him know what the reason is in the message he can gather any information required for the chat and he knows how long the chat will take!
Let's Get
Unstuck
Ok this week when we asked the Facebook community what they wanted to know, they weren't quite WordPress related. Basically in answer to your questions… Gin's favourite colour is orange and Ray's is purple. Gin has done every kind of adrenaline sport and according to her, Ray is boring!
Then the group wanted to know how they handle Troy! Perhaps their reaction to the question might help: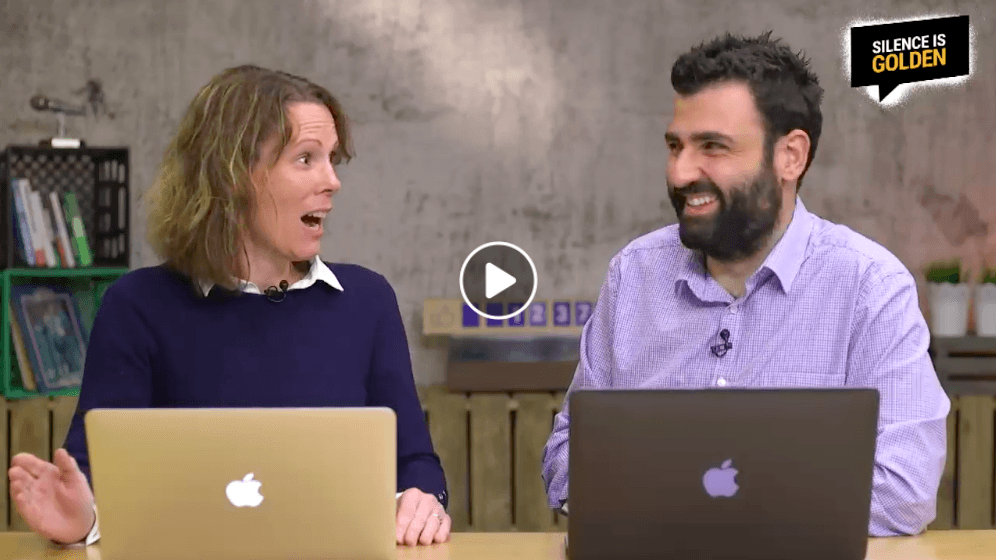 Gin says that he has an amazing mind and he tends to jumps from one thing to the next so quickly. She has learned that in order to manage him, she needs to be firm so that he doesn't get distracted. He is hard to pin down so sometimes she needs to have walk and talk meetings with him.
Ray says that he tries not to bombard him with too many Slack conversations and that if Troy is away or out of touch, Ray makes an executive decision and they can always course correct later if they need to.
The Golden
Nugget
Last week we talked about client retention, so to continue with that theme, we want to talk about how to use communication to retain your customers. One of the easiest ways to stay in touch and support your clients is by creating a Facebook group.
Around the 18-minute mark, Gin kicks off this topic by using the Agency Mavericks Facebook group as a case study.
Gin says that the main reasons why members stay in a group are:
1. Results
For WPE we want to help our members get more clients and improve their businesses through tips, tutorials, webinars and the ability to reach out to the community to ask for help.
2. Relationships
People come for the content, but then they stay for the relationships.  We find that this is the main reason that people love the group – there is an amazing community support.
Community is a hard thing to sell, people need to experience it. Often people don't know that they're looking for support and community. We, therefore, try to get video testimonials so that people can gain a better understanding.
In the next season of the WPE podcast,  we are doing more episodes where we meet our Elevators and find out about their businesses and how they have succeeded with the help of Agency Mavericks. There are some awesome stories so stay tuned!
3. Convenience
If it's convenient then they're happy to stay. So think about how you can make things as easy as possible for your clients. Perhaps making any sign-up processes easy or offering things such as templates and providing information which will take all the hard work out of things for them.
4. Entertainment
We think we do that pretty well. We have fun, so we hope you do too. We don't like to take ourselves too seriously and aren't afraid to look stupid!
How to Build a Supportive Facebook Community
Everyone always talks about the supportive and helpful culture we have created in the Agency Mavericks group. So here are a few tips on how to do this.
When your group gets bigger you want to put a few things in place:
1. Weed out the Baddies
Set up some questions to ask before you give permission to the person to join the group to make sure that the person is genuine. For us, we check that the person is a Agency Mavericks member by asking them which email they used to sign up for our program. We monitor this regularly and if there is no answer to this, we delete their request.
2. Make it Look Professional
We want to make sure that everyone has a good user experience. So make sure you have a professional looking Facebook banner that lets people know exactly what the group is about.
3. Have a Pinned Welcome Post
You want to have a pinned welcome post to outline what the group is and what the house rules are. We change it from time to time depending on what we want the group to know.
4. Nurture a Welcoming and Supportive Group Environment
We try to encourage a warm welcome when newbies join by putting up gifs and fun posts to welcome them. This prompts other members to join in with kind messages too. It creates a fun and positive feel from the get-go.
We also encourage members to share their wins which creates a sense of encouragement and support. Making people feel less alone as you can do when you are running your own business and don't have people to bounce ideas off and celebrate your wins.
5. Create Clear Guidelines.
We show ours on the right-hand side and in the pinned post, we usually ask the group to refer to them.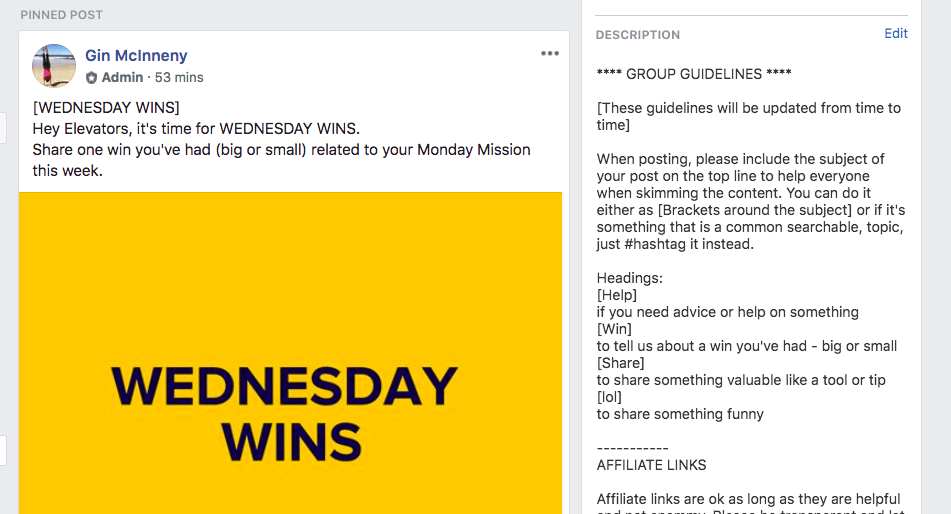 From the above pic, you can see that our pinned post is about Wednesday Wins. These are our new structured posts to get people motivated and share with the group:
Monday mission: Where everyone says what they're committing to and what they want to accomplish this week
Wednesday Wins: Where everyone shares one win they've had (big or small) related to their Monday Mission
Friday Flight Report: Everyone shares how they went on your Monday mission. The good the bad and the ugly
Tune in around the 26-minute mark where Gin explains how we also broadcast webinars in Facebook using Zoom.
We have been taking on feedback as well and have decided to start a group for the newbies who may need more support than the alumni members. We then ask some of the alumni to act as mentors to the group. These people love helping and it allows them to be in their sweet spot. We have some members that are like family and are happy to do this role.
Finally! Remember to have fun.
We like to have fun and some of our most engaged posts are things such as asking everyone to show us their workspace or their view that day which is great to make us not feel so alone and it's so interesting to see some people looking at snow and some looking at palm trees! This brings the group closer together and helps to form relationships.
Tool of
the Week
Around the 34-minute mark, Ray lets us know about a new tool he thinks is pretty great – Intercom
Given that we're talking about communication, Intercom has been a tool that we have introduced in the last six months and it has been working really well. Intercom is a live chat bubble that can sit on your website that you can use as a help desk or support ticketing system.
It has helped us bridge the transparency of what's happening in the company. Everyone in the company has access to it and all the information is in the one spot.
They have a platform that sits on top that's called "Engage" which is pretty intuitive. For example, if someone completes a module in the course, it creates a tag in Infusionsoft which then syncs to Intercom and you can send them a congratulations message. It allows your clients to see a tailored message at the right time.
Pricing depends on how many contacts you have in the system. So you need to look at how much time it would save you and what the value of that is.
It's so intuitive and there's so much you can do with it, thumbs up from the whole Agency Mavericks team.
Wrap
Up
See you next week everyone when Troy will be back despite the campaign efforts from Ray and Gin! And in the meantime, check out our "How To" YouTube series for some hot tips by subscribing to our channel.