Welcome to another episode of Silence is Golden. The show where we help you start and grow your WordPress consulting business.
This week's episode is coming to you live from sunny California where the guys are getting ready for our Agency Mavericks Live event and the Mavericks Club three day event.
Today Troy and Simon talk about starting your own business and being location independent by putting a few processes in place. We're also going to give away our proposal template which will help you get paid more.
Watch the Video
It All Starts with the Dream
2.20- What was Simon doing before he decided to run his own business? 
Simon was an IT manager at an engineering company and building the websites for their distributors. He then started making websites on the side and negotiated a pay rise and a day off. Eventually, he went full time with his own clients and started Renegade Empire. That was in 2009 and now here he is!
Simon tells us that part of the motivation to start his own business was being able to travel and have that freedom of location, as well as being able to choose the type of clients that you work for and the type of work that you do.
Troy said that travel wasn't the appealing part for him. Have you ever had a dream of telling your boss where to go? Well, that's exactly what Troy did. He quit his job at 26 years old and basically started his own company so that he didn't have to put up with anyone else's BS!
How to Write a Winning Proposal
One of the first things that Troy realised a long time ago was that you need to have a great proposal to prove that you are the one for the job.
So today we are giving away our proposal template and a three-part training series that goes along with it.
You can use this proposal to outline your maintenance plans as well. However, we prefer to reframe the name "maintenance plan" and call it a "care plan" instead. This shows your client the benefit rather than the feature and that you are adding value.
These days, clients expect to have maintenance as part of the package – they don't want to pay for it. Especially with technology changing so much now and taking into consideration that other platforms such as Squarespace and Shopify have it built in. So you must show them the value.
Offering care plans then creates a consistent recurring revenue for your business as well as recurring value for your client.
Troy dives deeper into this topic in this blog post. 
The Golden
Nugget
10.40 – We take a look at a little clip of the nine sections that you should include in a proposal.
1.) The Snapshot
2.) The Business Needs
3.) The Audience Needs
4.) Solution
5.) Timeline
6.) Investment
7.) FAQs
8.) Next steps
9.) Mutual Agreement
The full video is included with your proposal template download. 
Proposal Game Changers
Change the wording from "Cost" to "Investment"
Add a FAQs section to answer all of the client's objections in advance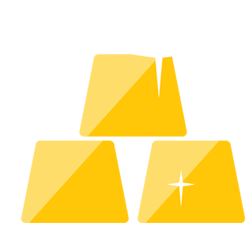 The biggest mistakes WP consultants make when writing a proposal:
Recreating the proposal from scratch and spending too much time on the process
Listing all the features and using tech talk that the client won't understand rather than explaining the benefits
Not doing enough groundwork with the client before sending the proposal.  Use the go wide go deep method rather than trying to use the proposal as your way of convincing the client.
Tool of
the Week
13.50 – we talk about the White Label CMS plugin.
White Label CMS is the free plugin which we make and have just updated recently with a whole bunch of awesome new features.
One of the killer new features that we've added, is the ability to replace the entire dashboard with a page that you pre-build with your favourite page builder.
Before: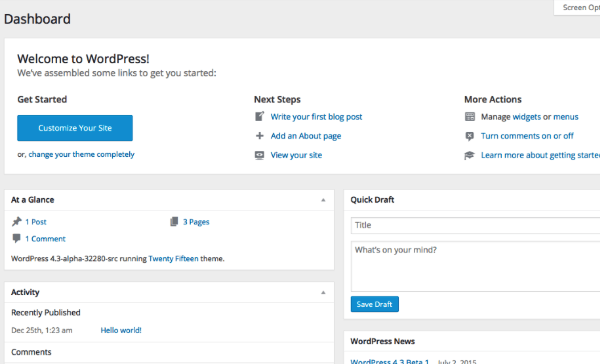 After: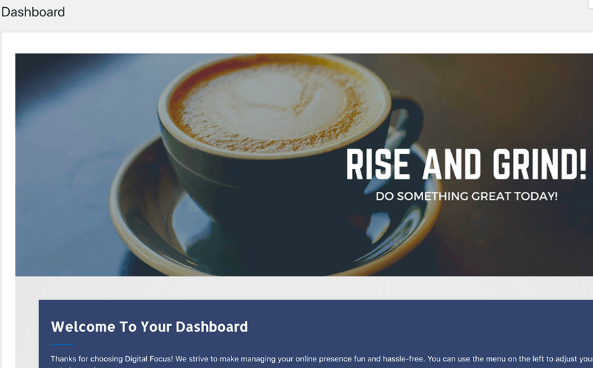 One of our Elevators even uses this to showcase his upcoming training events and to drive people back to his blog to get them to buy more consulting services.
Check out this short tutorial with Simon to see how simple and quick it is to customise the login screen.
Troy says they created this plugin to scratch their own itch – to stop all the questions from clients about what all the buttons mean, and why they're getting notices about WordCamps. So basically it was to create less confusion and a better user experience for the client.
Let's Get
Unstuck
17.09 – Troy and Simon help a few of our Elevators get unstuck with their questions in our Facebook group.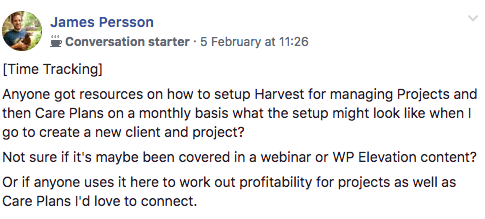 Simon says that he uses Asana and Harvest for time tracking. For care plans, they just have one project and don't track it per client because they don't charge an hourly rate for care plans.
If you do charge an hourly rate for care plans then Simon recommends having a project for each client. (Although this can be a bit of overkill if you're delivering the same thing for all the clients as it adds a lot more admin work.)

We use Asana, but Troy knows a lot of people who like using TeamWork, Podio and Trello.
Wrap
Up
Well, there you have it… your very own time saving, high converting proposal template.
Let us know in the comments if you use it and what the results are!
Also, be sure to get on a workshop and take your business to the next level. In this free workshop, you'll learn how to start attracting better clients, avoid scope creep and add a steady stream of recurring revenue to your business.