Welcome to another episode of Silence is Golden. This week, the guys have forgone the Melbourne Cup celebrations to bring you an episode all about profit. Simon also tells us about something new from Apple that really grinds his gears and they're going to look at some AI learning from Google.
Watch the Video
What's Happening
Here
At the 2.05 minute mark, Simon presents some images that he has chosen to Troy to guess what's happening…. including this one… where Simon looks umm… slightly annoyed.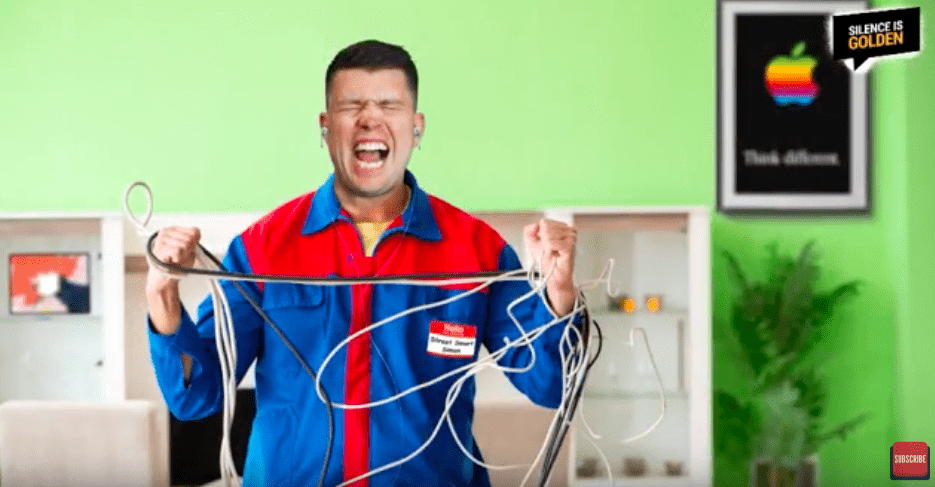 Troy wasn't so great at guessing, but Simon tells us that the new iPad has removed the headphone jack and instead of using the lightning cable that all the new iPhones have, they have decided to use yet another different connector – now its USB-C for your headphones. Are you serious Apple?
What Made the
Wee Come Out?
At the 17.07 minute mark find out what made Simon's wee come out this week.
Quick Draw with Google
You're probably going to want to see their demo of this game because it's pretty awesome. Basically, you are playing a game similar to Pictionary with a robot.
The game is called Quick Draw and it's super fun!
It's incredible that Google has created this with 50 million drawings already made and the more that people play this game and draw, the more the machine is learning and improving. Simon is guessing that it would be fed into their map engine as well.
The Golden
Nugget
At the 22.33 minute mark, we get into the important bit, where we talk about this month's theme at Agency Mavericks – Profit.
It's very important that we know our numbers as business owners and understand what is going on.
What are the important numbers that we need to know?
Profit
Revenue
Recurring revenue
Are there any mistakes that people make when it comes to knowing numbers?
Troy says that people tend to focus on revenue and don't actually factor in the costs of doing business and delivering services. And when they do believe that they're making a profit, they may not have factored in their time or their wage.
It's better to know your numbers than just think to yourself "I'm not making any money and I don't want to know about it"
Or as Troy says:
I don't mind skeletons in the closet as long as the lights are on.
Here are a few mistakes that small business owners can make:
Not looking at their profit regularly and not actually even knowing if they are making a profit.
Not factoring in their wage or tax when calculating profit, so at the end of the financial year, they get a bit of a shock.
Pricing things according to what their competitors are pricing. You need to be sure that you are making a profit from what you deliver and this comes down to factoring in staff wages, office space, tools etc.
You must know what costs go into each deliverable. This can be done in a simple spreadsheet where you can enter all of the project details and calculate your profit margin. Simon kindly shares his template with us to make your life even easier! Thanks Simon!
Don't hide from looking at your finances, you can get help or get some financial habits in place with the help of some tools.
Tool of
the Week
Klipfolio helps you see your numbers through a business intelligence dashboard. Troy has started to use this tool to keep our Mavericks Members accountable and on track. There's a slight learning curve with it, but he says it's awesome once you know how to use it. We feed it from Google sheets and it displays the data in beautiful charts.
We also use Grow.com in-house to be able to see all of our data in one place. Troy says it's a bit expensive but it's good at pulling in data from different sources such as Stripe and Infusionsoft. It has a built-in spreadsheet function, you can do data mash-ups from different data sources and you then you can build metrics and dashboards based on the results in the spreadsheet.
If you're looking for a minimum solution though, Xero or Stripe have dashboards built in, so look at those more simple options first.
Wrap
Up
Do not miss our free webinar with finance expert Bianca Kennedy this week. It will be held 8 am this Friday in Australia. Please check a time zone converter to find out the local time for you.
Unfortunately, due to the high number of registrations that we have for this call, there will not be a replay.