Welcome to another episode of Silence is Golden where we share invaluable tips for your WordPress business.
It's the last week of "Growth Month" at WPE, so today we will help you win more projects by showing you how to master the client follow-up (without seeming desperate!) We'll also talk about how Time Magazine was recently acquired, the Gutenberg roll out and find out about the wealthy doomsday preppers who are setting up bunkers in New Zealand!
In a much more important matter though, Troy wants to know what you think about their new haircuts.
Watch the Video
Stuff That
Happened
At the 3.24 minute mark, we take a look at some of the stuff that happened last week.
Gutenberg Rolling Out to WordPress.com
WordPress.com has started rolling out Gutenberg to a subset of users. Find out more from WP Tavern.
Time Magazine Acquired for $190M
Time Magazine was Sold to Salesforce Founder, Marc Benioff, for $190 Million. Simon tells us that he doesn't think that's much at all for the purchase of a media publishing company.
Rich Doomsday Preppers
Bloomberg posted about wealthy Americans who have stepped up investment in New Zealand by setting up bunkers in the event of doomsday. Just a short 10-hour jet ride over to safety! Woah! Is there something us Aussies don't know about? Read the full story here. 
We're off to Thailand!
That's right! We're going to be off the air for a couple of weeks because we're going to tropical Thailand for a company retreat! In the first week, the Agency Mavericks team are flying in from all over so we can get to know each other, workshop, brainstorm and get creative.
The second week is the Mavericks Mastermind! We'll have members from all over the world attending to elevate their businesses to the next level.
Wondering what this Maverick's Club is all about? At the 7.55 minute mark, Paul Kouwen tells us about his experience with the Mastermind in San Diego earlier this year.
What Made the
Wee Come Out?
At the 10.34 minute mark, Simon tells us what made the wee come out – he has found a design tool called Figma where you can design, prototype, and gather feedback all in one place. Its free to start with and it's kind of like Sketch except that you don't have to pass files back and forth and you can collaborate live. Winning!
At the 13.35 minute mark minute mark, we find out what made Troy's wee come out – he can draw on his iPad and he is using this feature in webinars and online meetings. He gives us a demo by explaining to us the four stages of a freelance business.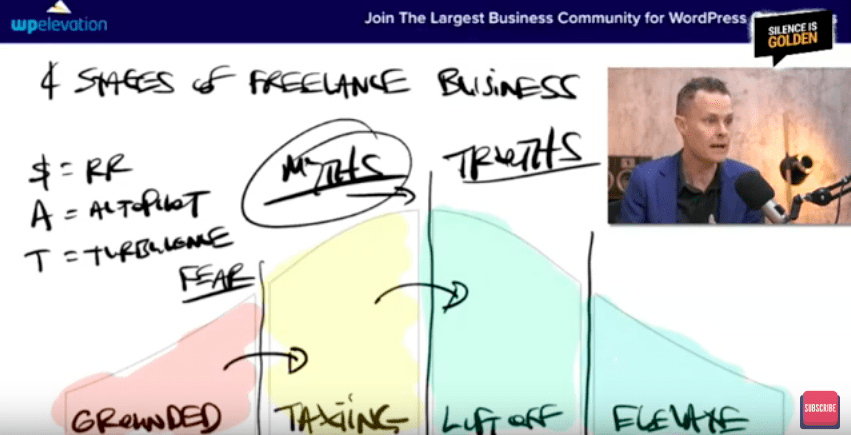 The Four Stages of a Freelance Business
In order to measure what stage you are in your business, we look at your recurring revenue, your autopilot (how much of your business runs without you) and how much turbulence you have (amount of time putting out fires/ dealing with stuff that's not working).
1. Grounded
Making websites for less than $2k
When you're starting out – you're grounded. You're typically just doing the prep work and its easy to get stuck here. It's usually your fear keeping you at this stage – imposter syndrome, fear of failure etc. Here you need to overcome your fears to get to the next level.
2. Taxiing
Making websites for less than $5k
Now your plane is waiting to take off, but in order to do this, you need to bust some myths. The myths we're talking about are the beliefs you have such as "no one is going to spend more than $5,000 on a website".  You subscribe to these myths because you haven't experienced it yet.
3. Lift off
Making websites for between $5k – $15k
At this stage, you have good recurring revenue and prices for your work. You have acknowledged the truths about the industry and busted your limiting beliefs but you have now hit the "good enough" line and think you don't need to move on to the next level.
4. Elevate
Making websites for $15k+ with 70% recurring revenue and less than 10% turbulence.
We call these freelancers the "Mavericks" because they are free-thinking, operate without fear and are fiercely independent. At this stage, you understand that people will find a way to pay for things if they value them. Your job is to communicate the value to them and they will find a way to pay for it.
As Troy says:
Success is not based on what you do, it's based on what you believe
The Golden
Nugget
When it comes to following up it can seem a bit desperate. So we like to call it the "anti-follow up" – the non-desperate way to follow up. The idea is that you continue to educate the client and nurture the relationship until they come back to you because you have demonstrated that you are clearly the expert.
You don't even have to use a fancy tool to automate it – you can save the templates into Gmail and set reminders to follow up. It's important to follow up consistently and regularly so it builds trust.  Be helpful – not needy. 
You can even send a link to a good article you've seen that helps resolve one of their problems. You're now top of mind without asking for something.
Let's Get
Unstuck
At the 35.34 minute mark we help one of our members, Caolan, get unstuck:
Curious has anyone run the anti-follow up via FB ads instead or as well as email? Follow people around and deliver value on FB as well as email?? Or would it just be spooky if I did a video ad that said: "hi, [insert anti follow up content and link]"?
Simon's opinion is that some people might think that's weird, but why not try it! He thinks its an awesome idea!
We are trying something called the "Facebook Ad Hydra" which is quite similar to what Caolan is talking about here. So you may see some very targeted ads shortly from Agency Mavericks. The aim of these ads is to make sure that we give value upfront and find the people that are actually interested in what we're talking about.
Tool of
the Week
Really Good Emails
Really Good Emails is a website with useful email templates that you can use even for mastering the follow-up.
Wrap
Up
We've rebranded our freelancer Facebook Group and it is now called "Digital Mavericks". Click here if you feel like joining the community for extra business support and advice.
So that's it from us for a couple of weeks! But stay tuned on Facebook for some live videos of us from Thailand.