As a regular reader of the Agency Mavericks blog, you may have noticed that Simon Kelly is the resident expert on WordPress plugins–specifically, which ones you need as well as how to use them to enhance your workflow. In this week's Agency Mavericks Studio session, Simon clues us in to the one plugin needed to effortlessly move a locally developed WordPress website to a WP Engine transferable install.
In other words, this is Part 2 of the Local by Flywheel development series.
The Problem with WordPress Website Development
What would you say is your biggest gripe as a WordPress developer? If I had to guess, I'd say it has to do with the inherent challenges of working with two types of clients. The first being the one who wants to log into WordPress and watch over your every move as you build their website. It's micro-management hell and also one of the reasons why freelancers encounter scope creep.
The second challenging client type is the one that's unresponsive and unable to deliver on the simplest of tasks–like setting up their own web hosting.
Neither situation is ideal and it leaves you in a sticky situation. Would you rather:
Develop on their live server and hope client feedback remains in check throughout…
…or develop locally and then use your own web hosting account to stage the site?
Actually, you don't have to choose either option.
Last week, Troy discussed a way in which you could use Local by Flywheel to safely make changes to websites in a local environment. It's also a fantastic option for developing a website from-scratch as it keeps your work away from the client until you're ready to show it.
And that's where Simon's workflow comes into play.
How to Move from Local to Live with WP Engine
For this, we're going to need two new tools:
As Simon explains in the video above, many of the local-to-live tutorials that exist right now are just too complex and require the technical skills of an advanced web developer. But moving a locally hosted WordPress site to a live web server shouldn't be that hard.
The key here is the WP Engine Transferable Installs feature.
By creating what WP Engine calls "transferable installs", you don't have to use up your web hosting plan's website quota whenever you want to temporarily host a client's website. Instead, you stage the website on WP Engine's servers (for free). Then, when the work is done and you have 100% approval from the client, you can quickly transfer the website over to their WP Engine account.
Sounds awesome, right? All you need to do is make that connection between Local by Flywheel and WP Engine.
Step-by-Step to Set Up a Transferable Install
This process is going to begin on your Local by Flywheel account.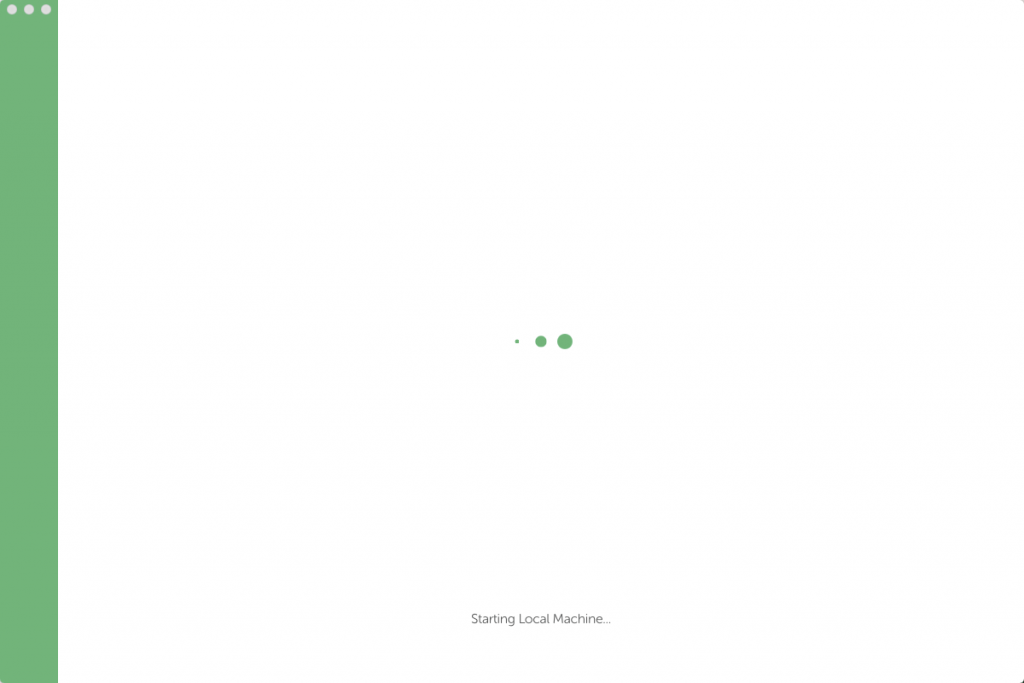 Step 1
Once inside, open up the WordPress admin for the website you want to move. While WordPress does include an Import/Export option under Tools, it's not going to capture everything you need for this move. And, so, you need the All-in-One WP Migration plugin.
Go to Plugins > Add New. Then search for the plugin.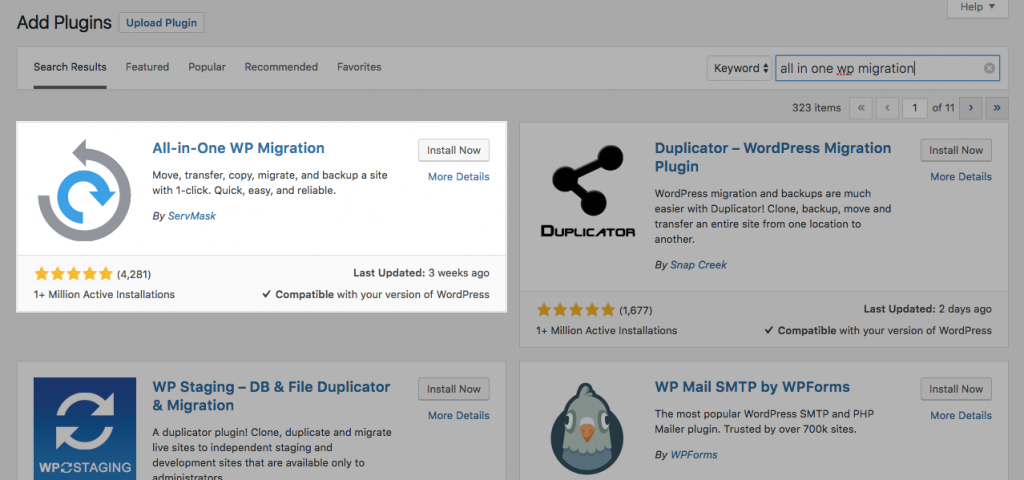 Install and activate it on your local WordPress installation. You will now have a new menu item for the plugin.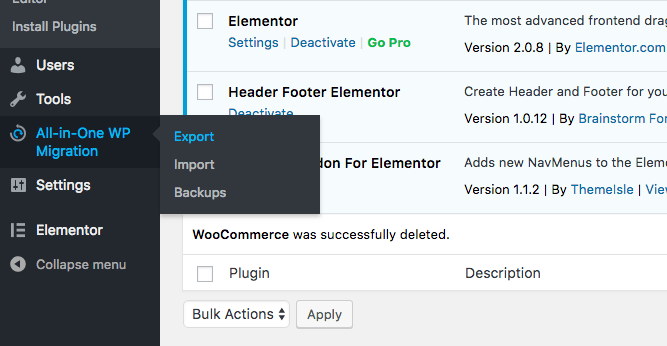 For this site, choose the Export option.
Step 2
Next, move over to your WP Engine account.
Within your account, choose Add Install.
Create a unique install name for the staging site.
Check the box to let WP Engine know this is a transferable install.
If you want to customize the Group, Environment, and Copy from, you can.
With your settings configured, click Create Install and wait for WP Engine to generate the new WordPress demo site for you.
At this point, WP Engine is going to provide you with a demo link as well as a username and password for it. As Simon suggests, update the credentials to something memorable. You and your client may access this regularly and you won't want to have to continually reference a difficult-to-remember password.
Once your demo install is ready to go, you will receive an email with WordPress login information. Again, take time to reset the password. This time, create something more secure for yourself.
You can now log into WordPress for your transferable install.
Step 3
Within your new WordPress dashboard, go ahead and install the All-in-One WP Migration plugin once more. For this website, you will choose the Import option.
Step 4
Return back to your locally developed WordPress site on Local by Flywheel. In the migration plugin's Export settings, fill in the request information.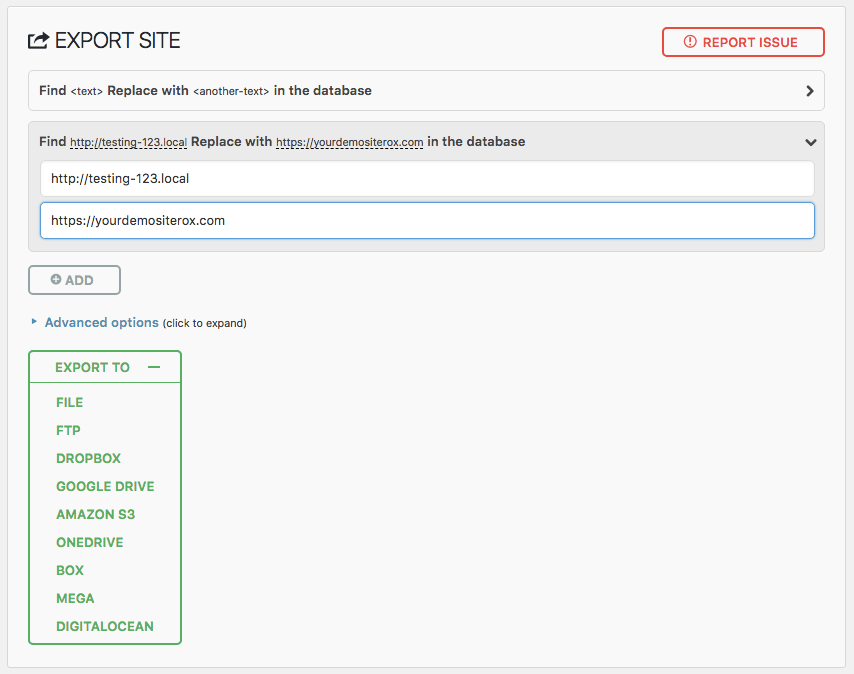 The "FIND" field will be the local site's URL. The "REPLACE" field will be the transferable demo site's URL.
Then choose Export To: File. This will package your website into a neat little file.
Step 5
With the package in hand, go to your transferable install. In the migration plugin's Import settings, either drag-and-drop your file into the interface or search for it from your computer's files.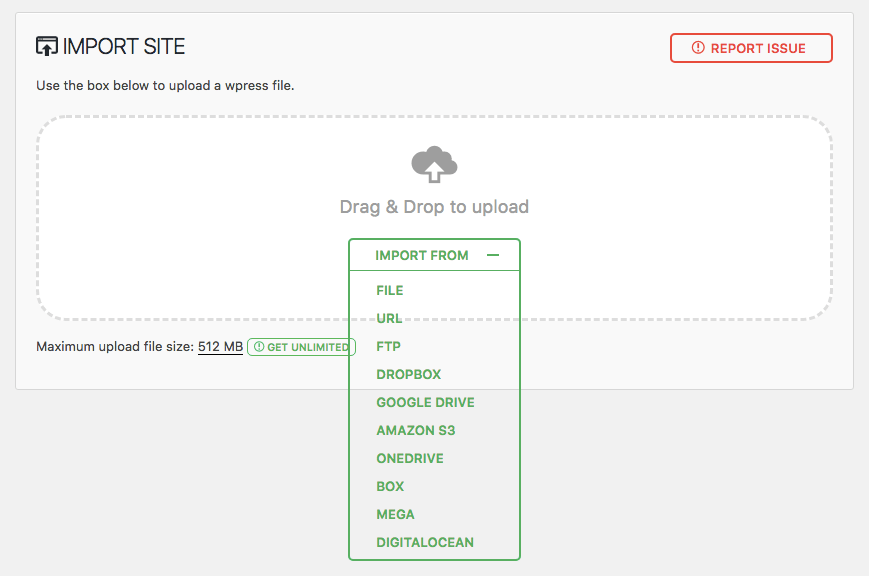 Click Proceed so that it overrides anything that may have populated upon installation.
When the process is done, the plugin will walk you through final steps. Then it's up to you to make sure:
The original demo login credentials work.
The website transferred over without issue.
Nothing is calling back to the local site and it all now resides on WP Engine's servers.
And that's it! You now have a demo/staging site you can share with your client.
Wrap-Up
Collaboration is a key part of the web development process–especially if you don't want to arrive at the end of a project and hear the unfortunate, "I don't like it".
By getting your clients to provide feedback throughout the process, and finding a workaround if they don't provide you with web hosting to stage their in-progress website, you can avoid this altogether. With Local by Flywheel, WP Engine, and the All-in-One WP Migration plugin, you can avoid those hurdles and streamline your WordPress development process even further.