Discover how the Agency GPS Scorecard can help you navigate (and enjoy!) the entrepreneurial ride.
No one ever said growing your agency was going to be easy. But you love the work, and you're willing to do what it takes to be successful.
As Richard Branson puts it:
"If you focus on what you are passionate about, you will most certainly achieve great things."
But how do you focus on the parts you love while managing the less appealing demands of building an agency? How do you generate the results you want without becoming overworked and stressed by the process? How do you scale your agency without all the overwhelm?
We've created a framework that will empower you…
The Agency GPS™
But before we tell you more about the Agency GPS, here's why having a strategy for growth is essential for the future success of your business.
What happens when you scale without a strategy for growth?
When you first launched your agency, did you picture yourself running a business that would effectively scale with you as you grew the company? It's not surprising. It's one of the first goals agency owners have. But often they dive in without a clear strategy for growth.
Agency owners without a strategy for growth will find themselves in a situation where:
1. They don't have the structure to manage growth.
They jump in headfirst without a plan and end up committing some of the most common newbie mistakes in their quest for growth — mistakes like trying to do too much simultaneously without having the structure to manage it all.
2. They try to scale too soon.
They try to scale their business without having anything to leverage. This blunder usually results in a business effectively trading time for money.
3. They don't have a steady demand for their solutions.
They're constantly looking for clients and won't know when the next one will come along. Or they start chasing temporary opportunities and clients that don't really fit their original vision for their agency just to gain traction. This often hurts their business in the long run.
4. They don't have a way to leverage the services or products they offer.
Unless they're constantly thinking and working on ways to make money, they won't have anything coming in. Time is money, and money is time for them. And that's not a sustainable strategy, which leads us to point number five.
5. They don't have freedom.
When a strategy doesn't have any automation or processes in place, it's a challenge to scale. And if agencies don't grow, they become what we refer to as a "zombie company" — too small to provide sought-after freedom and too big to shut down.
This type of agency is constantly in feast or famine mode.
Scale your business without the dreaded overwhelm.
By now, you've probably surmised that a strategy for growth is essential. Where do you picture yourself in a couple of years?
Do you want to be the type of agency owner that has more time, more money, and more control over the trajectory of your business?
If your answer is yes, then you're the type of business owner we love to call a Maverick.
You need a framework that will confidently allow you to assess your performance while identifying your biggest opportunities for improvement.
You need the Agency GPS Scorecard!
Download the Agency GPS Scorecard
What's the Agency GPS Scorecard?
For the past ten years, our team has coached thousands of agencies from all over the world.
We've guided them through the process of increasing their revenue, streamlining their business and simplifying their offering, and ultimately becoming more profitable. And we did it while developing and applying what is now known as the Agency GPS Scorecard, a framework to help you grow your business.
The result is a thriving agency with an in-demand solution and a business strategy that is easier to manage as it grows and scales.
But don't take our word for it. You already know that we are passionate about what the Agency GPS has done and can do for our clients.
So listen instead to what Bjorn Bojen, a digital growth agency owner, had to say about the highly effective framework.
"One thing that really helped our business grow was the Agency GPS Scorecard. Whilst we knew we were going in the right direction and we had a rough idea of where our strengths were, we had little to no idea of what our weaknesses were. The Agency GPS scorecard puts it in such a crystal clear format, and it is just a great framework. The idea of being a three on something when you could be a 10, that's quite motivating!"
Look inside the Agency GPS and take it for a test drive.
The Agency GPS will help you set your destination, chart your course, and ultimately make sure your agency stays on track.
The Agency GPS will structure your efforts around three essential levers:
When each part is working together, you'll be able to scale your business into the type of business you've always wanted to run. (And not have it run you).
Here's how it works: 
Start with using the Agency GPS scorecard to assess the performance of various areas of your business against example criteria.
Then map your results and identify the weaker areas that need improvement. This will give you structure and clarity around your business and you'll know where you need to focus your efforts first. 
Finally, use the scorecard to regularly check your progress and make sure you're heading in the right direction.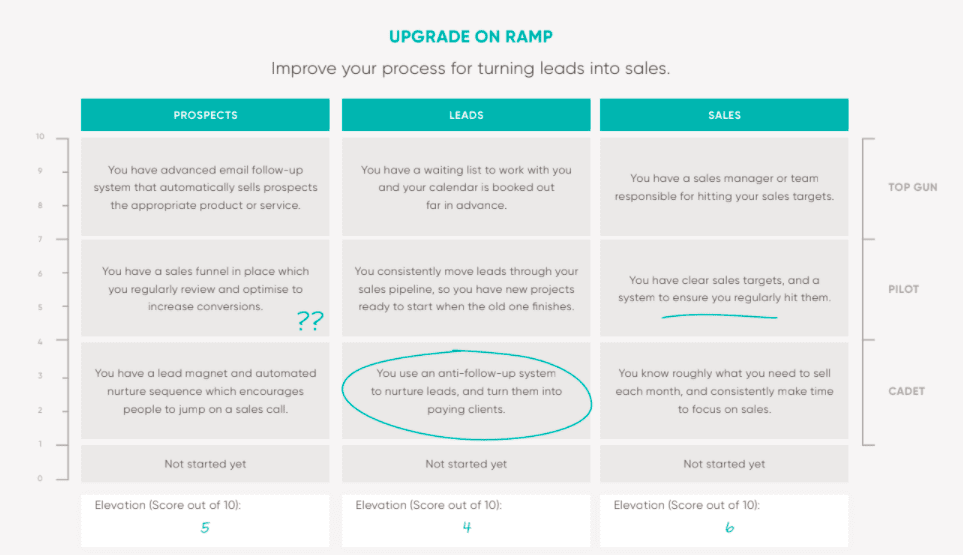 With this scorecard, you can shape the trajectory of your business and attain a crystal clear path toward growth. 
This is something that until now, I have only shared with our Mavericks Club members, but today I'd like to share this with you. 
Download the Agency GPS Scorecard
Wrap-Up
When you're ready to grow your agency, the scorecard is a great place to start. But if you want to move faster, then set up a Clarity Call with one of our team members, and let's create a plan that will help you scale your agency to new heights.