If you're looking to scale your web services, did you know that you can serve all types of clients, earn a healthy automated recurring income, and build your client list all at the same time by applying the SaaS business model to your website consulting services? Here's the low-down…
You've heard of SaaS (Software as a Service) before. It's a popular business model based on delivering software from the "cloud" on a subscription basis. I'm sure you're using a handful of SaaS products right now.
Today I'd like to coin a new term…the WaaS (you guessed it, Websites as a Service). The idea behind a WaaS is simple; take the same business model that has been so successful for the SaaS industry and apply it to your website services. It's been one of the most transformative shifts in my own business.  It has allowed me to earn over $2500 a month in recurring revenue by serving lower-budget clients part-time and building a list of hundreds of customers ripe for up-selling.
The Problem with the Agency Model
I know I'm going against the grain here. Agency Mavericks teaches all about elevating your consulting business and landing big-budget contracts. I'm about to tell you why that's not always a good thing.
Keep in mind, I think the agency model is great. I continue to put what I've learned at WPE into practice with much success. But that approach is not without its drawbacks.
Time
The first big drawback of bringing on agency-level projects is the length of time that a project lasts. I've heard horror stories of projects that dragged on for months or even years because of various delays on the client's end. Even in the best case scenario, it takes weeks or months to close out the project from start to finish.
This can lead to a feast-or-famine situation; constantly trying to get new projects in the pipeline to avoid the gaps in milestone payments for existing projects. This brings me to the next downside…burnout.
Energy
Another big drawback of trying to run your consulting business like an agency is the sheer amount of work involved. In order to land big contracts, you need to invest a lot of your time and attention on each one. From qualifying the lead to writing a proposal, having meetings, gathering content, designing and building the website, developing custom functionality, training the client, etc. And you must do this again and again for every new client.
I've seen many consultants burn-out when they try to handle more than a handful of these projects at a time. Yet they need to do so to keep the money rolling in.
Scale
Finally, the agency model doesn't scale very well. You can only handle so many of these big projects at once. To do more than that, you'll need to hire contractors or staff. Doing that will eat away at your bottom line very quickly.
At that point, you'll become the owner of an actual agency. You'll spend less time doing the creative work you love for your clients and more time managing your employees.
If that's your goal, great! But some web consultants find themselves falling into this role out of necessity. Then they quickly end up regretting it.
Don't get me wrong, the agency model is great and it's something worth striving for, but it's not for everyone.
The WaaS model avoids all of these pitfalls. It allows you to develop a website ONCE and then sell it again and again with little to no extra time spent on each new client.
Recurring Revenue FTW
Aside from avoiding some of the pitfalls of the agency model, a huge benefit of the WaaS model is its potential to be a major source of recurring revenue.
Recurring revenue has been mentioned before on the Agency Mavericks blog.  We WPE members are big fans of it. It's like the holy grail around here; it helps us consultants earn precious predictable income.
Website care and maintenance plans are a popular way to earn recurring revenue, but a WaaS is even easier to maintain.  That's because if you set up your WaaS properly you can host hundreds or thousands of websites and yet only maintain ONE install of WordPress.
We'll dive deeper into this later on in this article. Before that, I want to touch on one more hidden benefit of the WaaS model.
Building a Qualified List
If you're reading this, you're probably savvy enough to know that building an email list is an essential part of building your business online. You also may have found that building a large list doesn't necessarily translate into a large amount of sales. That's because many of the people on your list are probably not serious about purchasing anything you have to offer. They were just looking to take advantage of your free download or lead magnet.
One of the hidden benefits of running my WaaS is that it turns out to be a great list-builder. It's a perfect low-cost gateway to getting qualified leads that you know are willing to pay money. This is list-building gold.
Because you can charge a very low fee for your WaaS, it can attract many buyers. Yet the WaaS is just the start of your relationship with these clients. You can continue to offer them value and occasionally pitch upsells and other services. These folks are way more likely to purchase a new offering than a list of leads who have never purchased anything from you before.
Even if my WaaS customers eventually stop using my product, they normally remain on my list. Those ex-customers are still far more likely to purchase a future offer. After all, your past customers, if served well, make your best future customers.
Now that we understand how a WaaS solution can benefit your business, lets get our hands dirty and talk about how to build it.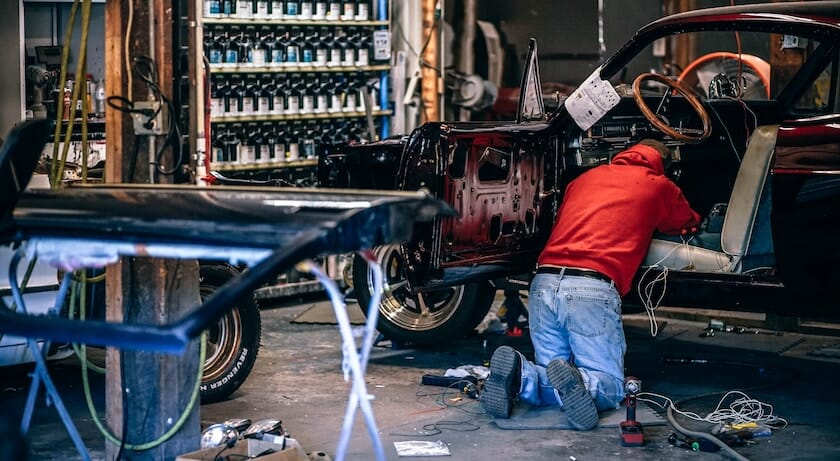 How to Build a Successful WaaS Offering
Lets a look under the hood of my own WaaS offering, Tech Site Builder, to find out what it's taken me years to learn. Here are the four key components to running a successful WaaS.
1. Platform
I've found the best platform for a WaaS is WordPress Multisite. It's a free and mature platform built into WordPress. It allows you to create multiple copies of a site, or "sub-sites" as they're called. They will all share the same theme and plugin files so you only need to update your files once and it applies to all sub-sites.
There are a multitude of multisite compatible plugins you can install that are specifically made for managing a multisite environment.
2. Automation
Automating the client sign-up process is one of the most important aspects of a successful WaaS. The goal of a WaaS is to grow the volume of clients and remove yourself from the process as much as possible.
The key component of this is a solid membership plugin that can also spin off sub-sites in multisite. I'm using Restrict Content Pro with the Site Creation add-on, which allows customers to seamlessly pay and get a sub-site spun off all at once.
I've also been evaluating a relative newcomer to the scene, WPUltimo. It looks to be a promising all-in-one solution for running the back-end of your WaaS.
3. On-boarding and training
One often overlooked piece of the WaaS puzzle is proper onboarding and training. The goal here is to be involved in the process as little as possible. You want to make sure you have a system set-up that walks your clients through the entire site set-up.
I accomplished this by recording some "getting started" step-by-step tutorial videos in which I walk the user through the entire process of getting their website set-up. Then I made these videos available in the client dashboard.
To get the videos in the dashboard, you can embed them in custom dashboard widgets using a plugin like Ultimate Dashboard Pro. Another method is to use the trusty Video User Manuals plugin (brought to you by Agency Mavericks's own Troy Dean) to add your custom videos to the admin menu along with the other great WP tutorial videos that come with VUM.
I also release occasional tutorial videos and webinars to my customers. These in-depth videos will show them how to do things like SEO, set-up Google Analytics, and other website basics.  Again, the point of this is to give clients all the tools they'll need to be successful. That way they don't need to contact me for anything (well, almost anything).
4. Support
No matter how hard you try to give your clients everything up-front, they will still inevitably think of something you didn't anticipate. In this case, you want to make sure you have a robust support system in place.
I recommend implementing some sort of support portal app. Not only will this provide an easy way to answer support questions, but it should also have a built-in solutions database that you can refer your clients to for answers to common questions. I use FreshDesk for this, but there are many other good options out there.
Stay Calm and WaaS On
With these building blocks in place, you'll be well on your way to providing an automated turnkey WaaS system that will be a steady source of recurring revenue. With a healthy WaaS, you'll be able to provide a solution to those clients who can't afford your custom websites. And in the process, you'll be building a list of qualified customers to up-sell for years to come.
For more resources on building your own WaaS, you can visit me at Turnkey Websites Blueprint where I talk about my experience building and supporting my own WaaS service.
I'd love to hear from you…what do you think of the concept of a WaaS? Is it something you'll be adding to your portfolio of services? Let me know your thoughts in the comments below.