Welcome to another episode of Silence is Golden where Troy and Simon give away invaluable tips for your business. Today we have Ginny Mac bringing her sunshine to the show as she steps in for Troy. 
In this episode, the main topic is hiring and growing your team. Gin and Simon also discuss Wildcard Certificates, fixing common WordPress errors, whether Jetpack really does speed up WooCommerce and they give us some surprising survey results from Stack Overflow.
Watch the Video
Stuff That Happened
Let's Encrypt Wildcard Certificates
Good news! Let's Encrypt (who provide SSL Certificates for free) now have wildcard certificates which means that your domain and subdomain can be under the same SSL certificate. It is easy to implement and they provide good support. Adoption should be just around the corner for most popular hosts, so stay tuned for that.
Fixing Common WordPress Errors
This fantastic article from WPBeginner gives us 25 common problems or errors that you may come across and how to fix them. Handy or what! For example, what to do when you're locked out of WordPress admin area or how to fix the WordPress White Screen of Death.
Sometimes if a client Googles something and then tries to fix it themselves, then it can make the problem worse. We want them to know that they can rely on us to know the answer. Simon restricts the access to some clients depending on the level of training that they have and the responsibility that they need.
Speeding Up WooCommerce With Jetpack
Simon tells us that this is a bit of a contentious topic. In the past he has avoided Jetpack due to the fact that it has actually slowed things down rather than speed it up. He has been watching their development though and now there is a CDN which is meant to speed up the images. He is still unsure if this would be the case when there is so much code and so many modules – would it actually speed things up and make it easier for managing websites?
A lot of people do love Jetpack but Simon has had trouble training clients with it in the past because of it's complexity. It may have improved since then, so let us know if you use Jetpack on your WooCommerce site and what your thoughts are in the comments below.
For more information check out the article from WooCommerce here.
WordPress the Most Dreadful Platform?
According to the latest survey results from Stack Overflow, WordPress ranks as the sixth most dreadful platform. The good news is that this is better than last year when WordPress ranked as the third most dreadful! Remember that this is from a developer point of view though, so we are pretty sure this isn't what the users think. Phew!
BTW – The most dreadful platforms were SharePoint and Drupal according to the survey.
Let's Get Unstuck
This weeks' core topic is about hiring and building a team. We asked the Facebook group if they had any questions and there were a huge amount!
Josh Howell asked a number of detailed questions on the topic, so we decided to get the answers from someone who has been able to successfully build a self-sufficient team….welcome to the show Steph Campanella from Summit Digital.
Time to Dig into the Gold Nugget
Steph Campanella is one of our WPE members who founded Summit Digital – a digital marketing company based in Sydney. Let's dive in and find out how she has been able to build a kick-ass team!
Why Is It Important to Build a Team?
Steph says it is vital because you can't do everything, so building a team is inevitable if you want freedom.
Where Do You Draw the Line at Doing Too Much?
Steph realised that she couldn't do everything when she had so much design work coming in that she was missing opportunities for new projects (because she was missing calls and networking opportunities). She knew she needed her time back and so her first hire was a graphic designer.
Simon points out that a lot of designers are very particular about their work to the point of being control freaks about getting it to the level that they want it to be at. However, Steph was very lucky – her first hire was awesome and is still with her.
She realised that if she wanted to build the business then she couldn't be holding onto everything. She says that the pressure of a project is like holding a glass of water – the longer you hold a project, the heavier it gets; and if she has to hold the design work, the development, the launch and the Q&A work, then she will be holding way too many glasses at the same time!
Her advice is to just get real and hire someone.
How Do You Know What to Outsource First?
Outsource the thing/s you don't like doing! Steph tells us that graphics was taking up the majority of her time. So she had to get rid of it in order to focus on the other stuff. She knew there would be a designer out there that could work in a similar way to her and with her style. She just had to find that person!
The Handover
With Steph's first hire, she didn't have a process in place or even a structure. She was only using Teamwork at the time and didn't have Slack back then either, so they were emailing back and forth.
She decided to give a graphic designer a try after she looked at his work and saw that he was a similar flavour to what she was doing.
Steph found him on Upwork. She had stalked a lot of people on there from a design perspective but ended up choosing him. She had a job that needed to be designed which she gave to him and the rest is history!
How Did the Team Grow from There?
Steph says that hiring team members is like a drug because she realised how much time it was giving her back. She wanted to keep hiring!
How Do You Decide What Needs to Be Done?
Design an org (organization) chart to fully understand what type of business you're building and then hire accordingly. If you're sitting in every seat of the business such as SEO, marketing, designing etc, then look at it and see which area you are the worst at and hire out that whole spot.
Budget
Steph says that you need to know what the going rate is before hiring. You need to understand that spending $200-$300 a month for a designer is going to be a lot different to what you would get from a designer that you pay $1000 a month. You have to do your shopping around, talk to people and see how the person communicates.
Steph just went all-in and decided she had to pay it, because 'what's the worst thing that can happen?' That you have to fire him because you can't support him?
Clients wanted to see more of her. They all had projects which she just needed time to talk to them about in order to secure. She needed her staff to be doing the work while she was out there getting the business.
What Does Her Day to Day Look like Now?
Now Steph has time to go to the gym, walk the dog and look after herself. Sounds great doesn't it?!
The first thing she does at work is to look at the content that's going online in terms of brand. One of her employees will let her know what the whole team is doing for the day. She also sends the project manager things to remind her of for the next day if anything comes in overnight. The whole day is run by her own team, and the team run the team! Go Steph!
Tools
Teamwork to manage milestones and projects
Slack for team communication with a channel for each project
Dropbox and Google drive for file sharing
Voxer to talk to her Virtual Assistant (AKA Junior Lady Boss) which she uses like a walkie-talkie
Working with a Remote Team
How do you reward the team when they're remote? Steph says that gratitude is really important and emphasises big thank-yous and talking caps. So she creates a sense of encouragement and gratitude. You need to fire the team up because it can get lonely in your own office. You need to have a team huddle every day too. There is a chat channel in Slack where everyone says good morning or checks in after the weekend.
Steph's Advice for Those Who Are Nervous About Making Their First Hire
Just do it!
Make an org chart
Understand what type of business you're going to have
Understand the daily tasks that are keeping you snowed under
Organise the tasks under the org chart
Define the role and hire the position that you suck at the most
Gin's Hot Tip
When you are hiring someone remotely, film a process, send the person the video and then get them to write up the process in a Google doc. This tests their grasp on English and ability to take direction.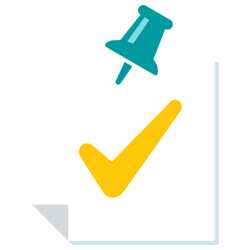 Mindset
Some people dip their toe into hiring and then they pull out when it doesn't work out right away. But it comes back to preparation. Steph has seen it not work out for some people when they hire because they don't think about the differences of hiring remotely vs having someone in the same office as you.
You need to have a process in place with repetitive tasks and use the right software. You have to have that trust from a mindset perspective. So she gives the employee three months to prove themselves or she lets them go. She also has to think that it might be her that's letting them down not vice versa.
She has just launched a podcast. The next episode is on her first hire and the experiences around that. She will be focussing on work and how she built her business. It's the perfect podcast for people starting out or needing help to build their business.
Thanks for such an informative interview Steph!
Tool of the Week: All-in-One Migration
All-in-One Migration lets you move WordPress from one install to another. So Simon uses it to move from Localhost to a development site. He uses Flywheel to set up WordPress and then move it over to a transferrable install on WPEngine and it takes around 10 minutes. There are faster and more efficient ways to do this if you're a developer but this tool makes it pretty easy too. There is no cost thanks to ServMask. Handy for when you need to work offline!
This Pisses Me Off
It seems like the development community gets pissed off with WordPress – that it's not a proper CMS or that it is hard to install, and they resist acknowledging that it is easy to use. They don't want to say that people can use it and not need a developer. Simon doesn't like it!
Why do you think this is? Any developers want to let us know their thoughts on this?
Wrap Up
If you like this episode please share it or leave a comment below.  Let us know what you would like to learn next.
And don't forget to subscribe to our Youtube channel.