WordPress Education and Development
Mario Peshev is a big player in the WordPress space and a good buddy of ours. He's the founder of DevriX and in charge of onboarding new customers, refining the WordPress architecture and fine tuning their digital strategy. Mario has been building web applications and software solutions professionally for 12 years. He's contributed to the WordPress Core since WordPress 3.7, is the author of over 20 free plugins for the WordPress community and has been the organiser of WordCamps in Europe for numerous years. I wanted to pick his brains about what has helped him starting a web development company and getting to where he is today.
Thanks for agreeing to an interview with us Mario. I know you have a jam-packed schedule! Your background is in Java, PHP and Python development. What was it that made you choose to work almost exclusively with WordPress these days?
Howdy!
Back in 2008 (in the midst of the financial crisis) I started freelance full-time and gradually shifted to DevriX soon thereafter. I used to work on multiple projects simultaneously, varying from an eCommerce catalog in CodeIgniter through a courseware community in CakePHP, a digital signature solution in Java, a Django project for UNESCO and a couple more. Lack of focus and scalability were major concerns, and given that the majority of the gigs required administrative panel, user management, different content types, a media system – WordPress was the best starter framework preventing me from "reinventing the wheel".
Tell us about your early education background. What did you study, and did you always know that you wanted to work in IT?
My first coding experiments started in 1999 while building some DOS apps for solving course work problems, and creating my first static website. Over the next few years I kept learning and exploring different programming languages – from QBasic, Pascal and C through C++, Delphi, C# and Java.
My high-school had an elite college status where I learned a lot, and at 15 I started programming classes for an experimental training academy that promoted me to assistant and soon become a junior technical trainer. I enrolled in the Informatics specialty at the university as well, so I'm a firm believer of education (even though I haven't formally graduated yet and disapprove the model of traditional education).
When I was 12 I was into computers just as every other kid playing games or tinkering OS options. I am a musician too and participated in a few local competitions, and on top of that I was considering a legal education due to my passion for justice and rightfulness. Given my varying interests IT hasn't been the only thing I've ever been interested in, but it's probably been the most consistent thing I've been focusing on.
Was starting a web development business always on the radar for you?
Well, I'm a millennial and entrepreneurial thinking is somewhat considered a "standard" for many of us. However, my mother has started an accounting firm in 1995, and I had to assist with a lot of digital paperwork, configuring accounting software, and dealing with other IT activities.
So starting and running a business was not something imaginary, and I've seen bootstrapping myself, together with the numerous challenges related to it. But commute and schedule were the things that were killing me – wasting 3 hours a day in traffic jams or simply spending my productive hours at home after I'm done at the office.
I've freelanced since I was 11 (translating software and crafting articles or administering websites) which gave me a lot of entrepreneurial insight regarding possible opportunities early enough.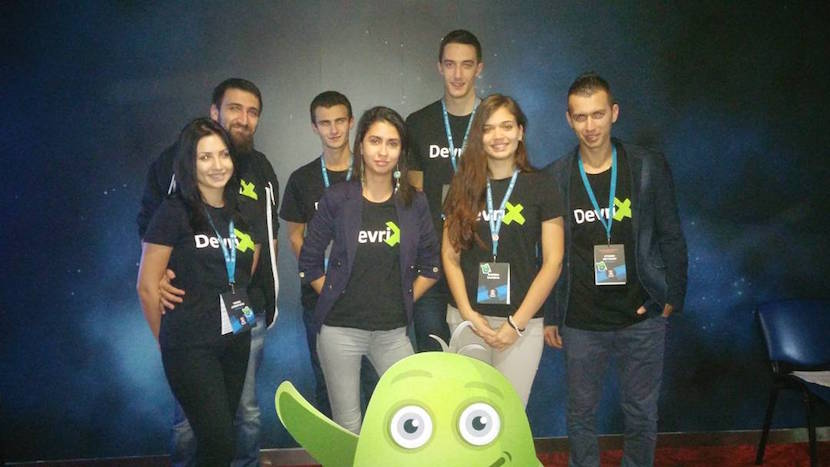 When you decided to set up DevriX, did you undertake any courses or further education to help you in starting a web development business?
I spent two and a half years in full-time freelance before founding the company, and I did my due diligence even prior to that. While being raised by an entrepreneur, I was curious enough and had to learn a lot about finances and contracts, and learn from a series of management experiments (from hiring wrong talents, incomplete contracts with landlords, investments with "sharks" leading to loans etc).
For my freelancing endeavor I was following Freelance Switch and Freelance Folder (both shapeshifted over the years), and had a feed with another 100 freelancing and small business sources. The technical bit was the easiest for me, but dealing with negotiations, proposals, pricing structures, payment protocols, contracts, marketing were something that took me a while to understand (and refine every quarter).
No matter how well equipped we think we are, mistakes are part of the education process in starting and growing a business. What are some of the failures you've had over the years, and how have you learnt from them?
Quite a lot really, especially in the beginning. Dealing with scope creep and unclear requirements has led to constant iterations on numerous projects, in addition to payments delayed with months, missing assets from clients required for launching a project, miscommunication and a series of intense moments while talking these over with clients.
I learned a lot about setting expectations upfront, defining milestones in detail in my proposals, and adding clauses for extended scope, asking for upfront payment, and working on customer servers and repositories in order to facilitate transfer if needed.
The most important lesson was probably vetting clients and deciding whether they are a good fit upfront. Often customers don't have a solid business plan in place and that can lead to shifting gears on a weekly basis, changing direction continuously and failing a project simply due to lack of a common goal.
DevriX has now been in operation for 6 years. What's the key to success in continually growing a profitable WordPress business?
Recurring revenue and a predictable sales funnel. There are hundreds of thousands of freelancers charging $10 – $20 per hour which is significantly less than what we charge, which limits the number of small websites on budget that we can work on.
This is why we have focused on WordPress Retainers, being our main strategy for growing our customer base with predictable income.
We do have a marketing team focusing on inbound marketing which grows our traffic as well, and a sales rep reaching out to prospects and partners. Moreover we do offer marketing services which increases the traffic and user engagement for our clients, which grows their revenue and justifies our expenses in the long run.
We've just signed a 120h/month contract for a partner of ours handling not only the technical aspect of their 2017 roadmap, but assisting with business development, marketing and creative strategy, and various activities that we have been refining with former clients (hence the added benefit thanks to our expertise right now).
Is there ever a time when as a successful business owner you can sit back and stop learning?
Learning is a constant process and failing to keep up with customer demands and the latest online trends is a recipe for disaster. Business owners should always monitor the latest innovations in tools and services, marketing processes, sales strategies, business development opportunities and everything else that could improve the stability of a business.
I strongly advise business owners to create a medium that they follow regularly for learning activities – signing up for mastermind groups, adding a number of useful sources to a feed reader, follow influencers in their field on Twitter and LinkedIn, take on courses for additional qualification, find a mentor or call consultants on Clarity.
What advice would you give someone just starting off as a WordPress Consultant / Developer in terms of making sure they have equipped themselves with the right skills for the job?
Learning the craft is the first thing developers and consultants should do. Regardless of their marketing and sales success, quality and customer satisfaction are the main goals for every business – and this depends on the expertise of the consultant.
A lot of friends who freelance or lead agencies depend on referrals or ongoing projects from their existing customers – none of that is possible without producing high quality work and results. Then it's all about reducing costs by automating certain activities and focusing on a good marketing strategy that ensures steady growth in the long run.
We're about to launch the latest Agency Mavericks Blueprint course. As a previous member of Agency Mavericks, what was the most helpful aspect of the course and community for you?
I joined Agency Mavericks in Jan 2014 and stuck around for a couple of years. I got hooked by a video that Troy published called 101 ways to elevate and demand higher fees.
This is an incredible source for consultants working on their personal or company brand, and I learned various strategies that we implemented later on in DevriX. Once I signed up for Agency Mavericks, I browsed the Blueprint and some of the "ready to go" solutions and implemented the RFP form as well, which was insanely helpful for some of our clients that we're still working with.
With 6 years of business expertise I was aware of some of the tactics, but still managed to find strategic advice which improved our work processes and ensured that we could grow further. Additionally, interacting with other Agency Mavericks members in the business incubator facilitated brainstorming and coming up with innovative solutions for complex business problems, being the main reason I kept on browsing and actively participating whenever possible.
Thanks for chatting with me today Mario. Best of luck with the future of DevriX. From what you've shared with us today, you have certainly well equipped yourself and your team for success!
Thanks for reaching out, and I genuinely wish you successful growth ahead, educating more WordPress consultants on improving their communication and sales skills while delivering high quality solutions for their customers!