Agency Mavericks is a global business focused on helping digital creatives to build sustainable, profitable businesses. We provide coaching, training and a supportive community to enable them to grow their agency their way. 
The Agency Mavericks community is a network of ambitious digital marketers, from freelancers to large agency owners, who inspire and keep each other accountable.
Simon Mauger
practiceedge
From our ever-expanding Facebook Group, Digital Mavericks, to our world-class courses and coaching programs that aim to teach digital marketing freelancers and agency owners to take their business to the next level — Agency Mavericks is an immensely supportive and knowledgeable tribe.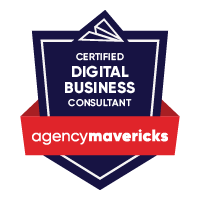 If you see the badge above displayed on your Digital Business Consultant's website, you can be sure that you're in good hands and they know what they're doing.
We are offering a free 20 minute Clarity Call to get you moving forward faster than ever before.