Developing a product matrix helps you communicate strategy to potential clients in a clear and concise manner. It is a very powerful tool for outlining solutions and structuring recommendations based on their profile.
Let's talk about the process of developing your own product matrix to take your clients from zero to hero. But first of all, you need to understand where your clients are in their journey.
Introducing The Flight Path
We have been busy developing what we call the Flight Path.
The flight path is a customer journey map combined with a matrix that helps identify problem areas and map out strategies based on where your customers are—enabling you to prescribe diagnoses to your clients. Meaning you provide tailored and structured support to take them from where they are now to where they want to go.
Let's just think about a standard everyday garden variety client that comes in and needs a website. They might need some local SEO, then they might then need to go on a care plan so that you can look after the website for them – pretty standard engagement with a client.
The market has an expectation of what all of that will cost them. And often their budget expectations are well below what you will be charging them in order for you to make a profit. So the question then becomes: How do you compete in that space without going broke? 
You might start the conversation with the client about what they think they need and then very quickly pivot the conversation to what they actually need – which is a new website with a growth plan service. The growth plan might involve some conversion rate optimisation, some lead generation, local SEO and email marketing for retargeting their existing database. 
Let's say this client is a professional service provider such as a health practitioner. Often those business owners are so busy that even though you are generating leads for them, they generally don't have time or a process to follow up on those leads to turn them into paying clients, hence they don't see a retun on investment.
This might result in outcomes not being met despite you having done your job.
One way agencies are combating this is by creating leads for those businesses, booking them in their calendar and delivering them to the business on a silver platter. 
This is the premise of HighLevel as a software piece – to do lead gen and follow through with bookings for your clients. In this way you become more valuable to your clients than a traditional agency that creates leads then stops there, right?
Back to the flight path – the flight path is how you differentiate from all the other agencies and the conversations you have. This is your niche. Sitting down with the client and saying 'we can take you from where you are now, to where you want to be'
Once you have developed a flight path (the internal workings to get your head around) we call that your Signature System. 
The Coaching Matrix
The coaching matrix is what we use to diagnose client problems and prescribe solutions. The purpose of this document is to make sure all of our coaches have the same conversations and undertake the same processes.
There are three levels of customer that we work with and we refer to them as Cadet, Pilot and Top Gun.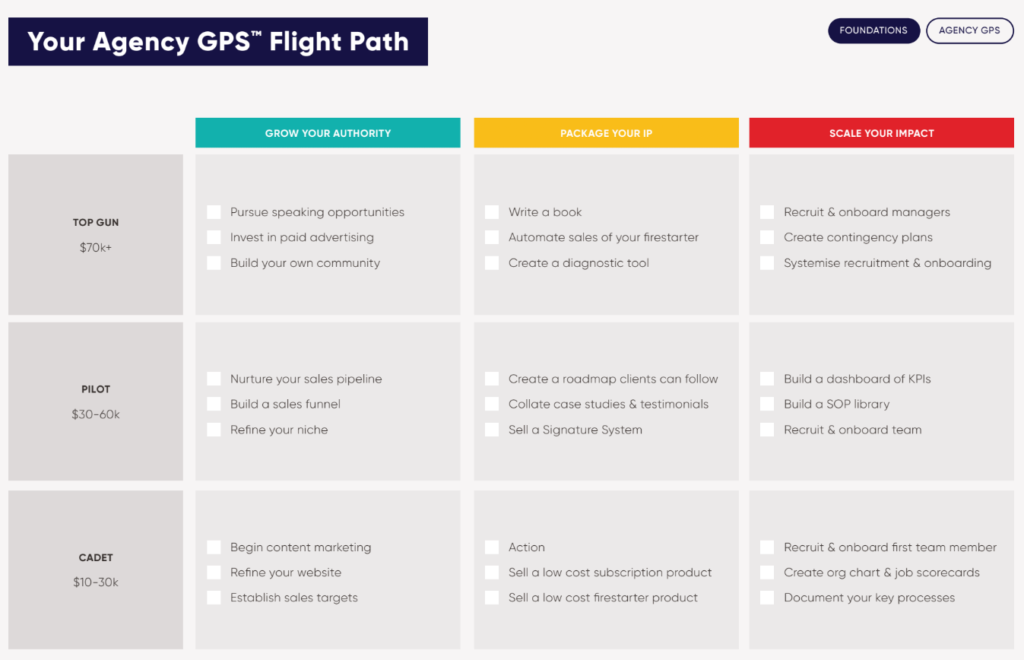 We help them using our unique Agency GPS framework.  It will help you set your destination, chart your course, and to ultimately make sure your agency stays on track.
Codify Your Thinking
Now as your team grows, you want to make sure everyone is operating with the same line of thinking in diagnosing client problems and prescribing a solution.
I promise you, this is the way you scale your business, and get you out of it.
A term I call codify your thinking.
Basically, how you teach other members how you think about diagnosing problems and developing strategies for clients so they can implement the same techniques.
This is not made up!
Statistically about 80% of what you are doing in your business right now, doesn't matter. We are all wasting time on irrelevant stuff that won't move that needle.
Here are three things you most likely need to focus on.
I'll give an example, say you are under 20k per month in revenue and need to grow your revenue to increase your profit and hire another team member. Implementing the following structure would be advised:
Craft your offer
Do your first 30 triage calls
Do you first 10 strategy calls following our frameworks
After these initial stages, I would then bullet point under each the training that should be undertaken to help successfully achieve these. For example, you can craft your offer using The Godfather Method.
Of course I would put together an offer they can't refuse…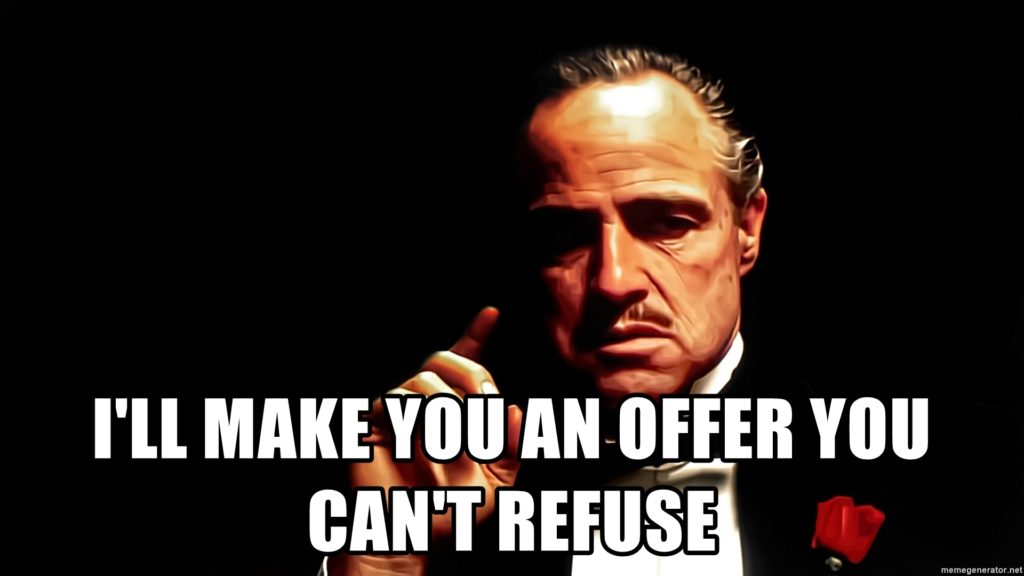 I would then recommend developing your hottest 100 spreadsheet, and doing your first 10 triage calls using the triage script in the Client Acquisition Formula training.
If you are a Pilot for example, you're doing between 20k – 70k a month in revenue and your problem is that you are the only one making sales and are unable to step away from the business – based on the above matrix we might offer the following diagnoses:
Learn more about filling out your sales pipeline on this recent Agency Hour Episode!
Getting your team to deliver in a standardised way is an absolute game changer.
Developing your own matrix is a powerful tool you can use to present the different types of products or services to your clients
It helps define a structure for the following:
The process that a customer can go through when they invest in your products and services.
The different options available for each customer based on their needs.
A clear strategy for growth to take them from zero to hero.
Wrap Up
Buidling a product matrix might be intimidating. But if you're committed to providing your clients with solutions that fit their needs, I promise you, it will be worth the time you spend on it. Let me know how you get on!
Or if you want to move faster with developing your product matrix or growing your team, request a call with us here.
---
The Agency Hour Podcast
Check out the episode of The Agency Hour related to this blog.
Episode 32:
Listen to the full podcast episode related to this blog on how to develop a product matrix and what that means for your agency!