The Header
Welcome to another episode of Silence in Golden where Troy and Simon give away invaluable tips for your business. Today our main topic is WordPress Care Plans and how to offer maintenance as a service. The guys also bring you the latest news in the industry. This week we discuss accepting Bitcoin as a payment, Plugin vulnerabilities and the latest from WordPress.org.
Watch the Video
The Sidebar
News
News from WordPress.org
WordPress now has an outreach speaker training initiative where they will be offering training for people who are interested in speaking at WordCamps but not yet confident that they have the skills to talk. This initiative should improve the quality of the talks and will open it up to more people. Sometimes it is difficult to get new people to speak at WordPress meetups as well, so get involved via the Making Progress Slack group.
In the last episode, we touched on the State of the Word speech by Matt Mullenweg (co-founder of WordPress), but if you would like to see a demo of Gutenberg and get more information on the future of WordPress, the video is now up on Matt's blog.
WordPress Plugin Vulnerabilities
ManageWP has published an interesting article on WordPress Plugin vulnerabilities. It was interesting to see that one of the key facts is that the biggest cause of hacking is when plugins are out of date or poorly written. Check out the article here.
Accepting Bitcoin in WordPress
Bitcoin is becoming quite mainstream and everyone seems to be talking about it. This article is about how to accept Bitcoin through WordPress. You can accept payments through a payment processor and plugin called Bitpay. Read the article here.
Hot Tip: this is a trending topic at the moment and a good one for your SEO.
Facebook Questions
Question:
Joe Howard asked what people include to add value when they sell care plans for around $1,000 per month?
Answer:
Typically the basic website maintenance plans are based at $60 – $100 a month and that handles updating WordPress, plugins, backups and security and a lot of that stuff can be done through tools such as ManageWP.
So at what point do you start adding value? This is where you start coaching and helping them with a strategy. This is the difference between a maintenance plan and a care plan. You take care of their online business.
One of our members Deb makes a good point in the chat. If you're talking to an e-commerce client, ask them what it will cost them to be offline for a couple of days. Then they won't mind spending the money on a care plan.
Some clients may have a server that does automatic updates, but you need to explain to the client that sometimes the updates can break things, so they need you to check and fix any problems that arise.
The Content
Care Plans
Google Analytics
As part of your care plan, you may send your client a Google Analytics report once a week. But your client may not know how to read that report and what to do with the information. That's your job to make sure that they are taking the right action based on that data.
Some of the ways that Simon adds value is to send them a monthly email and let them know what is new in the industry. Also, he offers a half an hour consultation call so you can stay in line with what their goals are. This ensures that you are positioning yourself as a trusted advisor and at the top of their mind for referrals and more work. So, always make sure that you are ahead of the curve on the latest tech and keep the client up to date on it.
Simon's Hot Tip
Simon has two separate dashboards within Google Analytics. One is for standard clients and the other is for e-commerce. Google Analytics is data heavy so by creating your own dashboard you include only the useful data for the client. You can then create a pdf from that dashboard to send to the client.
This is what the dashboard looks like:

If you would like to use Simon's dashboards you can import them, rename them and send them to your client once a week.
How to do this:
Go to Google Analytics and click Customisation > Dashboard > Create > Import from gallery. Then search for Renegade Empire and import it to your dashboard list.
Important note from Troy:
With Google Conversion rates, it measures the conversion of all the website traffic to your site, therefore, your conversion rates will look low. However, if you add a filter to only show the traffic to the particular landing page that you're measuring, then the conversion rate will be more accurate.
Tool of the Week: ManageWP
Simon uses ManageWP to take care of his client's care plan packages. The ManageWP dashboard looks like this: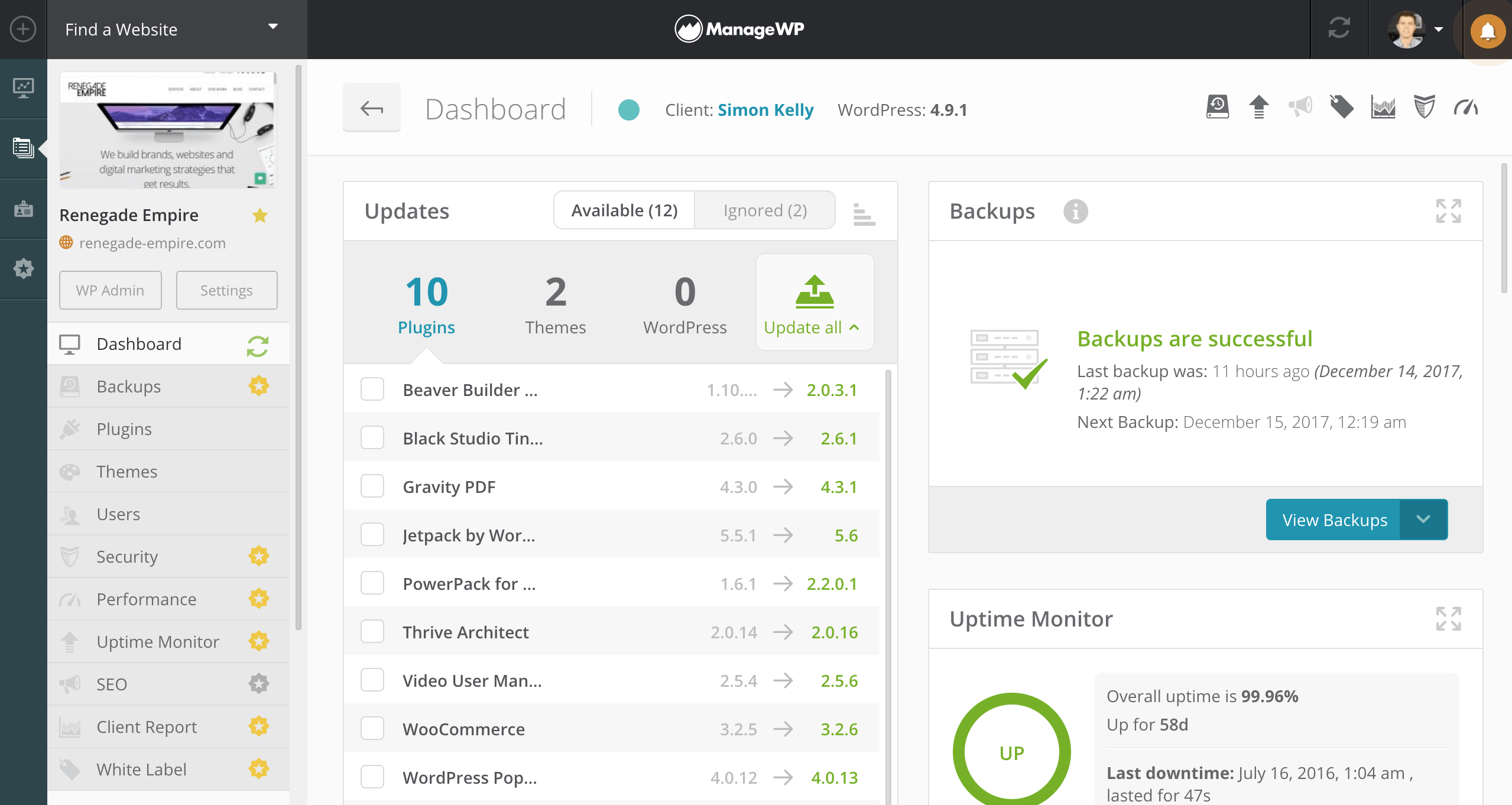 There is also a notes section where you can enter details of key pages that need to be checked. Simon aims to get the maintenance of each client's sites done within half a day.
To ensure that all elements promised in a care plan are completed Simon has set up a Website Care Plan task in TeamWork which lists about 90% of what could go wrong.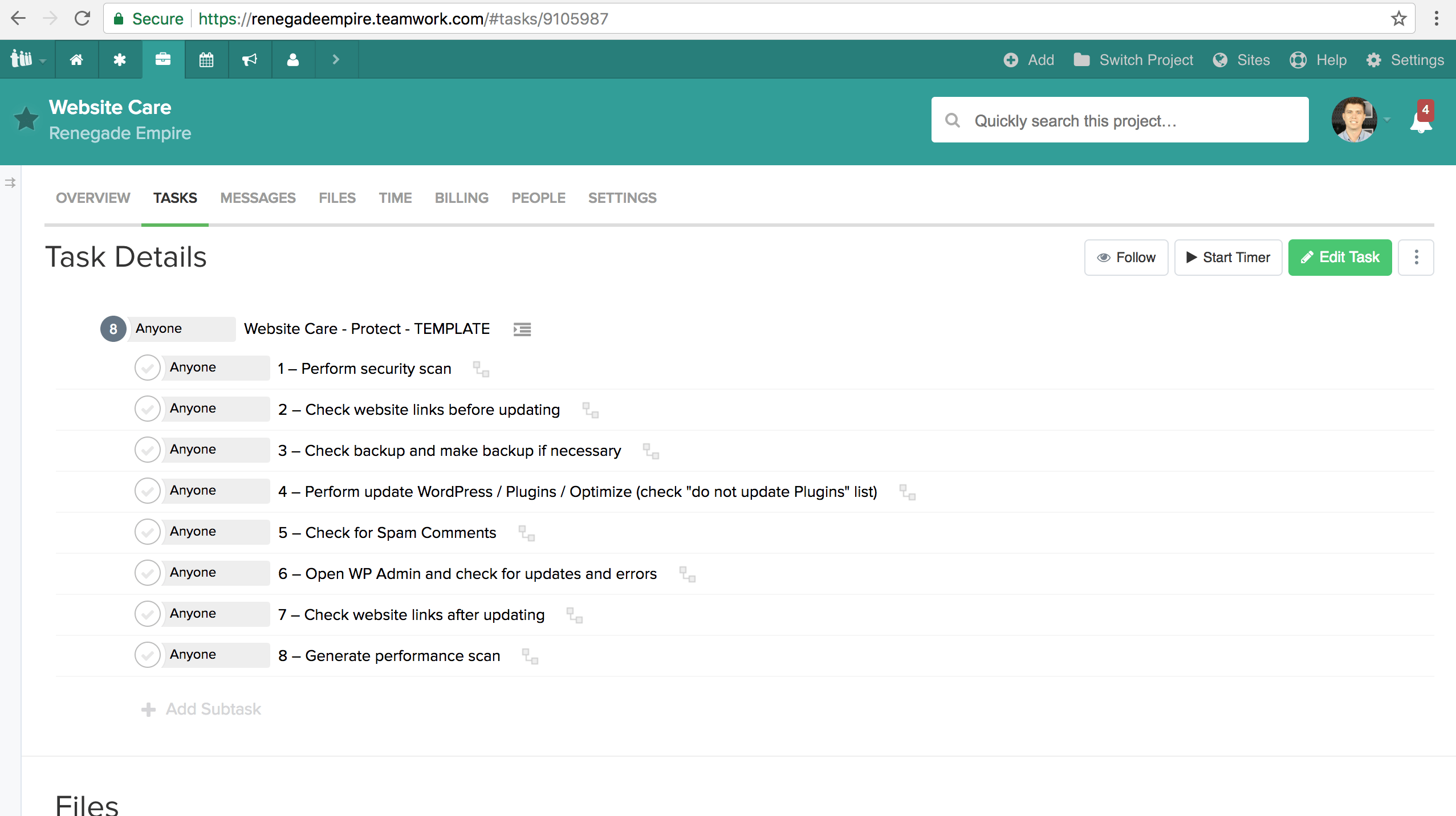 Remember that getting recurring revenue in your business is the number one thing you need to focus on in your business.
Another great resource for you on how to sell care plans is one of our blogs from Troy – Selling WordPress Maintenace Plans. Read it here.
The Footer
That's it for this week! Stay tuned next Tuesday at 10 am Sydney time for the next live episode of Silence in Golden on Facebook.