Ever feel like you're spending too much time searching for leads, convincing them to work with you, and then trudging through projects that fail to generate a worthwhile profit?
It's a common enough problem, for sure. But it's not one without a solution.
The only catch is that you have to be willing to do a bit of work right now in order to enact a system that will simplify the process and amplify your results immensely over the long run. Sounds too good to be true? That's because it may be for some.
High-ticket sales funnels are not for the faint of heart.
For instance:
If you're convinced you can't charge more than $500 for a website…
If you're happy to bill clients an hourly rate for SEO services…
If you're bogged down with demanding and unappreciative clients, telling yourself "this is just the nature of the job"…
Then, high-ticket sales are not for you.
However, if those above scenarios make you shudder because you know you deserve better than that, well, then it's time for a big change.
In this post, I'm going to answer all of your questions about selling high-ticket items and how to use sales funnels to take those results to a level you never dreamed possible.
What Is a High-Ticket Item?
A high-ticket item is a product or service that provides a lot of value at a very premium price.
For WordPress consultants, high-ticket items generally take the form of: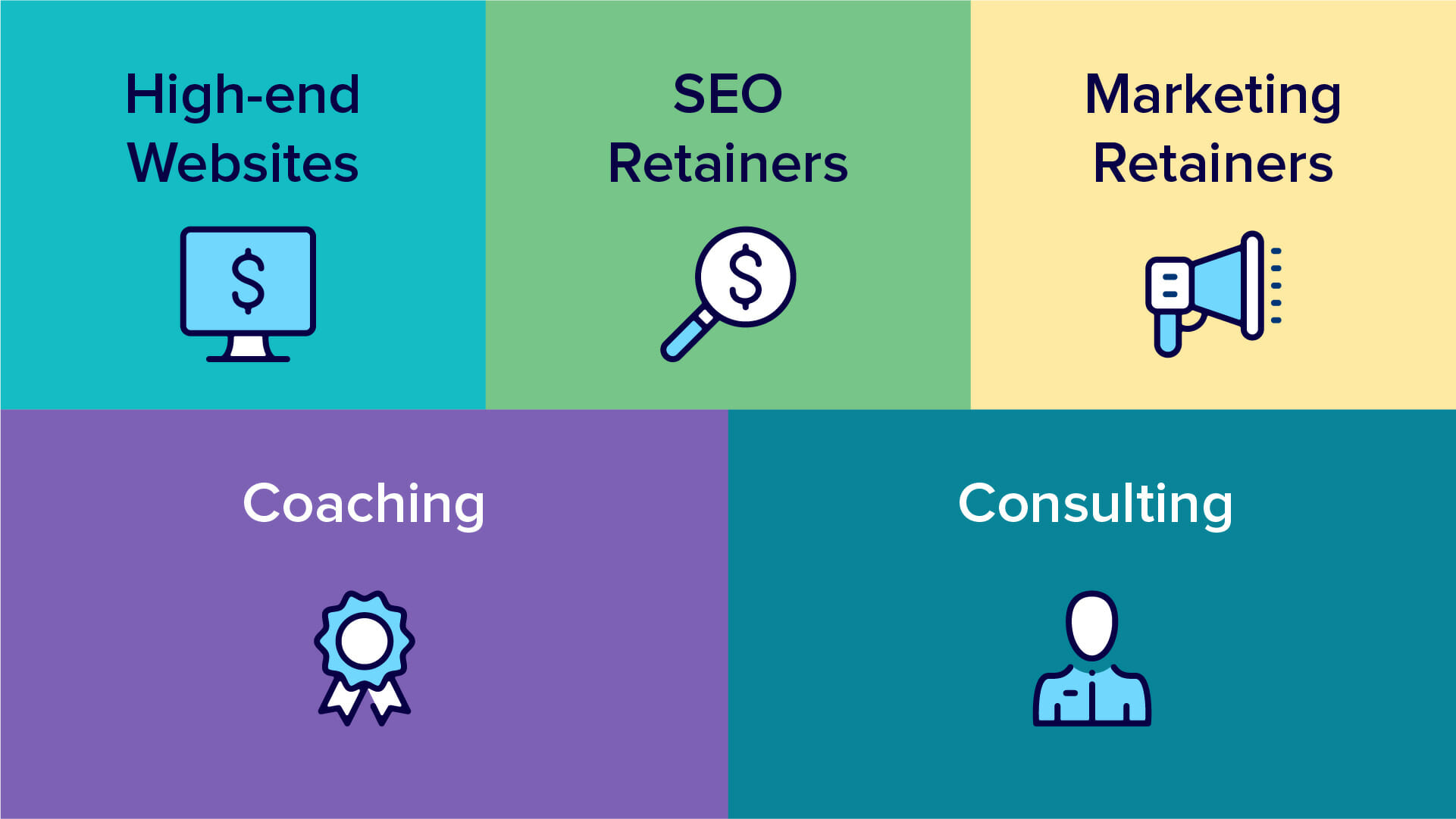 Basically, if you sell anything for more than $5,000 (or that you should be selling for that much), you have a high-ticket item on your hand.
Why Do You Need to Sell High-Ticket Products?
Let's be honest: it's no fun burning yourself out because it's the only way to make a passable wage. But that's not the only reason you should sell premium products at premium pricing.
Why do you need to sell high-ticket items?
There's no need to spend as much time hustling for any new business you can find.
High-value products attract better clients — the ones that trust in your expertise and get out of your way.
You can scale your business more rapidly with them.
You'll finally be able to achieve the financial freedom you always dreamed of.
Bottom line? High-ticket products help you design the business that both you and your clients deserve.
What Is a High-Ticket Sales Funnel?
A high-ticket sales funnel is a system that:
Attracts better quality leads to your high-ticket product.
Helps leads pre-qualify themselves.
Establishes a firm base of trust before you even talk to them.
Moves them quickly through the sale.
Essentially, you build this system using your website and email marketing software. With the right opt-in, landing page, and follow-up sequence, it becomes quite effortless to get high-quality clients through the pipeline and much more revenue into your pocket.
How Does It Work?
A high-ticket sales funnel consists of a number of elements that shouldn't be all that unfamiliar to you. For example:
An opt-in
A promotional video
Sales scripts
Email sequences
But this isn't just about automating the sales process through your website.
It's about positioning yourself well, so that the best leads find you, qualify themselves, and trust you from the get-go. That way, when you do get them on the phone, they're ready to buy. No questions asked.
Who Are High-Ticket Sales Funnels For?
If you're reading all of this and thinking:
"Why the hell have I been struggling to sell my products when something like this exists?"
…then high-ticket sales funnels are for you.
To be clear, you're going to need the following before you build your first high-ticket sales funnel:
A high-ticket product (even if you're not currently charging high-ticket prices for it).
The ability to see the true value of your product and to stop letting impostor syndrome tell you not to charge too much for it.
A willingness to raise your prices today.
A desire to get rid of bad clients.
Time and commitment to properly implement the system that will take your WordPress business to the next level.
You know who else high-ticket sales funnels are for? WordPress professionals that work with clients who would benefit from high-ticket sales funnels in their own businesses.
Wrap-Up
Have you ever felt like financial freedom is a joke? That no matter how hard you work, how many hours you put in, how many clients you go above and beyond for, it's always going to be a struggle?
If you have a real desire to change that, then I'd invite you to sign up for a new six-week mastermind course that I developed with my good friend Dave Foy called High Ticket Sales Funnels.
The reviews about our first release of the course have been AMAZING.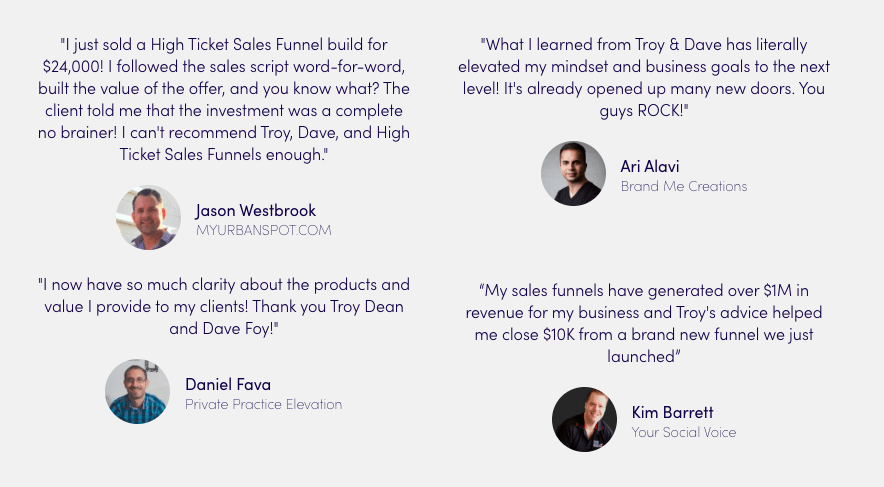 Already, so many overworked, overstretched, and over-scheduled people have said "YES!" to making a big change in their business and their lives.
Will you be next? If you're tired of the hustle, this is your ticket out.