Welcome to another episode of Silence is Golden where we share invaluable tips for your WordPress business.
We're back!! We've just been on an amazing 7-day company retreat in Koh Samui, Thailand where we met our team from Manila for the first time. Simon and Troy stayed on for an extra few days to run the Maverick's Mastermind event too. So in this episode, you will hear all about what we did including how we worked together to set our Objectives and measurable Key Results (OKRs).
You'll also hear about Gutenberg (again… sigh), the upcoming WooSesh and the new launch from Facebook.
Watch the Video
Stuff That
Happened
At the 3.26 minute mark, we dive into the Stuff that Happened over the last week.
Facebook Portal Launches November
Facebook is getting into hardware with the release of their "Facebook Portal". So let's get this straight – after around 500,000 Facebook accounts got hacked due to data privacy reasons, Facebook has decided to introduce a webcam? Interestingly, there was a poll to see how many people would use this and 86% said they wouldn't.
Simon points out that when Facebook makes a change, everyone complains but eventually seem to get on board. This will be interesting!
WooSesh is Coming Up
If you haven't heard of WooSesh, it's a virtual conference that is free for all attendees who join the live stream. The two-day event will be held on October 18-19. Let us know if you're attending and what information that you would like to get out of it. Do you use WooCommerce in your workflow? Let us know in the comments.
WordPress 5 Release Plan
Matt Mullenweg has announced a plan for releasing WordPress 5.0 with a tentative estimate for the release of Gutenberg.  For those who want to keep with their current workflow, there's a plugin called the Classic Editor which will hide the Gutenberg prompt (and already has over 400,000 downloads).
Mavericks Mastermind
We're really looking forward to seeing the videos and photos from the Mavericks that has just been held in Thailand. However, in the meantime, we have some footage from the San Diego Mavs at the 9.28-minute mark to give you an idea of what goes down.
In the footage, we hear from the wonderful Cat Townsend from the Good Alliance. And as a side note, if you want to join her free Facebook Group, click here.
Gin also talks about how you may have noticed that we always have a focus on mental health and the well being of entrepreneurs here at WPE. We are currently in the development stage of a new well-being program which we want to integrate into the Mavericks Club. Let us know if a program such as this where you would have someone to support you mentally and physically through your work week would be something you would be interested in and if there are any ways in which you think we could support you.
What Made the
Wee Come Out?
At the 13.30 minute mark, Simon and Gin talk about what made the wee come out. It was Thailand of course! Tune in to check out some of the photos from the Thailand trip and to hear Gin explain why there is a photo of us all in a conga line at our workshop.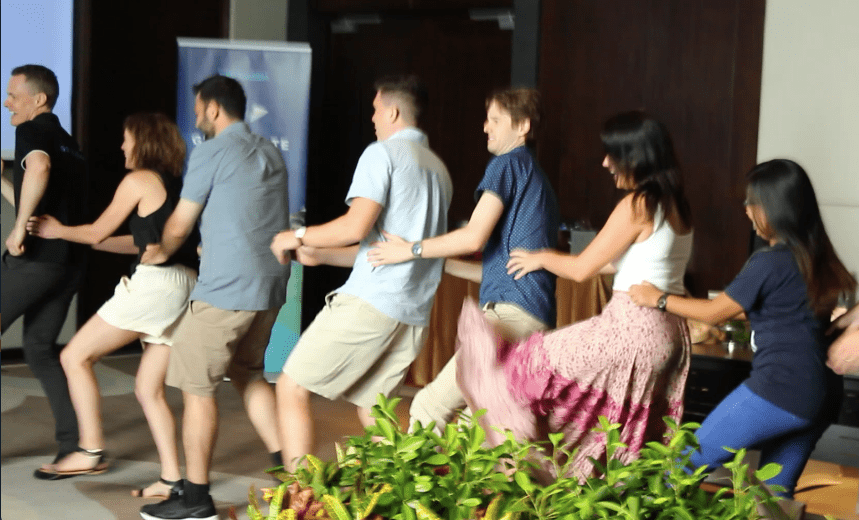 Meeting the remote team from all over was amazing and Simon explains that it is hard to get that kind of connection online. We were able to really bond over activities such as snorkelling and dinners together. By getting to know each other it will make our communication online so different.
Check out the full story of our trip away in our latest blog post.
The Golden
Nugget
At the 17.40 minute mark, we dig into the Gold Nugget.
One of the aims for our trip away was to get on the same page (or our conga line in unison). That's right – it wasn't all snorkelling and Bintang!
OKRs
Before we went away, Troy had introduced a new way to set goals using OKRs which stands for "Objectives and Key Results".
The first step is to work out your overall company objectives (define around 3-5 per quarter) and then break them down into measurable key results. The objectives should be ambitious because if you achieve it, this means it wasn't ambitious enough. You should be able to attain around 70% of your objective.
From there you break these down into team OKRs and then individual OKRs so that everyone plays a part in achieving the same vision.
It's important to note that it has nothing to do with personal performance – you won't be frowned upon if you don't meet the key results. They're meant to be exciting and there should be no fear of failure around them. It just allows you to test different things, see what works and get creative.
If you're a solopreneur, it is still a great idea to do OKRs because having a goal and having a way to measure it will help you move the needle instead of just being busy all the time without direction.
There's a website for OKR examples here so you can get an idea of how it works.
Tool of
the Week
15Five
This week's Tool of the Week fits in perfectly with the OKRs and you can find out all about it at the 32.24 minute mark.
Troy has been testing this out to use with the team so that our OKRs are transparent across the whole company.
15Five is a management tool that focuses on OKRs and keeps you on track with your goals. Each week you need to report into 15Five what you're working on and what you need help with.
The idea is that it takes 15 minutes to report on these things and 5 minutes for your manager to check it over and offer any advice. Everyone gets so busy so this is a way to make sure that everyone stays accountable.
Two thumbs up from us!
Let's Get
Unstuck
Simon finds that people get stuck with micromanaging. They get stuck in the smaller picture on questions such as "how do I get my team to do the thing that I need them to do?" And "how do I set up all the different systems?"
There is too much focus on the small details of how to do things when you need to spend more time on the company's vision and bigger picture.
Doing this "sweet spot" exercise with your team can make sure that everyone is doing what energises them – the things that you're good at and enjoy doing.
So talk about the vision, get your team excited and where you want the company to go. Focus on leading and driving the business forward and let the team work out the smaller stuff.
Wrap
Up
This month the theme is all about elevating your business. So we want to hear from you – What challenges do you have as you grow your team? Do you have processes in place so that you can take some time off? What do you need help with so you can get more time off? We're here to help!
Don't forget! Join the FREE Digital Mavericks Facebook Group to see exclusive live videos, frameworks and guides on how to scale your digital business. It's time to step up and become a Digital Maverick! Request to join here.
Also, be sure to get on a workshop and take your business to the next level. In this free workshop, you'll learn how to start attracting better clients, avoid scope creep and add a steady stream of recurring revenue to your business. Get Instant Access here.