We were all pretty excited when Troy told us a few months ago that he had decided that we should get the remote team together in Thailand for a company retreat. Our head office is in Melbourne, but we have staff in Sydney, the Gold Coast and Manila and many of us would be meeting in person for the first time.
A work trip to Thailand sounded amazing but I didn't expect to get as much out of it as I did.
I knew we were going to be doing workshops. I knew we would be team building and meeting our team from Manila for the first time. What I didn't know was that we would become a family. We would play hard but also work hard because we care about what we do. I didn't expect to be so awed by my bosses, Troy and Brian, and to see how hard they have worked and how far they have come to build Agency Mavericks into what it is today.
Ok, but I'm getting ahead of myself. I'll start from the beginning.
Getting to Know Each Other
We all arrived on the Saturday afternoon and were super excited to meet the team from Manila. There's something surreal about meeting the familiar faces that you see on your computer screen every day. It was obvious from the beginning that the Aussies were very loud and the Filipinos were a bit more reserved (or so we thought!)
We all got to know each other that night at an amazing dinner on the beach and we also got the first taste of many more amazing meals to come. (Ok, I digress here, but it is important to note that one of the highlights of the trip was the food. I'm talking fresh seafood caught that same day and cooked on fire grills and Pad Thai and curries to die for!)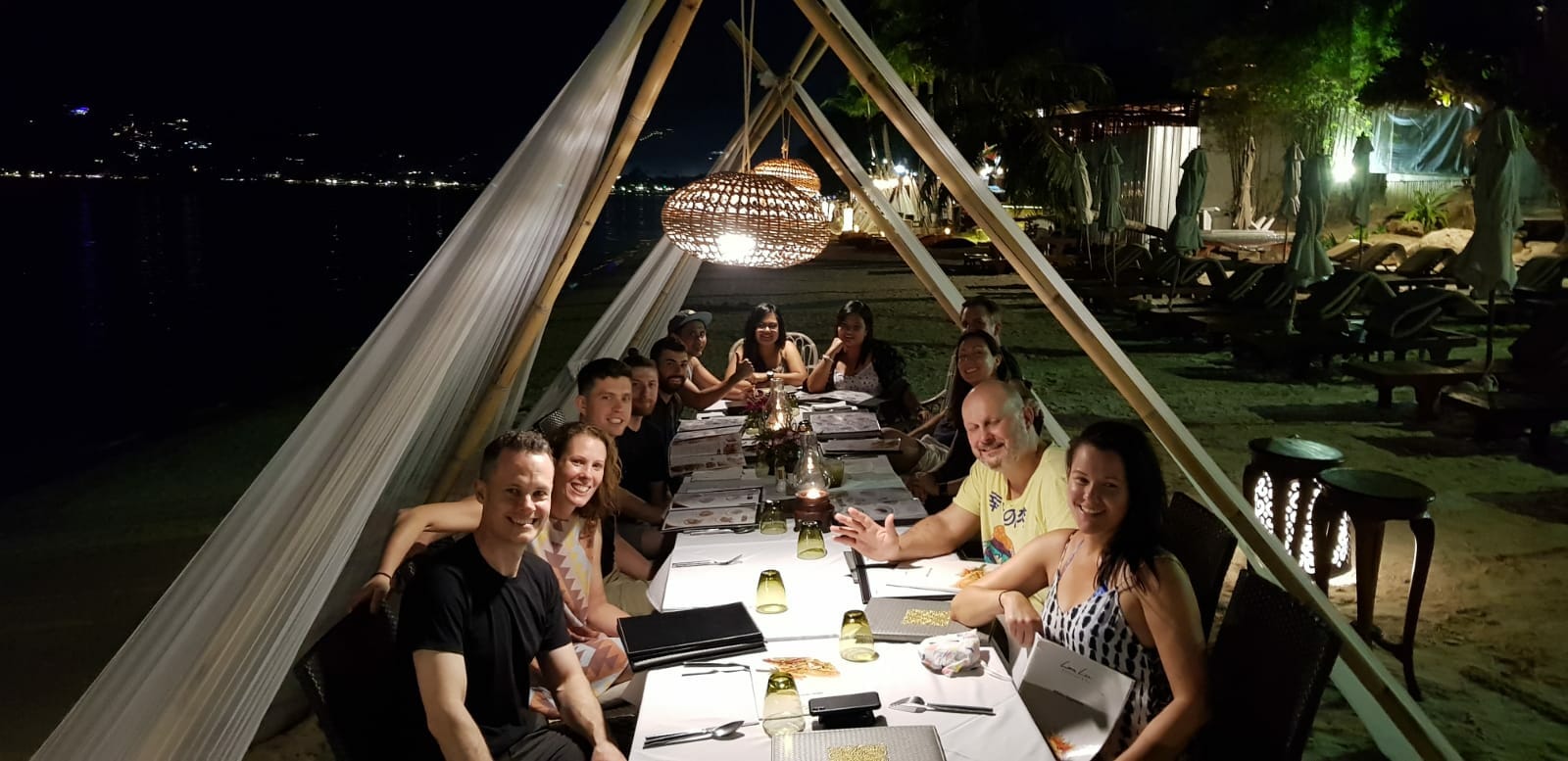 Sunday was one of the highlights for me. We were all so excited to hang out together and have a free day which started out with me teaching some yoga to the early risers. (Most of whom had never done yoga before and did very well!)
Can this setting get any better?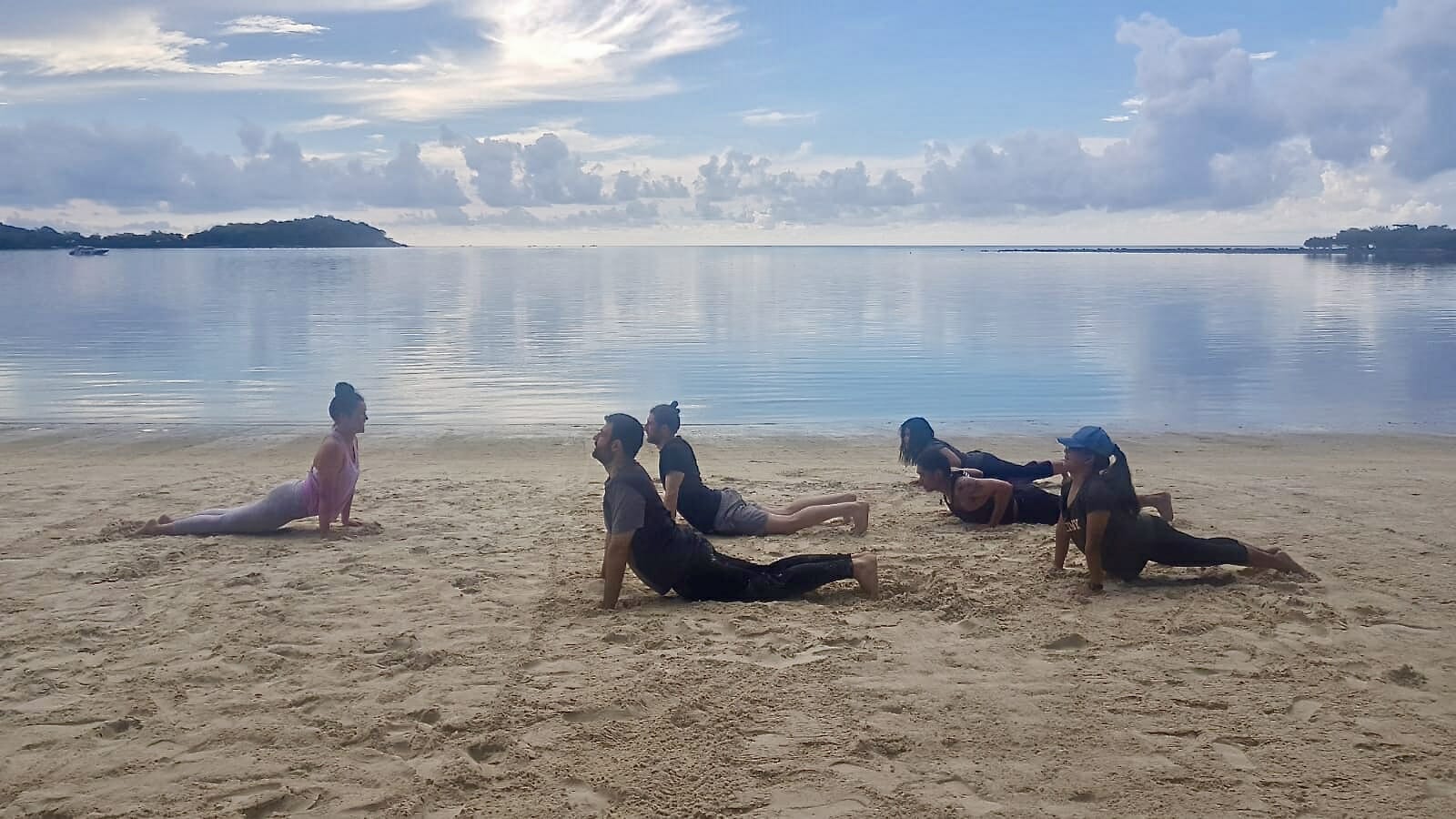 This was followed by a gourmet buffet breakfast at our resort, swims, reading, relaxing on the sun loungers, discovering a reggae bar on the beach and finishing up the afternoon with six of us getting a massage in a hut on the beach whilst listening to the waves, feeling the warm breeze and hearing the distant sound of some live jazz music playing.
At sunset, we all met on the beach for a "get to know the team" trivia game. Gin created questions about each person in the team so we could get to know each other in a non-cringey, fun way.
That night everyone went out for dinner and drinks on the beach which involved some dancing and realising that the Filipinos were maybe not as shy as we thought after a couple of gin and tonics! I don't want to talk about that though because apparently it was the best night of the trip and I had decided to have an early night. (FOMO!)
Day Trip to Ang Thong National Marine Park
Well, this was a highlight for all of us. We went on a boat trip together. We explored the islands of Ang Thong and ended the day with some magnificent snorkelling. The Filipinos hadn't swum before, so you can imagine how proud we were (after a lot of coaxing) that they got in the water with their life jackets, holding onto a floating device so they could be part of the snorkelling adventure. True trust and courage.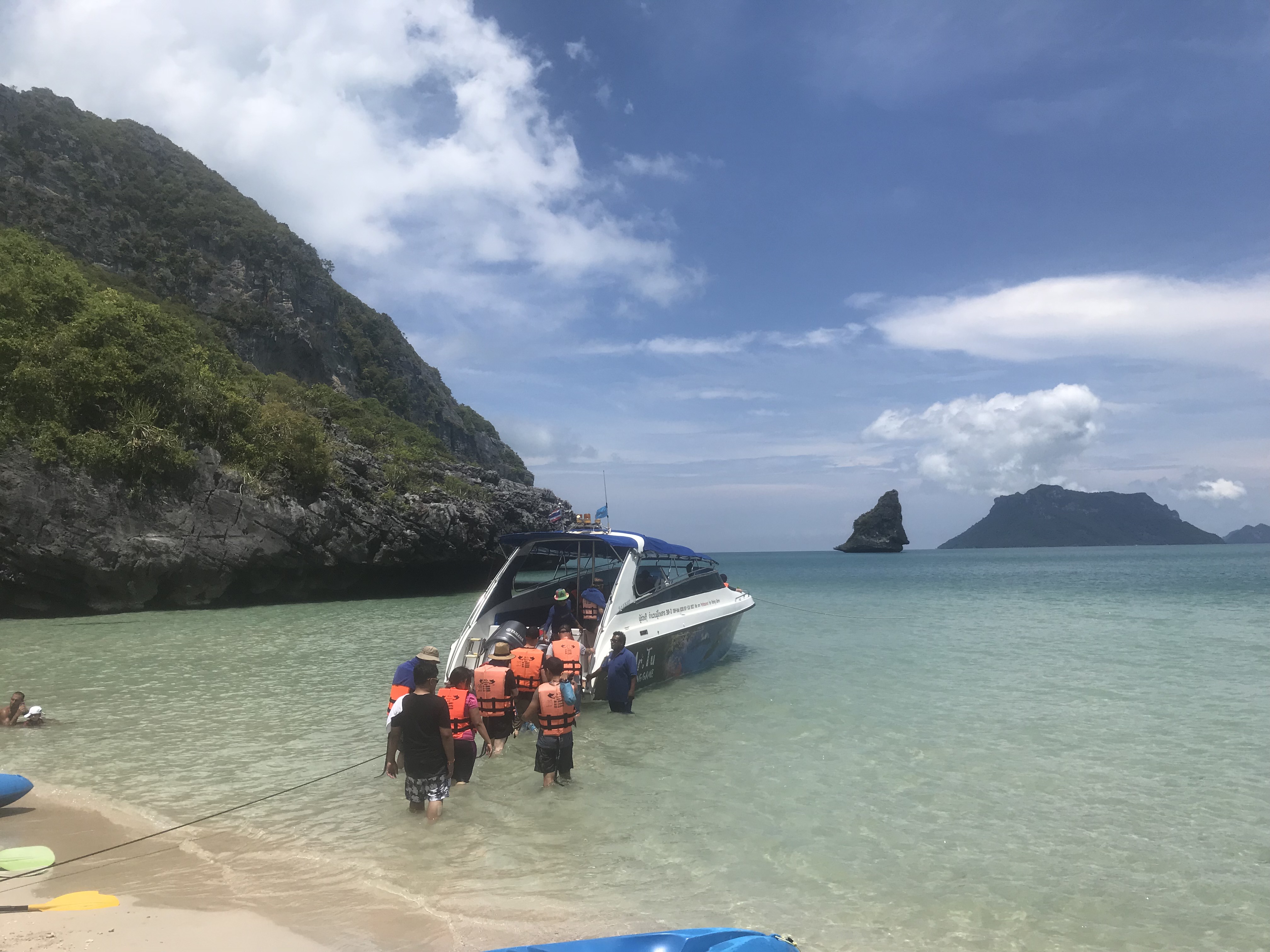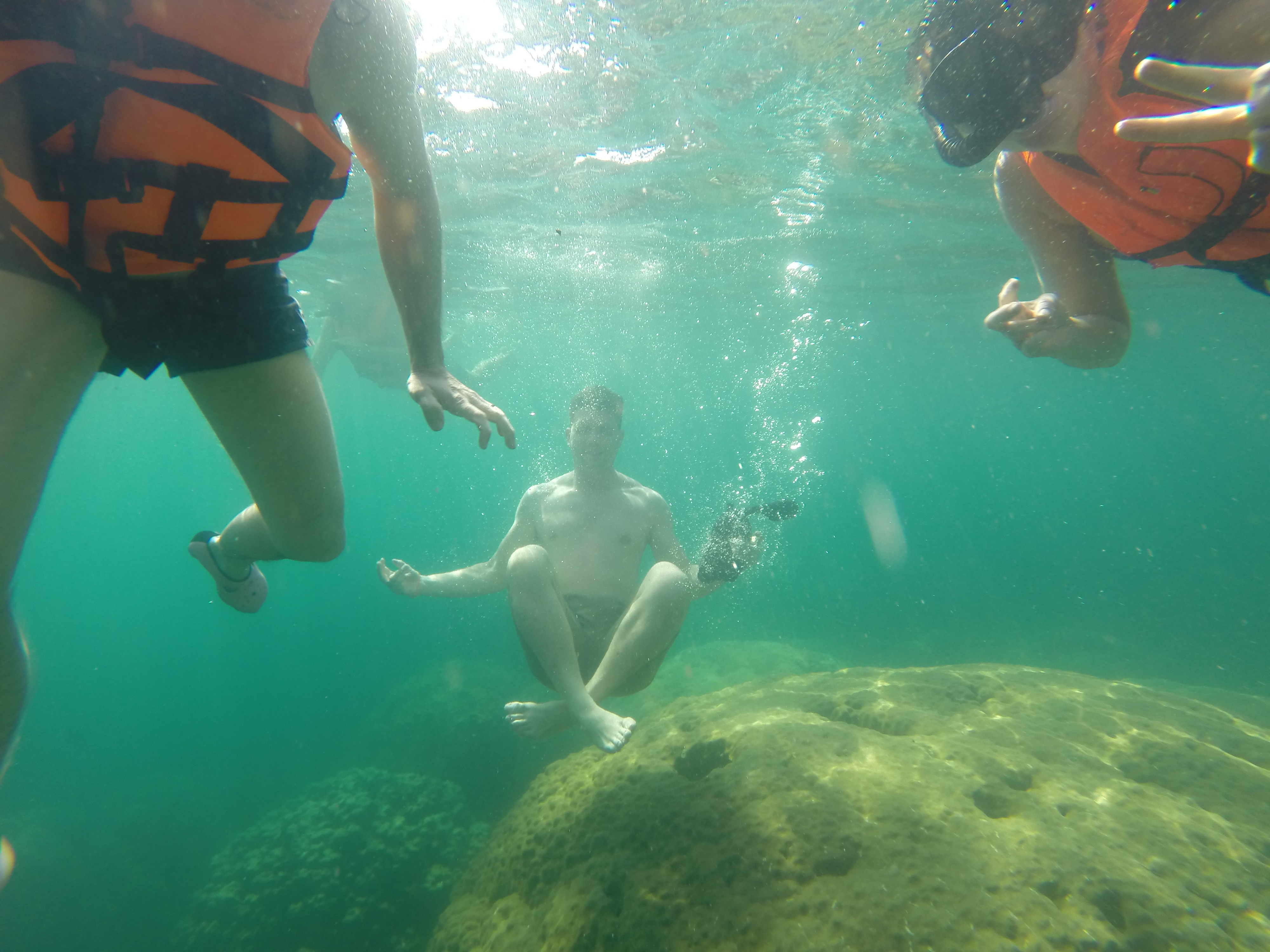 Workshopping
When I think of all of the company workshops that I've done in the past, they were the kind that make your eyes glaze over. Your body is there, but in your mind, you're somewhere else.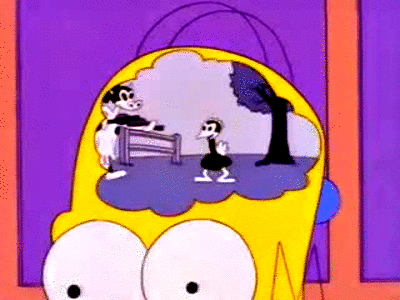 This isn't the case when you're listening to Troy Dean though. The guy is just a natural at presenting, engaging and getting you motivated. There was even an impromptu conga line at one stage! Why? Because as a team, we all need to be moving to the same rhythm in the same direction and (hopefully) kicking your leg out at the same time!
That was the aim for our trip – to get the conga line in perfect unison.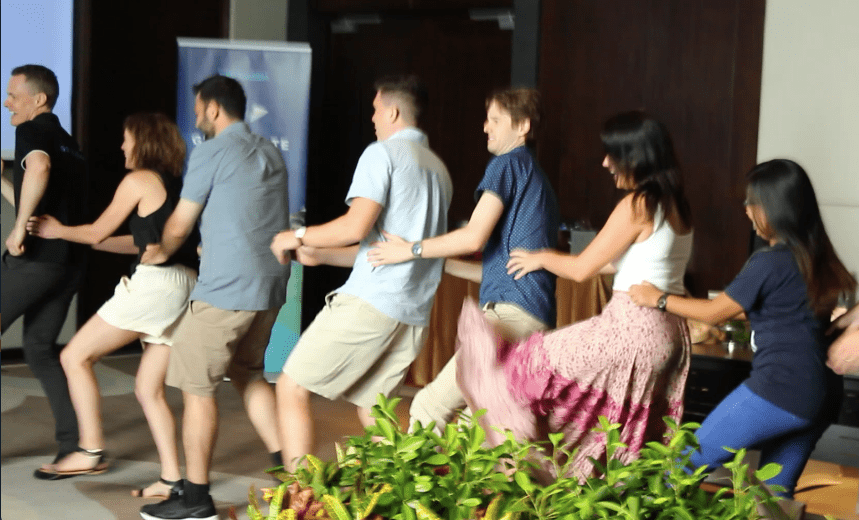 We've been working on growth hacks and brainstorming ways to grow the company. So when Brian presented, he spoke about the birth and metamorphosis of Agency Mavericks over the last six years. He told us about the growth hacks that they tried and failed in the early years and how they used that to learn, move on and get better. This amazed me – how the two of them had just kept going in the face of adversity.
Another important part of the day was that everyone had to get up at some stage and give a three-minute presentation about something they are interested in, or something about themselves – nothing work related.
It was our developer Jhay who brought the house down though. Jhay is the most reserved of our team members and you could see how difficult it was for him to get up in front of us to talk. He told us that he tries to do things out of his comfort zone, but standing up to talk in front of a group of people has been the first time for him doing something so scary.
It was hard for him to get his words out, but we all encouraged him to go on. He told us his amazing personal story about how he worked in a factory in the Philippines and how he had just thought that "this would be my life". Then he explained his journey to college, how hard he worked and how only three out of his class graduates would go on to get jobs. One of them was Jhay.
Jhay started to cry (and so did we all) when he told us that he never dreamed he would go overseas or have a job like the one he has. He thanked Troy and Brian and there was not a dry eye in the house.
I can only imagine how that felt for Troy and Brian. Here they are helping not just our members change their lives every day, but they are also changing the lives of their employees. They have come a long way from the hard days of just the two of them to now having a global team of 12 committed staff.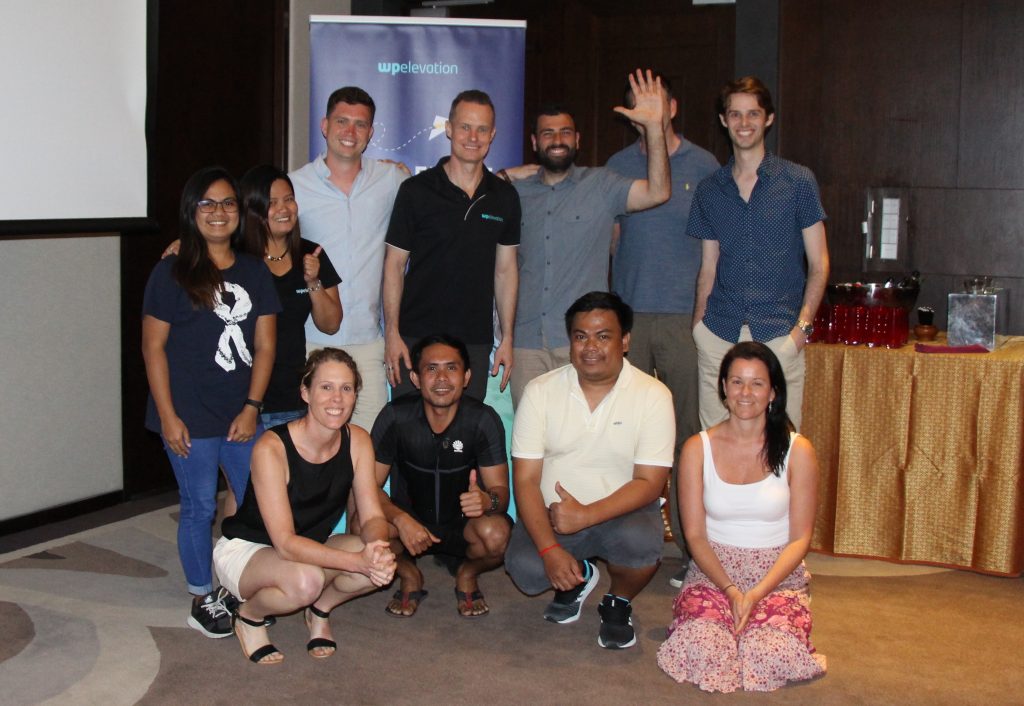 The day was long, but it didn't feel like it.  Instead of being drained we all came away motivated and excited.
The OKR's
OKR stands for "Objectives and the Key Results". Together we workshopped where we want Agency Mavericks to go and created specific objectives and measurable key results.
Over the days that followed, we met up in our teams and broke the company objectives down into team and individual OKR's so that we can all play a role in achieving the company's goals.
By doing this, it took me from simply creating and organising content for WPE to being on board and a part of the company's vision and growth.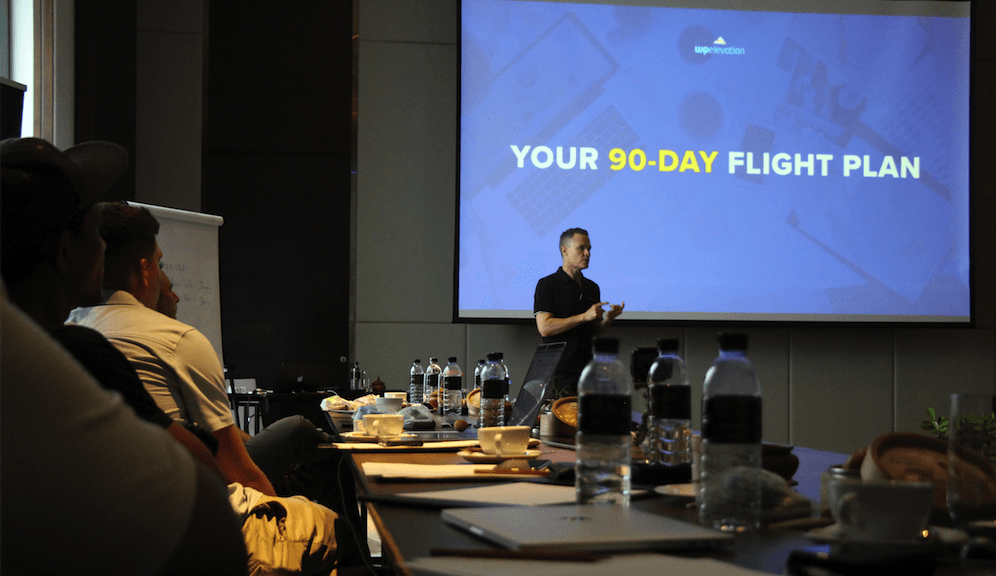 The Takeaways
I could go on about the rest of the week, but for me, these were the highlights. By the end of the week, we had all got on the same page with our goals and our processes. Our conga line was in perfect unison.
You do notice a difference when you work together rather than remotely. I loved watching the shy Filipinos come out of their shells and experience so many firsts – being overseas, yoga, swimming, first cocktail and the first time eating crickets (yes, crickets!).
I came away from the week feeling supported, motivated, valued and part of a family. And so very lucky to be working for Troy and Brian and a team who inspire me all the time.
Thank you so much, Troy and Brian, for the amazing week. We are all so grateful.
"Troy and Brian – Khop Khun Kha" (Thank you in Thai)