While social media and email marketing are great for educating clients and staying top-of-mind with them, those methods require clients to actually find and read your content. That's not to say that traditional content marketing isn't effective. It's just that we live in a very noisy world. If you want to cut through the clamor and ensure that your insightful content reaches clients, you need a more direct means to do so. You can do this within the WordPress dashboard.
The Secret to Educating Clients within WordPress
White labeling the WordPress admin and dashboard is something I believe should be a part of every WordPress consultant's process (once your clients have allowed you inside their WordPress website, of course). The discussion around that, however, will need to take place another day as it's a pretty big one.
Today, I want to focus on how using one simple white labeling technique can help you more effectively reach and, consequently, educate clients with your content. To do this, all you need is five minutes and to install one free WordPress plugin. It's as easy as that.
How to Use the WordPress Dashboard for Educating Clients with Content
If you're a WordPress consultant, then you need to be blogging on a regular basis. (And you are, right?) That's why you take the time and care to optimize your own site with WordPress blogging plugins.
However, it's not always easy to get your blog in front of your audience, especially in this very noisy and cluttered space in which you work. But you already have your clients' attention, don't you? They've entrusted their WordPress site to you, so now you can leverage this asset to not only get your content in front of them for educational purposes, but to also create a more appealing experience within WordPress for them.
This is the default WordPress dashboard: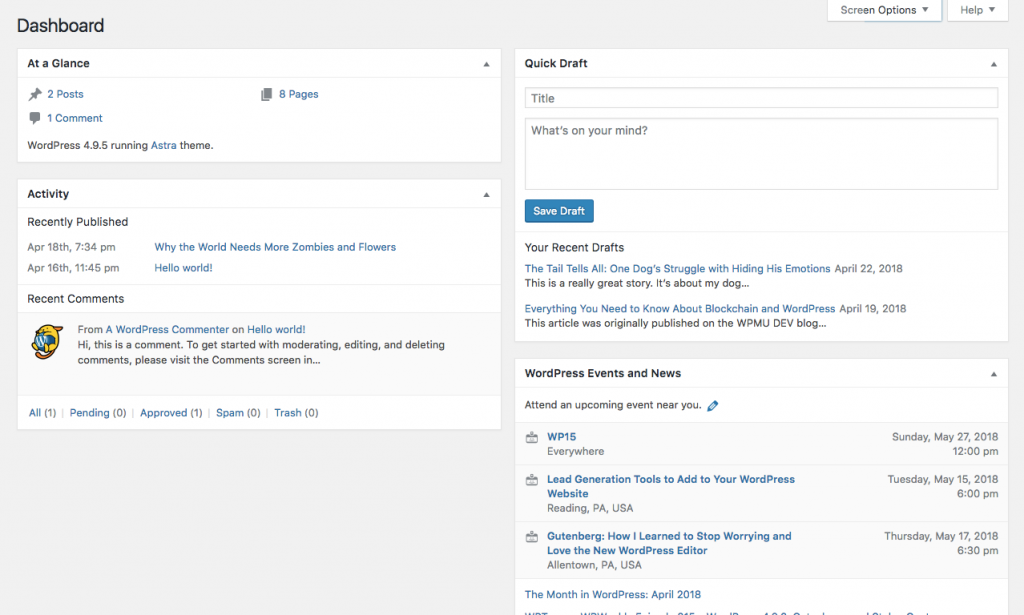 It comes with panels for:
At a Glance: A running count of pages, posts, and comments.
Activity: A list of recently created posts or comments left on them.
Quick Draft: A quick way to draft a post.
WordPress Events and News: An RSS feed that focuses on upcoming WordPress-related events in you client's area.
Now, one way to do away with all these and make the dashboard more user-friendly is to remove these irrelevant panels using the Screen Options tab in the top-right corner.

That still doesn't help us achieve what we set out to do though. We want to clean up the dashboard while educating clients with a relevant and helpful stream of content.
To do this, you need to download the White Label CMS plugin.

In your client's WordPress installation, install and activate the plugin.
Once that's done, locate the plugin under the Settings menu. For now, disregard all options except for Dashboard Panels. This is where you're going to customize the WordPress Dashboard view for the client.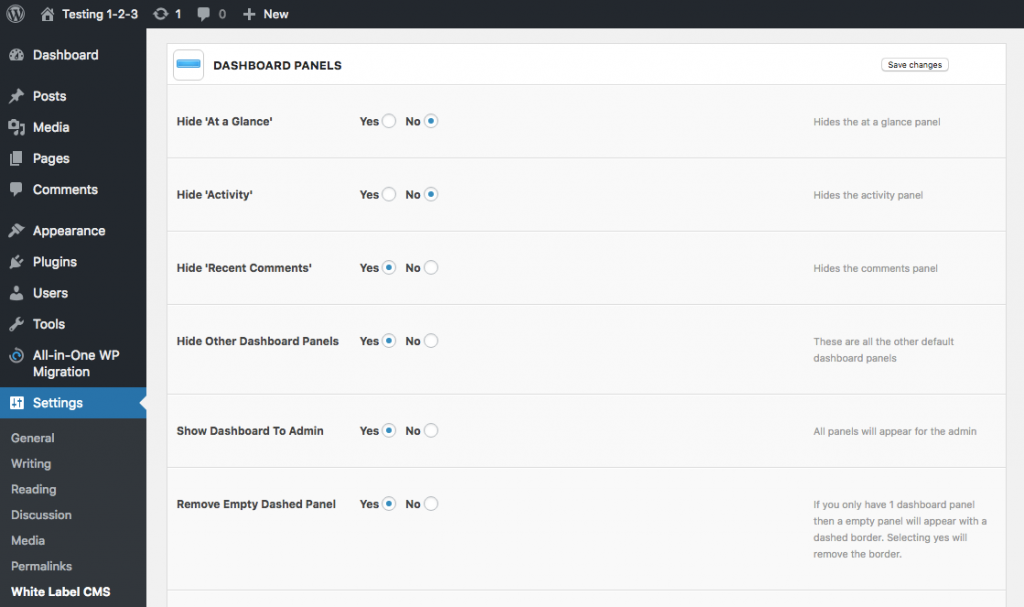 There's no reason to keep the default dashboard panels in place. They're not relevant to your client and they're just going to serve as a distraction they don't need (and you don't want). So, when configuring these settings, do the following:
Hide 'At a Glance': Yes
Hide 'Activity': Yes
Hide 'Recent Comments': Yes
Hide Other Dashboard Panels: Yes
Show Dashboard to Admin: No
Remove Empty Dashed Panel: Yes
Add Your Own Welcome Panel: No
Add an RSS Dashboard Panel: Yes
Upon selecting the last option, a new RSS Settings section will open.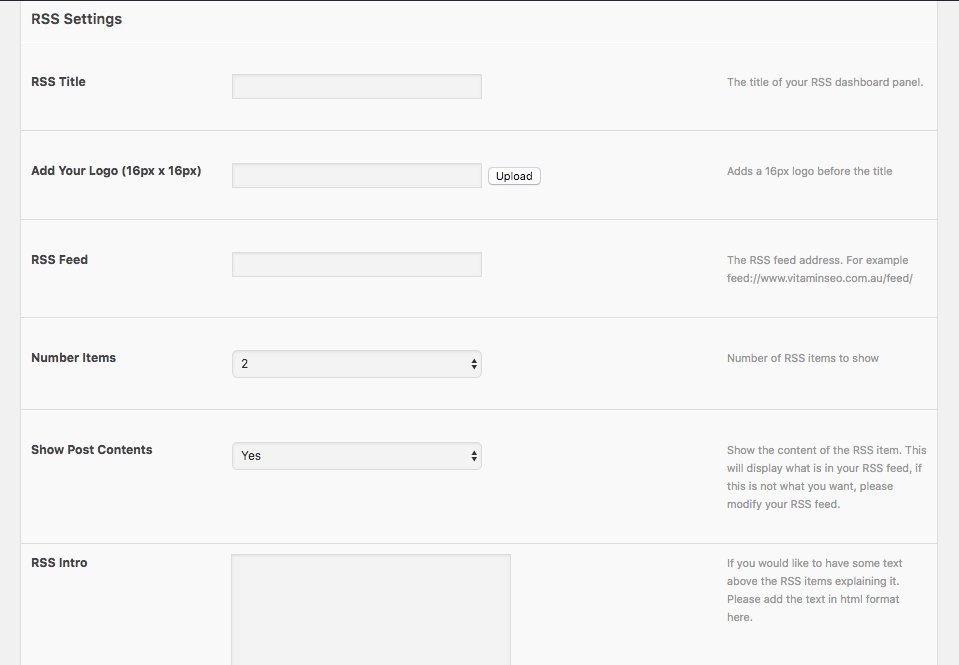 Here is where you'll enter custom information to create your RSS feed panel for their WordPress dashboard. When you're done, don't forget to click the Save Changes button in the top-right corner of the Dashboard Panels widget.
Return to your client's WordPress dashboard and you should now see the custom panel layout.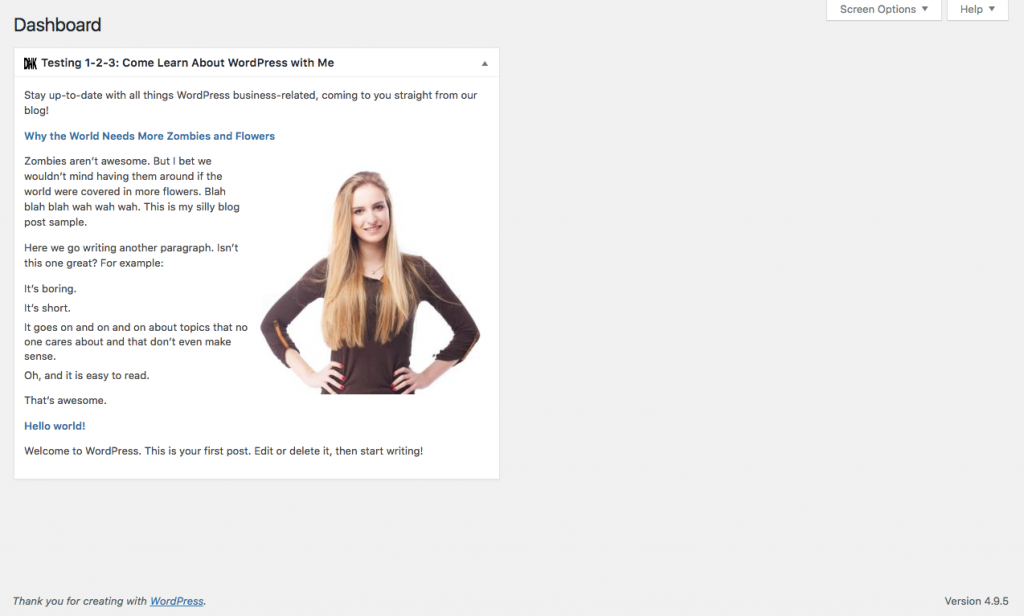 In other words, there will only be one panel for them to view: your blog's RSS feed. As new posts go live on your site, they'll filter to the top of the feed with a title, excerpt, and link back to your blog.
Why You Should Use the WordPress Dashboard for Educating Clients
One of the great things about this kind of self-promotional marketing effort is that it will be a welcome one. Your clients would much rather focus on their business and not have to worry about looking around for another WordPress professional to purchase a maintenance plan from or to redesign their website with.
They already know and trust you. Rather than fade into the background, or hope they caught sight of your latest social media post or newsletter, use this opportunity to get in front of them while adding value to the experience.
The WordPress dashboard is a fantastic piece of real estate that isn't utilized enough.
By removing all unnecessary panels from sight and educating clients with a steady flow of useful content, you'll be able to passively continue the relationship with them. When it comes time for them to do more work on their WordPress site, you will be the expert they turn to. Or, better yet, when they see a post from your feed that inspires them to do something they hadn't thought of, you'll have opened up a new revenue stream without having to do much work at all.