In a Agency Mavericks poll from 2017, WordPress consultants named blogging as one of the top five ways through which they get new business–and it makes sense. "Do as I say, not as I do" is not a principle WordPress consultants can afford to live by, which is why maintaining your own WordPress blog and website must be part of your business strategy.
Granted, any time you spend creating content for your WordPress site will take you away from direct revenue generation activities. It's a necessary evil, but it doesn't have to be one that cuts too deeply into your profits.
This is why WordPress consultants and freelancers should use a system of WordPress plugins to simplify the process of creating, optimizing, and sharing content. We're not at a point where plugins can write blog content for us, but they certainly can handle pretty much everything else for us (thank goodness). The following list covers the 6 WordPress plugin essentials you'll need for better blogging management.
6 WordPress Plugin Essentials for Better Blogging Management
Before you do anything else, I'm going to ask that you do two things:
First, I'm going to suggest that you familiarize yourself with your WordPress theme's features, if you haven't done so already. Many times, themes built for a specific niche (like bloggers or small businesses) will include plugins or functionality that address many of the points I'm about to cover. If that's the case, then don't add a plugin on top of it. Plugins, no matter how well-made they are, add additional heft to your server and it's added weight you don't need.
Second, I'm also going to suggest you watch this video on content creation:

The WordPress plugins I'm about to cover are fantastic in streamlining the content creation process, but they'll never be able to help you brainstorm, write, or edit your blog posts. So use that content creation framework as a starting point and then take a look at these bad boys:
1. A WordPress Plugin for Search Optimization

As a WordPress consultant, no one is asking you to be a master of SEO. As such, you might not be aware of the various strategies you can use to optimize your blog posts in WordPress, which may be frustrating because you really want this content to do well in search. One way to ensure this happens is by using the Yoast SEO plugin.
Now, this plugin goes above and beyond in terms of SEO. For instance: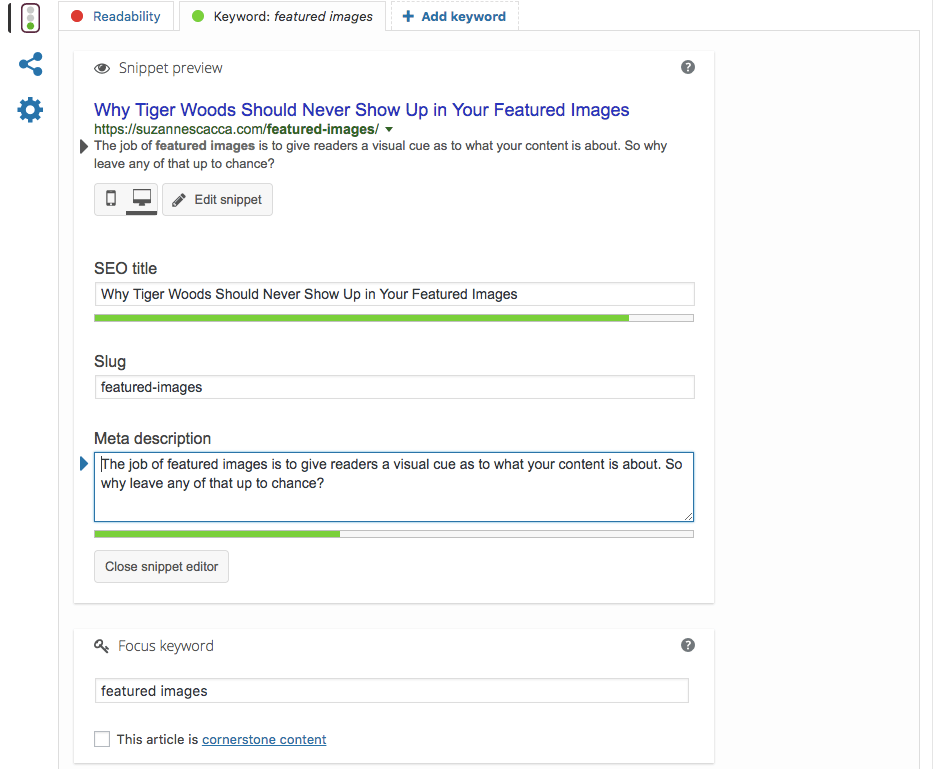 For every blog post you write, it gives you the opportunity to:
Optimize content around a single focus keyword.
Write a custom meta title and description. Yoast then scores it based on how well it will do with search engines. Green is good. Yellow is okay. Red needs some work.
Create a truncated and optimized slug containing your focus keyword.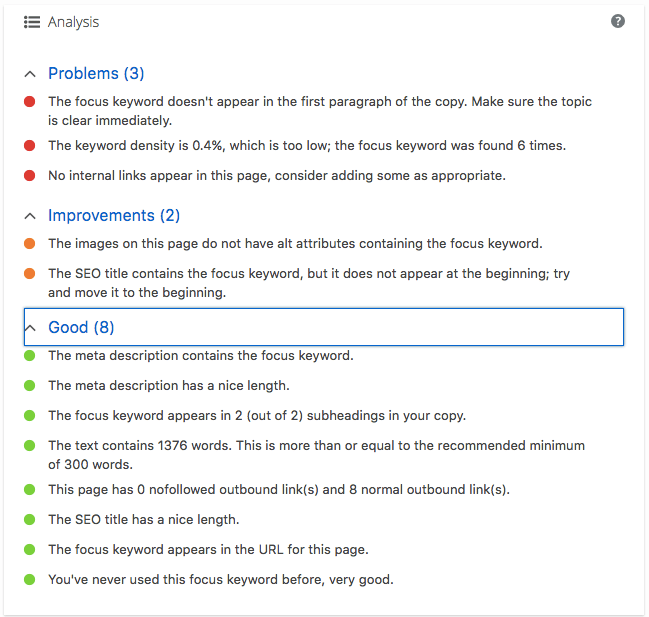 As you can see, it takes much of the guesswork out of composing high-quality and search engine-friendly blog posts. Simply write, save your drafts, and let Yoast analyze your content and provide actionable insights into how to improve it.
2. A WordPress Plugin for Image Optimization

We already know that content with visuals is not only more memorable for your users, but it's more likely to be shared on social media, too.
Visuals support the message you're trying to convey in your blog post and, thus, no piece of content you create should ever do without imagery. That said, you can't afford to jeopardize the reception of a blog post just because a poorly re-sized image shows up blurry or undersized. Thankfully, you don't have to be a professional photographer or web designer to ensure that your visual media looks beautiful on your blog.
What you need is a WordPress plugin for image optimization like EWWW. While this plugin won't help you find or create images for your blog, it will at least ensure they are embedded at full resolution, compressed to a more appropriate and performance-maintaining size.

Perhaps the best part of this plugin? It optimizes all your media files in one fell swoop. So, even if your blog has been live for months or even years, all it takes is a click of a button to get those images in tip-top shape.
3. A WordPress Plugin for Editorial Flow Management


There were two interviews Agency Mavericks did last year that actually got me thinking about this topic initially.
The first was with Andy McIlwain of GoDaddy. In his discussion around the "7 Ps of Content Creation", he mentioned that planning topics ahead of time is a valuable part of the content creation process. Then there was Jeff Bullas who discussed content marketing tips and put a spotlight on the need for social sharing automation.
This is where the CoSchedule plugin fits in. Not only does it help you plan your blog post creation and publication schedule ahead of time, but it integrates the social sharing piece as well. You got to love when multitasking and automation combine so perfectly together.
I think writing content for your WordPress blog is hard enough as it is. Why not set aside time once a month to think about what you would like to write for it in the future? Put those topics down on the calendar, set publication dates for them, and then automate when and where they'll go on social at the same time.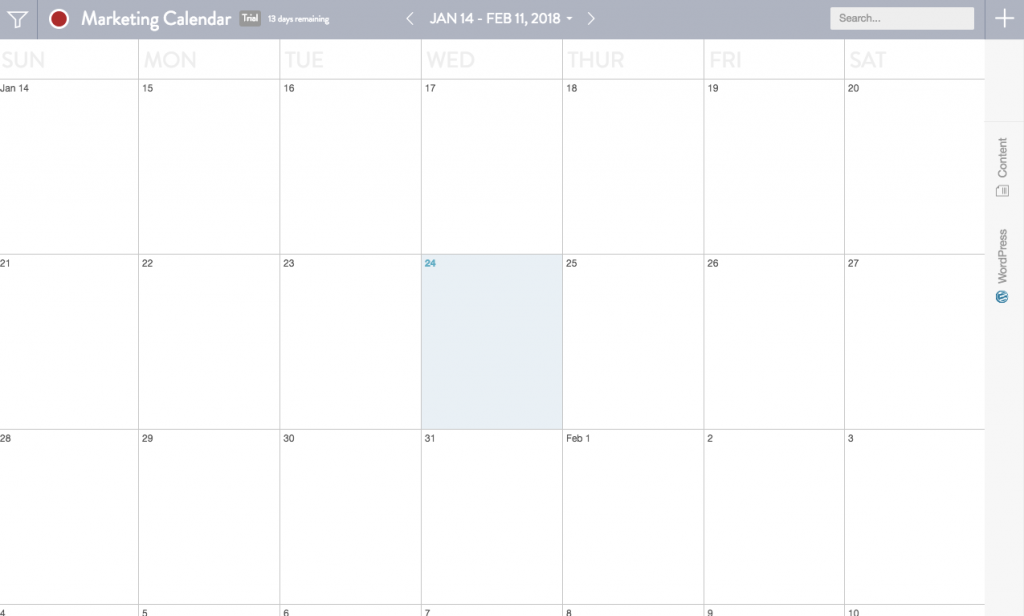 The example above is empty (because I haven't had a chance to fill mine in yet), but that's a great interface to work in, right? And it's all within WordPress, so there's no need to manage your editorial workflow and social media promotional schedule (separately) in an external tool.
4. A WordPress Plugin for Conversions


The only way you can halfway guarantee that people read your blog is if you get it directly in front of them (i.e. into their inbox). But you can't do that if they don't give you their email addresses.
For a while there, blogs were heavily dependent on the sidebar to hold the "Subscribe Now"-type of contact forms needed to lure visitors into handing over their email addresses. But I don't know if that needs to be the case anymore, especially since people who read a lot of blogs have probably developed sidebar-blindness.
This is why I suggest you make your subscription forms more engaging.
The Popup Maker plugin is great for this because you're not relegated to just a single type of pop-up for your contact form.
The developer of Popup Maker is on the cutting edge when it comes to conversion generation technologies, so you'll find that you can create things like hello bars, sticky notifications, and more. And, because this integrates with the most popular contact form plugins, you shouldn't have any issue merging your existing form plugin with this conversion popup plugin. (This is all assuming you already have a contact form plugin running on your site. If you don't, give Contact Form 7 a try. It's pretty awesome.)
5. A WordPress Plugin to Kick Out Spam


If you're working as a WordPress consultant, then your end goal probably isn't to have thousands of blog readers all clamoring to leave comments and engage with you there. (I mean, it would be nice, but comments don't pay the bills. Amirite?) Instead, what you want is for engaged readers to be excited about what you've written about and then subscribe for more updates or contact you directly to talk about how you can help with their WordPress website.
Obviously, this means you don't want to spend a lot of time moderating comments, especially if they're bogus ones. When genuine comments do appear on your blog, of course, do take the time to respond to your followers. Outside of that, however, use the Akismet plugin to automatically filter out spam comments.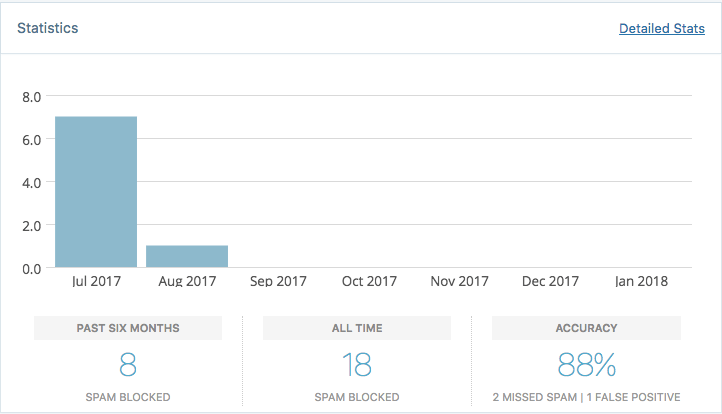 For those of you with large amounts of spam comments coming through, this plugin will be a huge time saver. It will allow you to focus on creating content and having meaningful conversations with real commenters… instead of deleting fake and potentially malicious comments from your blog feed.
6. A WordPress Plugin for Reporting


Finally, let's talk about managing analytics for your blogging efforts. After all, if you want to effectively engage with your audience through your posts and ensure that this isn't time wasted, then you need to see what they're doing with your content (if anything at all).
Google Analytics is the de facto analytics tool for websites. You simply can't do any better than it. But sometimes you just don't have the time to log into Google Analytics to go sifting through each individual segment of data, not to mention any advanced goals or custom reports you've created.
What you should do then is find a Google Analytics tool that accomplishes two things:
Adds the Google Analytics tracking code to WordPress so you don't have to mess around with it yourself.
Adds a miniaturized snapshot of your Google Analytics dashboard into WordPress.
Of course, you'll never be able to do away with Google Analytics completely. You should still perform a thorough analysis on your blog content performance at least once a month using the data from the source (the best way to do this is by emailing yourself automated reports from Google Analytics). However, a plugin will help you save time in having to bounce between Google Analytics and WordPress on a daily basis.
The Google Analytics Dashboard for WP plugin gives you an easy glimpse into your site's high-level analytics while streamlining the data gathering process. And, even better, it gives you a couple different options for how and where you can view your data.
Within the main WordPress dashboard, you'll find a new widget that displays Google Analytics data.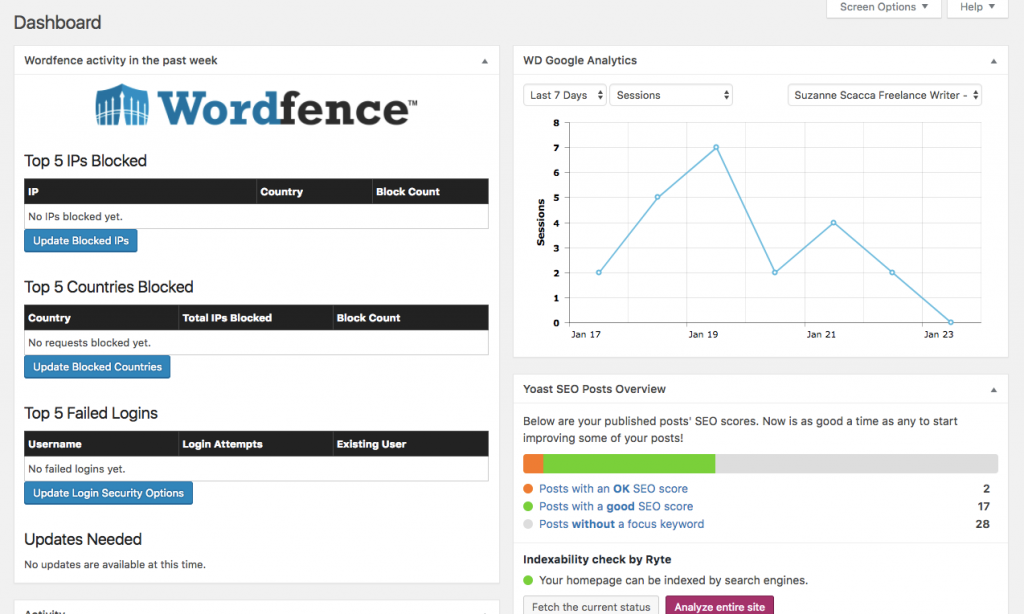 You can view one segment of your analytics (e.g. sessions, users, bounce rate, etc.) over the selected period of time. It's a great option if you're busy and simply want to know what's happening in general on your site.
Then you have the much larger picture of your analytics from the new Analytics tab in WordPress.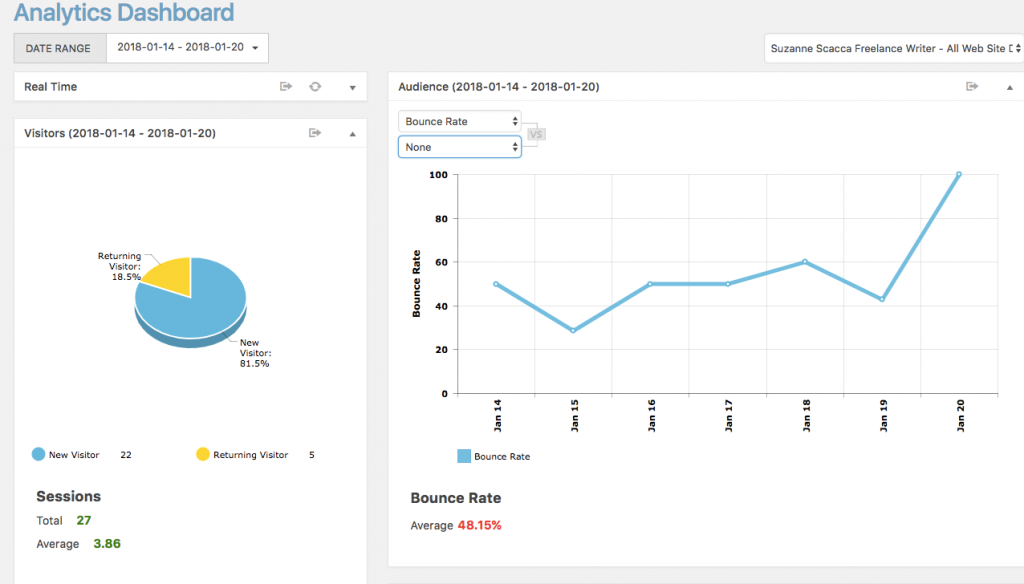 This provides you with a number of widgets from which you can discern different bits of data about your content's performance. This is especially nice since you can get more granular with dates as well as setting up secondary parameters.
One thing to note is that while this plugin might not be able to tell you how many people visited your blog post about the 10 WordPress security plugins every site needs in 2018, it'll give you an idea of what that new post did to your WordPress site on the day it was published and promoted.
Wrap-Up
As a WordPress consultant, you know that you need to walk the walk if you're going to convince prospective customers to buy into your "talk". That's why blogging for your WordPress site is a necessity.
Just remember: blogging is more than just writing a post and hitting the "Publish" button. At the same time, blogging doesn't need to be a huge time-suck that robs you of hours that you could've spent meeting with prospective clients or consulting with current ones. There's always a balance to strike, and you can maintain that balance by utilizing the above 6 WordPress plugins for better blogging management.