The digital marketing landscape is changing rapidly. As the industry continues to evolve, it's important for agencies to stay up-to-date with new trends and developments in order to provide their clients with the best possible service.
Last week, we held our third Mavericks Mastermind event for the year. (AKA "MavCon"). We were lucky enough to be joined by special guests Emily Hirsh from Hirsh Marketing and Mark Irvine from SearchLab Digital.
Both Emily and Mark spoke about the new era of digital marketing and discussed how agencies can prepare themselves for the future by adopting a more agile approach that allows them to adapt easily to change while providing top-notch service quality.
I kicked off the two-day event with a keynote presentation – The Agency of the Future. And in this post, I'm going to share an overview of it with you.
What Is the Agency of the Future?
These days it seems like everything agency owners do to make revenue has been devalued by the market and is now essentially a commodity.
But the future for agency owners doesn't need to be a struggle and I'm going to explain why.
Think of a Monopoly board.
The aim for us as agency owners is to add more value to our clients and extract more revenue and profit from the business in order to own the board.
If you are a web design agency, this does not mean that you have to start offering SEO services. What I am saying is that the more valuable you can become to your clients, the more you will increase the lifetime value of those clients and the more profitable you will be.
Why Has the Web Design Market Been Devalued?
It's important to be thinking about the future because web design has now essentially become a commodity. After all, you can get a website for $500 from someone off Upwork, right?
I'm going to give you an example…
Let's pretend I'm a dentist.
I need a new website and so I type "dentist website" into Google.
The very first ad that comes up is a dental web design agency and when I click on that ad, I land on a page that looks like this.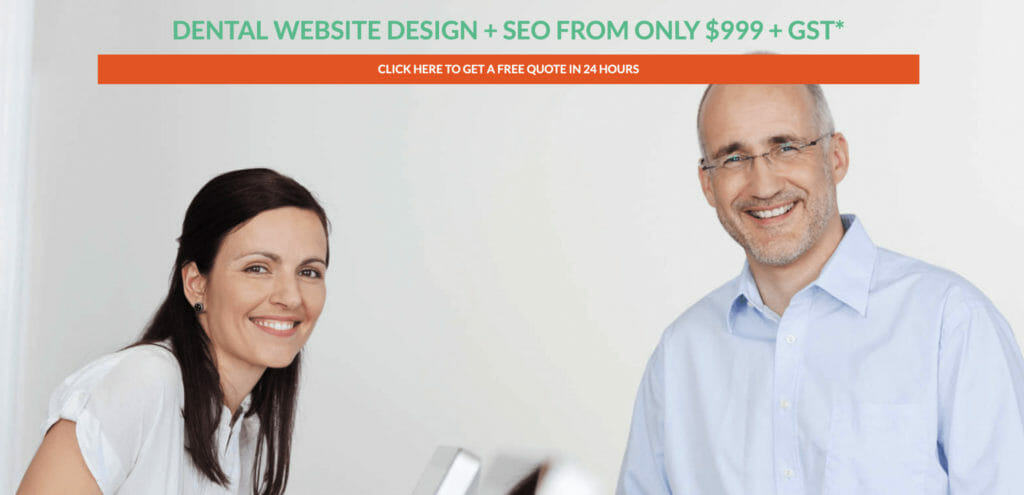 Disclaimer: I'm not trying to pick on these people… they're probably wonderful people who do a great job.
The point of the story is the headline that says:
"Dental website design and SEO from only $999 plus GST".
As a dentist who doesn't know anything about websites or SEO, I now understand that a website and SEO should cost me about $1,000.
So if I get another quote from a web designer who says that the website is going to cost me $8,000, there's a massive disconnect between what I expect, what the market is dictating and what they're offering.
Why We Need to Change the Conversation
I recently spent some time looking at Google trends and I came across some pretty interesting data.
This is the trend for the search term "web design":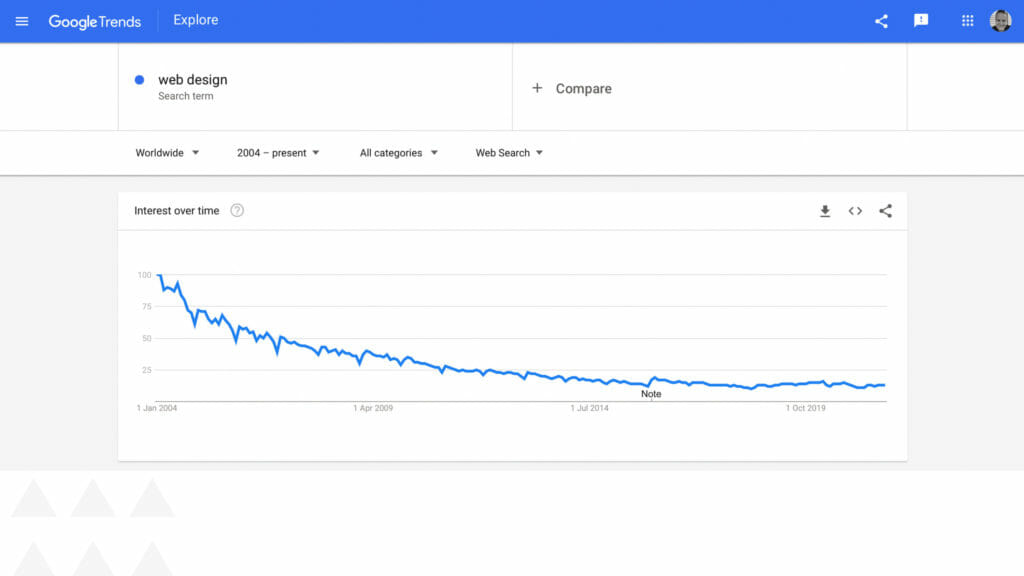 This shows you the popularity of this search term versus all other search terms. So this doesn't necessarily mean fewer people are searching for web design. It just means fewer people are searching for web design in comparison to other search terms. Web design is dropping in popularity and so is the search term "ad agency".
Whereas the following search terms are increasing in popularity:
SEO
Conversion rate optimization
ROAS (Return on ad spend)
Because business owners want the outcome of what it is you do.
So here's the thing… the single most wasteful thing you can do in marketing is to try and change someone's mind.
What we have to remember is that you are entering a conversation that someone is already having in their head. So instead of trying to change their mind about how much our website and SEO costs, let's just change the conversation altogether.
It all comes down to what it is you are offering. So if you offer websites and SEO for dentists, you should be prepared for pushback because they have been conditioned to believe that it should cost around $1,000.
So let's change the narrative and not talk about websites or SEO.
Here is a breakdown of how to do that:
1. Understand What Your Clients Want
The first thing you need to understand is what your clients actually want. Not what you think they want. You also need to know why they haven't already got what they want. What are the things that are standing in their way? What problems are they facing?
So here's a radical idea… let's ask them!
If you have an audience on social media, this makes the task quite easy. Take, for example, this post I published in our Digital Mavericks Facebook group.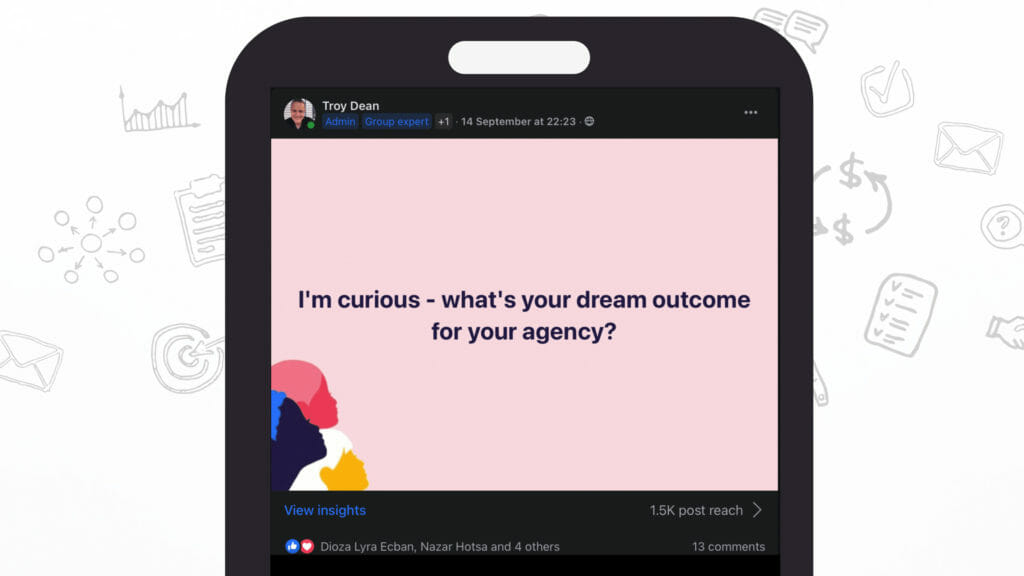 If you don't have an audience, put a post out to your personal Facebook network such as this: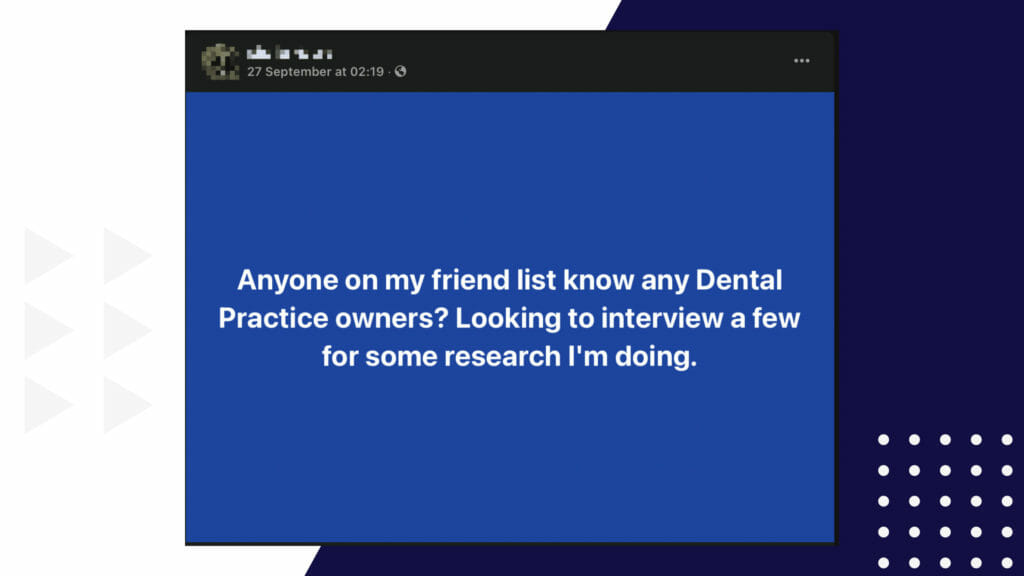 Or just start with at least six really meaningful conversations with your existing clients.
2. Create a Playbook
Next, you need to find a way to solve those problems for your target audience. So start researching and explore the top posts that solve their problems.
Then create an epic "How-To Guide" by combining the top three to five articles. (If writing isn't your strength then pay a copywriter to do it for you.) The aim is to add more value to your clients.
So let's pretend now that you're a web designer for dentists.
If one of the things they mentioned was increasing the lifetime value of their patients, you would create a playbook on how to do just that.
Next, you throw the epic guide into Canva, design it up, put your brand on it and make it a playbook.
Now you have your signature system that you can give a name to such as "The Dental Practice Growth Plan."
Of course, dentists can Google this information and figure it out themselves. But is the dentist even aware of how to calculate the lifetime value of their patients? Have they got this dialled in? You're solving the problem so that they don't have to think about it. What you're giving them is a "plug and play' solution.
Whatever part of their dental practice that they're looking to improve, you can help them just by providing these packaged up services.
3. Delivery
So how do you deliver all this?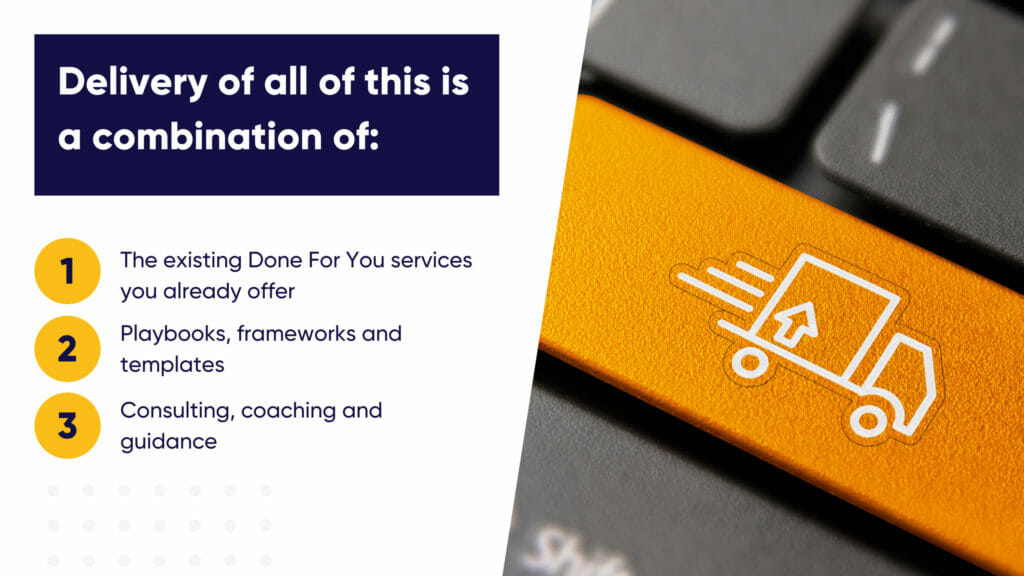 First, run a discovery session and uncover all of their problems. From there, you need to address those problems by showing them what the outcome would be with my help. For example: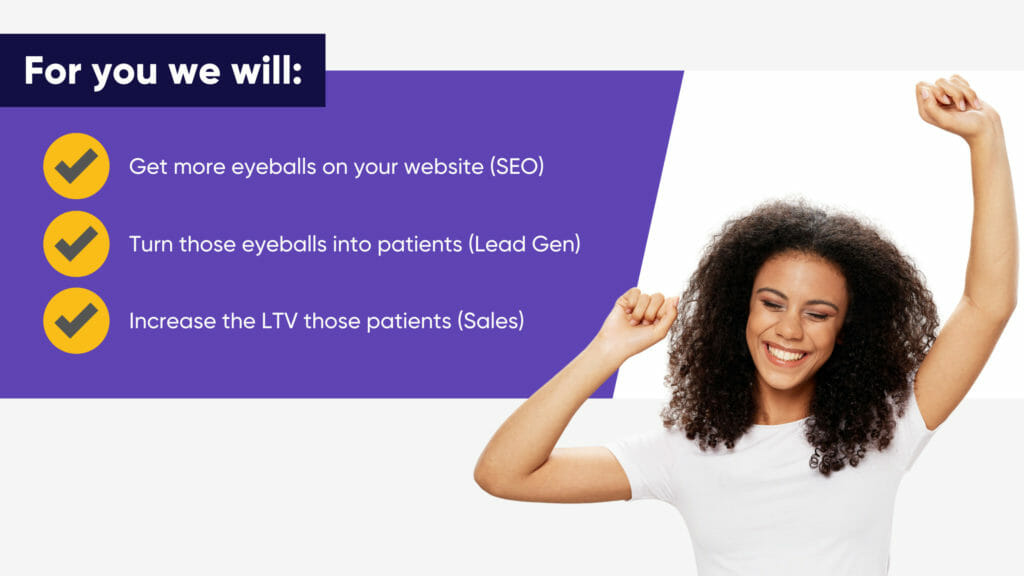 It's much easier to explain why you're a great fit for them because you are showing that everything you do is customised for them.
You don't need to mention SEO, lead gen or sales to them even though that is, in fact, what you're going to do. You're going to combine what you already do with some playbooks, frameworks or templates, and a little bit of consulting, coaching and guidance.
So if your client is a dentist, you'd teach them how to take those leads, get them on the phone and get them into the practice so that they can then provide an amazing patient experience.
This is how you stand out from the pack.
But I'm a Web Designer, Not a Coach!
Now, I know what you're saying…
"I'm not a coach and I'm not a consultant. And I don't want to have a coaching business!"
I get it.
But let me tell you something – you're already doing it every time you talk to a client on the phone and you give them some advice based on your experience. You're already coaching, consulting and giving them guidance.
So let's just get paid for it!
You have this knowledge but now you're just formalising it and turning it into a playbook (or a framework, template, flow chart or checklist!)
Next time a potential client comes to you ​​and mentions lifetime value, you can now say:
"Would it be useful to jump on a call next week? I can walk you through seven ideas to help increase the lifetime value of your customer of your patients."
This is where you own the board!
That's a Wrap
I hope this article helped you start to package up your services and think about a new way to stand out from your competitors.
If you want to see the full presentation, I recently went live in our Facebook Group to share it with our wider community. If you want to check it out click here.
Or if you want us to help you implement this in your business, jump on a call with one of our Agency Specialists.