Clients can be a major drain on your patience and resources… That is, if you let them be.
One of the easiest ways to keep them in line is to systemise your content collection process. By setting expectations regarding deliverables upfront, providing helpful guidance along the way and employing tools to simplify things for them even further, you can stop worrying about the content piece in the future.
Why Your Content Collection Process Needs a Facelift
There are a number of reasons why a WordPress project might slow to a crawl or fail altogether. But when the reason for that is a failure to collect content before a project begins, well, there's no one to blame but yourself.
Which is why it seems silly not to systemise the content collection process from the get-go.
In the video above, I broke this down into five easy-to-implement suggestions. Now, I'm going to give you a closer look at some of the tools I recommend you use along the way:
1. Set Expectations Early
For my own purposes, I set and reinforce content collection expectations a few times throughout the process and before a project ever begins:
On the project inquiry form
In the initial meeting
On the project proposal and contract
If you can keep it top-of-mind with clients early on, they'll have no excuse to default on the agreed-upon terms down the line.
2. Provide a Framework
Let's say you set expectations accordingly, but the client is still struggling to create the content. They're actually putting in the effort to do so, but feel a little lost or don't feel confident in their ability to craft a compelling copy. This is why you should provide them with a framework to guide them.
Your framework should include:
A sitemap
Suggestions for important elements to include
FlowMapp is a good tool to use to put the visual planning piece into place. It's also free to use.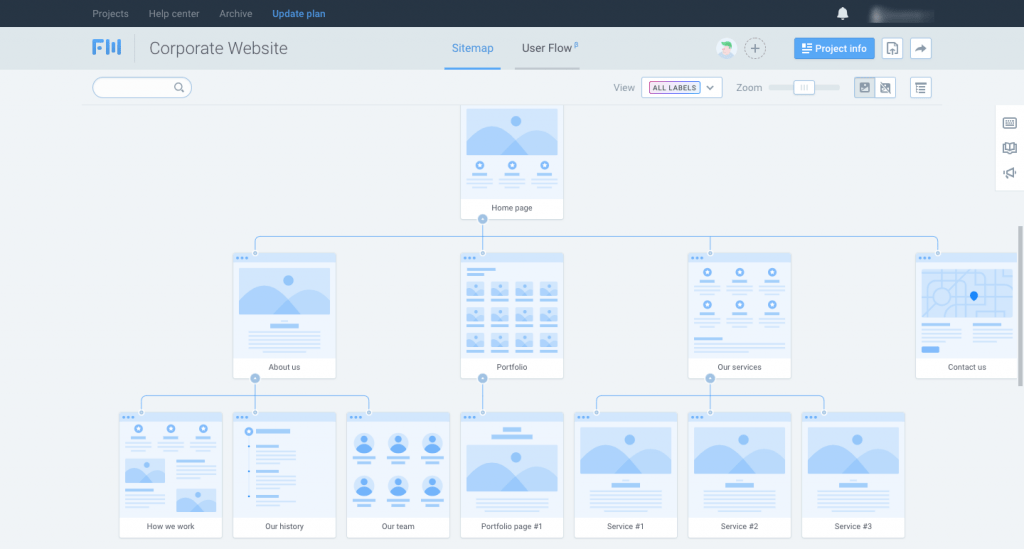 If you'd prefer to have more features like a content planner, design mockup and white labelling of the platform to give the tool a more personalised feel, Slickplan may be the better choice. The only catch is it's not free to use.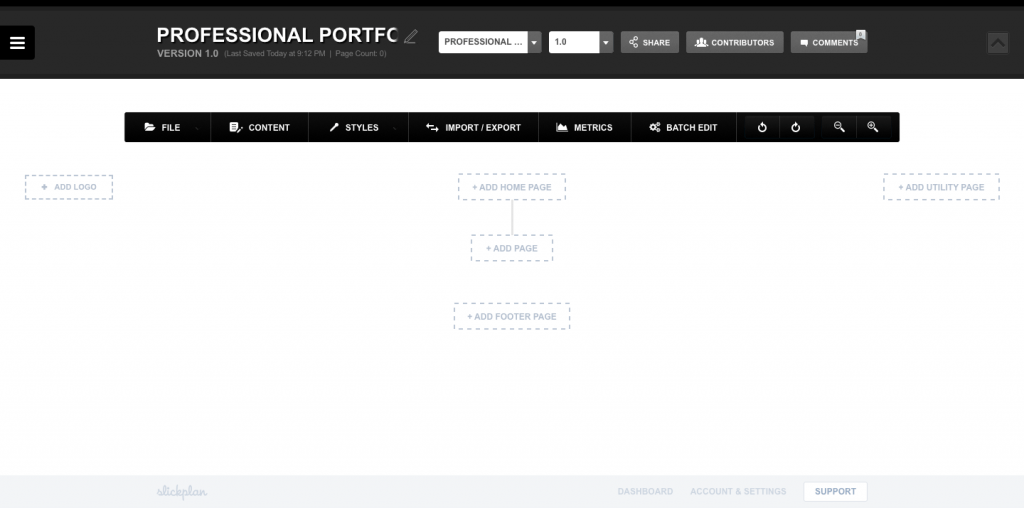 Then, set aside dedicated time before the project kicks off to workshop this with them.
3. Provide Support
Building off of that last point, I believe it's important to spend time with the client throughout the content collection process. Schedule weekly meetings and let them know that you're there to support them if and when it is needed.
If you find that your client is having a hard time wrapping their head around what's needed or is otherwise dragging their feet, now is the time to step in and offer to take it off their hands. With an update to your freelancer contract and an additional fee, of course.
4. Speed Up Your Workflow
Another way you can provide a better experience for your clients and speed up your own workflow is by using a tool like Content Snare to tell clients exactly what you need from them.
Although it's not free to use, you can sign up for a free trial and get a sense for whether this tool will be a good fit for you and your clients.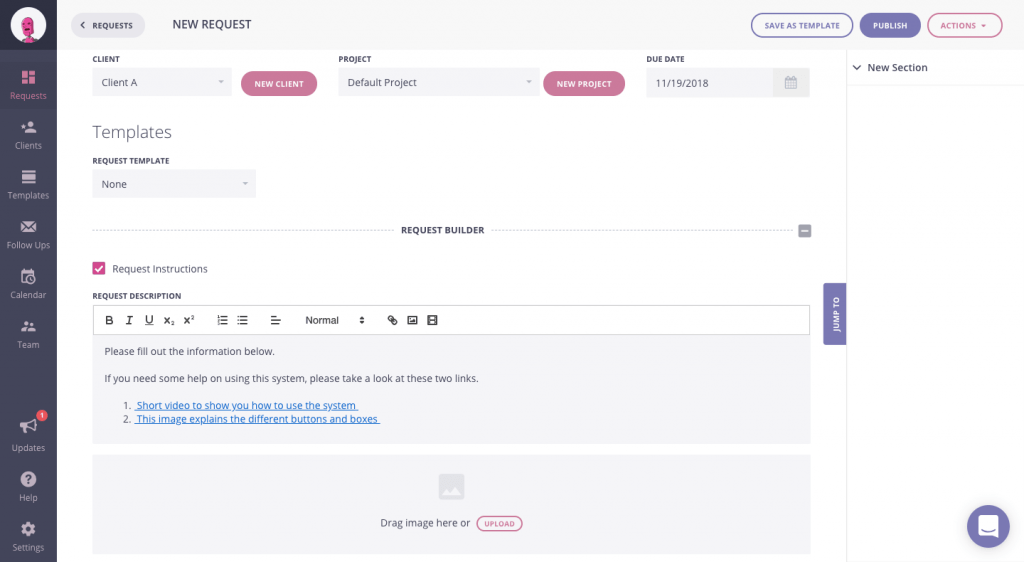 As you can see, this is simple enough to use – for you and for your clients. With an intuitive form builder, you can create a content collection checklist and guidelines all within this one tool. Your clients will have no problem using the outputted form either: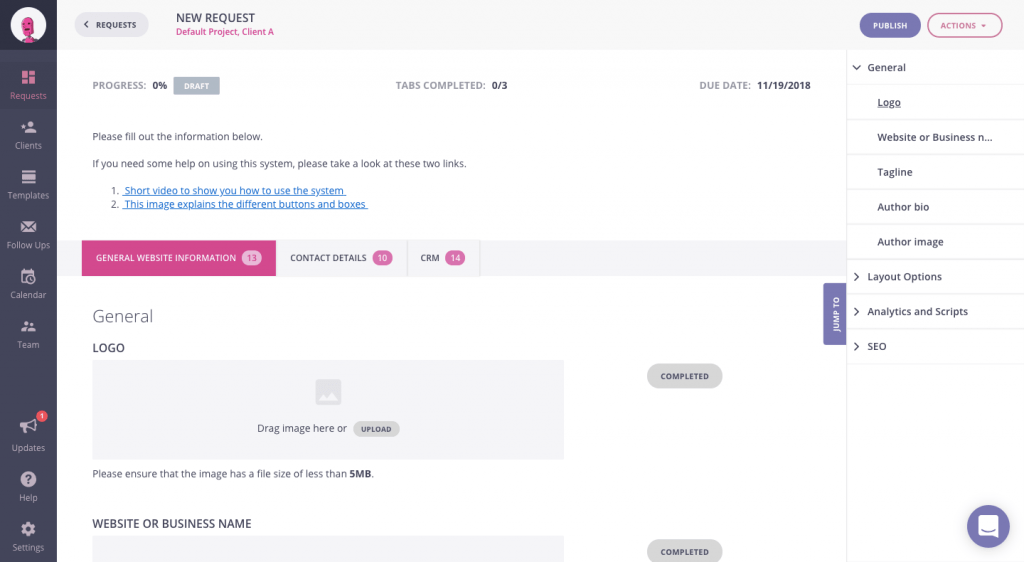 It's such an easy way to systemise your process and ensure that clients don't forget to deliver any of the promised deliverables to you.
5. Use Additional Software
There are a few other tools I would suggest to keep clients on track.
Google Docs is always helpful in building out checklists or tables with a list of items, pages or logins you need to collect. You can also write out special instructions or specifications here.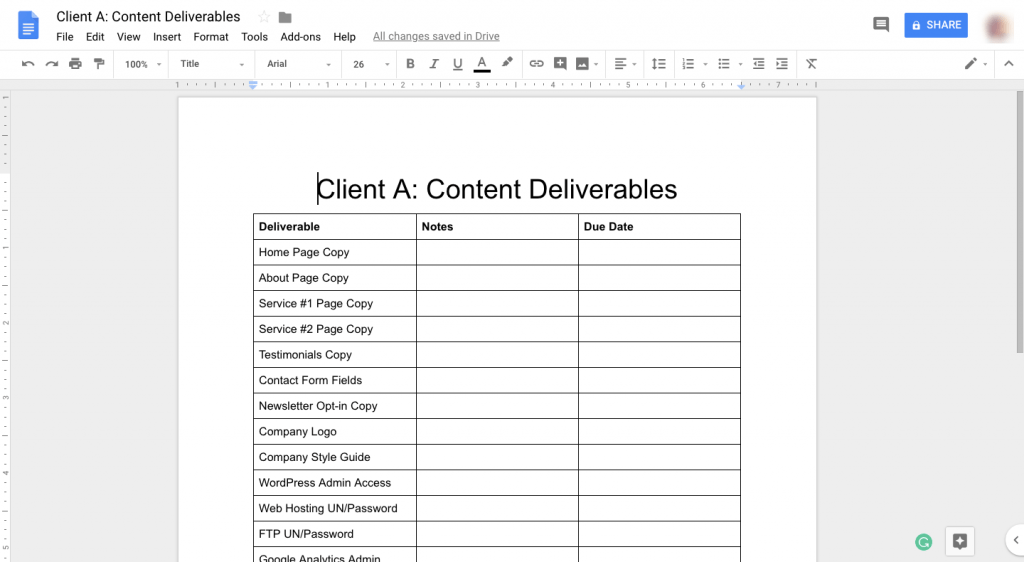 To enhance the collection of visual content, PDFs and other files that shouldn't be uploaded or pasted into a Google doc, you can use Dropbox's file request feature.
One other tool I'd recommend to speed up the collection of content is LastPass. While this might be a tool you use for greater productivity in your own workflow, you can actually use it to request the secure transfer of login credentials from your clients.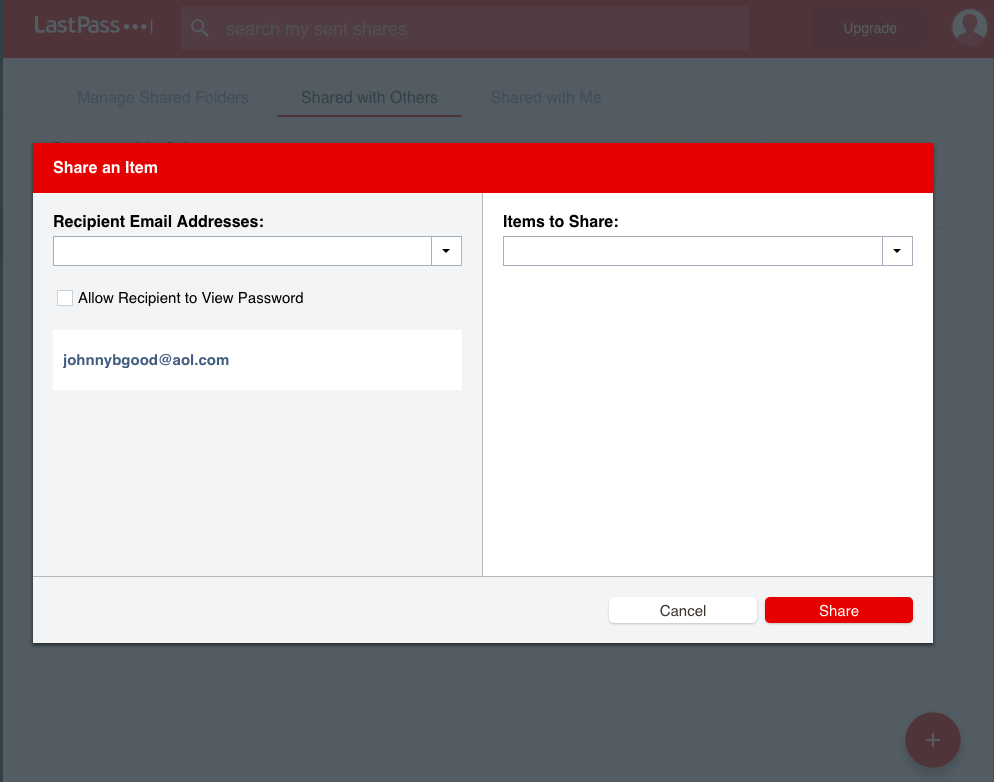 There's a whole lot more you can do to collect content from clients effortlessly, so don't stop here.
Wrap-Up
There are just some clients who shouldn't be creating their own content anyway, be it a lack of time on their part or a lack of skill. If you're tired of having one more thing to rely on your clients for, think about handling the content creation yourself.
You don't even have to be the one to write the content. Outsource it to a freelance copywriter and charge your clients a markup. It's a win-win-win. Your clients have an outstanding copy for their website. You have fewer headaches to deal with. And you make more money.