This is Part 2 on our series on writing successful WordPress Proposals.
Sometimes it feels like whenever you take a big step in the right direction, there are a dozen or so stumbling blocks in your path, all threatening to push you back to the starting line. It can even happen just as you get off the starting block.
It's that way with WordPress proposals. No matter how impressed prospective clients may be with the overall promise and pricing, there are certain mistakes inside the proposal that could keep you from sealing the deal.
If you'd like to stop hearing "No", then it's time to remove these 4 WordPress proposal mistakes from your workflow.
4 WordPress Proposal Mistakes That Will Cost You
You want new business. But it's hard to get a "Yes" from prospects these days.
That's because you're doing something wrong.
If you're tired of being rejected all the time, you have to stop making these costly WordPress proposal mistakes:
#1: Using the Informal Proposal
You spent an hour on the phone with a prospect who called you out of the blue. You talked them through your WordPress services, put their mind at ease and touched on pricing. You ended the call with:
"I'll shoot you an email with all the details we discussed. Let me know when you're ready to get started."
Where do I even start with this?
Let's just say that the informal WordPress proposal is not acceptable. It doesn't matter how much time you spend with the prospect or how interested they may seem. If you don't have everything writing, there's very little chance you can close the deal.
#2: Forgetting to Include Essential Info
This is your chance to make a strong case for why you should be their WordPress consultant/developer/maintenance professional etc. If your WordPress proposal is vague or assumes they already know this stuff, you're going to leave money on the table.
Never assume anything. Write a WordPress proposal in a way that leaves no room for questions.
Here are some ways to keep this mistake from getting in your way:
Cover everything, from the basic introduction of what the proposal is to the projected outcomes.
Set proper expectations, especially as it pertains to pricing, deliverables, client accountability, timeline and so on.
Include a list of commonly asked questions and answers.
Basically, if you can explain away their objections before they have a chance to broach the subject, you'll greatly decrease the chances they'll say "no". Not only that, but you'll save yourself a lot of time in doing the back-and-forth dance with them, answering additional questions or talking them through unclear details.
Demonstrate that you understand their problem and that the proposal has the solution so you don't have to work so hard to win their business.
#3: Speaking the Wrong Language
Have you ever tried to have a conversation with decision makers that come from disparate departments? The CEO is there to make sure their money is going to be well-spent. The marketing manager wants to ensure the website aligns with the branding they've invested time and money in. And there's a project manager to coordinate it all.
Present this group with a single question and watch how they all handle it differently, tackling it from their unique perspective.
The same exact thing can happen when you write a WordPress proposal. Specifically, this mistake occurs when you write one that only makes sense to you.
In other words, you present the WordPress website as a business tool, mentioning the page builder and plugins you intend to use to create it. Instead of presenting the WordPress website as a solution to their needs and their audience's needs.
If you haven't had a chance yet, hop over to The #1 Trick to Writing Proposals That Win More Clients. We'll explain what you need to do to speak the prospect's language.
#4: Creating Proposals From Scratch
Let me break it down:
You have an interested prospect who's ready and willing to see the proposal.
You open your word processor and begin to type it up.
A couple hours later, you're pretty sure you have something worth sending to them. Plus, spell-check says you're good to go.
Why????
Because this is a huge waste of time and effort.
But don't fret! We have the solution that will save you hours of work.
To start, get your WordPress proposal inside a reliable piece of software. If you're not sure which software to use then stay tuned for the next article in this series will cover some good options for offloading the design, writing, and management involved in this process.
Then, find a WordPress proposal template to repurpose as your own.
And guess what? WP Elevation has already created one for you, download it for free below:
In addition, you'll receive a WordPress proposal blueprint that outlines what the nine essential parts of a proposal are as well as brief video training that shows you how to bring it all together.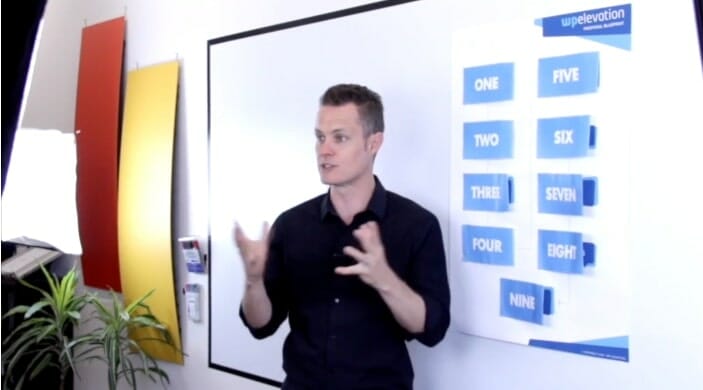 The Cost of WordPress Proposal Mistakes
These WordPress proposal mistakes aren't just costly because they result in lost business. They're costly because they keep you away from revenue-generating efforts. Like creating a
better WordPress experience for clients
. Bottom line: stop being one of these stumbling blocks and getting in the way of your own success.
Continue to Part 3
Best Tools for Creating Proposals for WordPress
[Free Template Inside]