In between WordCamp Europe and Pressnomics I had a week of free time so I decided to hang out in San Francisco and meet with some potential new partners. I had never been to San Francisco before but I had few contacts there and a loose plan to visit the Google plex in Mountain View, the Automattic office, the Scripted office, and to hang out with fellow Aussie Brent Shepherd, author of the WooCommerce Subscriptions extension.
I booked accommodation on AirBNB and totally lucked out. I discovered that Potrero Hill was where the most money was being raised in the tech startup space so I thought that might be a good place to base myself. I found this beautiful, light-filled place which turned out to be perfect. It was within walking distance of a gym, Whole Foods market and plenty of Cafés with good coffee and Carolyn, the host, was a joy to be around, full of great ideas and local knowledge.
The day I arrived I tweeted that I was in town to see if anyone was up for a drink.
Who is in San Fran and wants to catch up for a drink over the next week?

— Troy Dean (@troydean) October 10, 2013

Turns out Ned Dwyer from Tweaky had just arrived back in SF and invited me to a Hacker News Meetup at Twilio's Head Office. Free beer, pizza and t-shirts. Hard to turn an offer like that down.
Hacker News Meetup
I had no prior knowledge of what Hacker News was all about so I arrived with an open mind and pretty eager to learn what I could. Ned was nowhere to be seen when I got there so I just started chatting to people and soon realised every conversation started with "What's your StartUp?" I also learned quickly that having a WordPress based business in San Francisco means nothing and in fact most people start looking over your shoulder for someone more interesting to talk to.
I met some Finnish guys who were in town for a week trying to raise money for their startup company. They had no product, no customers and no revenue. I met Ruby on Rails developers working for a company down in Silicon Valley who had no idea how their company made money. These guys had the best working conditions I'd ever heard. Full kitchen of food and fridges stocked with whatever you want, incredible salaries, laundry taken care of, treated like royalty and they estimated they were producing about 30 hours of productive work a week.
Ned finally appeared and we also met another Aussie, Xanda, from Brisbane who was working in the Valley as a developer. They gave me a quick education on the neighbourhoods to avoid in San Francisco, particularly The Tenderloin which I would later discover was home to a large number of San Francisco's homeless population. And I mean a large number, but more on that later.
There was an incredible energy in the room with lots of conversations about what problems deserved solving, MVP's (minimum viable products), funding rounds and the fact that Node.js is the future of the web. Not much talk about business models, customers or revenue streams though. Interesting.
Zirtual, Co-Working Spaces and Twitter
The following day I had a scheduled Skype interview with Maren Kate Donovan, CEO and founder of Zirtual, for the Agency Mavericks podcast. From my past experience in The Netherlands I knew I needed a solid internet connection so I went looking for a co-working space with a private office and wired internet. A quick Google search revealed LiquidSpace, a centralised booking service for co-working spaces. I found a venue in the financial district and booked a couple of hours.
I discovered Zirtual on Twitter and the timing was perfect. Zirtual is a virtual assistant service from San Francisco and all the assistants who work through Zirtual are US based. I needed some help in our business and to generally get myself organised so I thought I'd take them for a trial run. Some of you may have already had contact with my new assistant, Kristen, but for those who haven't she is a delight to work with and has helped me stay organised and allowed me to focus on the more valuable things I should be doing in the business.
What I really love about the Zirtual service is that I didn't have to interview a handful of candidates and then choose who I thought was best. I simply gave them a brief (based on a very well designed questionnaire) and a few days later they introduced me to my new assistant. The user experience is seamless and stands head and shoulders above most other on-boarding processes I have come across. Furthermore, in the first two weeks Zirtual emailed me some best practices and boilerplate emails for me to use to delegate tasks to Kristen. This made a world of difference to the working relationship that Kristen and I were able to build very quickly.
Needless to say, I was excited about interviewing Maren and learning about her journey of starting and building her company. Keep your eyes on the podcast for her interview.
Later that night I looked up with Brent Shepherd for a few beers and some dinner. Little did I know Brent lives directly opposite the Twitter building. I must admit it was kind of cool to see that this online service I use every day to build connections and keep in touch with people all over the world actually has a physical location.
Poker and Whiskey
On Saturday night Brent hosted a poker night and invited myself, Ned, Austin from WP Engine (who I had lunch booked with for Monday) and Alex from WP Curve. I won't bore you with all the details but rest assured there was a great night of Texas Hold 'em, quality whiskey, lots of WordPress and entrepreneurial conversations and plenty of laughs. It was great to connect socially with other like-minded people in the WordPress business space and all I lost was 20 bucks.
Sightseeing
Sunday I spent the day sightseeing. I had a vague plan based on what my AirBNB host had told me. It included the Golden Gate bridge, the windiest street in the world, the Bay Bridge and whatever cropped up in between. I'm not sure how but I started the day at Starbucks in the Presidio precinct which houses the Letterman Digital Arts Center and Lucas Films. A neat little surprise was discovering the Yoda statue at the Lucas Films HQ.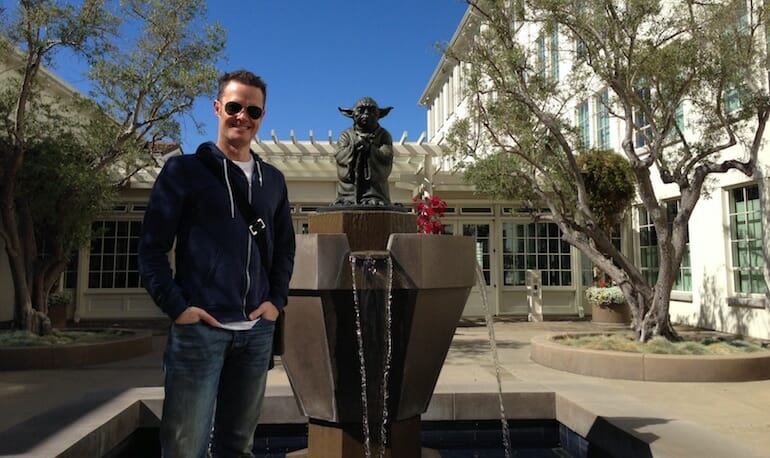 After a long and glorious walk in the beautiful San Francisco weather I stumbled across an Off The Grid picnic and sampled some of the fine food and beer on offer. Then it was time to make my way down to the beach and on to the Golden Gate bridge. I must admit it is a bit surreal visiting these famous landmarks in real life after seeing them hundreds of times on television and in the movies growing up. It has quite a remarkable history although Fort Point itself was closed due to the government shutdown so I wasn't able to watch the educational film they usually play for tourists.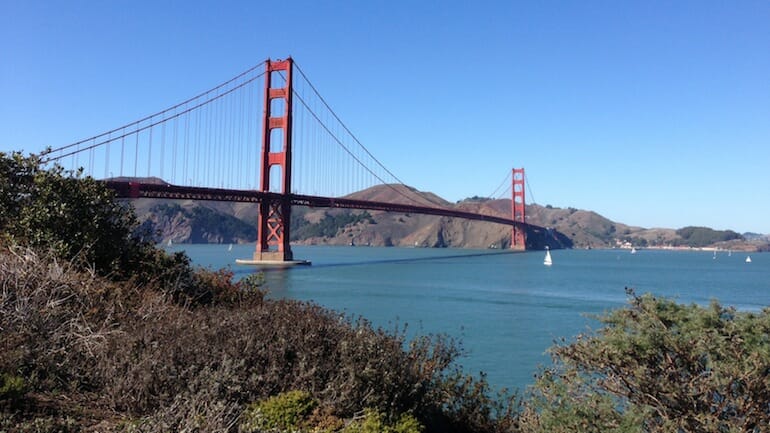 Other highlights from my sightseeing day include driving down the windiest street in the world (Lombard Street), watching part of the Mountain Dew Tour BMX competition in the heart of the CBD and generally soaking up how active San Francisco is.
WP Engine and The Homeless Population of San Francisco
On Monday I spent a couple of hours working from a co-working space before meeting Austin from WP Engine for lunch. The short three block walk from a co-working space to the soul food restaurant took me right down Eddy Street and through the middle of The Tenderloin. I have never seen so many homeless people in such a short trip before. For the most part they are harmless. The overwhelming feeling is one of sadness at a city of such wealth, opportunity and promise fails to provide for the least fortunate. Perhaps they don't want to be provided for. Perhaps they are happier on the street but the contrast between millions of dollars being given to StartUp companies without a product and without any customers and the homeless people sleeping on cardboard boxes was confronting and confusing.
Austin gave me a debrief before lunch and then we spent a good 45 minutes chatting about how we might be able to better serve each other's customers and how we can work together to create additional value. WP Engine are doing some impressive things in the WordPress ecosystem including the recent launch of TorqueMag, a new online magazine devoted to all things WordPress. WP Engine is funding TorqueMag but it operates as a completely independent publication. It's a great contribution to the community and it's also excellent positioning for WP Engine.
After previously meeting with Tomas and Trey from WP Engine at WordCamp Europe, it was great to meet with Austin to get a better understanding of where they are headed and what they're offering might look like in the future.
Scripted and Uber
Straight after lunch I grabbed an Uber to the office of Scripted, a curated marketplace of copywriters providing blog posts, white papers, press releases, email newsletters and just about any other form of writing you might imagine that price point that makes it possible for small business owners to buy great copy. I have previously used Scripted for various projects and we are working on something internally that is a great fit for their service. I was surprised at how easy it was to reach out to Eric and request a meeting. It seems to me in the tech start-up space that companies are far more willing to meet and talk about the possibilities of working together. I literally emailed Eric and said that I was going to be in town for a few days and that I'd love to pop by and say hi. Apart from introducing myself as a customer, Eric had no idea who I was but took my meeting anyway. I felt this openness and hospitality the whole time I was in San Francisco.
It was inspiring to see a group of people working hard in the office, talking with customers, solving real problems and growing a real business. I noticed a large screen on the wall with a company scorecard showing key metrics so that everyone knew how they were performing. This is something we have recently introduced in our business and it was good to see it being used elsewhere.
Just as I was heading out the door, Matt Cameron introduced himself. Matt is originally from New Zealand and was asking what I was doing in San Francisco and how long I was going to be around. He said there was a great community of Australians in San Francisco and that whenever I was in town I should connect with him. I have every intention of taking him up on this offer.
Rob the Elevator and the Envato Meetup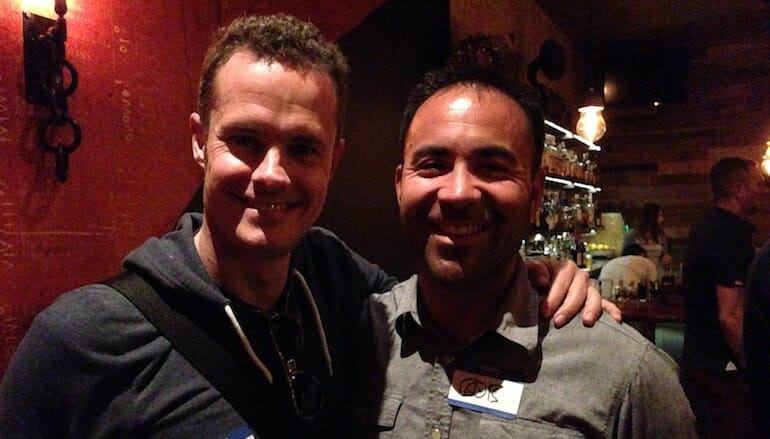 On Monday night Envato hosted a meetup in San Francisco for their customers and authors. I managed to grab a couple of tickets and invited Rob, one of our Agency Mavericks members from San Francisco (pictured above). Japh, the WordPress evangelist for Envato who I had previously interviewed for the Agency Mavericks podcast was there and introduced me to Helen Souness, General Manager of Marketplaces. We spoke about the rapid growth of the digital asset marketplaces (think ThemeForest, CodeCanyon and WooCommerce extensions to name a few) and the general state of the WordPress ecosystem. Rob bailed early as he had a dinner party at his place and had still come out to meet me and hang (very generous with his time and energy).
I spoke to a couple of elite ThemeForest authors about trying to balance WordPress best practices with the demand from the market for thousands of short codes in every theme. A very interesting conversation indeed and a problem I'm not sure will be solved anytime soon.
Google
Tuesday morning I was up and about early to catch the 1 hour train trip down to Mountain View to visit Google. We develop the Google Analyticator plugin and I had tee'd up a meeting with Peter Frisella, Developer Advocate at Google HQ. I had a genuine interest in meeting with Peter to talk about the future of the plugin but I'd be lying if I said I wasn't also motivated by just wanting to visit the Google Plex and see it in all its glory with my own eyes. I was on a very tight time schedule as I had to be back in the city by 1pm to run a live training webinar for our Agency Mavericks members about how to create content regularly and consistently.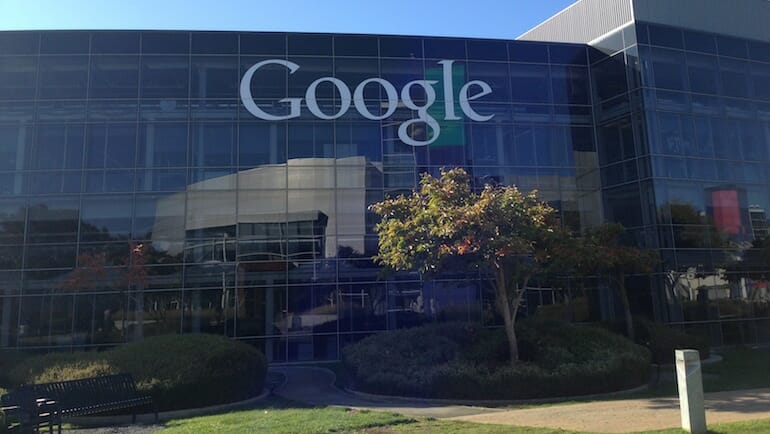 Google HQ is like a college campus. Lots of buildings, adjoining pathways, gardens and areas to sit, eat and chat. There were lots of people moving about with laptops (mainly Apple MacBooks that I saw) and a genuine buzz about the place. Peter indicated it was a special place to work and I could see he has a real passion for what he does.
Mountain View is a lush, green, pretty valley with wide streets, big houses and lots of activity. A lot different from San Francisco but still a palpable energy emanating all around. There is something infectious about being surrounded by clever people working hard to build remarkable things.
The trip to Google was well worth it. Peter and I talked a lot about how we can work together to make Google Analyticator an even more useful tool for our customers. Stay tuned for more on this.
Webinar
Finally, a mad rush on the train back to San Francisco to run a training webinar for the Agency Mavericks group. This webinar was all about creating compelling content efficiently as a way of attracting more visitors to your website and indeed your business. I found a meeting room on LiquidSpace and tuned in with our members from all over the world to share ideas and inspiration about our collective WordPress businesses.
Phew! Off to Arizona for Pressnomics.