How To Start a WordPress Business
If you're just starting out in the WordPress game or in the early stages of building your WordPress business, then this post is for you.
You see, someone has caused quite a buzz within the WP Elevation community recently.
Meet Chad, CEO of CoClear Developments…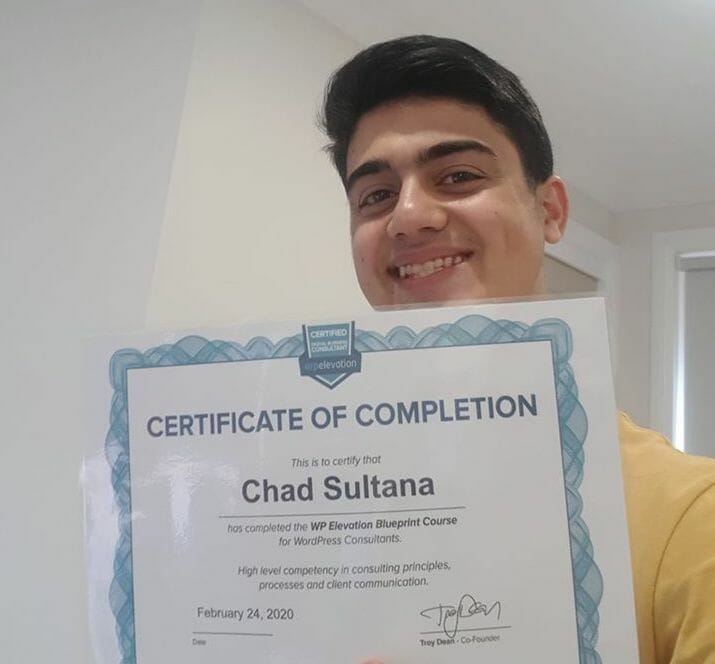 At the age of 18, he is the youngest WP Elevation Blueprint student we have had, and when he told us his story within the Blueprint Facebook group, it had us all thinking.
…About how we got to where we are today.
…What would've happened if we all knew what we wanted to do at his age?
…What would've happened if we had the right foundations in place before we got started?
That's right folks… The key to starting your business is having the right foundations. 
Think about your business as a building. If you get the foundations wrong, it may fall and you spend a lot of time and money rebuilding it. BUT! If you have the right foundations (and it may take you more time to plan and prep) that building can get as high as you want it to be in a much shorter period of time.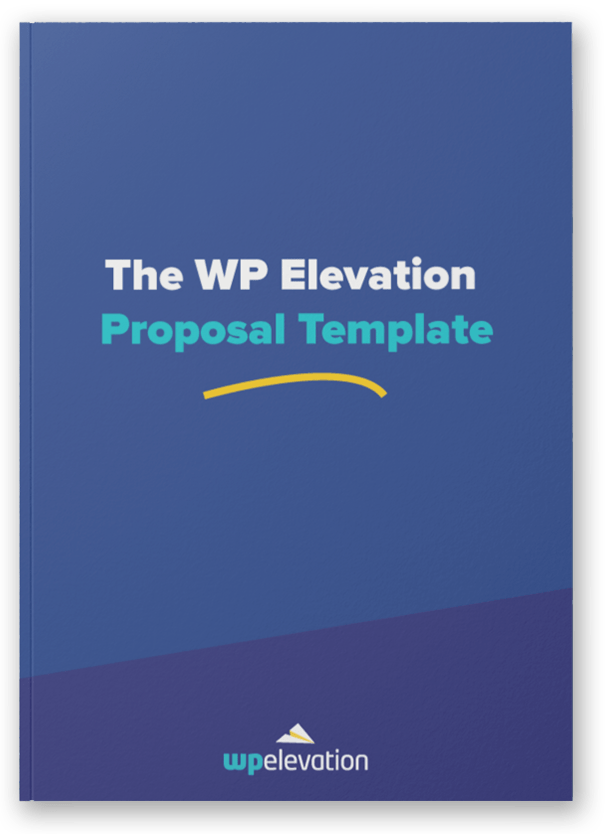 Download Your Free Proposal Template
Start winning better projects with bigger budgets now.
Chad's Story
Before we dive into business foundations, let's start with Chad's story:
"What an awesome course! I'm so glad to be certified!
A couple of months after graduating school I found out that I was rejected for a job I applied for as a technology consultant. I was so disappointed because the job involved working closely with businesses and providing a solution for businesses which I was deeply passionate about, and it took months to apply for this job.
Soon after that, I discovered a new realm of excitement and that was making websites. I set the goal to start up my own business as a web designer and see how it would go.
Before I started CoClear Developments, I felt the need to be qualified, so with that in mind, I enrolled for a course doing a Diploma of Web Development. I was one step away from taking the course until I realised this is not going to be practical for me because it won't help me learn how to use WordPress, nor is it going to teach me how to get clients or position myself as an expert. I decided to cancel my enrolment and went on to start my business from scratch.
After doing tonnes of research (I'm still always researching and learning) I came across an insightful blog about WordPress. I scrolled down to the bottom of the page and found out I could get a free proposal template! I watched the first video from the set of videos and I was instantly hooked! I'm usually suspicious, but WP Elevation broke my suspicion barrier, so I joined the community.
I've been taking the Blueprint course to help start up my business and I'm sure it has prevented many, many, many mistakes (my first question to WP Elevation was about selling websites for $500 lol).
Biggest Takeaways
"Before I joined WP Elevation, searching on the internet was the only place I could find resources that would help me with my startup. But by doing this, I felt lost. I was researching and getting caught up in way too many blogs, articles and videos.
I was learning a lot, but there was no structure to it, so I found it difficult to move forward. I also felt lonely, I knew barely anyone in the industry and there was absolutely no one to talk to.
I used the WP Elevation Blueprint course as a way to set up CoClear Developments business to ensure my processes were right.
Not only was it structured, but the content was also actually really valuable. The course teaches you the processes and strategies that not many people use, and if people do use it… they get results (hint hint: $).
Now I can actually move forward because WP Elevation's Blueprint course has created a path I can follow and I no longer feel lost.
Another great thing about WP Elevation is that they have the best community… and I'm serious about that!
People in the community genuinely want to help. WP Elevation's coaching calls are really insightful and motivating. They answer any questions you have but celebrate your wins, and actually care about you as a person that owns a business, rather than just a business that runs itself.
The community really cares about you as a person, and not just a business and I'm no longer lonely because of this support.
I have people that want to help me, and that help I'm getting can help me move forward so much faster than if I was doing this alone."
Next Steps
"My next steps from now are to get clients, grow my network, grow my business annnnnd……. create the lifestyle I desire.
I don't want to be a university/college student with no direction, like most people my age (and much older than me). I want to live authentically. I know what I want and I'm doing my best to achieve that.
I still have a long journey ahead of me and a lot of learning to do, but now I have all the support I need to get to where I'm going.
Thank you so much Troy Dean and all the coaches for the help far!
Feel free to let me know your best starting web design business advice, I'll really appreciate it!"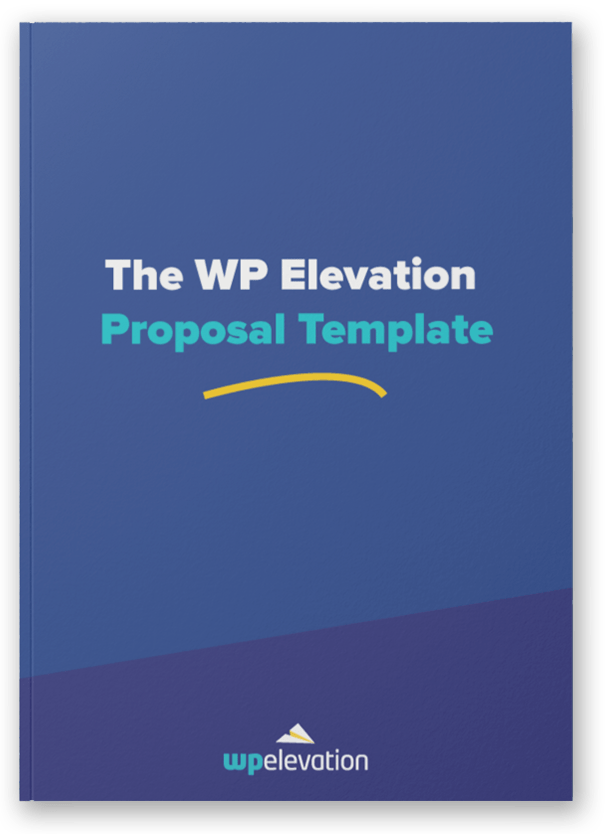 Download Your Free Proposal Template
Start winning better projects with bigger budgets now.
Advice On Starting A Web Design Business
Whatever your area of expertise, it's a good choice to start a WordPress business. 
But to get you want to go faster and with much more ease… it's important to have the right foundations. 
Chad has saved himself so much time, by getting the right advice and support from people who are already killing it in the industry. 
Not just study time, but time that would have been wasted with bad clients, with slower processes in his business, with chasing clients for money and using the wrong tools. 
Below are some starters for you to point you in the right direction. 
Resources to Learn WordPress
WP Elevation Resources To Help you Start Your Business
Failure isn't the opposite of success – it's a part of it. 
You're going to make mistakes. Learn to be OK with that. 
Share it with us in the comments below!