UPDATED MARCH 2020
There are a great many benefits to hosting a live webinar on Facebook. But if you want to do this on behalf of your brand (instead of just showing off to friends and family how beautiful your Hawaii vacation is), you will need more controls than what Facebook inherently offers. One option that allows you to to create your live webinar is Zoom.
Unsure of how to turn a Zoom meeting into a live webinar on Facebook you have total control over? Watch the latest Agency Mavericks Studio session with Ray Milidoni where he walks through what you need to do to go live on Facebook.
Benefits of Using Webinars for Your Business
Earlier this year, Troy talked to Ben Pines of Elementor about how to grow your business within a saturated market. Pines revealed that it took a lot of experimentation in marketing to find the right channels through which to effectively connect with their audience.
Whether you're a freelancer or running a digital agency, you're in a prime position to test the waters with a plethora of marketing channels. Your knowledge and skill translates well into things like blogging, infographic design, social media engagement (especially in the form of Q&A and support), and live video.
But if you're hesitant to give live video a try, let me just quickly rattle off some benefits that come from sharing webinars and other live video sessions with your audience:
Selective Audience: Webinars don't have to be live to the general public, even on Facebook. You can hand-select your audience based on the overall purpose of the video or screen-sharing session.
Bridge Gaps: Webinars open you to the possibility of connecting with others (e.g. clients, leads, employees) without having to schedule expensive and time-consuming travel to reach them.
Lead Generation: They are a fantastic way to build your contact list of current and prospective clients if you do the right amount of promotion ahead of time.
Proof of Authority: Webinars help you demonstrate that you actually know what you're talking about and that you are an authority on this subject.
Product Demonstration: You can use webinars to demonstrate how a WordPress plugin, theme, or WordPress-related process or workflow works.
Internal Collaboration: Internally, webinars can be used to collaborate with your team or with clients, regardless of where you're all physically located. In so doing, everyone can be more productive as they're not having to leave their workspaces to connect with others.
Improved Comprehension: One of our Agency Mavericks coaches, Pete Perry, recently suggested using webinars to give yourself a break from work while also gaining a new perspective on things. But webinars aren't just for people stuck working at home to improve or expand comprehension of a subject. You can use these to conduct live training with employees or to provide real-time support to clients.
Audience Engagement: Webinars are a great way to have meaningful interactions with clients and leads rather than deliver a one-sided video message to them.
Content Marketing: Sharing live video is one way in which you can market your business. But these webinars open you up to other possibilities as well:
You can record and save the video for future use. Maybe use it as a giveaway in your landing page pop-up form.
You could also use the video as a starting point for other content. Write a complementary blog post for it (like the one you're reading now). Create an infographic that delves deeper into one of the topics or statistics mentioned. Share the link on social media to grow your list of followers.
But, first, you need to create that live webinar.
Why You Should Use Zoom to Create a Live Webinar on Facebook
So, you've decided you want to go live on Facebook. That's great. But why am I not telling you to use the Facebook Live feature?
The options available for creating, customising, and sharing the webinar… Well, they aren't great: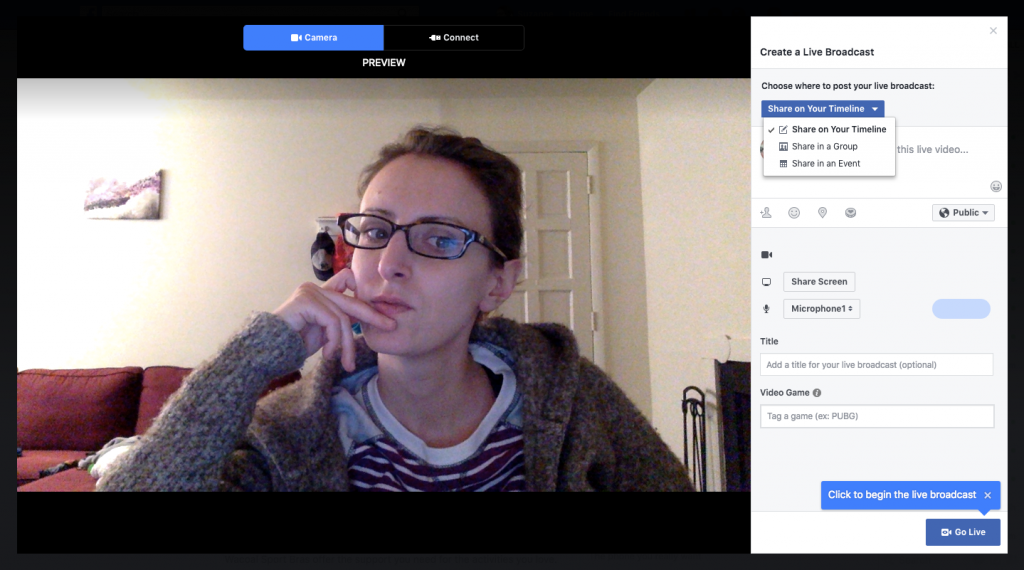 Those limitations aside, you also have to think about the crappy engagement and controls interface Facebook offers: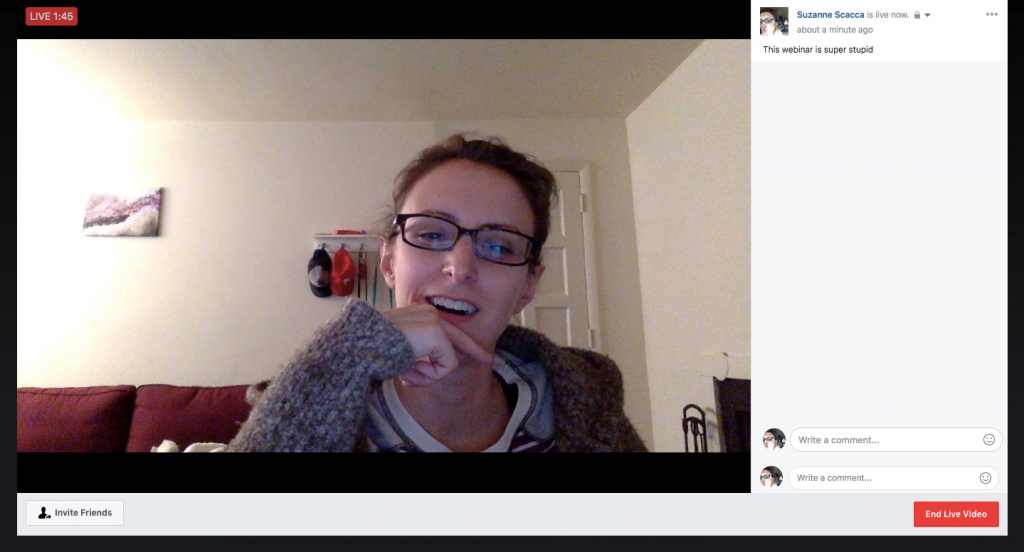 Then, once the video is done, it goes up on your page's or group's timeline: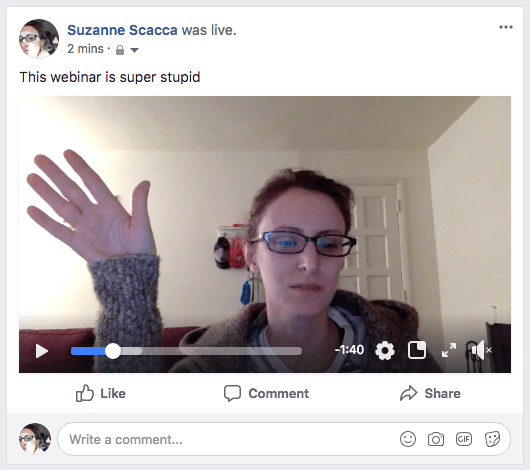 People can share the video with others on Facebook, but you can't save a copy of the video file and use it for your own purposes. Which is why you need Zoom.
As Ray explains in the video above, setting up a live broadcast in Zoom isn't always easy. That's because the tool is generally used for private conferencing. However, as he demonstrates in the tutorial, there is one key feature that opens up this possibility and it's tucked away inside beneath "More" options.
Once you've configured and scheduled your webinar in Zoom, don't be nervous if it still resembles any old conference you'd run through the platform. Because it should.
Follow Ray's tutorial, and you'll be able to get your first live webinar on Facebook quickly and painlessly!
Wrap-Up
As you can see, using Zoom to create a live webinar on Facebook gives you deeper control over your live video sessions. You can share your screen without having to download a Facebook browser extension. You can actively engage with participants within Zoom. You can use the whiteboard feature to draw out frameworks and conduct other WordPress content brainstorming sessions. There's just a lot more power that comes from using Zoom to go live on Facebook.
PS.  Don't do this business thing alone! Join our Facebook group, Digital Mavericks, which has over 6,000 digital creatives who support each other to grow their business and help each other get unstuck.