I had the pleasure of attending WordCamp Europe last weekend in the beautiful little town of Leiden in the Netherlands with over 700 other WordPress enthusiasts including co-founder Matt Mullenweg and industry luminaries like Joost De Valk, Vladimir Prelovac from ManageWP and Noel Tock from Happy Tables to name a few. WordCamp Europe was also chosen as the destination for the annual WooTrip which meant the entire WooThemes team were in town.
My mission at WordCamp Europe was to catch a few of the presentations, meet some of our customers and get to know the sponsors. I was fortunate to have Agency Mavericks member Radomir Van Dalen come in to meet me the day before WordCamp Europe and show me around. It was great to meet one of our members in real life after previously only communicating in the forums and on the webinars. Radomir was kindly volunteering at his very first WordCamp.
In the afternoon of the day before WordCamp I managed to grab a drink with Vladomir Prelovac from ManageWP who we have partnered with in the past. This was our first real life meeting. We grabbed a couple of beers, debated whether Australians were bigger drinkers than Serbians and talked about how we might continue to work together in the future.
Later that night I bumped into several members of the WooThemes crew who were answering support tickets in the hotel lobby. I also met Jean Galea from WP Mayor who had previously reviewed our Agency Mavericks program. The WooThemes guys kindly invited Jean, his sister Gabriella and I to dinner with them. Little did I know that during dinner fellow Australian Brent Shepherd was giving a presentation about the current state and future of his WooCommerce Subscriptions extension. It was very rewarding to meet these people in the flesh after getting to know them online. There is nothing quite like meeting your partners and customers face-to-face and experiencing them in all three dimensions.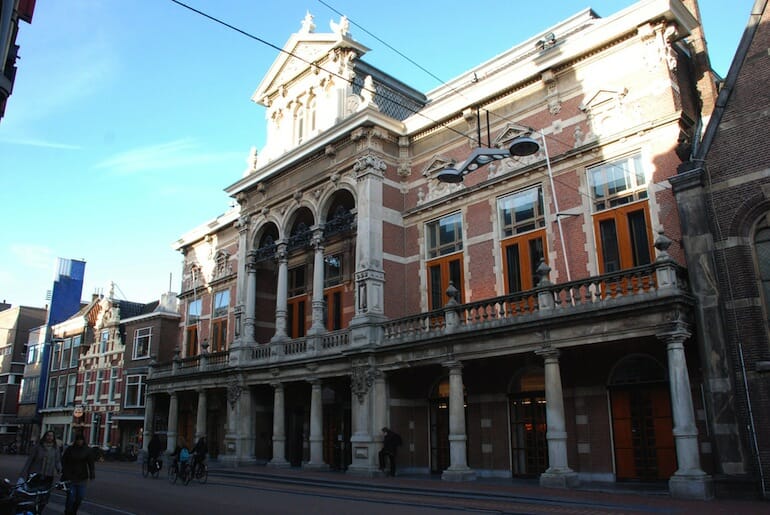 WordCamp Europe was held at a venue called the Stadsgehoorzaal, a concert auditorium in the city centre. There were two rooms for presentations: the main hall and a smaller room upstairs.
The presentations that were focused on more business topics were in the main room on day one and the smaller room on day two.
So that's where I spent most of my time.
Day One Highlights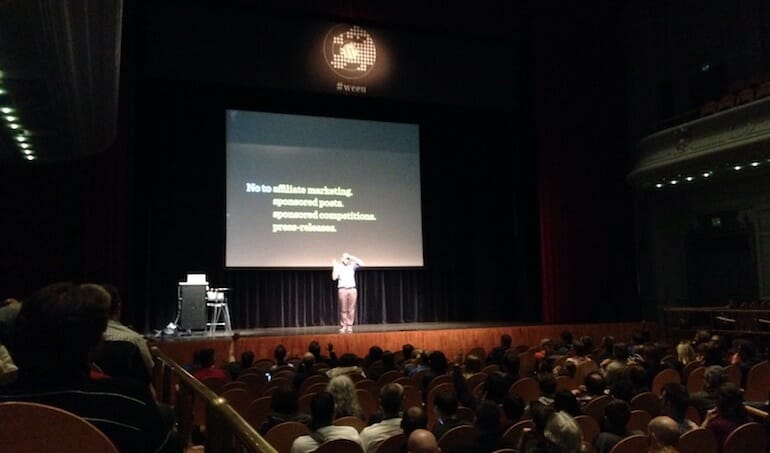 Vitaly Friedman, co-founder and editor-in-chief of Smashing Magazine peeled back the curtains and shared his story of taking a simple, un-styled WordPress blog from nothing to the powerhouse online publication that it is today. It was great to hear Vitaly share his personal story with us too.
After suffering entrepreneurial burnout and losing his passion he took some time out and has returned to the business more motivated and optimistic than ever. Vitaly talked about the various revenue models behind Smashing Magazine and the expansion into live events and workshops. They have a great future ahead.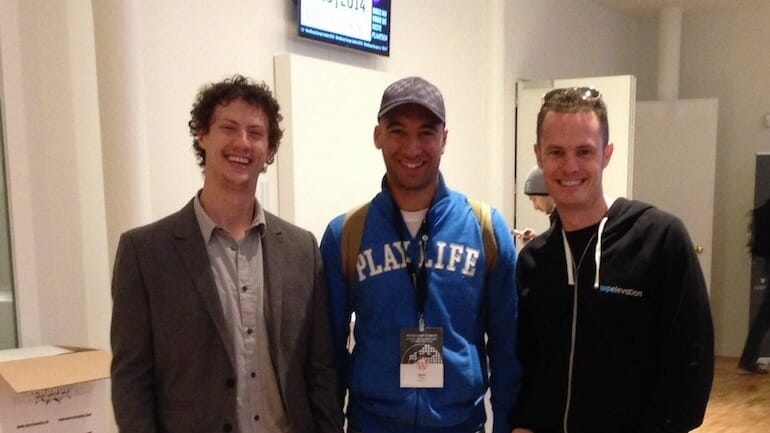 After this presentation  I took some time to visit the sponsors who are located upstairs in a separate room. The first sponsor I got chatting to was Zac Gordon from Treehouse. Zac and I had previously connected on Twitter and I was curious to learn more about what they were doing in the WordPress education space.
For those of you that don't know, Treehouse provide high quality video training to teach you web development. Their mission is to take you from zero experience to job ready and they're doing a great job.
Next up I introduced myself briefly to the WP Engine gang. It's no secret these guys have THE best hosting solution in the WordPress space and I've been a vocal advocate for some time now so I was excited to meet some of the crew behind the magic. I had a more formal meeting scheduled for the following morning so I just wanted to touch base and say hi.
The guys from Site5 were huddled around their stand in the corner so I thought I'd wander over and find out what they were all about. I started chatting with Aaron and after a few moments realised he was Australian. We both found it amusing to be talking to another Australian at WordCamp Europe. I told him there were four of us in total including Brent Shepherd and Japh from Envato.
After lunch I spent some time talking about the freemium plug-in business model with Kim from MailPoet (formerly WYSIJA). I first met Kim at Pressnomics last year and we clicked. He is a very passionate and energetic entrepreneur who I always enjoy talking with. He and his three partners have grown their company considerably in a short time and now have six full time staff. And we swapped t-shirts.
Noel Tock from Happy Tables then hosted a Q&A panel called "Running A European WordPress Development Agency" featuring Remkus de Vries, Tom Willmot, Simon Dickson, Arnstein Larsen. This was a highlight for me. To hear Simon talk about working on The Rolling Stones website was truly inspiring. Everyone on this panel is at the top of their game and it was an honour to be able to sit and listen how they have built their agencies and how they continue to manage their growth.
The final stop for me on day one was Vlad from ManageWP. He lifted the hood on their business and spoke about spending three years developing free plugins and attracting a large audience before  having a premium product to sell. These guys have grown so unbelievably fast and now employ over 20 full time staff and have an average response time to their support tickets of 35 minutes 9the industry average is about 17 hours). This was an inspiring presentation and a real eye-opener into what it takes to build a super successful WordPress based company. It ain't for the faint-hearted that's for sure.
Day Two Highlights
Remarkably the hangover from the after party wasn't too bad (thanks to all those shots sponsored by WooThemes), so my first item for the day was to meet with WP Engine. I wanted to understand more about their service and how I could better educate our audience about the fantastic job they do. I have experienced the benefits of using WP Engine first hand and I was keen to learn how we could work together in the future. Stay tuned for more on this.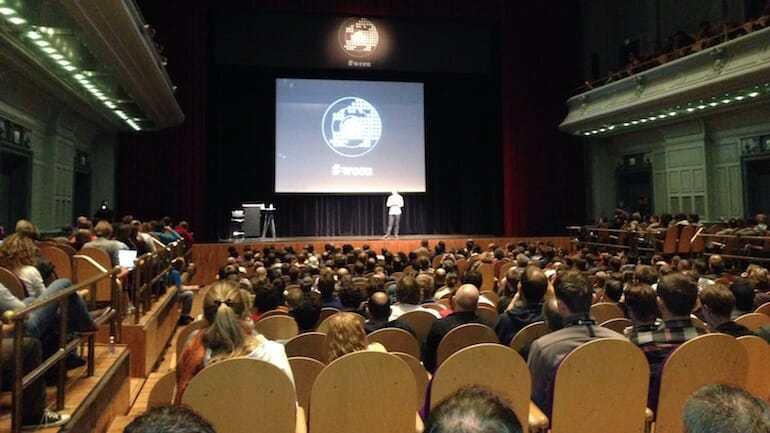 Next up was an open Q&A with WordPress co-founder Matt Mullenweg. The big room was packed and everyone was eager to hear what Matt had to say about the future of WordPress. Matt seems very comfortable on a large stage in front of a large audience, testament to the fact that he has spoken at hundreds of WordCamps and other events.
Matt answered questions ranging from internationalisation issues and language packs, development cycle lengths and agile software practices to running a successful freelance consulting business and building large WordPress agencies. He also mentioned (as he did during his State of the Word speech at WordCamp San Francisco) that he sees WordPress as a platform for others to build applications on (Happy Tables springs to mind) and that his vision is for WordPress to power the web.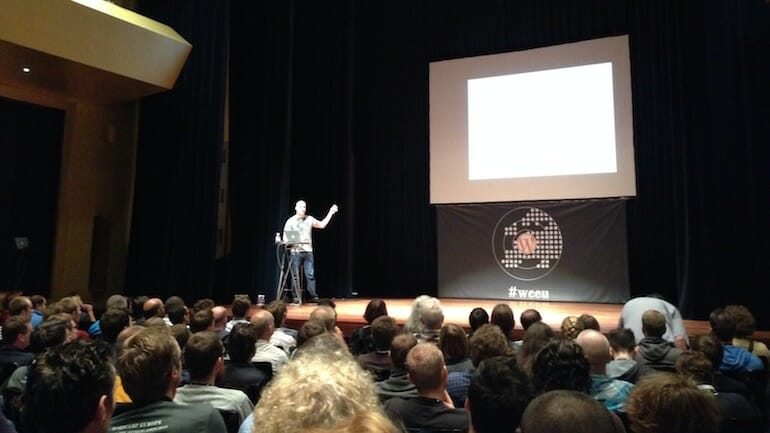 After lunch Noel Tock from Human Made kicked things off with an insightful presentation into the workings and growth of Happy Tables, the WordPress based hosted application for restaurant owners to build their own website. Noel talked about the trials and tribulations of running a hosted SaaS app and the company retreat that resulted in a complete redesign and rethink of their service offering.
These guys are doing some very impressive things and it amazes me there are not more vertical specific WordPress based SaaS apps popping up all over the place. My big tip is that this is a potential growth area for savvy WordPress developers to build serious businesses in over the next few years. I wouldn't be surprised if we see Happy Tables style apps for Realtors, Car Dealerships, Personal Trainers, Business Coaches and dozens of other industries ripe for the picking.
I took some time out after Noel's talk to connect with WP Camp Berlin organiser Axel Becker (don't ask why it's not an official WordCamp – politics) to talk about better distribution of the Video User Manuals plugin in the German market.
Then I had the privilege and honour of meeting Joost De Valk. We have a partnership with Joost and I've interviewed him for our podcast so it was great to meet the man in real life. He has a presence that is undeniable and a real passion for WordPress that is apparent when you speak to him. But more on Joost later…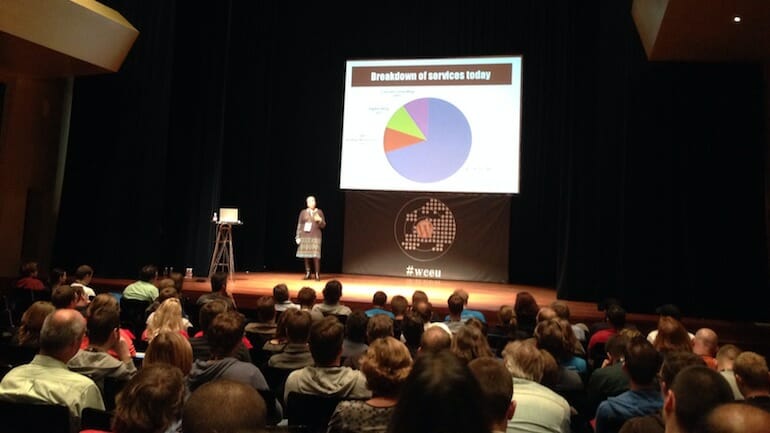 Next up was a presentation by one of our customers Miriam Schwab. I had seen Miriam's name around the place and was keen to hear what she had to say about running a consulting business. Miriam's talk was titled "Learn from my mistakes, don't make them: The Business of WordPress" and was a warts and all account of dealing with clients, managing projects, hiring and firing staff and learning how to say "no".
Miriam echoed a lot of the same sentiments I have about client work and it was refreshing to hear it from one of our customers on the other side of the world. Lots to learn from this lady; so much so I cornered her afterwards and booked her for an interview for the Agency Mavericks podcast.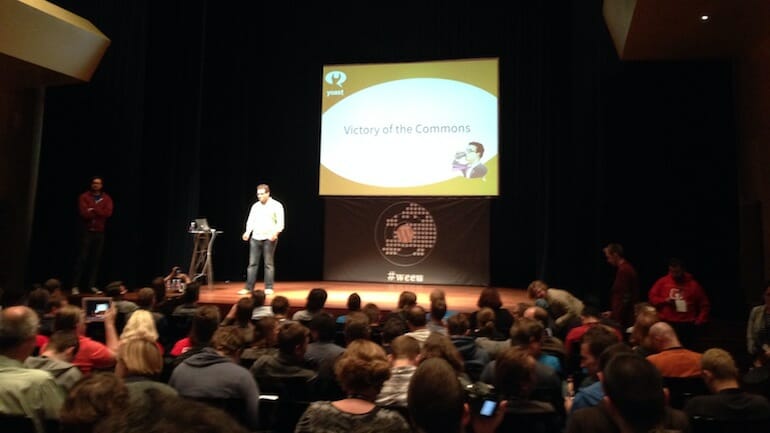 Finally it was time for Joost De Valk to let loose on the European WordCampers with a rousing and inspiring presentation called The Victory of the Commons that he collaborated on with his wife Marieke. This was by far and away the stand out presentation for me as it addressed an issue that is always talked about in the hallways of WordCamps but not often discussed openly: making money from WordPress.
I cannot possibly do justice to Joost's presentation but in a nutshell the idea he was projecting is that the open source community is a fantastic community of sharing, giving people collaborating together to make something remarkable and this community (and everyone in it) needs money to survive and continue to thrive. That's just the way it is. And there are too many people in the community giving a lot and not being rewarded enough (for whatever reason). Joost was declaring that the more successful we are individually the more we can offer back to the community and therefore we all benefit from each individual's success. If we don't succeed, we cannot continue to nurture the community and therefore we all suffer.
Can you imagine life in the WordPress space without Joost's SEO plugin or without Pippin's EDD or without WooCommerce? These are all free resources funded and supported by companies that make money (and lots of it) from premium plugins, themes or consulting.
The best way I can summarise Joost's point is to use the analogy of the masks dropping from the ceiling in an airplane emergency (thankfully I have never experienced this). They tell you to fit your own mask first and then help others. You know why? Because if you don't fit your own mask you will pass out and then not only are you useless to every one else but you actually become a burden on the rest of the passengers who now have to look after you.
So please, fit your own mask first and then contribute to the community.
In Conclusion
The key takeaway for me from WordCamp Europe is that WordPress attracts lots of enthusiasts who use WordPress in many different ways and it's usage is growing at an alarming rate. The community is very healthy and very open. I have never experienced such willingness to share information and advice at any conference quite like these in the WordPress space.
It is also apparent that WordPress will continue to experience growing pains and it will be interesting to see how these issues are solved (and by who) in the future.
There is lots of opportunity to contribute, grow, belong, learn and profit from WordPress and the amazing community that has sprung up around it. Matt Mullenweg and the entire team of Automatticians and contributors should be proud and humbled by this achievement.
For Agency Mavericks there are some great new partnerships growing out of this trip and I strongly urge all of you to get out of the building and meet with your peers at your next local (or international) WordCamp.
Now I'm off to San Francisco for a week before attending Pressnomics in Arizona.