One of the problems with many roundups that cover social media tips is that they usually focus on the basics.
What day of the week should I post?
How big does my profile image need to be?
Which platforms get the most engagement?
These are all good things to know, but they're not necessarily game-changers. It's more important to work on developing a game plan for social rather than checking items off a list of generic tips.
So, today, we're going to review 4 social media tips that will get your posts more engagement, your website more traffic and your business some major growth.
4 Social Media Tips for Big Business Growth
The goal here is to create a social media strategy that gets your posts and ads in front of the right people. Otherwise, it's just more time wasted on activities that barely move the needle.
Keep these tips in mind as you develop your own strategy for growth:
Tip #1: Set Realistic Goals
You can't just hop on Twitter or Facebook, share a link to an awesome epic post you wrote and expect overnight success. Social media marketing takes time.
In a Social Media Examiner report from 2019, marketers reported huge gains after 12 months of consistently using social media:
91% said they increased their business's exposure.
86% said there was a substantial increase in high-quality traffic to their sites.
67%+ said they generated leads.
70% said they increased revenue.
While 12 months is definitely a long time to wait to start reaping the benefits of all that digital marketing work, there are things you can do to fast-track that success. Like strategically running ad campaigns in conjunction with your organic relationship- and authority-building efforts.
Tip #2: Create a Persona Your Audience Will Gravitate Towards
Have you ever visited someone's social media profile and wondered what the heck was going on? Their bio says they're a UX designer or WordPress specialist and, yet, they're talking about flipping someone off at a red light or sharing links to the top 20 gifts to buy for your significant other.
When you're on social media as your business persona, you need to think about these things. It's not like you can't occasionally interject tidbits from your personal life into the discussion when it's relevant. But your primary focus here is to draw an audience, sustain their attention and turn them into leads (or even business partners).
My best advice to you is to stay close to your niche. If you're a WooCommerce developer, for instance, share content that eases the pain of e-commerce business owners and retailers. If you're a digital marketer, provide tips on how to make the most of chatbot marketing. Or if you're a maintenance provider, share security and performance related content.
Whatever you do, just remember not to make it be about yourself. This is the first "conversation" you're going to have with leads. So, make sure there's something of value to them in everything you share.
Tip #3: Use Tools That Support Your Strategy
Consumers are spending a lot of time on social media these days. In the 2019 Social Flagship Report from GlobalWebIndex, it's estimated that consumers spend an average of 2 hours and 23 minutes every day on social.

Just don't make the mistake of thinking that the excessive usage of social media automatically means more opportunities to generate revenue. As the pool of social media users increase, and they're exposed to more content in those hours they spend on social every day, it's going to get harder to get your stuff in front of them.
So, don't try to do it on your own. Employ tools that enable you to automate menial tasks while optimising your results.
One such tool you can use is Buffer, which Simon recommends as a must-have tool for business growth. With Buffer, you can simultaneously manage all of your social media accounts in one place, schedule posts to go out at the ideal times, quickly engage with your followers, and more.
Our Content Manager, Maddie, also recommends many tools in this post that can help with your social posting.
There's another tool that's going to help you maximise your results…
Tip #4: Use Facebook to Get the Biggest Bang for Your Buck
As far as deciding which social media platforms to use, that ultimately comes down to what your goals are and who you're targeting. That said, Facebook is one of the best platforms for both organic social media marketing and digital advertising.
According to Social Media Examiner, Facebook leads in all the top categories:
94% of marketers use Facebook.
61% consider Facebook to be the most important social platform.
72% use Facebook for advertising.
And why is Facebook is such a good choice for everyone? For starters, Facebook has the potential to reach many more people.
Organically speaking, you can reach users through your personal profile, business page, Stories feeds, and groups.
Advertising-wise, you have even more opportunities because you can reach users on Facebook, Messenger and Instagram. Soon, you'll be able to extend your reach to WhatsApp, too. And considering 28% of global users discover brands from social ads, there's really no better way to capitalise on that opportunity.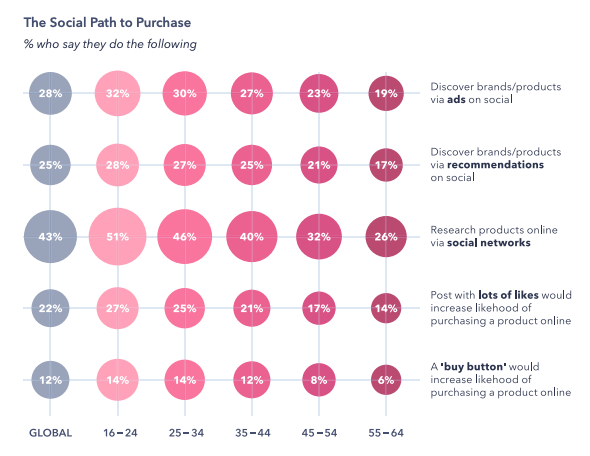 Oh, and don't forget about Facebook's targeting capabilities. If you're not aware of how powerful Facebook audience targeting is, keep reading!
Wrap-Up
If you want to help your business grow — and I'm talking major growth — social media marketing needs to be part of your plan. It's the best way to reach users at all stages of the buyer journey, too.
With social, you can:
Attract an audience.
Build relationships with followers.
Convert qualified leads.
And, really, there's no better platform to do that with than Facebook.
If you want to increase and stabilise your income while boosting trust and loyalty in your brand, Facebook ads must be part of your strategy. And if you can master the art of crafting and running Facebook campaigns, you can earn even more revenue by offering it as a service to clients.
Ready to get started? Then, sign up for the Facebook Ads Accelerator course and get ready for some serious growth in the coming year.