If you've ever wondered how to start a content marketing agency and build a greater recurring revenue stream, then you've come to the right place. This no-nonsense guide will cover everything you need to know to start a content marketing agency, including:
Take This Quiz: Is Starting a Content Marketing Agency a Smart Move for You?
Develop a Plan for Your Content Marketing Agency
Calculate Your Costs
Price Your Services
Establish Your Agency's Legal Identity
Invest in the Right Tools
Invest in the Right People
Create a System of Processes
Establish Your Agency's Brand Online
Develop an Impressive Portfolio
Educate Yourself
If you've decided that a content marketing agency is the next step to take with your business, use the following checklist to guide you.
How to Start a Content Marketing Agency: A Checklist
WordPress consultants come in a bunch of varieties: developers, designers, writers, strategists, marketers, support personnel, and so on. For some WordPress experts, though, the day-to-day focus on these specialised tasks isn't enough – they want to take on a role more closely resembling that of a CEO. In that case, it's time to consider starting a content marketing agency.
Be warned: this endeavor is most definitely not for the faint of heart. If you don't enjoy having to schmooze with clients or to sell them about the merits of your services, you won't enjoy the work of running an agency.
So, let's first figure out whether or not this is even the right career move for you. Then, we'll get to the hard stuff.
Is Starting a Content Marketing Agency a Smart Move for You?
It's okay if you're not cut out to run a content marketing agency. Not everyone has that sort of sales-driven mindset, especially if you've been working in the WordPress space for years. However, for those of you who think this could be the next step in your career, take this short questionnaire:
Do you have time to dedicate to managing a fully functioning business until you can hire others to handle administrative tasks on your behalf?
Do you have enough savings to cover your personal and professional expenses until your agency starts making money?
Do you enjoy meeting new people?
Do you consider yourself an extrovert?
Are you excited at the idea of becoming the face of a brand?
Are you happy to move away from WordPress consulting and into a leadership role?
Are you okay with letting go of responsibilities and entrusting them to others?
Do you like the process of hiring new team members?
Are you capable of handling confrontation, disputes, and negative feedback professionally and with grace?
Are you a confident decision-maker?
Do you have a knack for sales?
Do you know a lot about modern content marketing techniques and strategies?
If you answered "yes" to seven or more of these questions, then it's safe to say that a content marketing agency would do well under your leadership. If not, don't sweat it. There are other ways in which you can generate recurring revenue with WordPress that doesn't involve creating an agency.
For those of you ready to move on, let's dig into this agency startup checklist. The following sections break up your tasks into logical categories. Make sure to do these in order as it'll make your job a whole lot easier and ensure nothing falls through the cracks.
Develop a Plan for Your Content Marketing Agency
Before you start spending money on this new business venture, come up with a plan for your agency's identity and value proposition:
Decide if you want to only offer WordPress-based inbound marketing strategies. These could include: SEO, blogging, remarketing, white paper generation, and infographic design.
Decide if you want to offer a comprehensive content marketing solution instead, which includes everything outside of WordPress too, such as: social media marketing, newsletters, video marketing, pay-per-click, backlinking and strategies.
Decide if you will offer WordPress development services. This may be a great way to get the foot in the door with recurring content marketing clients or could be used for future upselling opportunities.
Determine who your target market will be and research it thoroughly. This means thinking about things such as industry, geography and demographics.
Research the competition. Find out if anyone is already doing what you intend to do, if there is a need for it elsewhere, or if you can improve upon it.
Select a unique selling proposition for your agency. In other words, figure out what sets you apart from the competition.
Set high-level business goals now. Start with your baseline: work out how many clients you will start with (if any) and how much capital you have to work with. Then, plan your first year's milestones and growth projections based on that.
Single Grain is an agency that's very clear in its areas of expertise: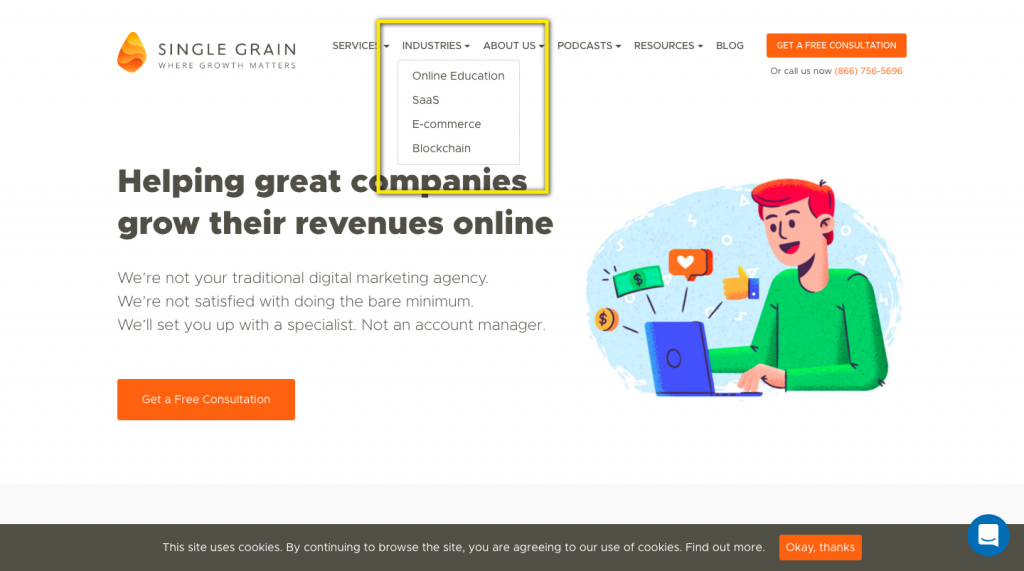 Calculate Your Costs
For many of you, this is going to be the scariest part of launching a content marketing agency. If you can, I'd recommend you work with an accountant or, at the very least, use bookkeeping software like QuickBooks to estimate costs related to:
Renting of office space.
Cost of office utilities.
Renting or purchase of office equipment.
Securing insurance for the business: health coverage, property protection and liability.
Business tools used for automation: marketing, sales, development, design, etc. (more on that below).
Employee salaries, benefits, and taxes.
Client invoicing fees.
Business taxes.
Third-party services and fees not related to the above.
Time you've spent working on business management, sales, marketing, and any other tasks you're responsible for.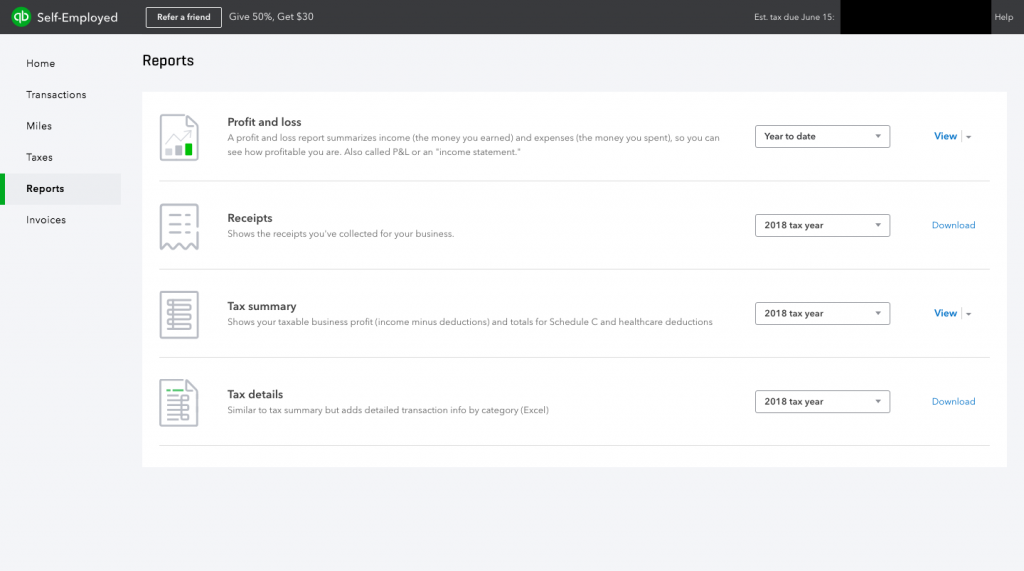 Then, create a profit-and-loss (P&L) tracker that you can refer to each month and at the end of every year. If you're using accounting software, this feature is included so you don't have to do the math on your own.
Price Your Services
On the other side of the P&L equation, is the profitability part of running a content marketing agency. Of course, this isn't all fun and games. You have to set up the right sort of revenue structure to ensure your agency generates a healthy profit from the start.
Think about the following:
Monthly pricing for each marketing service you offer (if you want them to be a la carte).
Monthly pricing for your main marketing services.
The creation of content marketing packages for different levels of service. Basic, professional, and enterprise are a good way to start. However, make sure you bundle your services in a way that provides a lot of value for clients based on what they're willing to spend.
The cost of standalone WordPress website development services.
The cost of bundling development with a content marketing package.
Monthly website maintenance or support services as an add-on.
Monthly optimisation services such as SEO, performance and security as add-ons.
Other services or products you want to use to upsell or cross-sell your content marketing packages.
If you'd like to see an example of this in action, take a look at the Karvel Digital website.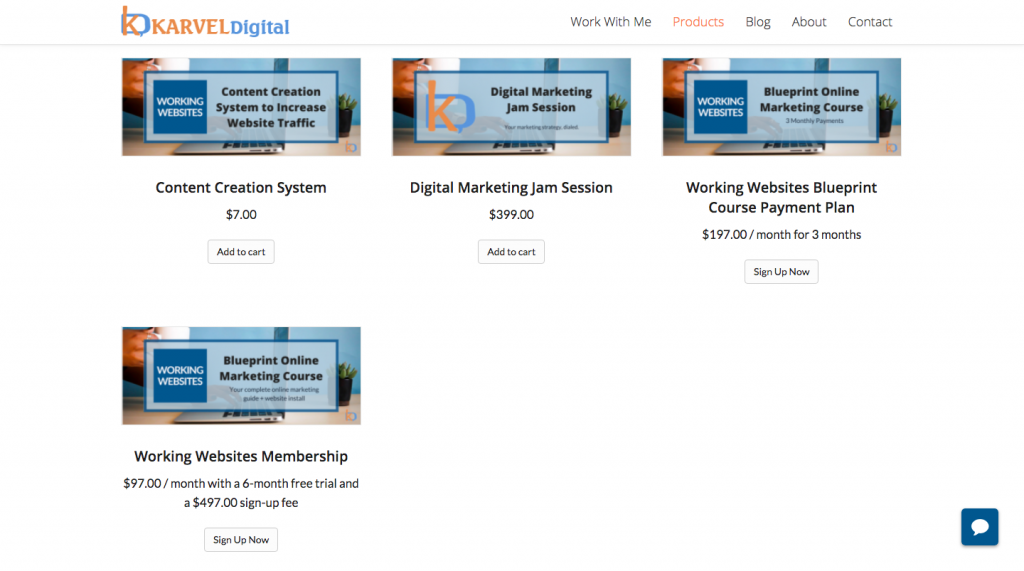 You can see here that there's a logical organisation to the agency's services. There is also a clear focus here on the website being the lynchpin to a successful content marketing strategy.
Establish Your Agency's Legal Identity
With the basic business questions out of the way, you can now focus on moving forward with your content marketing agency. Here are some of the legal matters you will have to attend to:
Register for the kind of corporation you want to set up (e.g. LLC, S-corp, C-corp, DBA).
Design a logo and other branded elements you want to use to represent your agency.
Register your logo and company name for a trademark.
Work with your local government to arrange for any permits or licenses you need to conduct business in your town or city.
Create a schedule for tax payments.
Set up business-only accounts to manage your finances, such as a company credit card and business checking account.
File for a business license. Depending on where you live, you may need multiple ones.
Sign up for insurance, especially to protect you from liability cases. As a content marketing agency, you are particularly susceptible to liability cases as the content you create or share could negatively harm a company's reputation.
Create legally-binding contract templates for clients, employees, and business partners.
Invest in the Right Tools
The key to success and profitability of modern businesses lies in the set of tools and automation you entrust your business to. Business tools bring greater consistency and control over processes while also freeing you of the responsibility of the more mundane tasks that can be offloaded to a machine.
You might not need every single one of these tools, but these are the most common ones used by content marketing agencies:
Agency website tools: domain, web hosting, control panel, WordPress, and a premium theme and plugins
Client website management tools: managed WordPress hosting (for maintenance services) or WordPress management tools (for multi-site management in a single dashboard)
Project management platforms for centralised communications with clients
Task management software for teams
Live conferencing or screen-sharing tool
Call recorder
Competitive landscape research software
Keyword research and analysis software
Copy analyser tools (make sure to include CopyScape to verify that plagiarism never slips through, whether intentional or not)
Content scheduling tool
Email marketing platform
Video recording suite or equipment
Design tools for social media graphics, infographics, memes, case studies, white papers, and ebooks
Customer service software for your website (e.g. live chat, support tickets)
CRM software to manage leads and clients
Finance management and bookkeeping software
Contract generation and management software
An invoicing tool

I'd suggest taking a look at Agency Mavericks's list of Tools We Use as a starting point. They've mentioned a lot of affordable and user-friendly software that would cover many of the tools mentioned above.
Invest in the Right People
There are just some things people can do that a machine won't ever be able to replace, so let's talk about the process of hiring staff for your content marketing agency:
Decide which roles need to be filled first. This will likely be a project manager, a graphic designer, a writer, and a social media admin.
Create a plan for other hires you will need within the first year. This should round out and bolster your current offerings. A web developer, web designer, SEO, content marketing strategist, and account leads are probably what you'll be looking for.
Looking at your starting costs and projected profit, determine how much you can afford to pay each employee. Don't forget to think about wages, insurance, time off, and taxes.
Consider hiring freelancers to start. You can use this as an opportunity to test a number of individuals within each role (paid, of course) while getting a solid team in place that works well together.
Figure out what sort of company culture you want to have. Plan perks, events, and the business environment around it.
Create an onboarding process that orientates new staff to the company and their roles within it.
Develop a robust set of documentation that you'll use to train new team members.
Schedule regular meetings with team members to ensure they receive training, support, and opportunities to grow.
Set goals for each member of your team. Meet at least once a year to review them.
If you're looking for inspiration on what a well-rounded agency team should look like, I'd suggest checking out Ironpaper: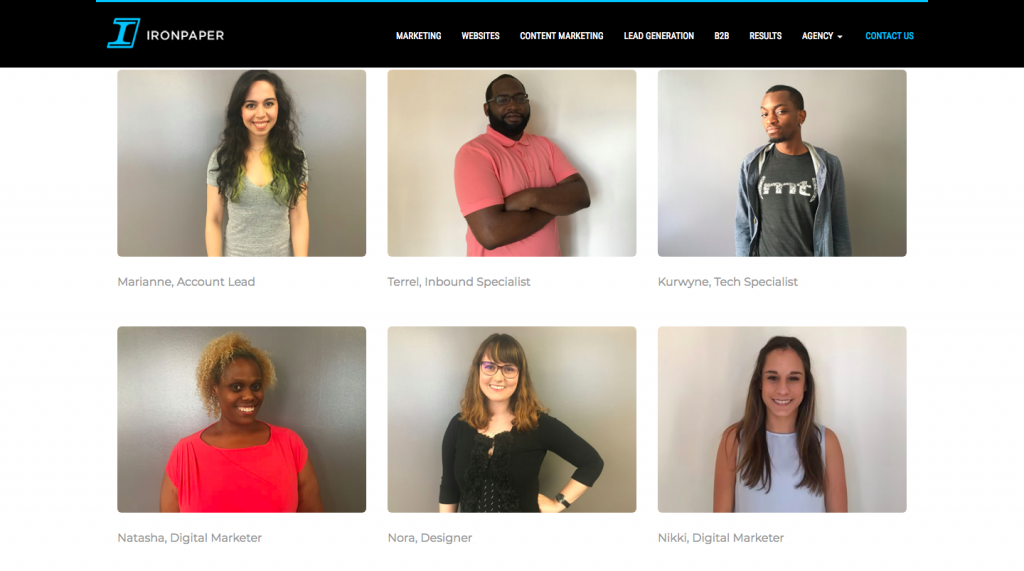 Granted, this agency has been around for a while and doesn't just offer content marketing services. But with that said, they certainly have all of their bases covered.
Create a System of Processes
With your tools and team members in place, you now need to figure out what you're going to do with them. Agencies need to have buttoned-up operations that run smoothly and seamlessly at all times. To do this, your business needs to be systemized so there's never any question as to who or what was responsible for any part of your process:
Develop documentation that details the processes for business management tasks, including sales, marketing, administration, HR, accounts receivable, and accounts payable. A lot of this stuff you can integrate into your WordPress website, too.
Develop documentation that details the processes for client management tasks, including pitches and proposals, client onboarding, client communications, billing and failure to pay, and client deboarding.
Develop documentation that details the processes for employee management tasks, including applicant screening, interviews, background checks, testing, employee onboarding, employee communications, employee training, and employee deboarding.
Develop documentation that details content management processes.
Create repeatable tasks in the form of digital checklists and templates for every process. Although this seems like a lot of work at the beginning, you will be saving yourself a lot of time moving forward.
Provide initial and ongoing training to team members on your processes.
Keep documentation updated as processes change when you add new services to your portfolio or you discover better ways to get things done.
I like the approach Fairfield Media Co. takes in being transparent about its processes right within its website: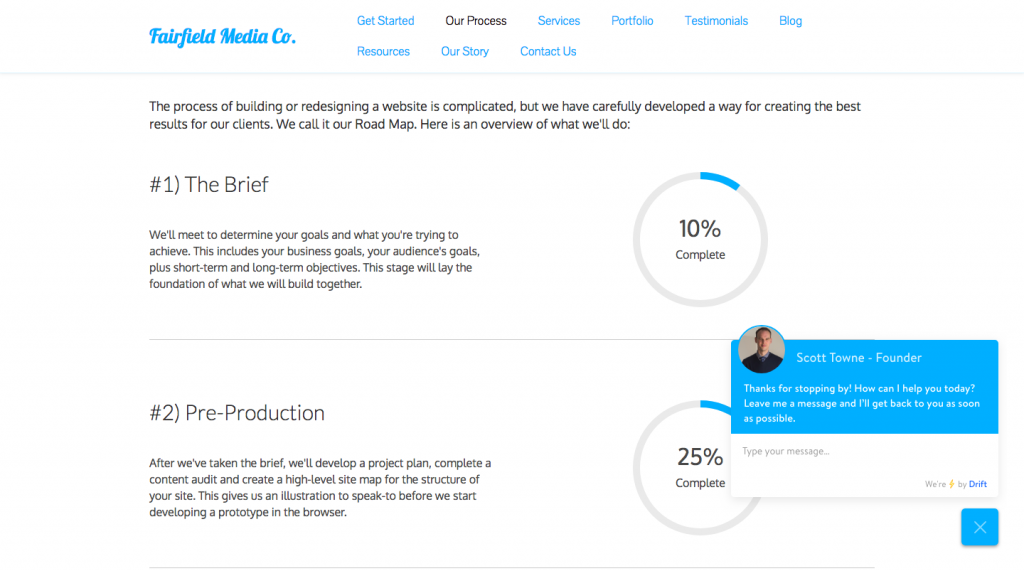 Of course, you don't have to communicate to clients every single step you do behind the scenes, but this type of insight into your process can go a long way in convincing someone to work with you vs the other guy who doesn't quite seem to know what they're doing.
Establish Your Agency's Brand Online
Okay, now it's time to show prospective clients that your agency knows how to walk the walk. Getting someone to be willing to pay top dollar for content marketing services when you're brand new is going to take a giant leap of faith. So, your website and other marketing platforms will need to serve as proof of your skills in the meantime.
Before launch, do the following:
Build your WordPress website. Everything you need to include in your agency website can be found in this recap from Agency Mavericks.
Optimise it for search with focus keywords, metadata, internal link-building strategies, fast loading times, engaging visuals, and a logical flow.
Add features to your WordPress site that you intend on selling to customers (e.g. live chat, exit-intent pop-ups, etc.) In doing so, your website will become a tool through which you will attract better clientele.
Secure it with the help of a high-quality web hosting company, SSL certificate, anti-malware protection, spam blockers, DDoS protection, and more.
Start publishing blog posts. (Yes, before you even publish the website and launch your agency.)
Set up corresponding social media accounts and post to them on a daily basis. Share quality content from influencers that will catch the attention of your target market.
Design a newsletter template. If you have a list of warm leads, send out your first newsletter to notify them about your upcoming launch.
Record video posts, either pre-taped or live. Then share on YouTube and social media channels to start building awareness.
Reach out to blogs that your target audience pays attention to and inquire about guest blogging opportunities. This is a good way to start making a name for yourself and your agency before launch.
Once the site is live, you may want to put some money towards pay-per-click advertising on Google and Facebook. It'll give you a chance to be front-and-centre before your site can reach your audience organically.
If you want to work with local customers, make sure you optimise your site and focus on marketing initiatives that will target them. Google My Business as well as a Facebook page will be important parts of this.
If you want to see a really great example of an agency's blog in action, visit the Brafton blog: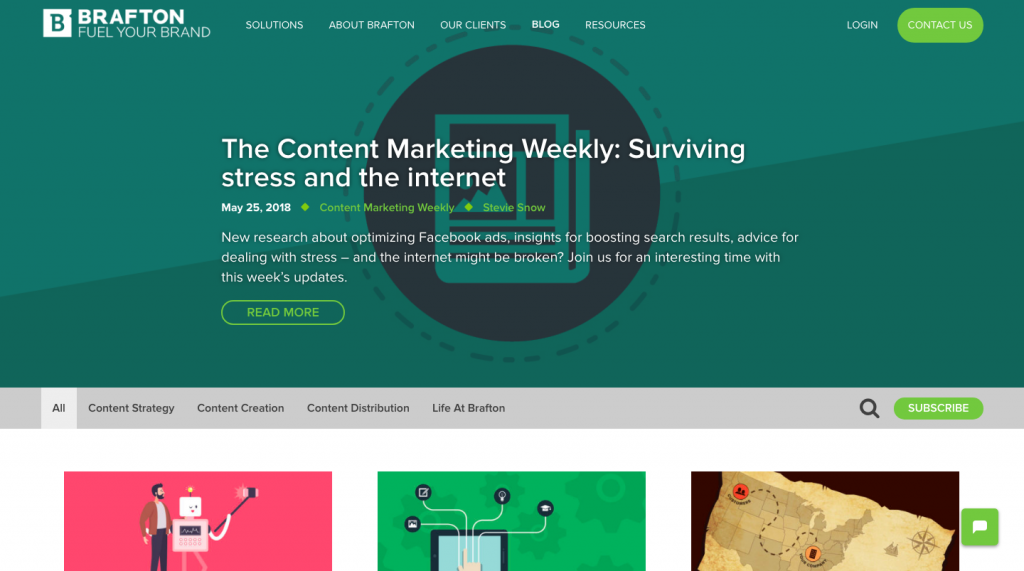 Develop an Impressive Portfolio
This isn't necessarily something you'll have when your content marketing agency is brand new. As such, always be on the lookout for opportunities with each new client you can share with prospects through your website:
Set up a portfolio page on your website. Depending on which services you offer, you'll use this page to show highlights of your work.
Ask current clients for testimonials when you feel comfortable that they're more than impressed with your work. Publish those to your site where relevant.
Once you have at least six months of progress on a client's content marketing campaign and they've seen huge successes with it, ask their permission to create a case study around it. This will be good for building your reputation online whilst putting a spotlight on them.
As you accumulate more high-profile clients and partnerships, place their logos on the home page of your WordPress site. You can leverage these trusted logos to gain new clients.
publ.ish has a fantastic looking portfolio of work available from its website:
Make sure yours only highlights the best of the work you've done, that it's relevant to your target audience, and that you have permission from your client to share it.
Educate Yourself
The one problem with running an agency around services like WordPress development or content marketing is that they're always changing. As Google's algorithm decides that certain activities or trends are to be rewarded or penalised, your services need to evolve alongside it. The same goes for changing trends everywhere else.
By educating yourself on the future of content marketing, you can keep your clients one step ahead of the competition. Everyone has a different way in which they learn best, so I'm not going to tell you to use all of the following. These are merely here as suggested resources:
Read blogs from competing agencies as well as those working in your target industry.
Create your own custom-aggregated news feed using a tool like Feedly. It's the quickest way to scan through lots of headlines and get a sense for changing trends.
Subscribe to newsletters.
Follow influencers on social media and see if anything innovative comes up in conversation.
Watch live Facebook videos.
Subscribe to relevant podcasts and listen to them on your commute to and from work.
Pay attention to comments on all these pieces of content. You may start to hear chatter that gets you thinking.
Take an online class to brush up on your content marketing skills.
Read books about entrepreneurship and find the motivation to be a better boss, run a tighter ship, and deliver greater results.
Practice, practice, practice. If you learn about a new content marketing trend, test it out before introducing it to your client's platforms. This way, you have a chance to learn how it works first-hand and can work out the kinks before using it.
Wrap-Up
Clearly, this checklist for how to start a content marketing agency is no simple task. It's going to take time for you to get the initial plan and foundations in place for your business before launch, but don't feel as though you need to rush it. Your goal should be to make as strong an impression as possible, right from the very start.